Plans to plant 100,000 trees in the Highlands were jeopardised by the lockdown. Volunteers stayed behind to save the project
A group of rewilding enthusiasts have foregone the comforts of their own homes during lockdown to stay in the Scottish Highlands and look after 100,000 young trees.
Volunteers working for Trees for Life have been voluntarily isolating themselves at the charity's Dundreggan rewilding estate in Glenmoriston since March – to save more than 100,000 native trees from being lost due to the coronavirus lockdown.
The saplings – including Scots pine, rowan, juniper, hazel, holly and oak, as well as rare mountain species such as dwarf birch and woolly willow – were all grown from seed in Dundreggan's specialised nursery and were due for planting out on the hills this spring as part of an initiative to restore Scotland's ancient Caledonian Forest.
"We were all set for another busy season of preparing thousands of young native trees for planting on the hills by our volunteers, when the coronavirus crisis forced the postponement of this spring's tree planting – meaning tens of thousands of young trees have not left our nursery as planned," said Doug Gilbert, Trees for Life's Dundreggan manager.
"But nature isn't in lockdown. All these precious trees have been coming into leaf, and we need to take care of them – especially in the dry weather we've been having. Without regular watering, they would all die. We also needed to start sowing new seed now, to ensure a supply of trees for future planting seasons."
Related: the ambitious rewilding project near Gatwick Airport
To save the seedlings, Gilbert – along with colleagues Abbey Goff, Emma Beckinsale, Patrick Fenner, and trainees Catriona Bullivant and Louise Cameron – chose to isolate themselves at Dundreggan rather than at their homes when the national lockdown was announced.
The team hasn't left Dundreggan since March, other than for a few essential trips, such as collecting prescriptions. Food is arriving at the rewilding estate via supermarket deliveries.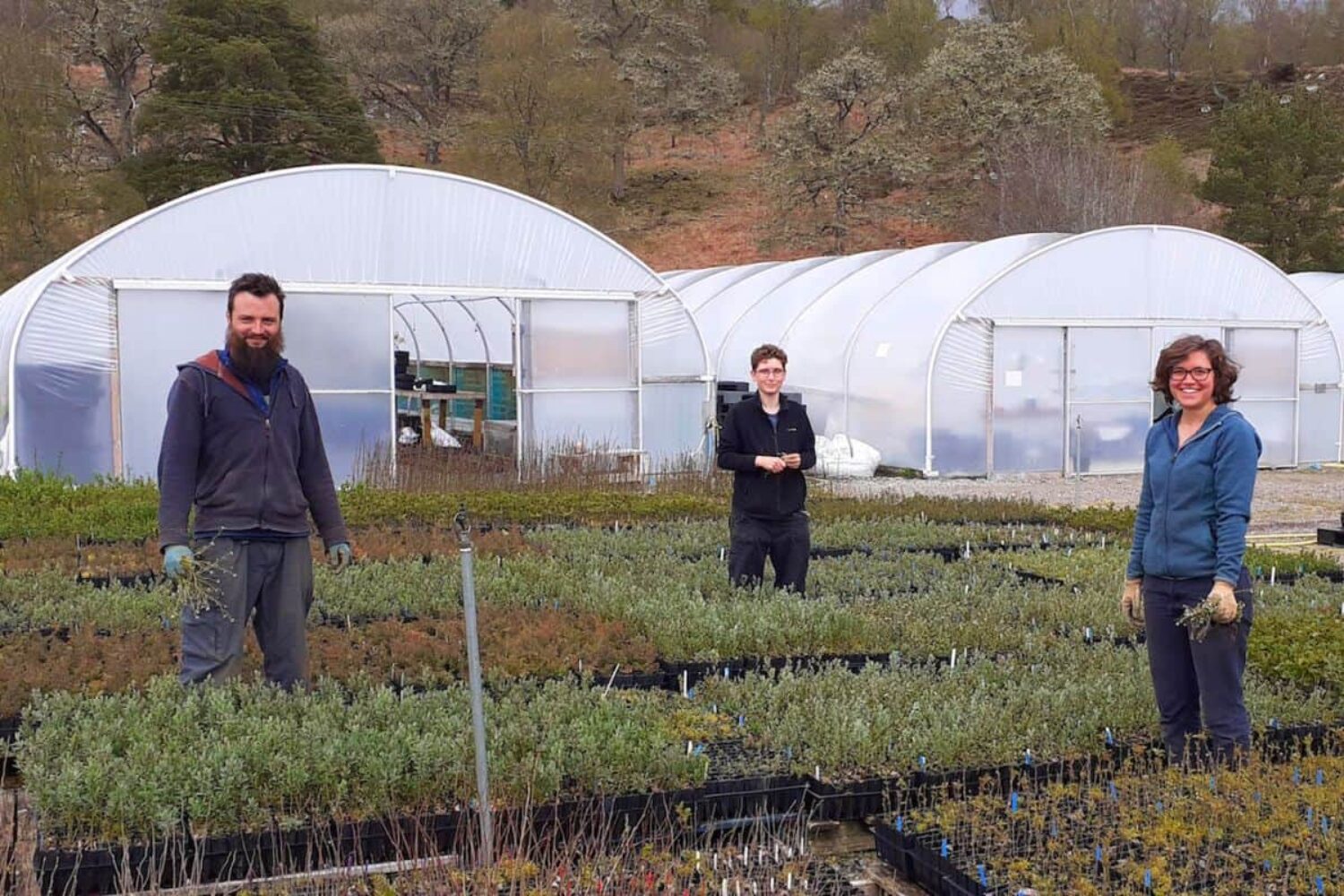 Gilbert added: "The local Redburn Cafe has started local takeaways, so they're an occasional treat. No one has visited us for weeks now, except for delivery drivers and the postie. We're here in isolation for the long-haul if needs be – together with a growing forest for the future."
Trees for Life plans to open the world's first rewilding centre at Dundreggan in 2022. The facility, near Loch Ness, will teach visitors about Gaelic culture and local wildlife including golden eagles, pine martens and red squirrels.
Main image: Roan Lavery