Creativity is essential to sustain and unite people during the global Covid-19 pandemic, according to performers, artists and curators in the UK
There is a tradition in theatre that whenever it lies empty, one light is left on – the reason being that people will return. Over the past couple of weeks these 'ghost lights' have been lit not just in theatres but museums, galleries, concert halls and cinemas during an unprecedented shutdown that many feared would be catastrophic for the arts and the livelihood of its many participants.
But in the face of adversity has come a characteristically creative response and so those lights have become blazing beacons of hope. Institutions, performers, musicians and artists across the UK have searched for imaginative solutions to bring people entertainment and a little solace in the confinement of their own homes.
"Initially I was in shock, but you have to get out of that mindset," said Adrian Berry, artistic director of Jacksons Lane arts centre in north London. "We have to do whatever we can to stay positive and I think the arts comes into its own in a time of great difficulty. It is on us to raise the community's spirits and take the initiative."
As a result, Jacksons Lane has introduced various online classes and mini shows – ranging from circus skills tutorials to burlesque – while Berry is contemplating a bespoke TV channel where exclusive performances will be posted and viewers are given the option to donate to the performers to sustain their livelihoods.
Thanks to the advances in technology the delivery of culture, in this time of a pandemic, is much more efficient and effective than it would have been if this crisis had happened, say, a decade ago.
Just down the road from Jacksons Lane, Bruce Castle Museum in Tottenham is reaching out to its community by posting daily blogs from its extensive archives. The museum team hopes that hundreds of residents will use them to "reminisce about, learn something new, or simply wonder and ponder".
It's a crucial time for the arts globally to step in and fill the void in people's lives
Every day is themed, such as Travel Back in Time Tuesdays to Forage Fridays, and the response has been so good that curator Deborah Hedgecock is now considering a YouTube strand of films from their collections.
"We're offering something that's light, comforting and reassuring and that will take your mind away from what's going on at the moment," she told Positive News. "And these posts might be a lifeline to, hopefully, keeping someone sane and improving their general mental health and wellbeing. It's about saying 'you can stay indoors and still feel engaged and that you matter.'"
Indeed, people's newfound confinement might soon be turned into a positive cultural event by London's Museum of the Home (previously the Geffrye Museum). Although it's not reopening its doors until later in the year (subject to the coronavirus situation), the East End institute is looking into starting an online project asking people to capture their domestic experiences during this crisis.
"We're experiencing what could be one of the most dramatic shifts any of us have seen in our lifetime," said director Sonia Solicari. "So we very much want to be a centre for gathering ideas, thoughts and discussion about what home means to people right now. It's interesting how people are having to repurpose their houses into gyms and classrooms and the experience of this crisis has really focused attention on the domestic space."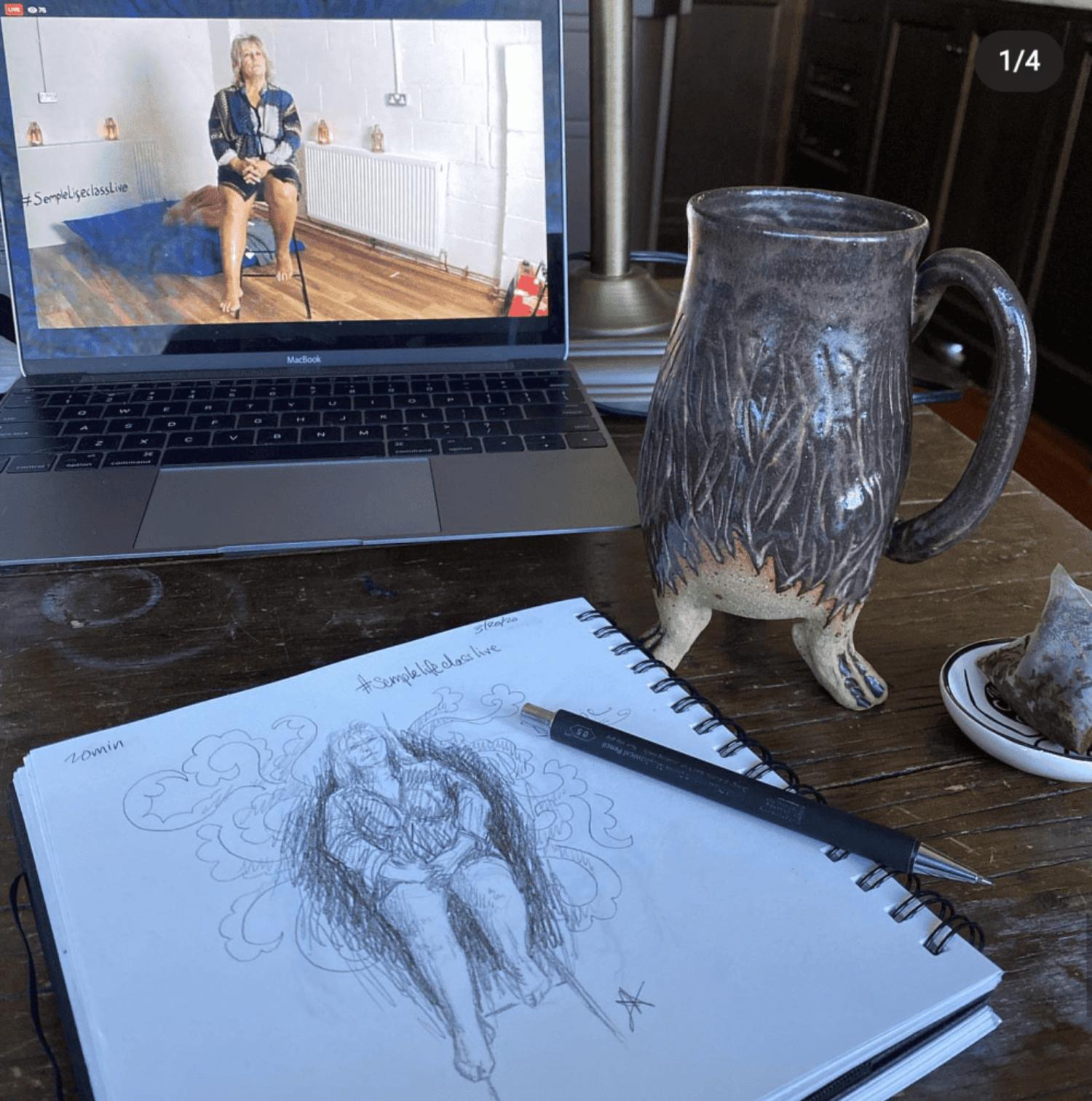 And, of course, the home has actually become the stage for many performers and artists to broadcast their work to the world. In March, Dorset-based artist Stuart Semple livestreamed a life drawing class from his studio via Facebook, hiring a model and inviting anyone to participate. Some 3,500 artists from across the globe joined him, sharing their efforts using #SempleLifeClassLive
"There were some amazing drawings and it was so lovely to see people helping each other and the more experienced drawers advising those who haven't drawn before," he said. "Tutors told whole art colleges to join in because, of course, they couldn't go to their schools anymore and the whole event felt very special."
Semple planned to repeat the event the following week and reflected that these seemingly bleak times could actually be a springboard for fundamental cultural changes for the better.
"It's a crucial time for the arts globally to step in and fill the void in people's lives," he said. "The other thing is that the art world, up until now, has been quite elitist and exclusive. In order to survive, it might have to drop some of that and become more accessible and digital and be connecting with audiences in a different way. It certainly gives me hope to see how the artistic community is responding."
Main image: Rob Laughter