Amateur sewers across the UK are using their skills to make hospital uniforms for health workers fighting coronavirus
Amid the coronavirus pandemic, many frontline NHS staff are finding themselves without the protective clothing they need to safely do their jobs.
To help tackle the problem, thousands of volunteers across the UK have got behind their sewing machines and are making hospital overalls – known as scrubs – for frontline workers.
Scrub Hub is a grassroots network of volunteer groups that began in east London, after Dr Katie Ward posted in her local Mutual Aid group asking for help finding scrubs to wear at work. Since then, some 50 hubs have been set up across the country with volunteers giving their skills, expertise and time to make hospital workwear for people who need them.
Usual suppliers of scrubs have been unable to keep up with orders, which have increased because of the volume of frontline staff needed to treat patients with Covid-19, including some who wouldn't usually wear uniforms such as consultant physicians and GPs.
Each Scrub Hub group works independently, raising funds to pay for the fabric needed and creating the necessary garments for local NHS staff. Kat Stubbings, from east London, sews as a hobby and discovered Scrub Hub via Instagram. She described volunteering to help the NHS as "giving a great sense of purpose".
"As I'm making the scrubs, I wonder who will wear them and what they will go through," she told Positive News.
Last week Annie Walton set up Scrub Hub Nottingham with her mother and aunt, who are both keen dressmakers. They have since recruited more than 160 volunteers and raised over £3,500. Their aim is to make around 1,000 sets of scrubs in the coming weeks in order to meet the demand in the local area.
As I'm making the scrubs, I wonder who will wear them and what they will go through
"The way our communities are pulling together to help protect those fighting coronavirus on the frontline is astonishing," said Walton. "From the floods of messages I've read, I know that everyone wants to do their bit, however big or small."
Other groups, such as Sewing For The NHS and For The Love Of Scrubs – The NHS Needs You, are offering similar services.
Journalist Nicola Slawson and her mother, Edel, started volunteering after discovering the Sewing for the NHS Shropshire group on Facebook. "My new year's resolution was to learn to sew. I did a workshop on using a sewing machine but the full sewing course I was enrolled to do this spring was obviously cancelled," she said.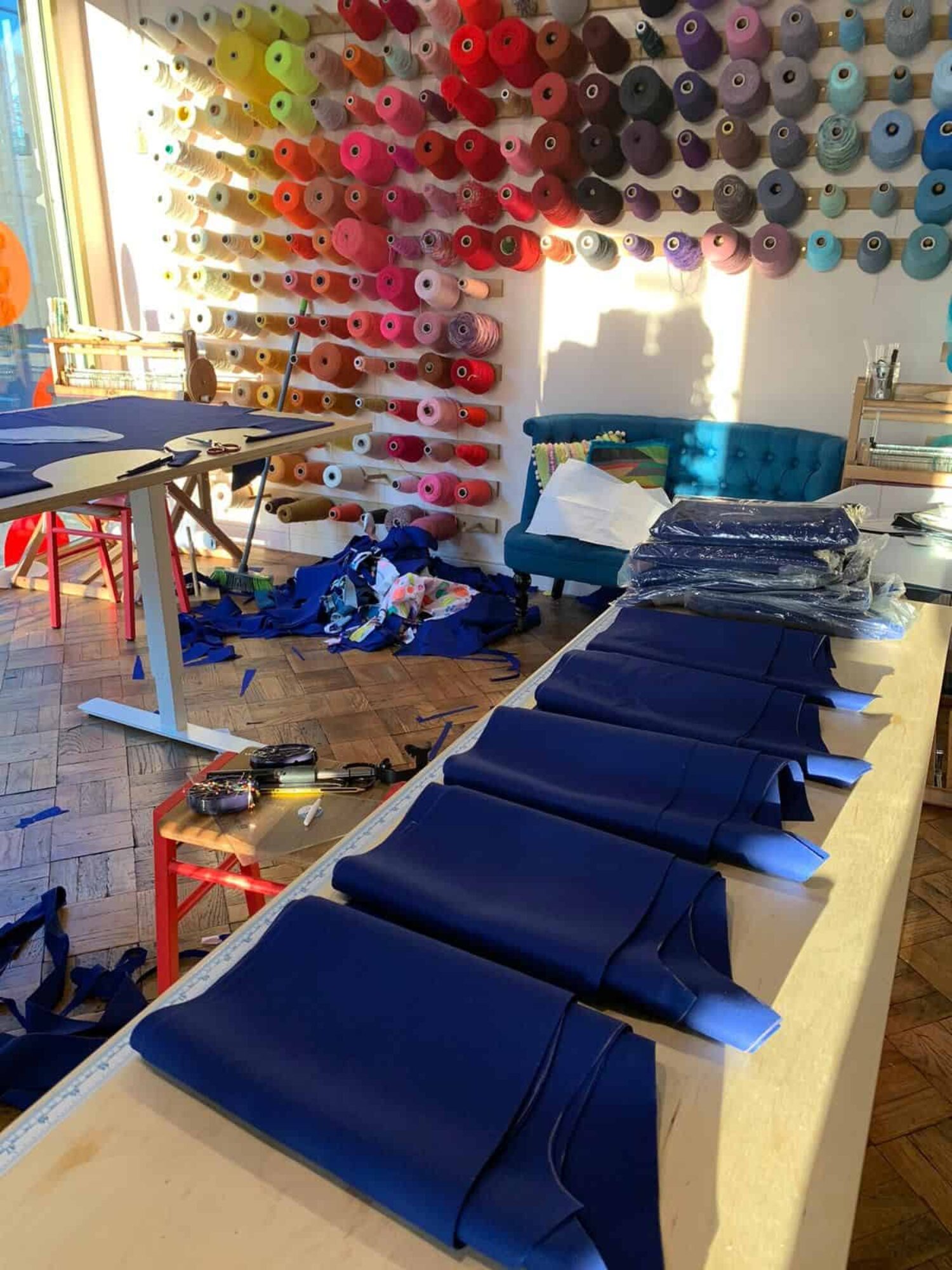 Edel has been making scrubs, while her daughter has been making more simple items such as caps and uniform wash bags, which let staff transport their scrubs home from the hospital and straight into the washing machine to minimise risk of contamination.
Slawson says that being part of a practical project has helped her mental health during the pandemic. "Doing something useful when everything feels so hopeless is also helping me cope with my anxiety, which has been really bad since this all began," she said.
"The other benefit is the lovely Facebook group we are part of. Everyone is so supportive and encouraging and we also have NHS workers or their families coming on to thank us or share pics of them using the items we have made."
Main image: REUTERS/David Klein