The masks are being distributed to some of the world's poorest communities, whilst helping provide jobs during the crisis
An initiative to provide free face masks to some of the world's poorest communities has launched in several African nations in a bid to halt the spread of coronavirus.
African Masks, a non-profit venture supported by crowdfunding, was established last month and is distributing cloth masks in the Democratic Republic of Congo (DRC), Kenya, Senegal, Benin and Nigeria through teams of volunteers.
To date almost 7,000 masks made using colourful, African textiles have been produced by local tailors. The masks are being distributed to motorbike taxi drivers, market traders and elderly people who are living and working in populated and impoverished communities where there have been confirmed cases of Covid-19.
"Cloth masks are a fairly inexpensive and a useful tool against contagion, however, many people cannot afford masks as economies have almost stopped," said Emilie Serralta, a humanitarian worker who founded African Masks. "I hope masks can play a role in an alternative to complete lockdown, which is unsustainable in developing countries."
She added: "We are using local skills and talents by producing the masks locally – and providing some jobs during a tough economic time."
Guidance on face masks varies among international health bodies and governments, but experts say they can help prevent droplets containing the virus from being spread through coughs or sneezes. Many cities including New York, Shanghai and the DRC's capital Kinshasa have now imposed rules making it obligatory for the public to wear masks to prevent the spread of coronavirus.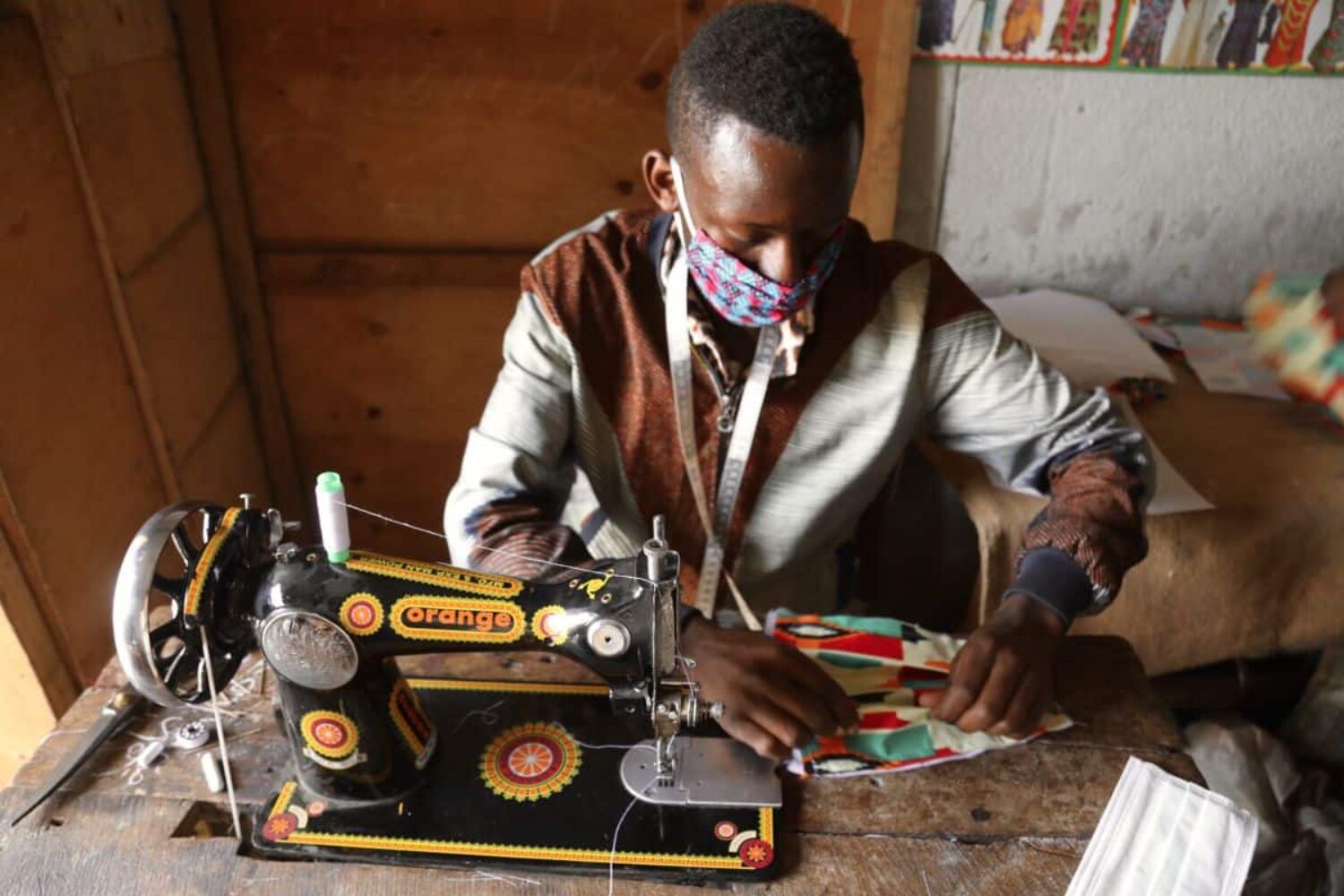 African Mask's products are modelled on a sewing pattern approved by the Great Falls Clinic in the US, which provides exact guidelines for construction and materials. Each mask is made up of two layers and includes a pocket to insert a disposable filter; the fabric can be easily washed and dries quickly. In Goma, students at the Free University of the Great Lakes Countries (ULPGL) Faculty of Medicine are helping to oversee production.
Kitumaini Ngabe Rafiki, the lead tailor for the Goma project, said the average production cost per mask is less than $1 (£0.76). "The idea was to create something that could be reusable and low-cost," he said. "But at the same time, we hope the colours create a less stressful atmosphere in the street and are more aesthetically pleasing."
Of Africa's 54 countries, only one – the tiny, remote nation of Lesotho – has yet to report a single case of Covid-19. According to the Africa Centres for Disease Control and Prevention, there have been more than 69,000 confirmed cases across the continent of 1.3 billion inhabitants. The World Health Organization said last month that Africa could be the next epicentre of the global outbreak, warning the virus could kill up to 200,000 people there this year.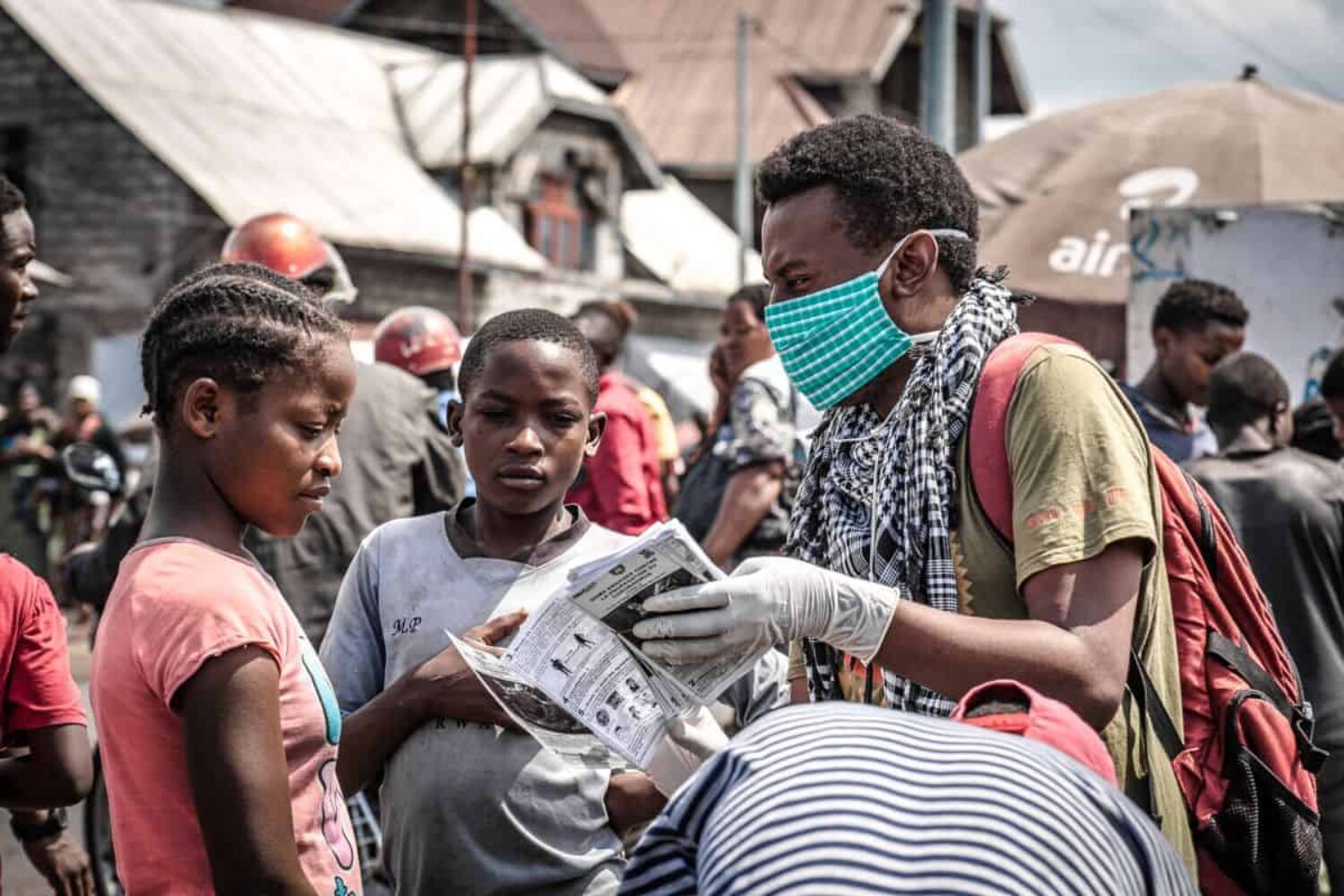 Among those working to halt the spread of the virus by supplying masks to vulnerable populations are the Coalition for Grassroots Human Rights Defenders in Nairobi, a Congolese youth collective called Goma Actif, and Dakar's political hip-hop movement Y'en a Marre.
"We are targeting areas where there are the maximum amount of people and where they have limited access to information," said Eugene Buingo, a member of Goma Actif, which was set up by young professionals including artists and lawyers to educate local communities about Covid-19. "We have this project, we will do it, and we will save lives."
Main image: Peter Yeung
Correction: This article was amended on 20 May to correct in an inaccuracy. Great Falls Clinic, which created the pattern used to make the masks, is in the US, not Canada as was previously stated. This has now been updated.