Indigenous people and marginalised groups have often been left out of the conservation conversation. A Californian forest collective aims to change that
There's been a boom in interest in communal living in recent years. Could it be the answer to some of the crises of modernity? In our 'Let's live together' series, we visit co-living communities around the world to see how they're finding solutions to loneliness, unaffordable housing, climate change and more. And we ask: is it really the good life? Final stop, California.
Shelterwood, California's Indigenous forest collective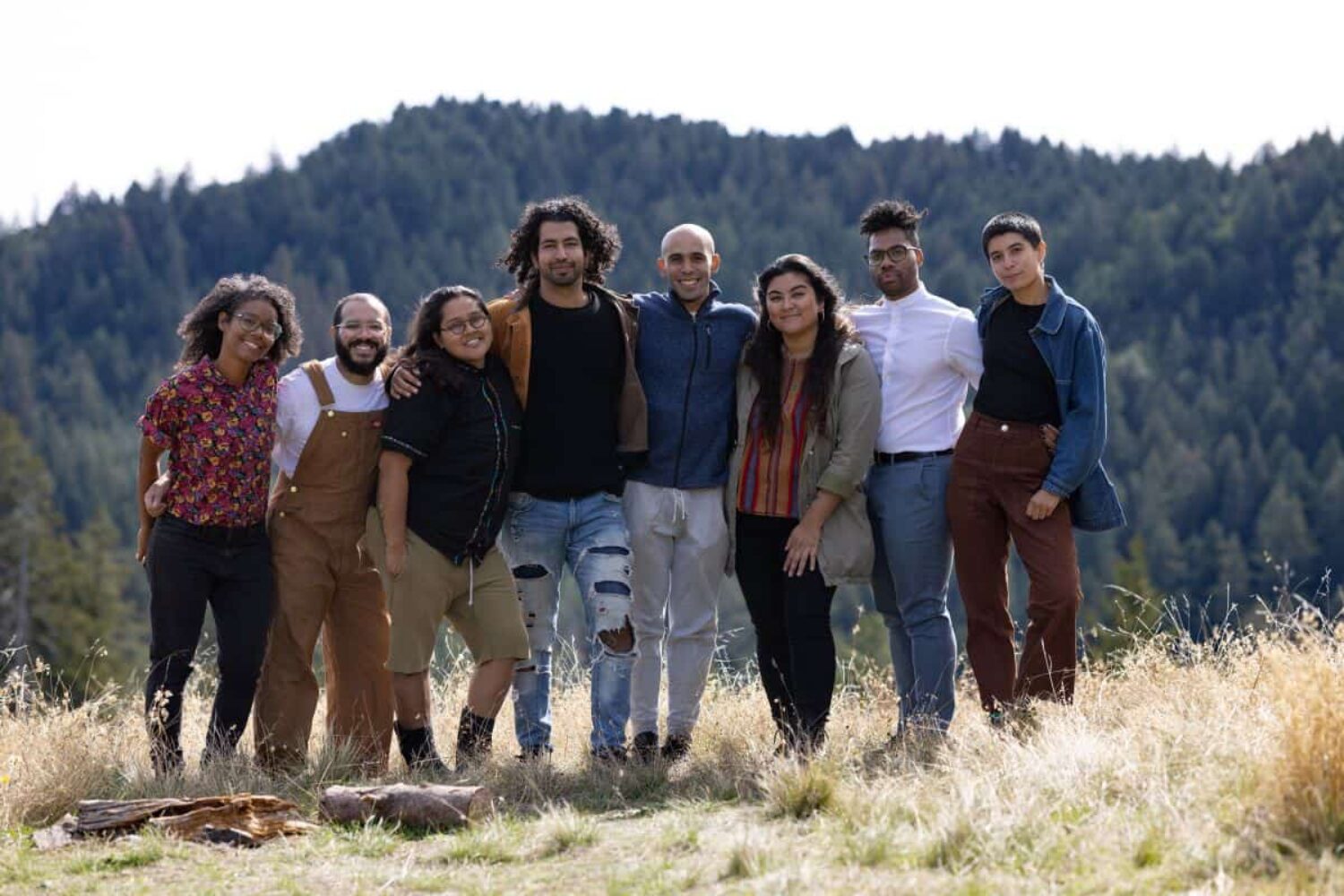 Until 2020, the natural resources on the 900 acres of land that now make up Shelterwood Collective were being extracted. "It used to be rich in redwoods and oak trees," says Joan Lora (pictured above, second from left). This is one of the few, but growing, number of queer black, Indigenous, People of Colour (BIPOC) co-housing communities and land collectives. "It was a breadbasket for the Kashia [the tribe from this region], providing acorns for harvest."
In 2021, the team, having raised $4m (£3.3m) to buy it, funded by grants and donations, moved to this forested valley surrounded by a ridge. There are wild boar, foxes and deer, as well as cougars and evidence of bears. "We inherited a land that needs a lot of work," says Julia Velasquez (pictured below, centre), apologising for the noise of a chainsaw doing forestry work outside the window.
The project was founded by Layel Camargo, a climate justice activist, and Niko Alexandre, a forester working in international conservation. "We both saw the lack of investment in black and Indigenous communities, and specifically in queer leadership," says Camargo, who is trans and non-binary.
Every time I come back, I think 'this is incredible'
They say black and Indigenous people have been largely excluded from land stewardship, and that "traditionally, the environmental movement has focused on global greenhouse emissions and the solutions have been informed by western doctrines of humans being bad for nature – and therefore really regulating our interactions with it".
However, a growing body of research suggests that the best way to protect land is by making Indigenous communities the custodians of it. At Shelterwood, they wanted to show, says Camargo, what a queer BIPOC-led group "could create on an ecosystem scale, if allowed to work in a way that's aligned holistically with what nature is asking for, as well as what western data has shown us".
It is still early, but the goal is to create a community of permanent residents, who live alongside seasonal visitors such as artists, activists and students on fellowships learning about land stewardship. "As queer people, we've been fortunate to build a family with each other, even though we've all experienced different levels of rejection, from family, from community," says Camargo. "We know the importance of having a safe refuge – and how lucky that we were able to secure 900 acres for the next generation of people who need that refuge."
Highs and lows at Shelterwood
The best thing is? I grew up in the suburbs (says Joan Lora), and lived in major cities, so for me, it's the land and breathing fresh, clean air. Every time I come back, I think 'this is incredible'.
The worst thing is? Time moves differently here. I'm always amazed at how much we can pack into a day, but days just go by so quickly that I'm like 'it was just last week!'
This article is the last in our 'Let's live together' series, which examines co-living projects around the world.  
Help us break the bad news bias
Positive News is helping more people than ever to get a balanced and uplifting view of the world. While doom and gloom dominates other news outlets, our solutions journalism exists to support your wellbeing and empower you to make a difference towards a better future. And as Positive News' audience and impact grows, we're showing the rest of the media that good news matters.

But our reporting has a cost and, as an independent, not-for-profit media organisation, we rely on the financial backing of our readers. If you value what we do and can afford to, please consider making a one-off or regular contribution as a Positive News supporter. From as little as £1 per month, you'll be directly funding the production and sharing of our stories – helping them to benefit many more people.

Join our community today, and together, we'll change the news for good.