The UK has an ageing population and an epidemic of loneliness. Does this co-housing community in London have the answer?
There's been a boom in interest in communal living in recent years. Could it be the answer to some of the crises of modernity? In our Let's Live Together' series, we visit co-living communities around the world to see how they're finding solutions to loneliness, unaffordable housing, climate change and more. And we ask: is it really the good life? Next stop, north London, England.
New Ground, London's commune for older women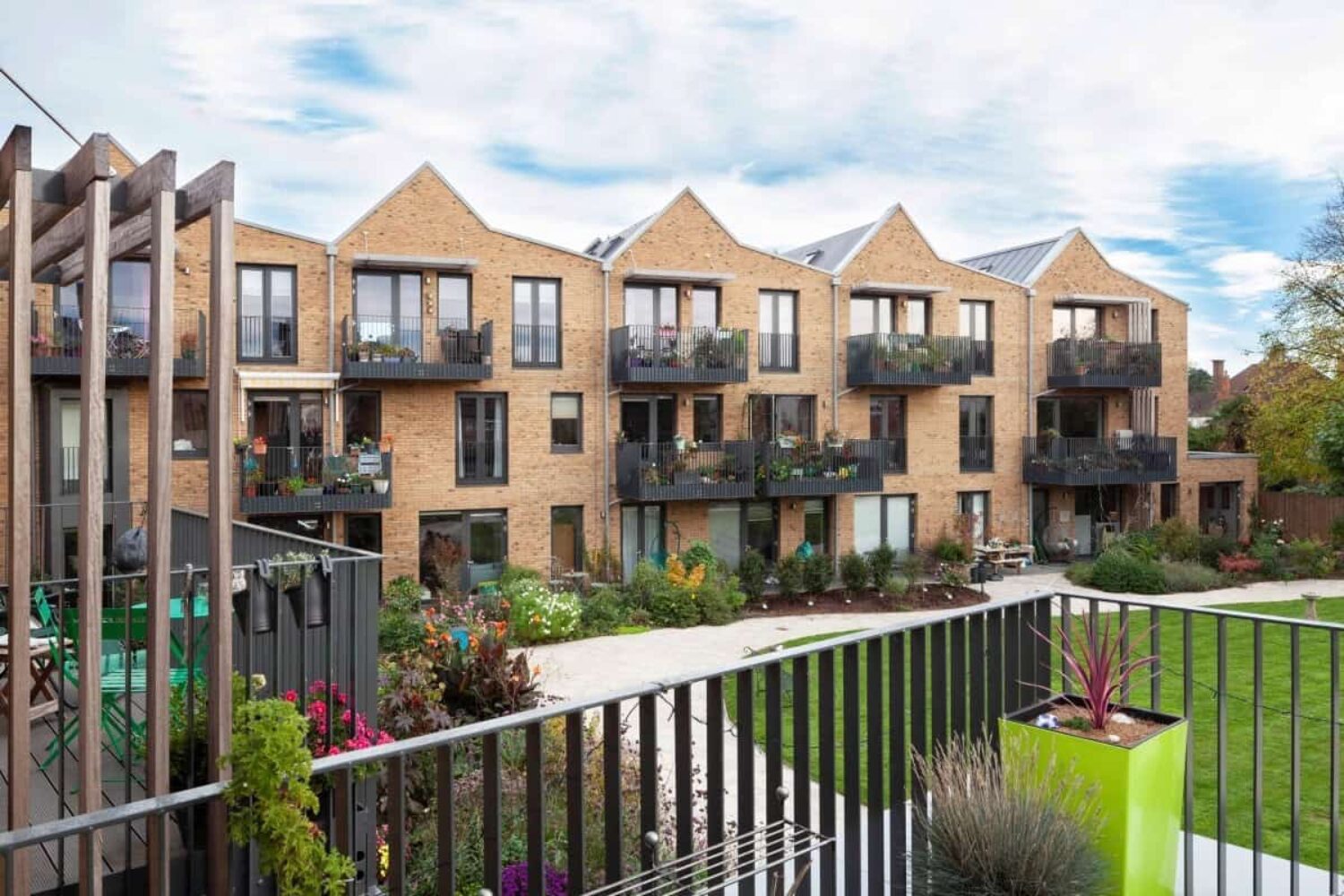 Before she moved to New Ground, Jude Tisdall thought she was tolerant. She laughs."I realised I had to relearn what tolerance really was." She likens communal living to the shifting dynamics in the early days of moving in with a partner, only here it was like having 25 new partners. "Trying to negotiate that wasn't always easy."
It's not that there were arguments; even friendly interactions could be arduous, even if loneliness was virtually unheard of. Stopping for conversations with every neighbour you came across, meant you "used to have to allow half an hour just to get out of the building". These days, a quick hello is enough.
There haven't been any serious fallouts, but Tisdall acknowledges "we don't always agree. We're all feisty, independent women – this wouldn't have happened if we weren't."
New Ground began in 1998, with six women who wanted to create an older women's co-housing community. After years of trying to get the project realised, the community opened in 2016, with 25 apartments – of which eight are social housing – and communal areas, including gardens, a flat where friends and relatives can stay, and a common house where they can eat together, watch films and attend groups and classes. They can join teams that look after finances and building maintenance, and they have meetings to discuss the running of the community.
There was always somebody who brought something for me to eat, or would knock to see if I wanted some company
Tisdall has lived there from the beginning. "The women who started it were in their 60s at that point, and it was a different generation – women who probably didn't have the same freedoms that the younger generation has." Some had been married, some not, not all had children, and there was a feeling among them that men of their generation were too dominant. "They wanted to be able to self-manage, to choose how they lived as they aged, among a group of like-minded women."
There are currently 26 residents, and although they are all over 50, it is still intergenerational – the youngest is 55, the oldest 93. They don't provide medical or personal care, but they do look out for each other; a 'buddy' system means they will notice, for instance, if their neighbour doesn't put their lights on, or if they seem to be going through a hard time. And support is there if it's needed.
A few years ago, Tisdall fell while running for the tube and broke her ankle and shoulder. "I didn't cook for a month, there was always somebody who brought something for me to eat, or would knock to see if I wanted some company. If I had been living alone like before, that would have been a nightmare, especially for my daughter because she would have been the one to have to do it."
The residents often meet local councillors or give talks on co-housing and its benefits, particularly for older people. The UK has an ageing population, and New Ground shows how older people can be self-sufficient. "It seems like a no-brainer that government and local councils take this model and think 'this is what we should be doing'."
The best thing is? To be surrounded by people I can depend on, to feel safe, and in control of my life as I get older.
The worst thing is? Not always getting your own way. We do things by consensus, which can sometimes be time consuming, but it's worth it.
Main image: New Ground
This article is the first in our Let's Live Together series, which examines co-living projects around the world.  
Help us break the bad news bias
Positive News is helping more people than ever to get a balanced and uplifting view of the world. While doom and gloom dominates other news outlets, our solutions journalism exists to support your wellbeing and empower you to make a difference towards a better future. And as Positive News' audience and impact grows, we're showing the rest of the media that good news matters.

But our reporting has a cost and, as an independent, not-for-profit media organisation, we rely on the financial backing of our readers. If you value what we do and can afford to, please consider making a one-off or regular contribution as a Positive News supporter. From as little as £1 per month, you'll be directly funding the production and sharing of our stories – helping them to benefit many more people.

Join our community today, and together, we'll change the news for good.