A charity that uses clowns to bring laughter and respite to displaced children has won the inaugural Kindness Awards
They say comedy is a serious business and that's certainly the case for Clowns Without Borders UK, which helps spread laughter among children in refugee camps, conflict zones and disaster areas – vital work that has seen it win the first ever Kindness Awards.
The new award was founded by skincare brand, Simple, in partnership with Positive News, as a way of bringing more attention to organisations that are spreading kindness in the world. Clowns Without Borders has been declared the winner following a public vote and will receive a £7,000 donation from Simple.
"The timing of this couldn't be better because the climate we're operating in is very uncertain," said Samantha Holdsworth, the charity's director. "It's a gift from the clown gods."
Clowns Without Borders works with professional artists to create shows that encourage children living through crises to laugh, dance and play. Until recently the charity was working in Moira refugee camp on the Greek island of Lesbos, where 20,000 people live in dire conditions. However, the Covid-19 pandemic has forced the organisation to put its performances on hold.
"Circumstances are difficult right now and we know that the first cases of coronavirus are in Lesbos," said Holdsworth. "After [the pandemic] there's going to be such a need to provide something light and joyful. People are going to need some form of psychosocial relief."
The prize money will allow Holdsworth's team to "hit the ground running" with performances as soon as it's safe to do so, she added.
Clowns Without Borders will livestream clown workshops online for children living in lockdown
In response to coronavirus, Clowns Without Borders is going to livestream clown workshops online for children living in lockdown, so they can learn how to put on their own shows at home.
"The idea is to provide a clown activity or trick every day so that after three or four weeks, children will be able to create their own clown show in their living room, which they could film and send to grandparents or friends," said Holdsworth. "I like the idea of hundreds of children being little joy makers with their clown shows. These are serious times so our need for laughter, humour and joy is greater than ever."
Simple shortlisted six organisations for the inaugural Kindness Awards, which were drawn from stories published by Positive News, before putting the winner to a public vote. The five runners up were: City to Sea, Magic Me, London National Park City, Springster and SayYesMore.
"In the Simple competition, voters chose to support the most vulnerable children – refugees – with the aim to bring a smile on their face," said Magali Giupponi, Simple's global brand director. "Which is exactly what Simple is about – being kind does not have to be serious. In times of crisis, kindness is even more needed, and humour can help be stronger in the face of adversity."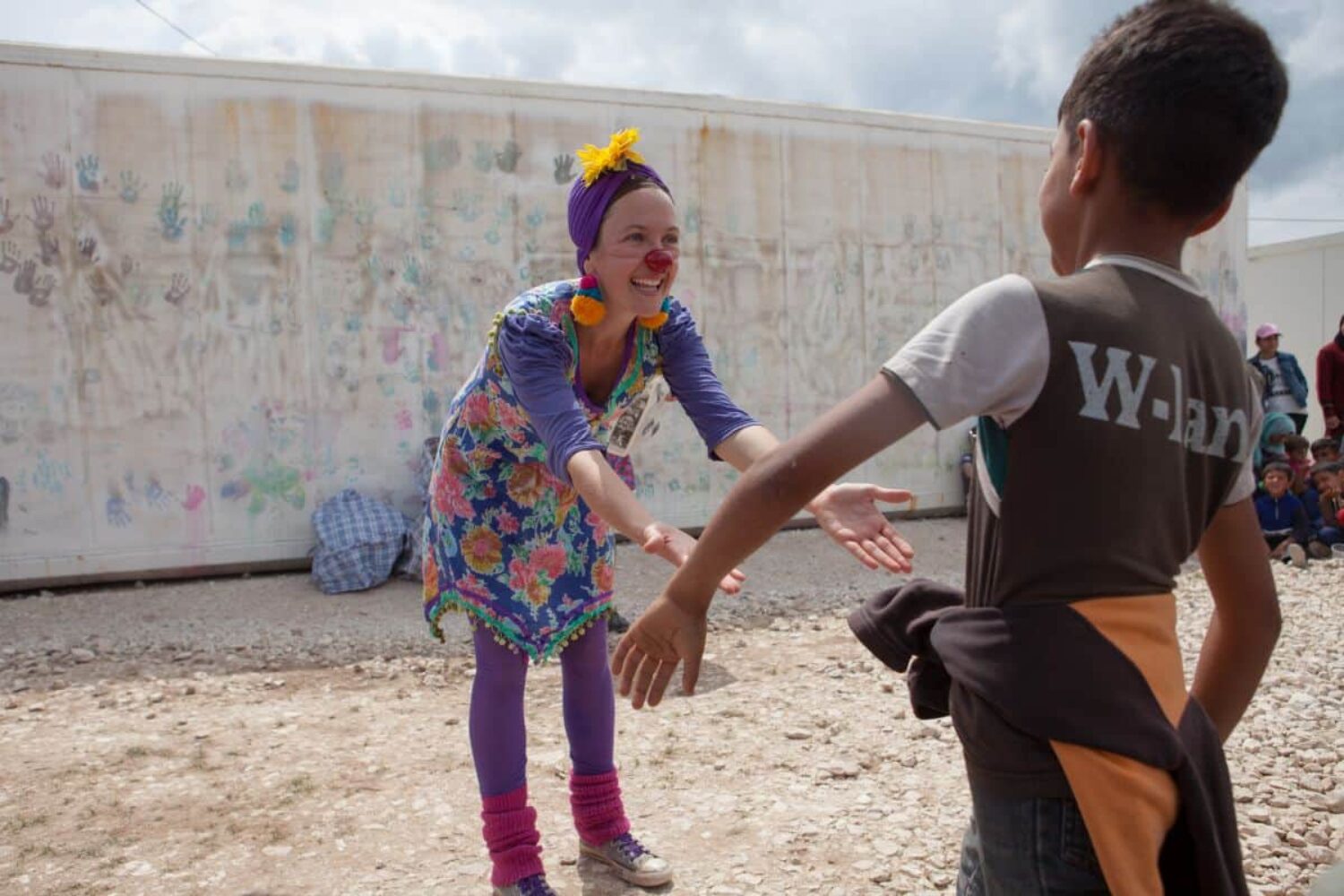 Giupponi added: "We are proud to help Clowns Without Borders, and I am looking forward to seeing them do more of what they do best: provide emotional relief and resilience through laughter. The world needs this right now!"
Sean Wood, CEO of Positive News, said. "Kindness is no joke. We're delighted to see our readers vote to support children to clown around amid the coronavirus crisis, by choosing Clowns Without Borders as the winner. With the tangible difference it makes in refugee children's live, the charity, as well as the runner-up organisations, are fantastic examples of the kindness towards people and the planet that is so valuable right now. We're pleased to have partnered with Simple to amplify this kindness."
The Covid-19 pandemic means it is unclear when Clowns Without Borders will return to frontline duties. However, Positive News will report back when the pandemic is over to find out what the charity has been able to achieve as a result of winning the Kindness Awards.
"We are already thinking about what happens when we get to the other side of this," said Holdsworth.
Main image: Edward Morgan