From communal gardens to parties in care homes, projects across the UK are showing how kindness in the community benefits everyone
In the Cornish seaside town of Newquay, a flourishing community garden is proving that doing a little good for the neighbourhood can have a profound impact.
The Newquay Community Orchard is a seven-acre green space where wellness and friendship are promoted and locals can come together to learn to grow food or develop skills in woodwork or horticulture. Visitors are also encouraged to use the orchard as a space to take some time for themselves.
Community projects such as this, which encourage kindness, aren't just a nice thing to do. A recent study suggests that our brains actually reward us for being kind. Psychologists at the University of Sussex undertook a major review of research into our neurological responses when we act out of altruism. Brain scans of more than 1,000 people making kind decisions indicated that altruism set off the reward networks of the brain – the same regions that light up when we eat nice food or look at someone we love.
Kyle Reed, one of the orchard's managers, says he has seen first-hand the impact that giving time to a community project can have on people's wellbeing. "Many of our volunteers are referred by the GP through social prescribing and often join us at low points, or they are just feeling lost or in need of some connection," he says.
"I've watched lifelong friends be made through the gardening, horticulture or woodwork activities they take part in [at] the orchard.
"Our Wellbeing Wednesdays see volunteers trying out yoga and meditation or simply sitting in the wildflower meadow over lunch, having a chat and escaping the busyness of Newquay town."
He adds that the orchard reminds volunteers what life should be about: "Coming together with kind people; doing good things; making positive changes, memories and friends; and being part of a project to be proud of."
I've watched lifelong friends be made through the activities at the orchard
In London, the arts charity Magic Me takes the idea of doing good by visiting older people in care homes, and makes it more fun by putting on cocktail parties where young volunteers and residents can enjoy music and chatting over a drink. The Cocktails in Care Homes project currently works with 17 care homes and engages more than 400 volunteers per year.
One of them is Mohini Dhanjee, who first signed up because she wanted to connect with people in her community who she wouldn't normally come across. Experiencing her grandmother being diagnosed with Alzheimer's made her "take stock", she says.
Dhanjee is now a volunteer party manager. "I love how each party has a different atmosphere, seeing residents and volunteers connect and open up. There are so many interesting conversations. It's always surprising which stories come out," she says.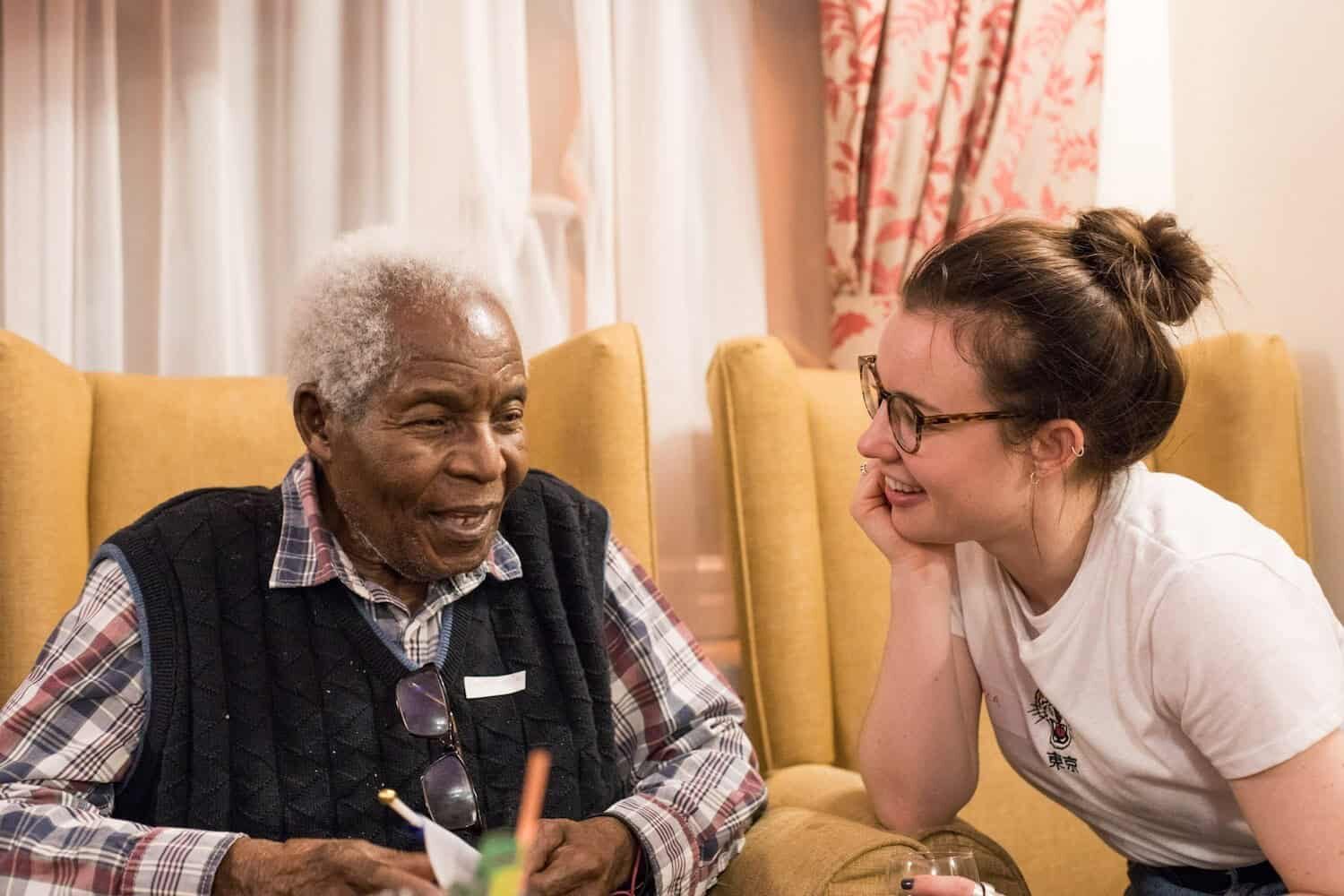 It has also "hugely improved" her own wellbeing. "I'm quite shy so it was a big step out of my comfort zone to be in a busy social situation with so many personalities. I feel much more confident and relaxed. Meeting residents also gives you a different perspective on your own life," she says.
Cocktails in Care Homes is not the only project that helps young people connect with the older generation. When Caspar van Vark first signed up to Opening Doors, Age UK's LGBT befriending scheme, 10 years ago, he saw it as an opportunity to help tackle social isolation among older people in the LGBT community. Before long, however, van Vark's visits went "beyond volunteering" and he now sees the man, 93, as a friend.
"It basically just means once a month I visit an old queen and we gossip over a gin and tonic for an hour," van Vark says. "I enjoy talking to him, hearing some stories about his life, but mostly just gossiping and having a laugh."
Kindness is so important – it shows that people are out there who care
While many kindness initiatives are organised by groups or charities, there are also individuals who have taken it upon themselves to try to make the world a brighter place. One of them is Joe Ellis. He designed Kindness Cards, which he sends to anyone who wants to carry out a random act of kindness, such as paying for someone else's shopping in a supermarket if they are struggling to afford it. The cards also encourage the recipient to pay the act of kindness forward.
Ellis says: "Kindness is so important. It's not to make me feel good, but shows everyone that people are out there who care. People are instantly lifted and some contact me by email to say thank you and ask for a batch of cards so they too [can] undertake acts of kindness.
"The campaign is growing, and in a world that is turbulent, kindness plays an important and essential part."
Three ways to be kind to your community
Clean the local waterways
Organise a group to clean up plastic and other rubbish from a local river, or volunteer with a charity that cares for them. Thames21, for example, hosts regular clean-up events for individuals or groups.
Take part in BookCrossing
Leave a book you love on the bus, a bench or another public spot for someone to pick up. A sticker inside explains the idea and asks the recipient to let their own book out in the wild.
Set up a small community garden
Make your local area greener with a neighbourhood garden or orchard – like Wildcat Wilderness, a six-acre site in south London that, since 2014, has been turned into a fruit orchard and community space, run by volunteers.
Main image: Newquay Orchard 
The Kindness Awards – find out more