Hosted in a regenerated woodland, Timber Festival is a celebration of music, nature and ideas. Here's what else to expect this July
Nature at centre stage
Trees are the real headline act here; landscape the star of the show. A quarter of a century ago, Feanedock Covert and surrounding woodlands still bore the scars of their industrial past, pockmarked with clay pits, coal mines and landfill. Today, the area is a thriving, 70-acre mosaic of meadow, wetlands and native broadleaf forest where – as the venue for Timber – festival-goers can experience conservation in action. 
This picturesque setting of woodland hollows and wide open spaces is a living example of the National Forest's vision to breathe new life into once degraded land straddling Derbyshire, Leicestershire and Staffordshire – but the charity's work is about more than simply planting trees. "We're creating an identity of a forest," says John Everitt, chief executive of the National Forest Company, which leads on the creation of the National Forest. "That's not just a visual thing or an ecological thing. That's the emotional pull – people can feel part of something exciting and they can associate culturally with the nature of this place."
Timber Festival began in 2018, the result of a partnership between the National Forest Company and festival producers Wild Rumpus. Its diverse programme receives grant funding from the National Forest, which nurtures local artistic talent. "Timber brings together nature, sustainability, arts and culture in a way that captures imaginations and creates magical experiences," says National Forest arts officer Jo Maker.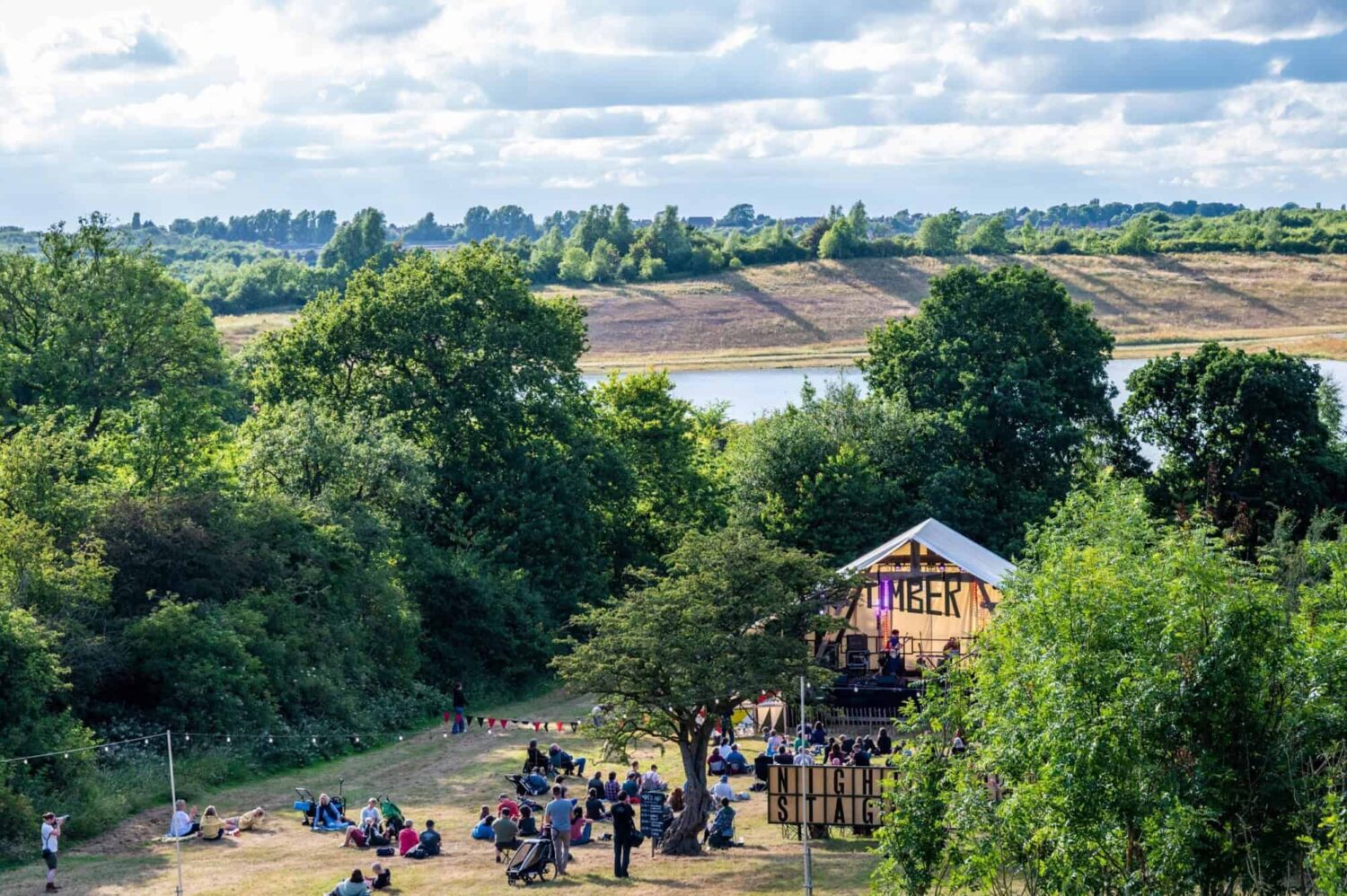 An inspiring line-up of talks
Over the last five years, Timber has become renowned for its packed programme of talks and readings, curated to delight bookworms, provoke debate and inspire positive change. Where else can you hear poet laureate Simon Armitage read from his new book, Never Good with Horses, before he takes to the decks for a DJ set amid the tree canopy?
Also on the bill is Transition Network co-founder, Rob Hopkins, inviting a new generation of visionary thinkers to unleash their collective power of imagination and brainstorm a new future. Meanwhile Raynor Winn – author of the bestselling The Salt Path – will talk about her new book, Landlines, which chronicles her 1,000-mile walk from the north west of Scotland to the south coast of Cornwall with husband Moth.
More author announcements are in the pipeline and, in line with the National Forest's focus on the natural world, expect debate from speakers on environmental science, ecology and conservation, plus talks on everything from wild swimming to adventuring with (and without!) your kids.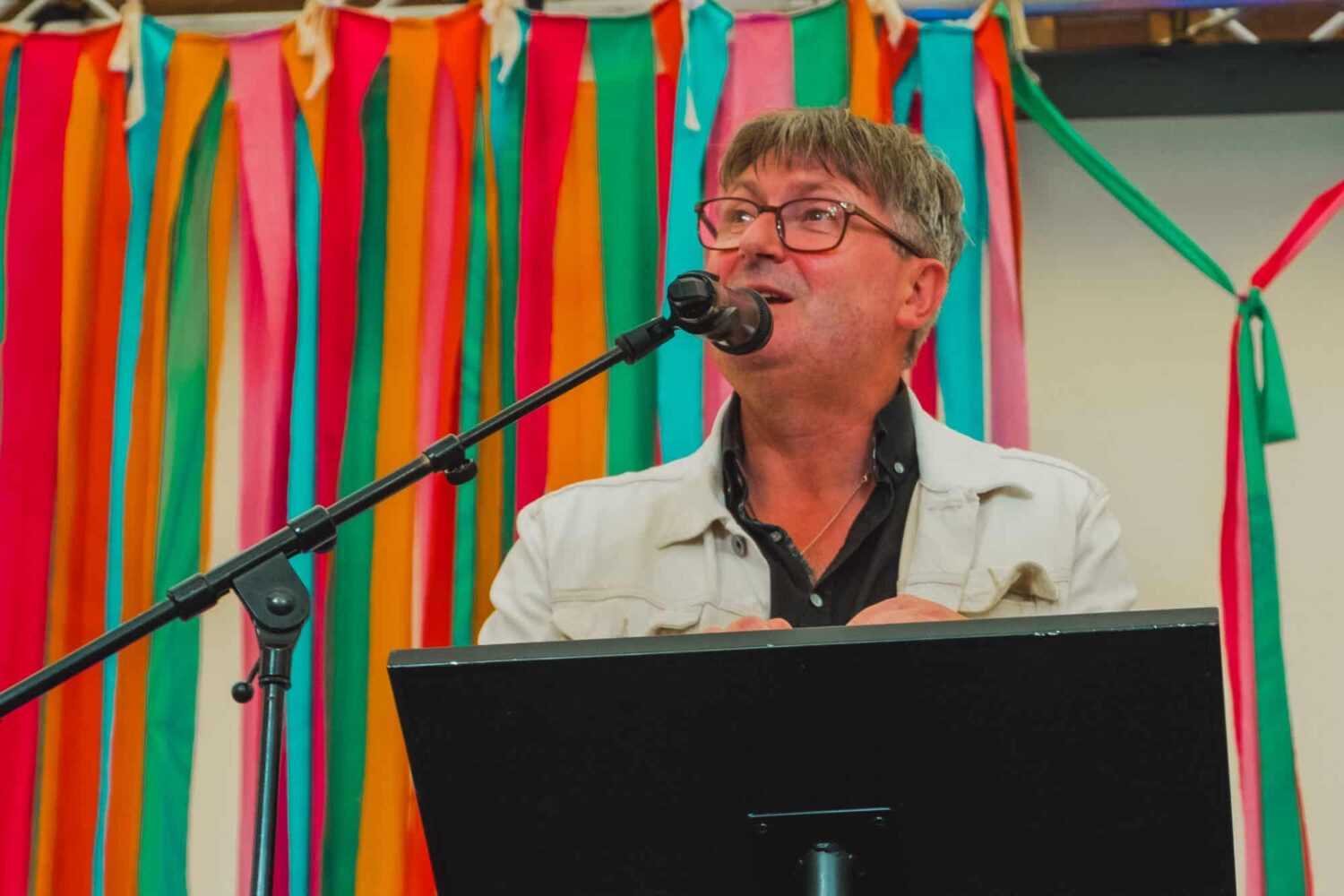 Music to set the forest alive
The soundscape at Timber is as much about the birdsong drifting down from the forest canopy as the woodland DJs, but it wouldn't be a festival without toe-tapping live music.
Highlights from this year's line-up include indie-folk band Keston Cobblers Club, whose hook-laden melodies have drawn praise from BBC 6 Music stalwarts Edith Bowman and Steve Lamacq. Birmingham band The Destroyers effortlessly meld klezmer, Balkan and British folk in an explosive live show packed with fiddles, woodwind and brass, while fellow midlander Elle Chante draws on her experiences of mental health and disability to inspire her songwriting – expect emotive vocals laid over looping guitars.
From further afield, Guinea's multi-instrumentalist and master musician N'famady Kouyaté brings modern interpretations of traditional Mandingue songs, including a performance on the balafon, a traditional wooden xylophone sacred to west African culture.
Immersive wellbeing and nature activities
"The main aim of the Timber festival is to express the National Forest and its sustainable approach," says National Forest director of development, David Bourque. "It's a microcosm of our work packed into three days, it's all about helping wildlife and people to thrive alongside each other."
This year, Timber's expanded woodland wellbeing area – dedicated to mindfulness and relaxation – includes a mobile sauna where festival-goers can unwind before taking a revitalising dip in an ice-cold plunge pool beneath the trees. If baptisms of fire and ice sound a little too extreme, you can bliss out with a bit of forest bathing, the ancient Japanese mindfulness practice of slowing down among the trees and tuning into the forest with all of your senses. Elsewhere there's laughter yoga, dance workshops, meditation and gong baths.
Timber is unashamedly a boutique festival catering to just 5,000 revellers who for three days share this space with the true denizens of Feanedock, its flora and fauna. Be among them on Timber's guided night time bat walk. Elsewhere, National Forest-supported artist Ruth Singer invites you to explore the area's 'extraordinary and humble' hedgerows through her textile installation.
A warm welcome for families
This is a festival curated for all ages. "It's a space for families to come together and explore, there are no boundaries," says Maker. 
Learn how to bust out some Bollywood-style moves with Bhangra dance sessions, or sign up for circus skills and get to grips with the trapeze. There's maypole and barn dancing – and if the kids aren't worn out yet they can let off steam in the woodland playground.
Look out for legendary animation outfit Aardman, creators of Wallace and Gromit and Shaun the Sheep, who have teamed up with the National Forest on a 'crowd modelling' activity for people of any age. 'Wood-be' (pun intended) crafters will be invited to model what they would like to see in the forest's outdoor spaces, such as native wildlife or people simply enjoying the space. These creations will help shape the future of the National Forest by inspiring the charity's plans as it develops 10 new community woodlands. 
"We are excited to see what creations people offer and how these can help influence woodland culture here in the National Forest," says Maker.
Main image: Wild Rumpus