A fifth of Britain was once covered by rainforest. Hidden in remote corners of our rainy isle, fragments still survive. On a walk through a regenerated English rainforest, conservationist Guy Shrubsole explains how he is mapping and protecting them, aiming to double their size in a generation
I'm standing in the middle of the rainforest. It is – suitably – pouring with rain and steaming with mist. Moss-covered trees sprawl. Clouds of chartreuse and ochre lichen festoon surfaces. Polypody ferns unfurl and spill out of head-high trunks. Pennyworts decorate stone and wood. Up above, pearly-white mushrooms grow out of crevices. The rain pitter-pattering is a constant soothing hush. Acorns crackle underfoot. The forest gleams wet and green. I could be in Tolkien's Middle-earth, or Jurassic Park, but, actually, I'm not too far from Totnes, a market town in Devon, south-west England.
I've travelled here for a walk with the conservationist and writer Guy Shrubsole, who is campaigning to regenerate rainforests in Britain and has written a book about this forgotten realm. Restoring nature is at the forefront of climate action, and while we all think about the carbon absorbing Amazon when talk turns to saving the rainforest, there are exciting opportunities to bring Britain's lost rainforests back.
Perhaps like me you had no idea that we have this globally rare and unique habitat in England. We've all heard of tropical rainforests, but the notion of rainforests in our cooler climes sounds strange. Even after reading Shrubsole's book, it wasn't until I actually stood in the rainforest that I realised what was so special about these places.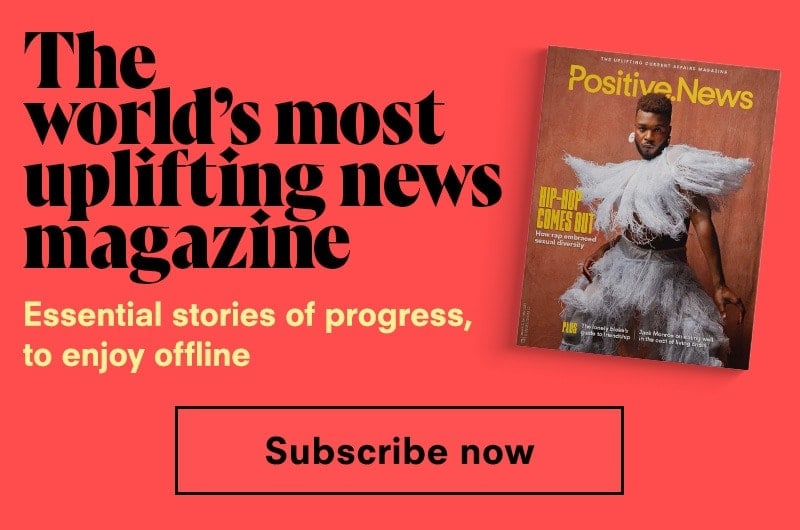 Simply put, temperate rainforests are woodlands so damp and mild that plants grow on other plants. Or, as Shrubsole says, "life grows on other life". Ecologists define rainforests as technically receiving more than 1,400mm of rain throughout the year. The difference between the wood I visited with Shrubsole, and my nearest wood in Hampshire, is the sheer abundance: the layers of plants on plants on plants.
The remaining fragments of rainforest are on the west Atlantic coast of Scotland; Snowdonia and the Elenydd in Wales; and in the Lake District, Forest of Bowland, Yorkshire Dales, Pennines and West Country in England, collectively covering just 0.5 per cent (or 46,628 acres) of Britain.
But it is likely further areas of the country could support more rainforest – 20 per cent by one estimate. Shrubsole is currently attempting to map what temperate rainforest still exists, using crowdsourcing to create a clearer picture to ultimately help aid their conservation: only around a quarter of Britain's remaining temperate rainforest is currently protected.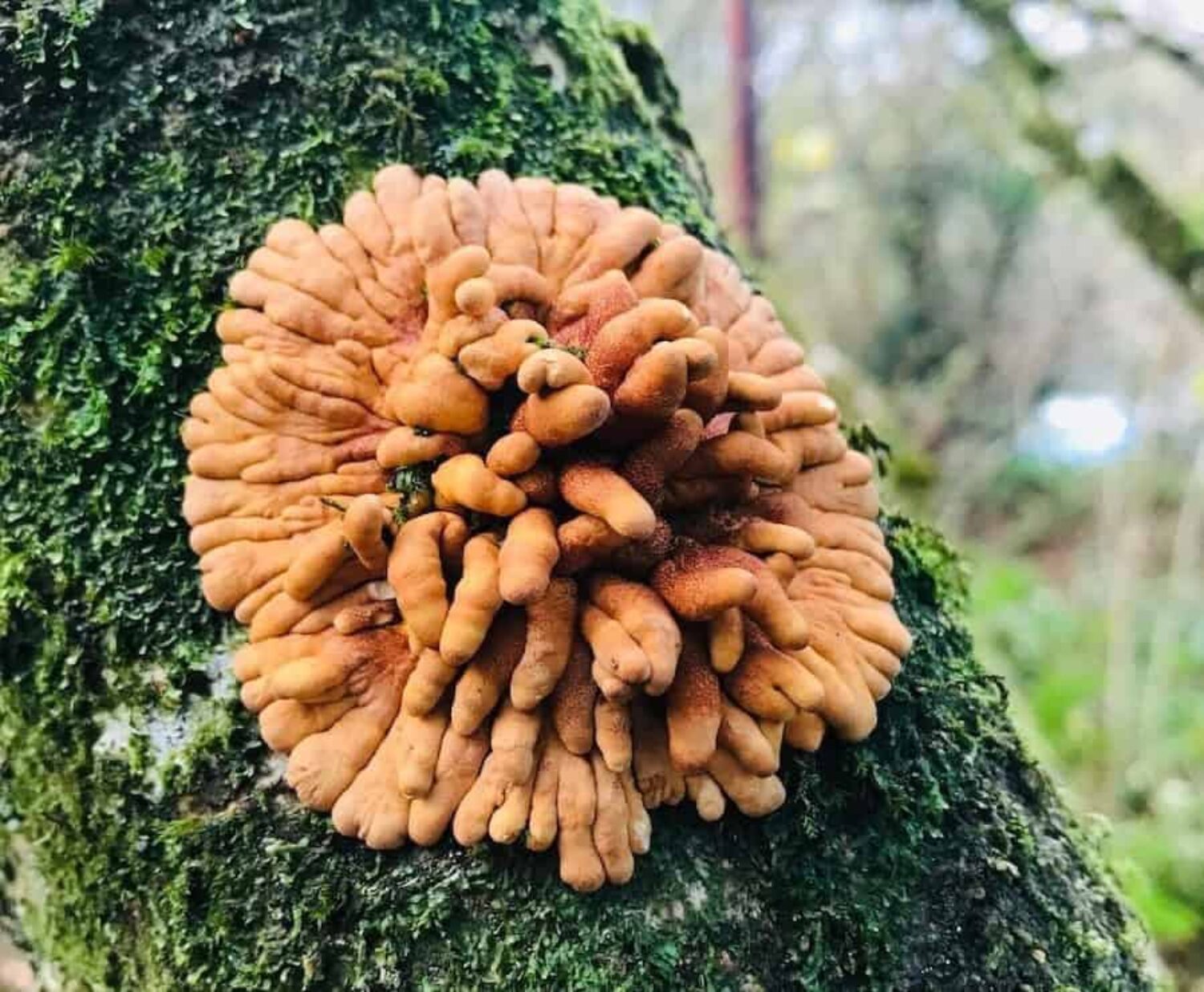 Great swathes of rainforest in Britain were destroyed over the centuries for timber and fuel. Temperate rainforests are often made up of sessile or Atlantic oak, which unlike its lofty English cousin, is bent and twisted, a supporting structure to the myriad plants that hang off them. Once known as 'scrub oak', the pejorative term led, in part, to their destruction for firewood.
But there is good news. What is so remarkable about the rainforest we're walking in is that it wasn't even here 100 years ago. Lustleigh Cleave is an example of a rainforest that has regenerated to stunning effect over the last decades.
"I've never seen anywhere that's regenerated a woodland as big as this through natural regeneration," says Shrubsole, pointing out the diversity of lichen, fungi and plants excitedly as we walk. Dog-lichen, with its bright orange lobes. The incredible glue crust fungus, which binds branches of the hazel tree together. Witches' whiskers lichen, with its tentacular structure.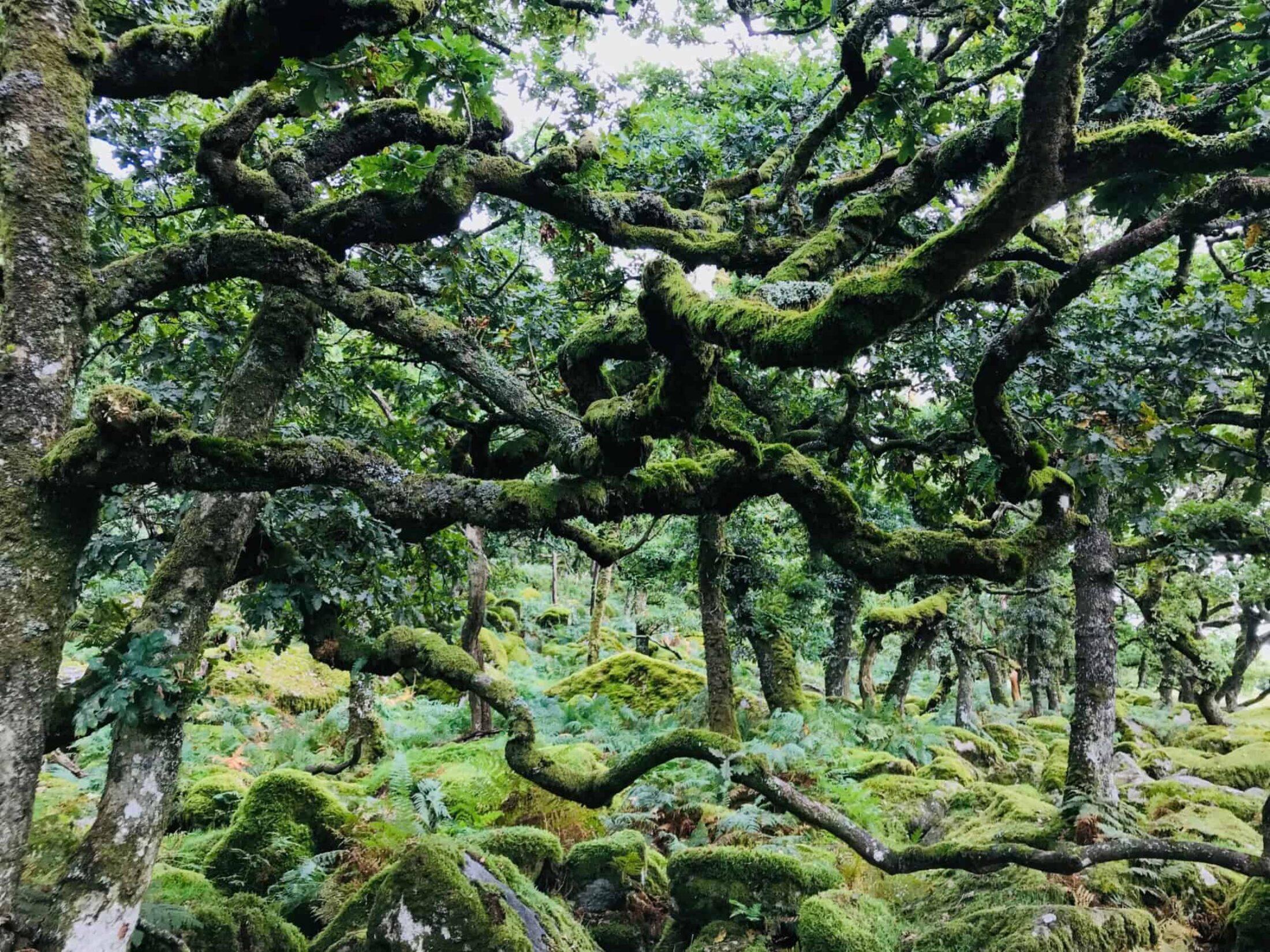 The abundance of biodiversity in temperate rainforests makes them unique and enchanting – and, here, I can see it, smell it, touch it. The lichens we see are bigger, brighter and more complex than any I've ever seen in deciduous woodland. I'm longing to see the famous stringof-sausages lichen. Shrubsole's favourite species of lichen is tree lungwort. "They look like bat wings growing out of trees," he says, spotting a Sticta lichen, which smells like fish if you rub the powder on its leaves between your fingers.
The bestselling author of Who Owns England? turned his attention to temperate rainforests after moving to Devon. He was first enchanted by Lustleigh Cleave, and began exploring others. "All woodland is amazing, but I think temperate rainforest is the pinnacle of our woodlands in Britain because it's so abundant in life."
On the map, Lustleigh Cleave looks like a splodge of lichen, its edges organic and curving, in marked difference to the straight edges of the artificial conifer plantations nearby.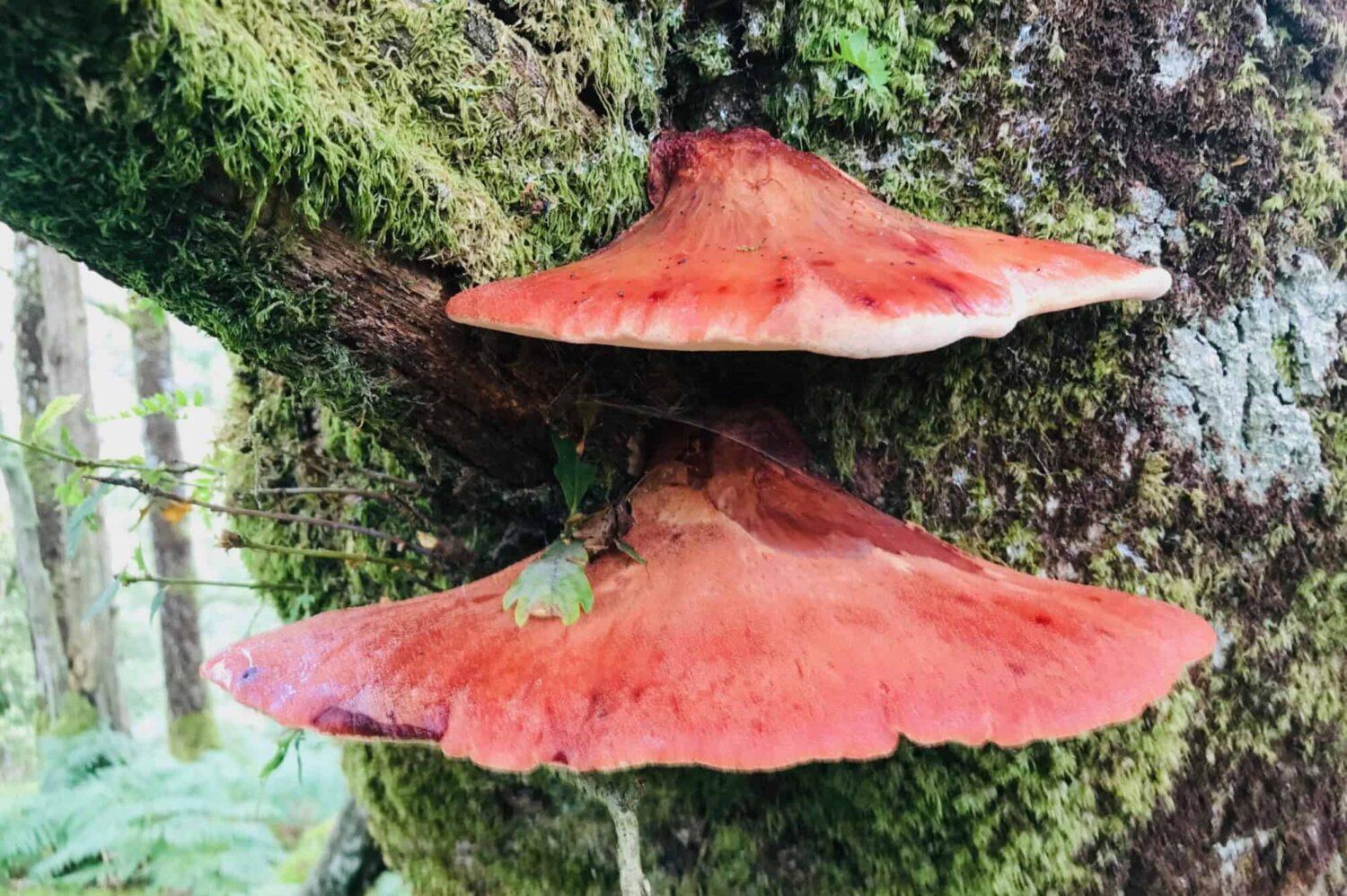 We are looking at the map because we are lost, but there are few places better to be lost than a rainforest. We come across enormous moss-covered boulders that look like they could come alive and walk towards us. And then, I see it: string-of-sausages lichen on the forest floor. It looks just like its folk name suggests. We're lost but happy, revitalised by the rainforest, soaking wet and filled with awe and wonder.
Lots of work is already happening to protect Britain's forgotten rainforests. The Wildlife Trusts, a conservation charity, recently embarked on a 100-year initiative to protect and enlarge Britain's temperate rainforests.  Shrubsole also singles out the Alliance for Scotland's Rainforest, and highlights the work of organisations like Plantlife, and of landowners like the National Trust, which are conserving existing fragments and letting them expand again.
"Let them do what they want to do naturally," he says, "which is to seed and grow. There is this growing understanding that it's not enough to manage decline anymore."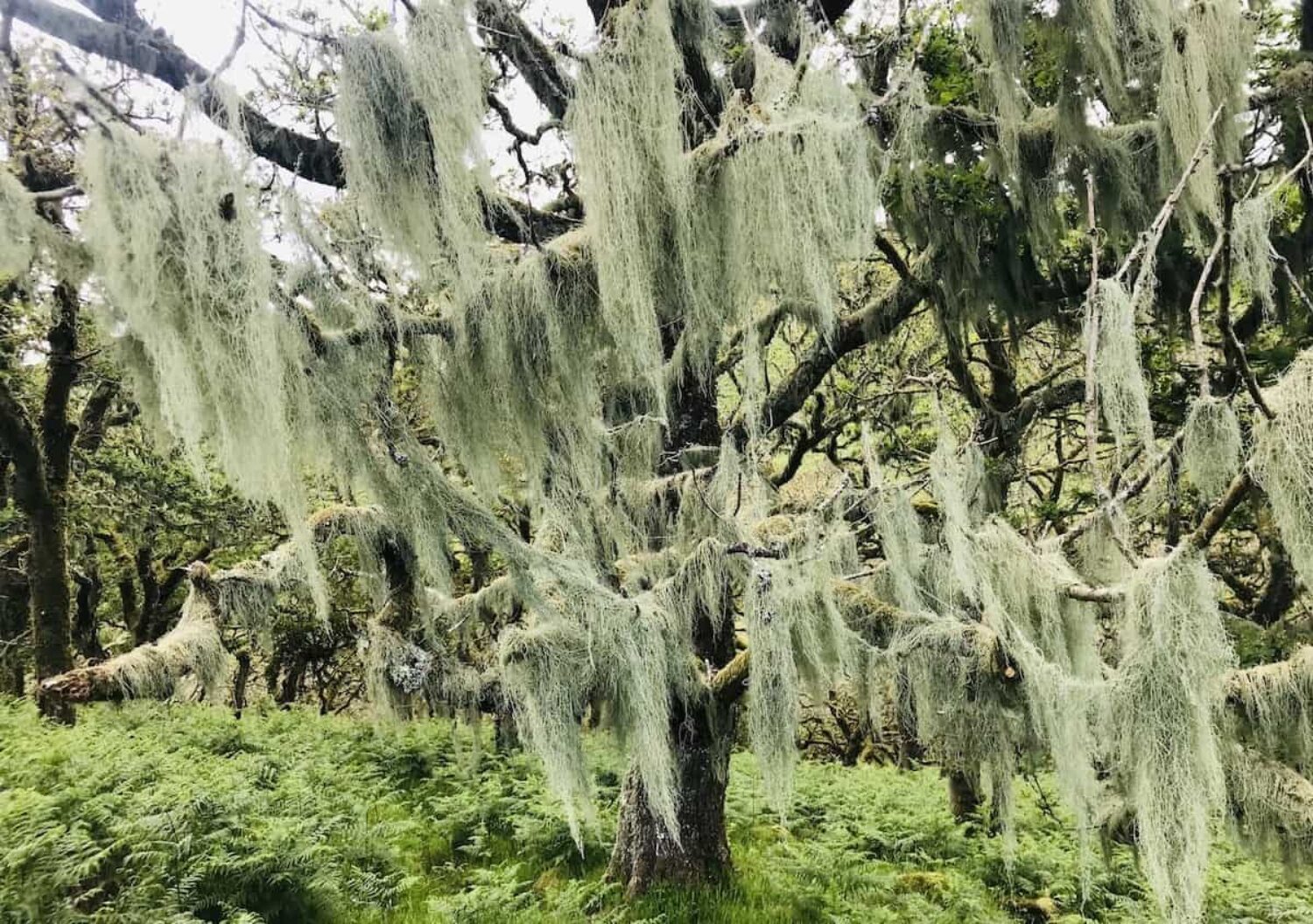 The threats today are from grazing pressures – sheep and cattle, as well as deer – which stop saplings growing. Rhododendrons, which were introduced by the Victorians, are disastrous for biodiversity because they shade everything out.
With commitment from the government, Shrubsole estimates that rainforest cover could double in a generation through natural regeneration, and has called for a National Rainforest Strategy. If people want to get involved, there is a form on the Lost Rainforests website to send photos of rainforests they've spotted.
I think temperate rainforest is the pinnacle of our woodlands in Britain
"The idea of a rainforest in Britain jolts people into thinking 'actually we do have something exotic and special and it's here!'" says Shrubsole. "We have the right conditions for it. We are a very rainy island. Unfortunately, we did get rid of a lot of them, but luckily we held on to some so there is this sense of redemption that comes through restoring some of the stuff that our ancestors, through need or ignorance, got rid of."
It's hard to leave the rainforest's magic, but we've found our way, and as we emerge, I'm already planning a return trip, amazed that the actual rainforest is only hours away by train.
Help us break the bad news bias
Positive News is helping more people than ever to get a balanced and uplifting view of the world. While the doom and gloom of other news outlets becomes overwhelming, instead we're here to support your wellbeing and empower you to make a difference towards a better future. And as Positive News' audience and impact grows, we're showing the rest of the media that good news matters.

But our solutions journalism has a cost and, as an independent, not-for-profit media organisation, we rely on the financial backing of our readers. If you value what we do and can afford to, please consider making a one-off or regular contribution as a Positive News supporter. From as little as £1 per month, you'll be directly funding the production and sharing of our stories – helping them to benefit many more people.

Join our community today, and together, we'll change the news for good.