Hundreds of fruit trees are being planted around Birmingham in a bid to boost biodiversity, food production and public health
Think of Birmingham and what springs to mind? Probably not blossom-filled orchards. But once upon a time, England's second city was surrounded by fruit trees, earning it the moniker "the town ringed by blossom". 
That nickname fell out of favour as the trees were torn up to make way for houses and factories, those engine rooms of the Industrial Revolution. According to the National Trust, a conservation charity, Birmingham has lost 85 per cent of its orchards since the 1900s. 
But this week, a project launched to bring blossom back to 'Brum'. On Tuesday, the first of 600 fruit trees were planted along the number 11 bus route, which loops around the city and is believed to be the longest bus route in Europe.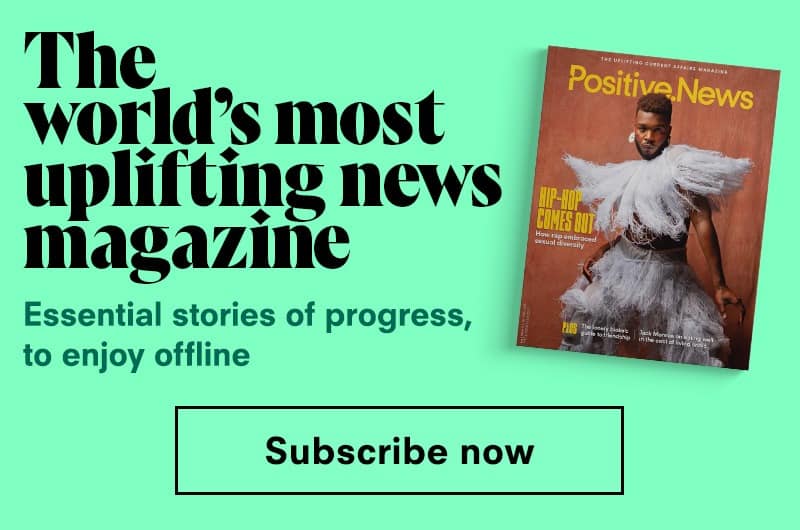 The National Trust donated the trees to residents, community groups and schools along the route, and believes the project will "create an important legacy for the city".
"Blossom is not only beautiful, it's also vital for the wellbeing of our environment – and for us," said Lucy Reid, who is leading the project. "It is great for pollinators, such as bees, which help trees produce fruit, and the trees also help to clean the air we breathe by absorbing carbon and producing oxygen."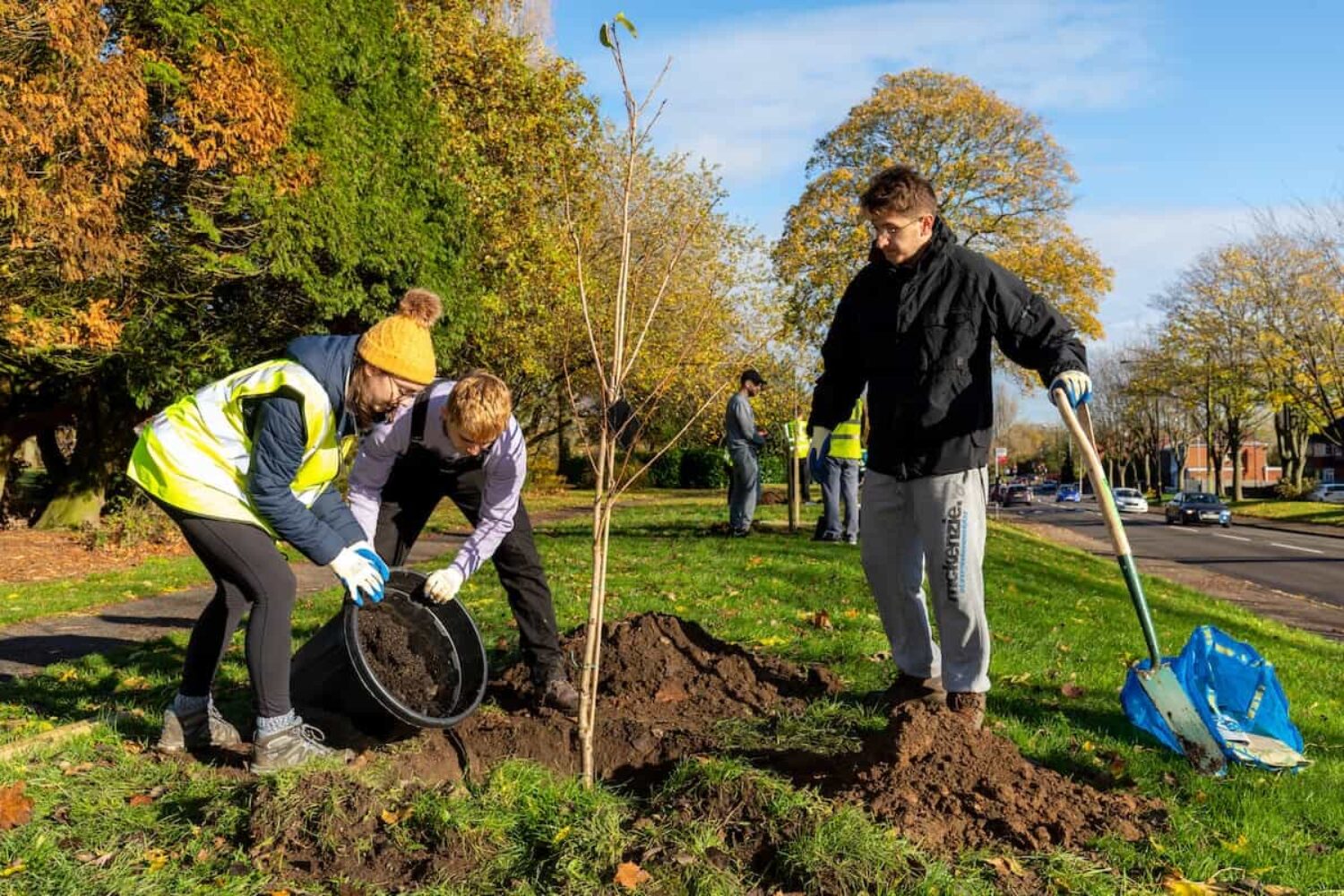 Reid added: "Through urban expansion, the number of orchards in Birmingham has dropped by 85 per cent – that's an area the equivalent of around 10 Bullring shopping centres. This project is helping to bring back some of that blossom."
Among those taking part in the project are pupils from Hodge Hill College. The secondary school's building manager, Garry Griffin, said: "It's great to get the pupils involved as well so they have a better understanding of our natural environment and why it's important to look after it."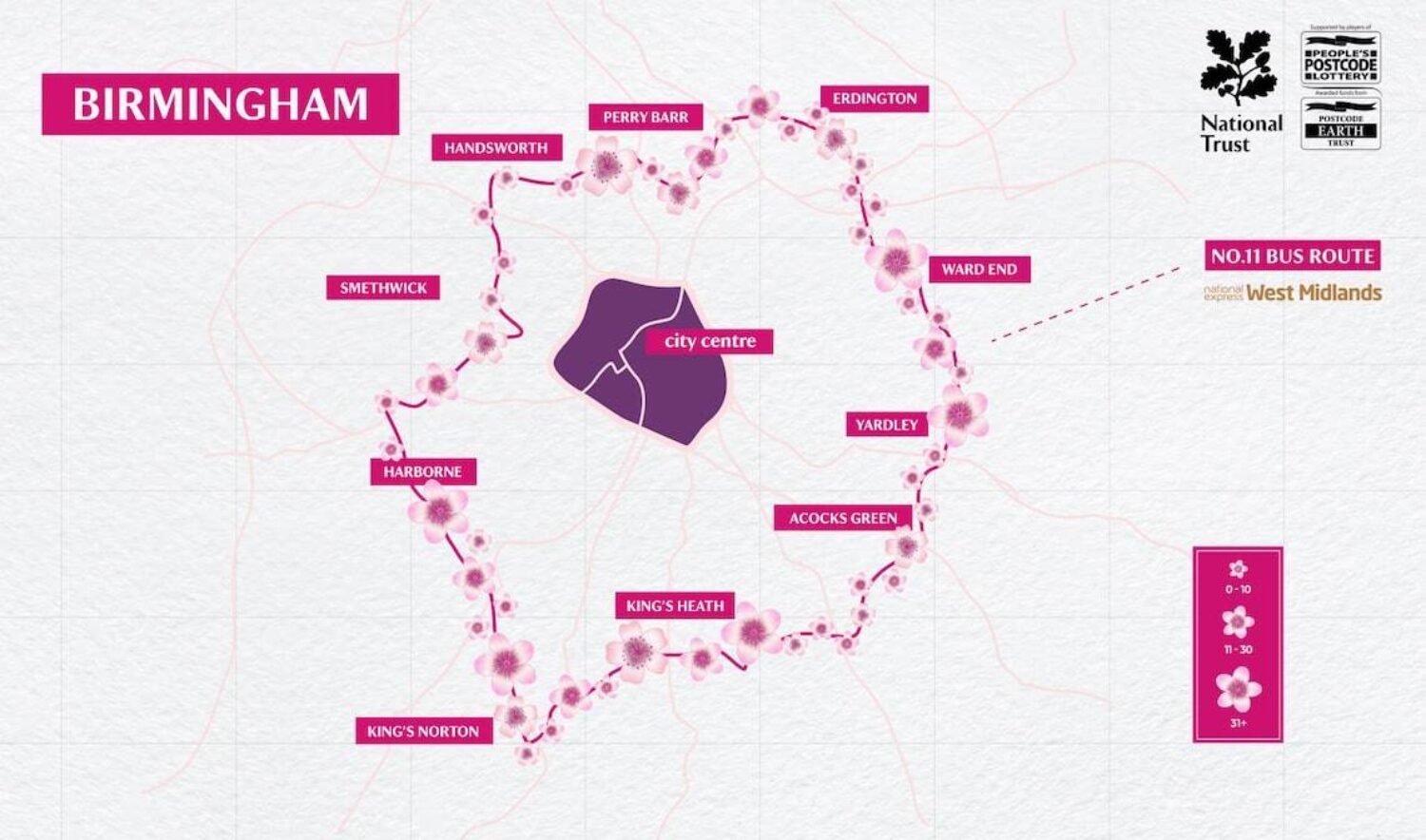 Birmingham's blossom project is the latest stage of a programme run by the National Trust, which has been planting trees in major UK cities.
The first to be created was the London Blossom Garden in east London. It opened in May 2021 to commemorate those who lost their lives to coronavirus. Fruit trees have also been planted in other cities including Plymouth, Nottingham and Newcastle.
Main image: Blossom trees at the University of Birmingham. Credit: Korng Sok