While Ukrainian honey is sent to fighters on the frontline, the beekeeping community rallies to support the nation's hives
Honeymaker Dmytro Kushnir hopes there is more than a grain of truth in the old Ukrainian proverb, 'whoever has honey has strength'.
Last month, with business grinding almost to a halt, he handed over a van-load of surplus honey – a tiny percentage of the 80,000-100,000 tonnes a year produced in Ukraine – to volunteer soldiers defending against the Russian onslaught.
"They are my friends, I wanted to help them," says Kushnir, who is currently based in Kyiv where his company keeps a warehouse. 
Previous visits to the frontline gave him a stark insight into the conditions faced by the fighters. "They are living in wet trenches, freezing cold. Many are sick and coughing. The honey will help them to stay healthy.
"I told them, 'honey will make you strong'. They said to me they have strength, but right now they cannot have too much. Any support is important."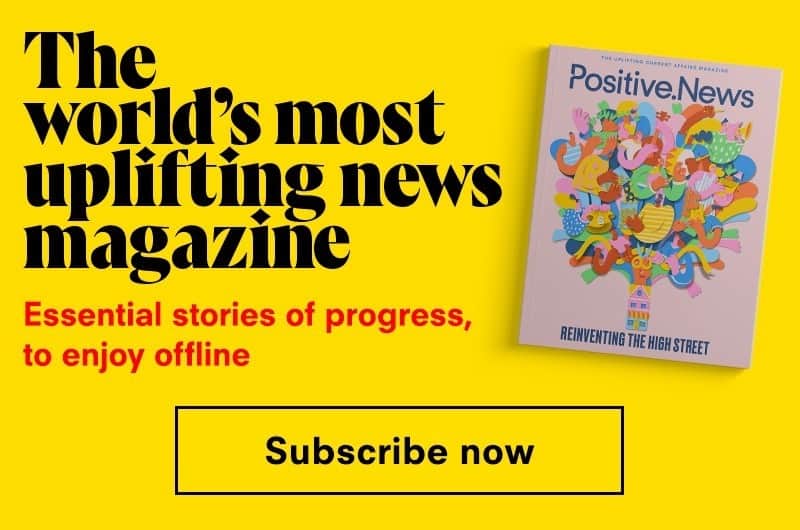 Ukraine has a rich history of beekeeping stretching back to medieval times, when bees were coaxed into colonising 'wild hives' fashioned from hollowed-out trees.
Beekeepers were revered as magicians and invoked mystical spells to defend their treasured bee colonies, handing down their ancestral sorcery from father to son. They placed their faith in prayers as much as the leather ropes used to scale tree trunks to tend their hives, perched a perilous 15 metres above the ground.
In recent years, Ukraine's beekeeping tradition – and not a little skill – has made it Europe's most prolific honey producer, and one of the largest in the world, with exports worth almost $140m (£114m) in 2020.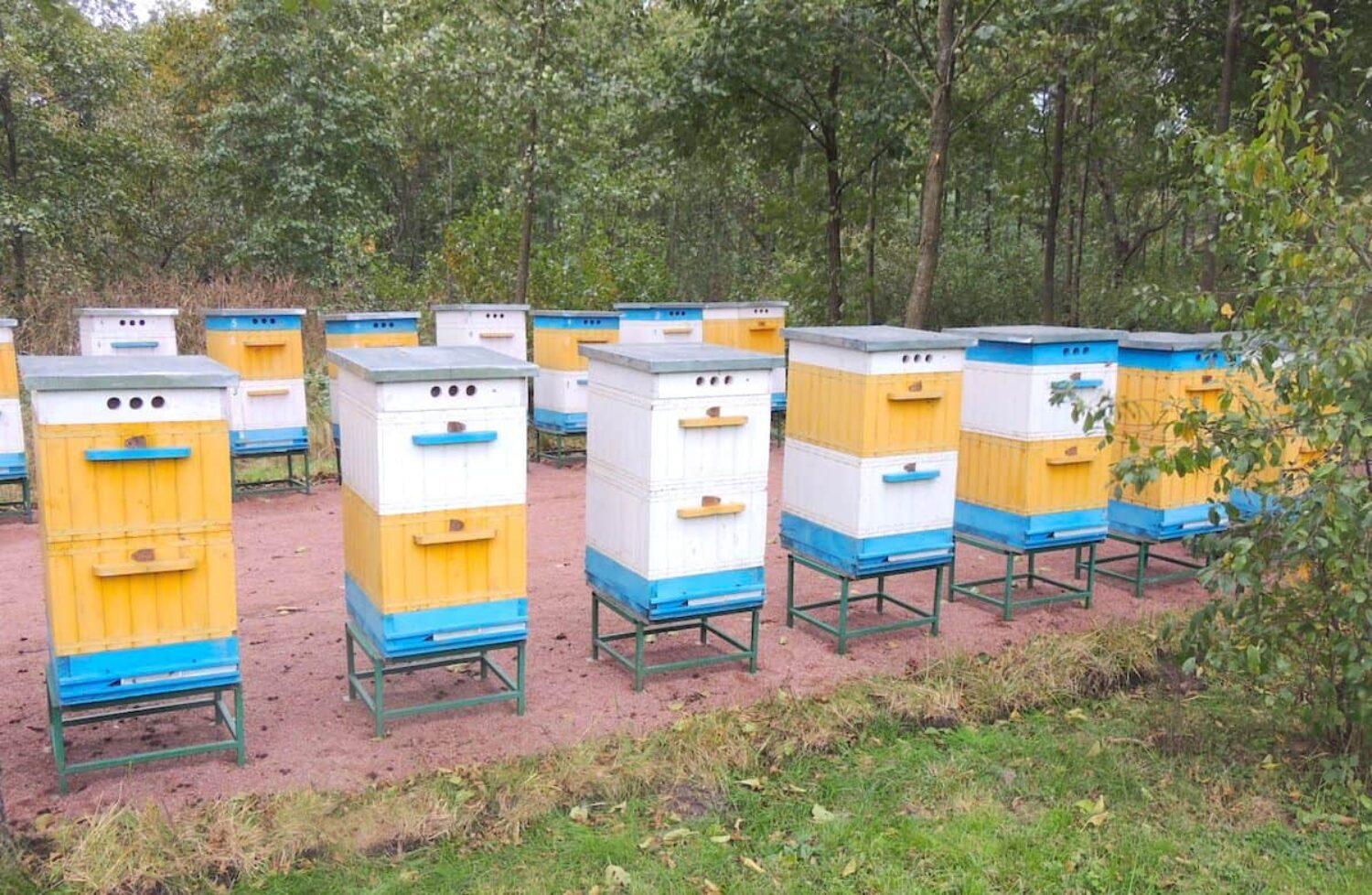 Kyiv played host to Apimondia's international beekeeping congress in 2013, where Ukraine's apiarists cemented lasting friendships with colleagues across the globe.
The country has around 400,000 beekeepers caring for 3.6m colonies, and pockets of its wild hive heritage survive to this day in the wilderness region of Polesia, often dubbed 'Europe's Amazon'.
But in the grip of conflict, the beekeepers of modern Ukraine need more than prayers. Many, including Kushnir's brother, Yuriy Yanyshyn, have swapped their hive tools for weapons.
"Around half our beekeepers are away fighting," says Kushnir, who co-founded his family enterprise Honey Brothers seven years ago.
Others, say the Brotherhood of Ukrainian Beekeepers, an NGO of 55,000 beekeeper members, have abandoned their apiaries as they flee from invading Russian forces.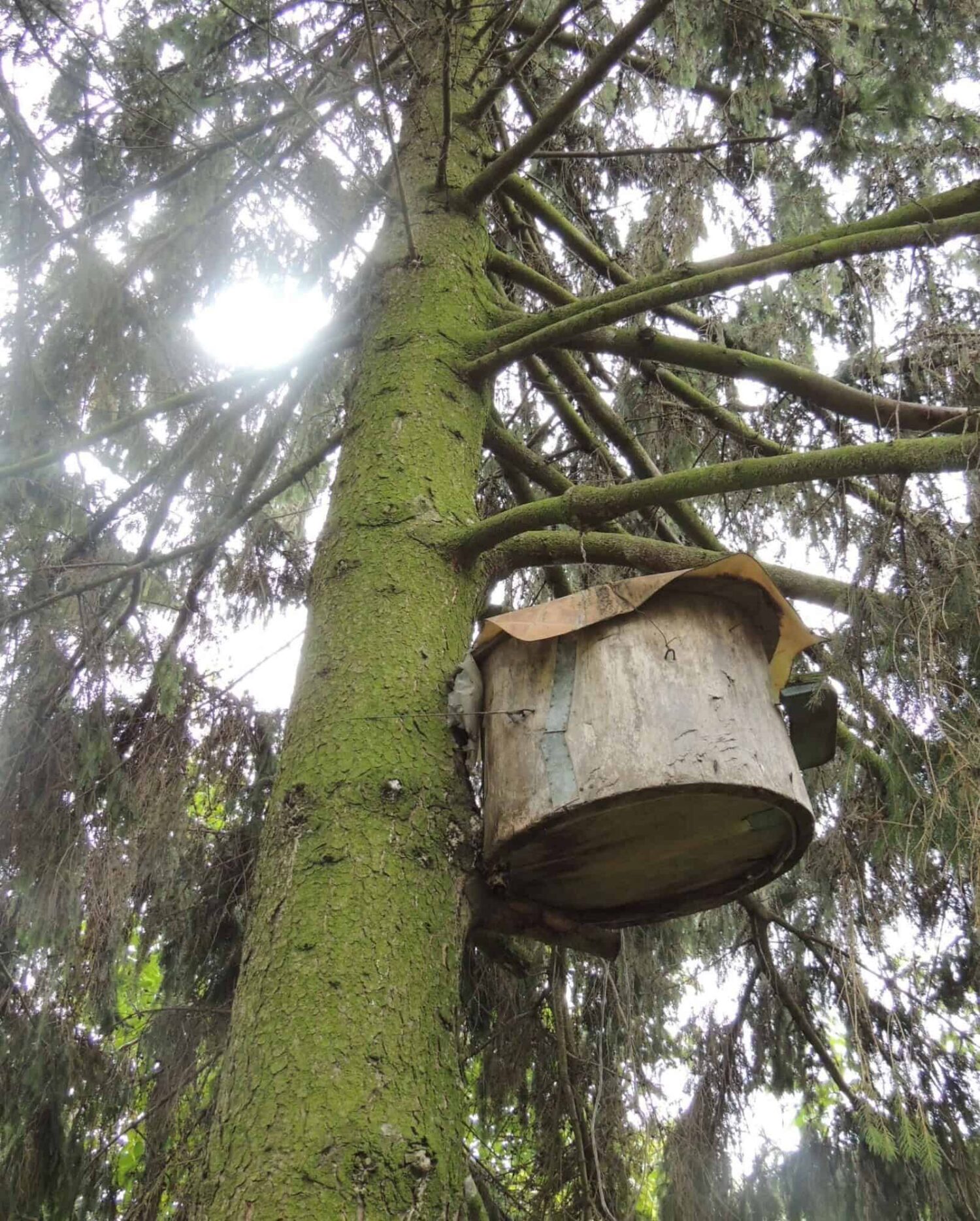 "It's a horrible thought," says Nicola Bradbear of Bees for Development (BFD), a UK charity that nurtures beekeeping in some of the most dangerous and inhospitable corners of the planet. "The beekeepers have had to go off to fight, and the one positive is that the bees will get on with it in their absence. There will be honey to harvest on their return."
BFD is one of a number of charities and businesses worldwide that have answered the Brotherhood's impassioned plea for aid. 
Alongside Apimondia – which this year relocated a planned congress in Russia to Istanbul – it is raising funds for long-term recovery projects such as re-establishing apiaries and local beekeeping association buildings. 
Previous charity work in Chechnya hints at the possibilities for beekeeping in Ukraine, once peace has been restored. 
"Mined land can be left to grow wild, and bees will forage on it. They'll come back with nectar and pollen to produce honey," says Bradbear. 
The beekeepers have had to go off to fight, and the one positive is that the bees will get on with it in their absence
"When infrastructure is destroyed, it's quite hard to re-establish, say, dairy which needs equipment, roads and transport – but beekeeping is something that you can recover quite quickly. 
"It's highly sustainable and resilient. You can kind of do it for free, and harvest a nutritious food commodity at a time when market systems aren't working."
The Brotherhood has for years supported ex-soldiers through its 'Bee Wings' programme, helping veterans master the craft of beekeeping. In war, the aid mission has undergone a reversal – Bee Wings is now supplying ammunition to beekeepers-turned-soldiers, as well as supporting their families.
Here in the UK, the Brotherhood has had a long association with the National Honey Show – the biggest beekeeping convention in the world – and for 10 years sponsored the Medal of Ukraine, awarded to the best honey from outside the British Isles.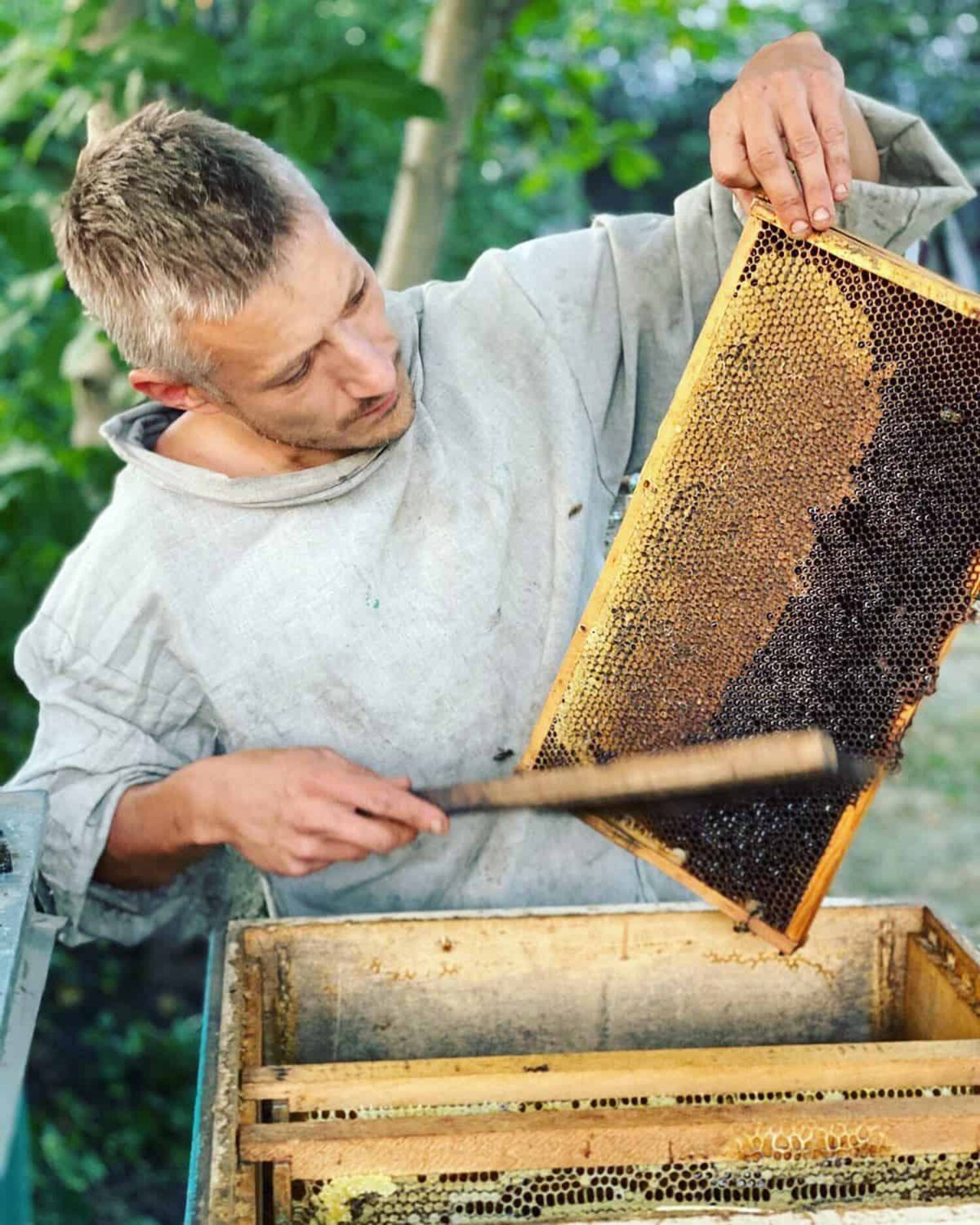 A Just Giving fundraiser organised by the show has received over £15k in donations for the Disasters Emergency Committee's Ukraine Humanitarian Appeal. 
"It's a drop in the ocean in terms of what's needed," says Bob Maurer, chairman of the show, "but it was just an opportunity for British beekeepers to make a gesture.
"Hopefully as things improve, we can review that and start looking at ways we help beekeepers and beekeeping in Ukraine directly."
For now, Kushnir is exploring export opportunities for his honey, farmed in five different regions across Ukraine, with each terroir bringing distinct flavour notes to the final product.
"The Russians destroy everything in their path, and of course that includes apiaries," he says. "Beekeeping here is a passion and for some it means everything – and then it is gone. But we can rebuild. Right now, life is the most precious thing. 
"The help and support we receive from the UK and the beekeeping community is very appreciated. We will always be grateful. We are fighting great evil and we feel like you are our brothers."
Main image: Honey Brothers