Using AI and a healthy dose of creative thinking, the Neat Streets campaign has helped to reduce litter by up to 75 per cent in Bournemouth, England. Now the approach is being successfully deployed elsewhere
It's summer 2022, the hottest on record, and some 55,000 people have descended onto the beaches at Bournemouth. Most have brought everything they might need for the day: food, drinks, suncream, towels, shopping bags, nappies, cigarettes. Then the sun goes down and the beachgoers leave. 
Seagulls swoop in and peck at what's left behind. It isn't pretty. On a busy day, visitors to Bournemouth can generate up to 15 tonnes of litter. During summer weekends, the seven-mile-long stretch of sand is usually heaving with people. By dusk, the coastline looks like a landfill site. Empty beer cans, plastic lids, disused napkins, used nappies, fag ends.
In May 2021, Bournemouth saw a 476 per cent rise in litter during one of the bank holiday weekends, compared with rates seen in lockdown. To combat the issue, the council unveiled a £3.5m 'seasonal response plan'. The local newspaper, the Bournemouth Echo, appealed to its readers for solutions too. More bins! More fines! More litter pickers!, residents suggested. "Don't clean it up for a month and see if people still want to come," advocated another.
But for all their goodwill, these were ideas that had failed before. The council had employed additional staff. They had installed extra bins. Enforcement officers hadn't fined anyone for littering in the last 12 months. They needed to try something new.
By the end of the summer, litter was down by an average 75 per cent. All the area needed, it seemed, was a little bit of ABBA.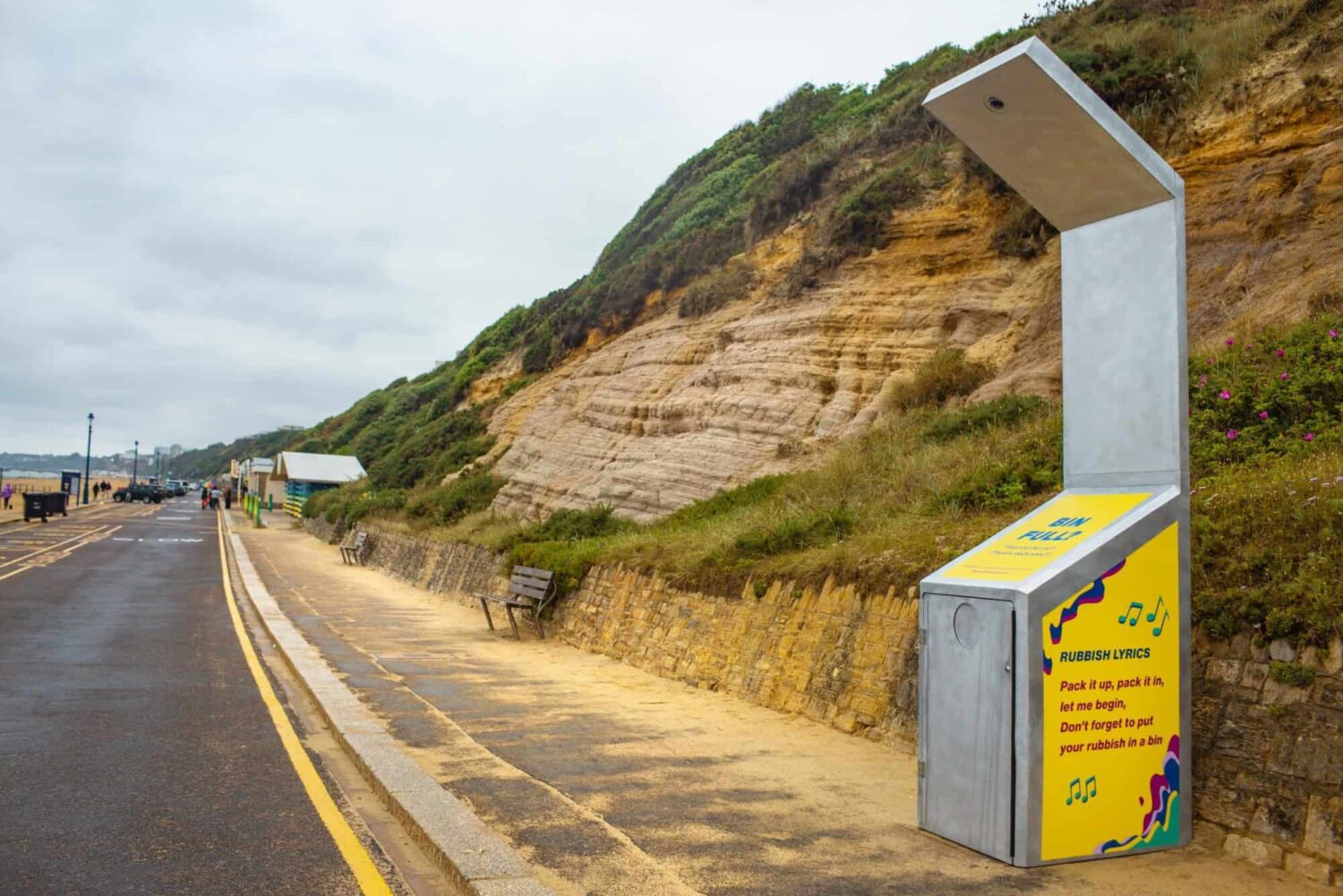 Litter: picking through the data
Bournemouth didn't become a super trouper in litter reduction overnight. First, the council brought in Hubbub, an environmental charity that had previously used behavioural change research to tackle littering. Hubbub then suggested environmental monitoring company Ellipsis Earth undertake a litter survey over a six-month period so they could see exactly what they were up against.
The London-based company analysed images, video and drone footage to confirm what rubbish was being dropped. Their software could collect several miles of imagery in minutes. It then used AI to determine the weight, volume, environmental impact, carbon footprint and recycling value of each piece of litter.
"Our litter recognition technology can rapidly scan photos and videos to identify 47 different categories of litter," says Ellipsis Earth founder, Eleanor Mackay. It can also identify hotspots and key patterns of littering across areas.
The team found that people dropped litter every three seconds, and that rubbish would then remain on the ground for six hours – or eight hours on the beach.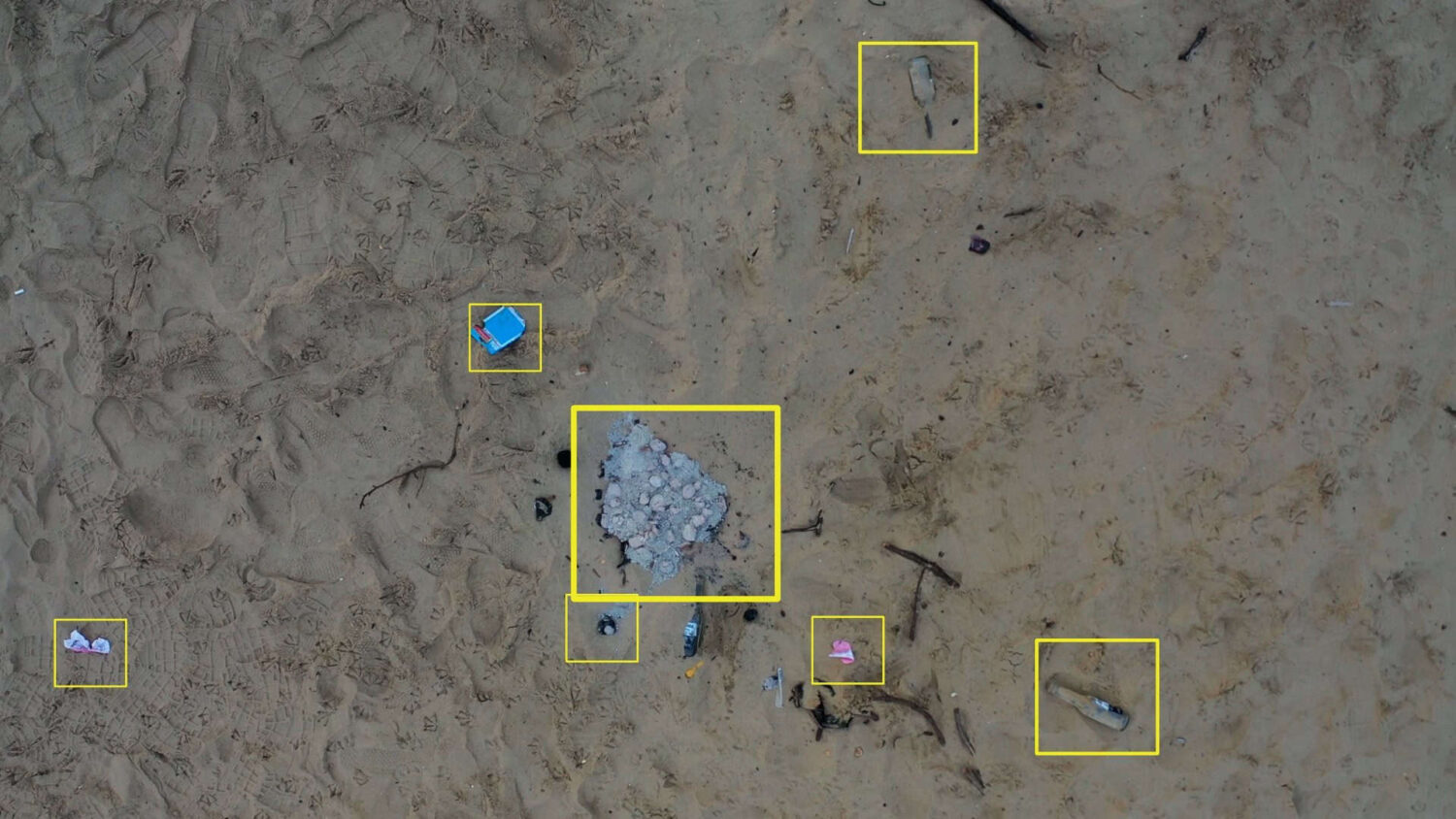 "We saw instantly that the type of litter being dropped was very specific to the day of the week and the location," says Mackay. "Friday and Saturday nights saw extremely high levels of alcohol- and drugs-related littering at the rear of the city centre beaches.
"In contrast, Sundays and bank holidays saw large quantities of family-related littering at the water's edge, like nappies, juice boxes and kids toys," she adds. "These items were left on the beaches overnight and subsequently washed into the ocean by the high tide."
They took their findings back to Hubbub, which used behavioural change research to tackle the littering. Together they launched Neat Streets in 2021, an anti-littering campaign across Bournemouth, Christchurch and Poole. It won gold in the best campaign of the year category at the Global Good Awards 2022, which honours businesses, NGOs and charities that achieve practical, real-world impacts in sustainability. 
From finger-wagging to fun
"Historically the tone [around littering] has been a little bit draconian," says Hubbub director, Gavin Ellis. "The approach we took was to adopt a much more positive, playful tone because that's what people respond to."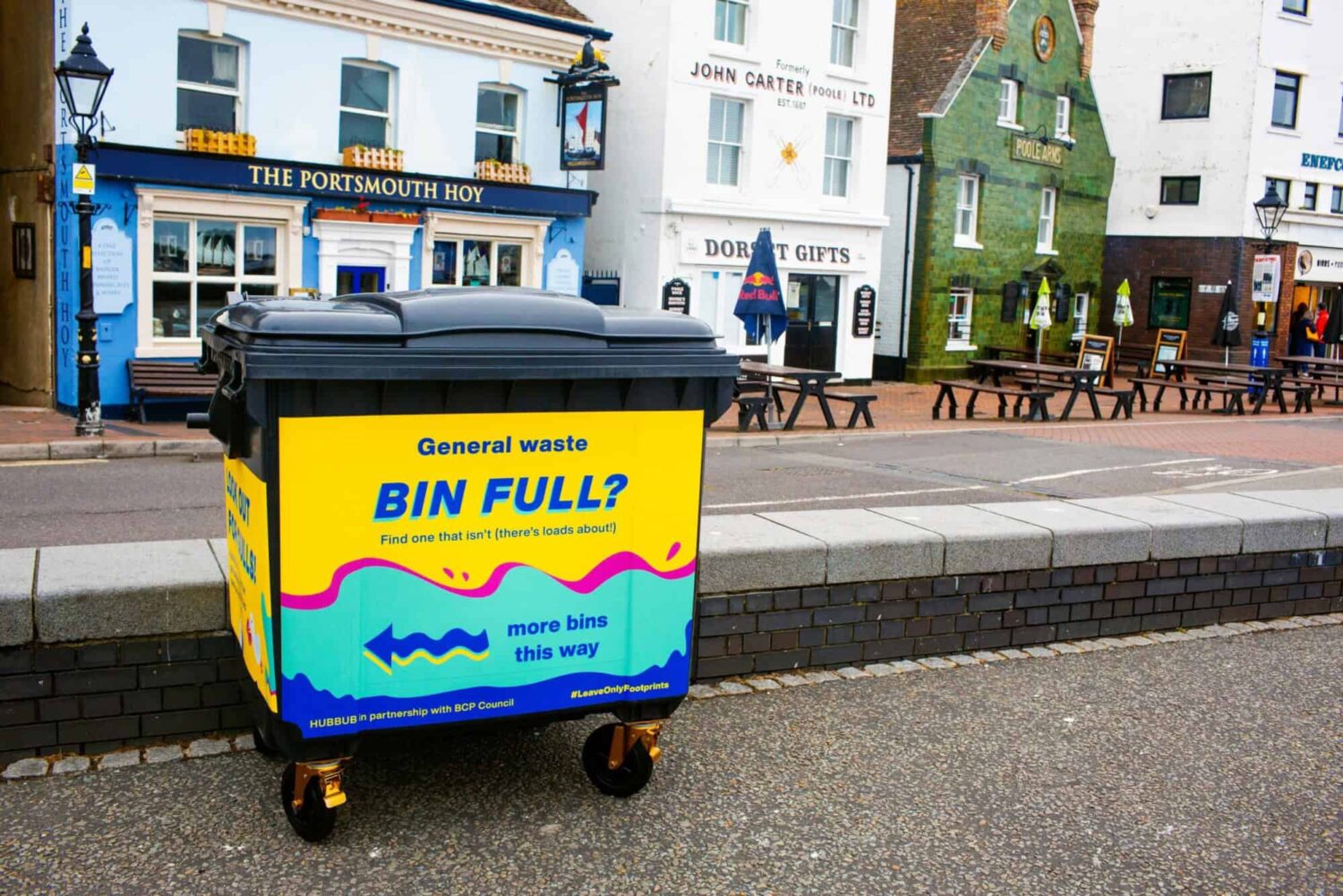 So, out went finger-wagging and £150 fines and in came more positive interventions. Hubbub introduced yellow and silver disco bins that played music by ABBA, among other choice tunes, whenever someone deposited litter. They installed glow-in-the-dark bins in unlit spaces. Larger, brightly-coloured refuse containers were placed close to smaller bins.
"Working with Ellipsis seemed like a brilliant way of using data to underpin our approach," adds Ellis. "The data meant we could target specific communications at certain audiences."
Overall, the results were remarkable: to the east of Bournemouth Pier, where interventions were installed, litter reduced by 79 per cent. By comparison, no interventions were placed to the west of the pier and no drop in littering was seen. 
In Bournemouth Lower Gardens, historic public gardens that run from the pier to the town centre, the existing bins had been the worst-performing ones in the area. So the team placed colourful larger bins near the smaller ones, and litter reduced by 89 per cent.
'Ballot bins' (where smokers answered a question by depositing their cigarette butt; 'Who's the best footballer? Messi or Ronaldo') were attached to lampposts in several locations too. These cut discarded cigarette butts by almost three quarters. 
"We've demonstrated that this approach can have a massive impact," says Ellis, who adds that they are now in talks with Ellipsis Earth about reducing roadside litter. "It feels like a step change from previous approaches but you do need a local authority that's willing to be bold and do something a bit different."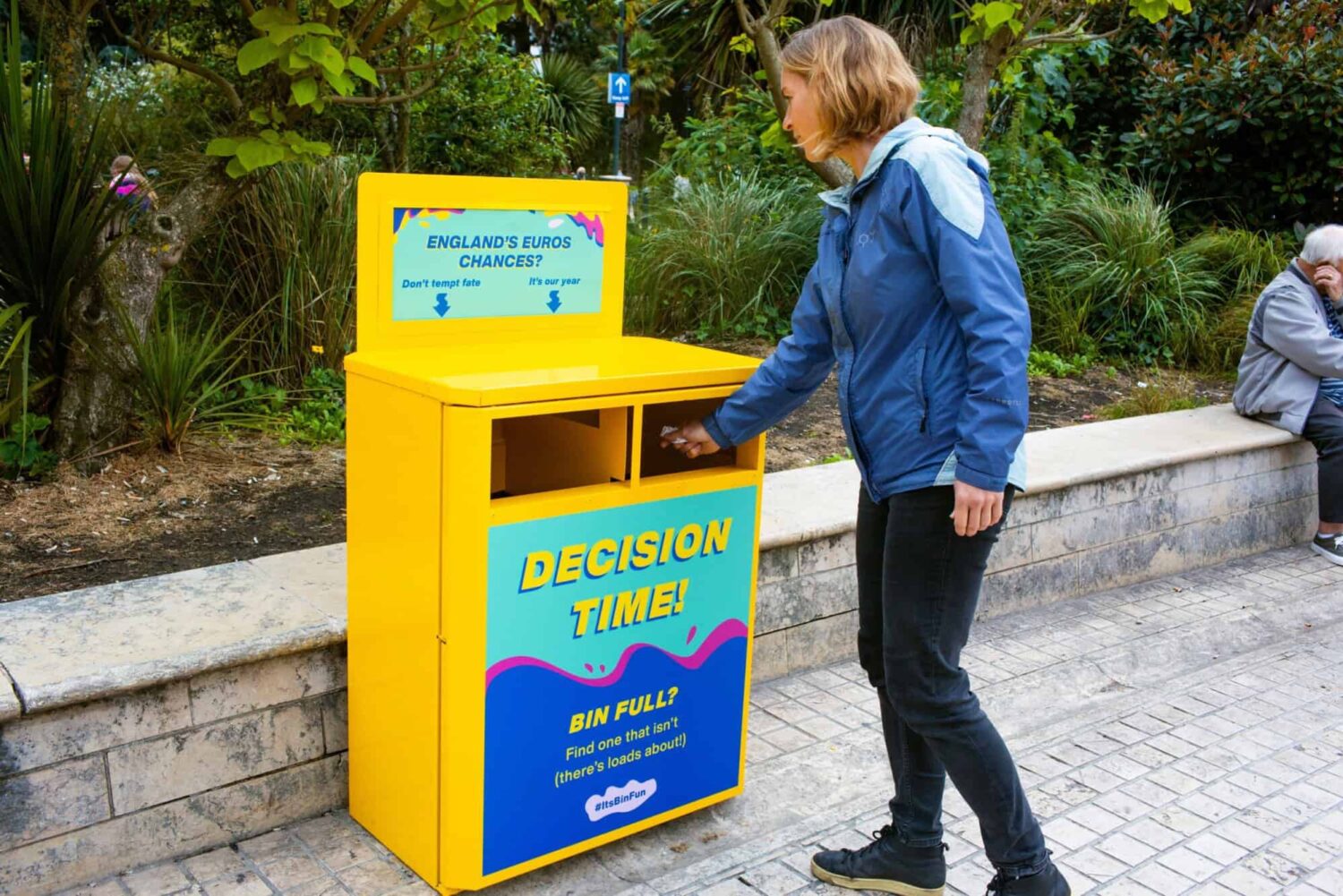 Among the councils now shaking things up are Cardiff and Glasgow, which have asked Hubbub to run similar campaigns. They have partnered with Ellipsis Earth for both. The two are also working with the local authority in Bristol to develop entirely new waste management strategies. 
"Our goal is to map every city in the UK to give local councils and waste management teams the data they need to ensure their operations are as efficient and cost-effective as possible and to reduce littering nationally," says Mackay.
Main image: Yujie Chen/iStock