An LGBTQ+ subculture is breathing new life into the Welsh valleys, providing a platform for authentic self-expression
A thriving queer scene is probably not what springs to mind when thinking of the Welsh valleys. But that's all changing thanks to the emergence of a new LGBTQ+ subculture that sprang up in Cardiff during lockdown.
The Welsh Ballroom Community (WBC) is the first of its kind in the country – but waltzing has very little to do with it. In this context, ballroom refers to the queer movement that began in 1920s New York, when black and Latino drag queens began to organise their own pageants, rebelling against racism in the established circuits. Welcoming all races and sexualities, they became safe spaces where people could be themselves and compete for trophies and cash prizes.
There are now hundreds of long-established ballroom communities around the world, particularly in North America, but also London, Bristol and Edinburgh. Members commonly belong to 'houses' that function as extended families, with leading 'mothers' and 'fathers' who provide support and guidance to the house 'children', who may feel excluded from the rest of society due to their sexual or gender identity.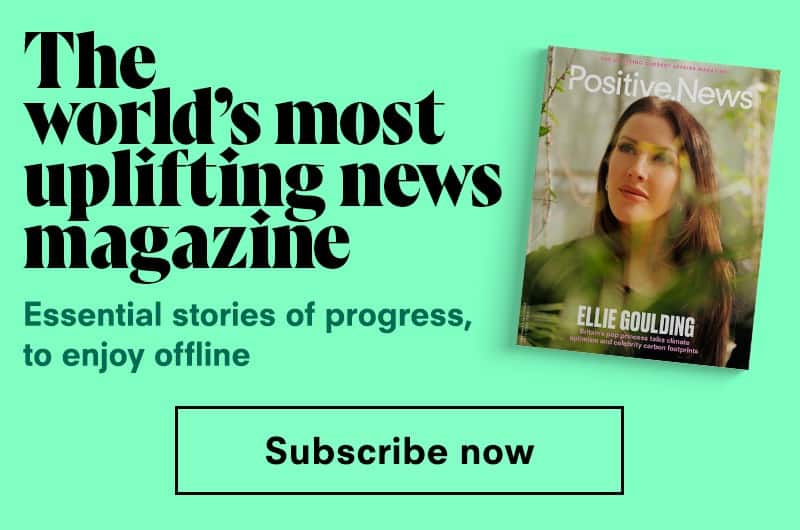 Wales's first ballroom community was founded by choreographer Leighton Rees Wall in Cardiff in 2020. Members met for the first time that September and by August the following year they were hosting Wales's first ever ball at the Wales Millennium Centre, which entirely sold out.
Tayo Sanwo (pictured in a recycled Welsh flag outfit, in Tonypandy, Glamorgan) is an engineer who grew up in Essex but moved to Cardiff six years ago. She has found joining the WBC transformative.
"It has been an extraordinary journey. It's allowed me to celebrate body positivity and love the skin that I'm in with no apologies," she said. "It's allowed me to connect with the beautiful individuals who have now become my chosen family. It has helped me become more of the person that I am today."
Main image from Portrait of Humanity Vol5, published by Hoxton Mini Press in collaboration with the British Journal of Photography.
Help us break the bad news bias
Positive News is helping more people than ever to get a balanced and uplifting view of the world. While the doom and gloom of other news outlets becomes overwhelming, instead we're here to support your wellbeing and empower you to make a difference towards a better future. And as Positive News' audience and impact grows, we're showing the rest of the media that good news matters.

But our solutions journalism has a cost and, as an independent, not-for-profit media organisation, we rely on the financial backing of our readers. If you value what we do and can afford to, please consider making a one-off or regular contribution as a Positive News supporter. From as little as £1 per month, you'll be directly funding the production and sharing of our stories – helping them to benefit many more people.

Join our community today, and together, we'll change the news for good.