Books have become a luxury that many Syrians can no longer afford. One man is on a mission to change that in the city of Tartus
The sweltering summer temperatures keep most people off the streets in the Syrian coastal city Tartus. However, Mohamed Zaher devotedly stands in his book-lined kiosk, like he does everyday, offering those who dare to step out in the heat a seat and a free journey through one of his books.
Having experienced the healing effects of reading during Syria's decade-long conflict, the 32-year-old co-founded the Wisdom Seller, a social project that aims to reconnect Syrians with the dying practice of reading.
For Zaher, books provided an escape during the seven years he spent in the battlefields that claimed thousands of lives and devastated his country. "It's therapeutic. Flipping the pages of a book helped me get by each day, and step away from the horrors of war. Syrians need this – to erase the images the war encrypted in their minds," he tells Positive News.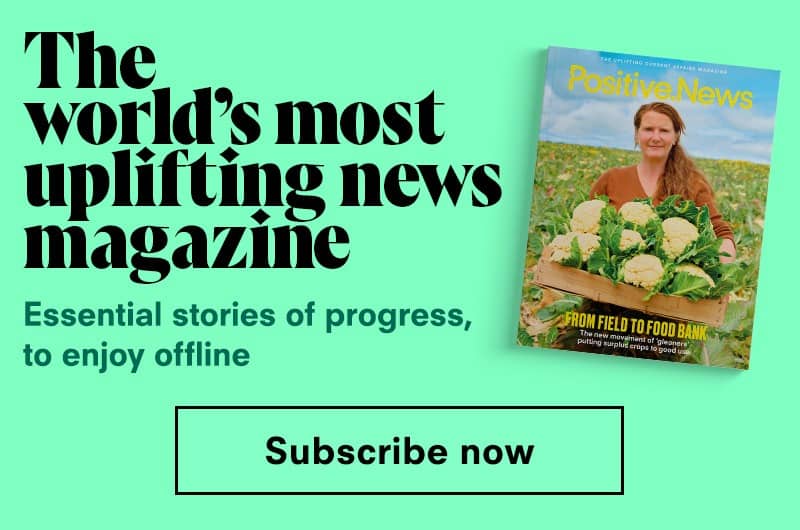 But books have become a luxury unaffordable for most Syrians. The conflict did not only see the demolishing of many printing houses, the shutting down of countless bookstores, and the fleeing of intellectuals and authors from a country once celebrated for its regional cultural influence. It also left Syria's economy in tatters: 90 per cent of Syrians now live below the poverty line, according to the UN, while more than 80 per cent are food insecure.
Buying books, therefore, is the last thing on people's minds, especially as printed copies have been overshadowed by growing dependence on the internet to access information and literature.
Zaher's wooden kiosk, located in the centre of Tartus, just metres from the glistening Mediterranean Sea, is adorned with literature quotes, images of politicians, and an invitation for passersby to grab a book and read 15 or more pages to get a free cup of coffee.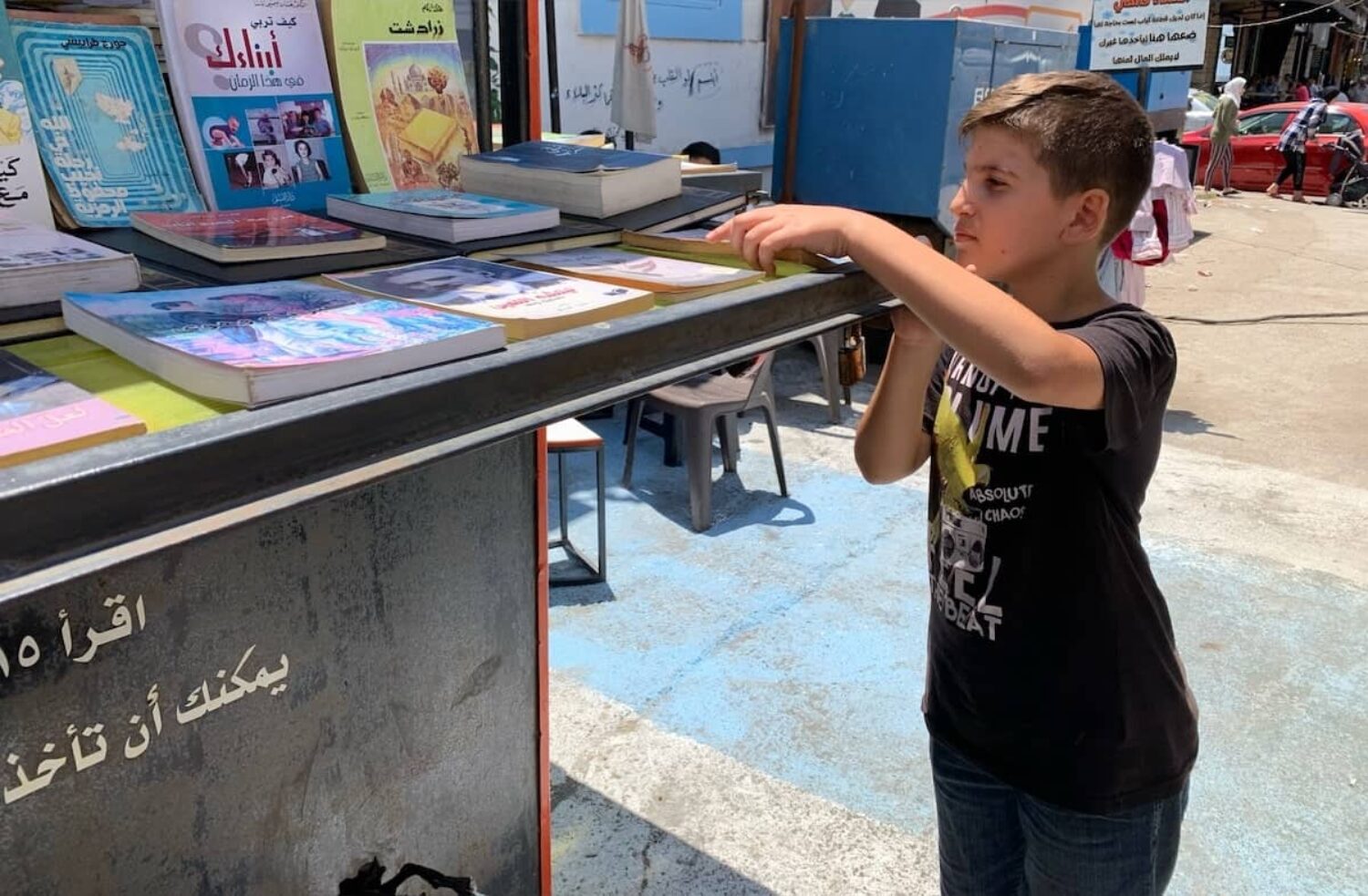 Those who accept the invitation get to choose from 2,000 odd books, which line the kiosk's walls, both inside and out, and are displayed on stands in the street, surrounded by tables and chairs.
For Ali Shaqra, 35, the kiosk has quickly become one of his favourite hangouts in his home city. "It's a place where I gain knowledge and meet interesting people," says the newly married young man, who met his wife, Loujain Al-Owair, at the kiosk.
Economic strain
Although Tartus has been spared much of the violence that wrecked Syria, it could not avoid the dire economic conditions which Ghada Aizouqi, a resident, says has kept her away from her passion of reading. Braving the scorching heat, the 45-year-old chooses a book and sits on a chair in the shade of a nearby wall.
"There is a pleasure and a more personal feel to holding a book in your hands. This was made difficult as a result of books' prices soaring in recent years, and I settled for digital copies. But since Wisdom Seller started, it has become a habit of mine to come here every other day and read for no less than an hour," she says.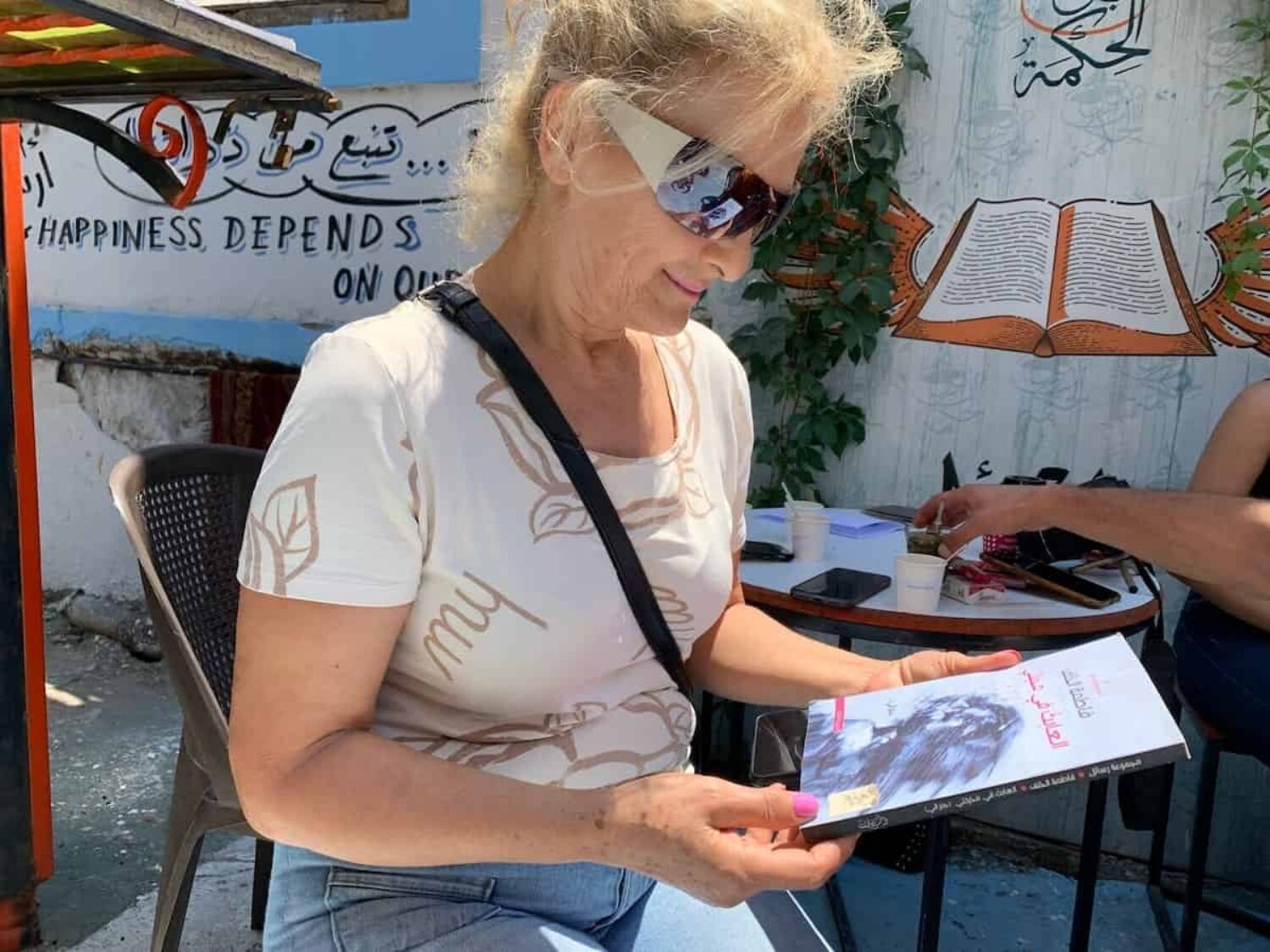 With the Syrian pound trading at over 4,000 to the dollar, it has lost nearly 99 per cent of its value since the conflict began, resulting in inflation rates that are in triple digits. According to media reports quoting an official in the state-run Al-Wahda Foundation for Press, Printing, Publishing and Distribution, costs of papers and printing have gone up by at least 500 per cent in the past two years alone. Meanwhile, the number of print publications entering Syria's market dropped from around 1,000 a day before the conflict, to no more than ten now.
As such, Zaher also encourages his visitors to donate books. "Visitors are invited to take books home if they replace them with other ones," he says, adding that since the project's launch, around 20,000 readers have stopped at his kiosk.
Having put the little money he had – along with a former partner – in setting up this project, Zaher, who is now the sole manager of Wisdom Seller, relies mostly on donations from well-off residents of Tartus to keep his project afloat.
Flipping the pages of a book helped me step away from the horrors of war
"There are customers who come for the coffee while they enjoy a chitchat, or other events we hold like band performances – but the income made from selling coffee isn't enough to keep us going," explains Zaher, adding that he needs around $200 a month to cover expenses.
As Zaher speaks of his project, the 12-year-old regular visitor Amr Ali picks up a book and sits at one of the tables. Several coffee lovers have already gathered around the kiosk and are deep in conversation. 
"I'm not here for the coffee, but for the pleasure of reading," says Ali, in between the silent flipping through the pages of his book. "I love it."
This article was published in collaboration with Egab, a media organisation that empowers journalists from the Middle East and Africa to amplify stories of progress from the region.

Main image: Wisdom Seller
Help us continue to break the bad news bias
Positive News is helping more people than ever to get a balanced view of the world – one that supports their wellbeing and empowers them to make a difference towards a better future. And as our audience and impact grows, we're showing the rest of the media that good news matters.
But the UK's cost of living crisis is affecting our income, with fewer people able to commit to a magazine subscription – which has traditionally been our main source of funding. Plus, paper and printing costs keep rising.
We don't want to put a paywall on our website, because we believe everyone should have the chance to benefit from good news. But we won't be able to continue funding our online reporting without your help.
If you value what we do and can afford to, please consider making a one-off or regular contribution as a Positive News supporter. We need 1,000 readers to contribute just £3 per month to get us through this challenging time.

And remember, as a not-for-profit, we work only in service to you, and all funds go towards our journalism.