Highlighting the fragility, resilience and beauty of the natural world, this year's images bring the biodiversity crisis – and power of conservation – into sharp focus
A polar bear hanging out of a window, a bonobo cradling a mongoose, a giraffe hiding under a railway bridge – these are just some of the stunning images entered into this year's Wildlife Photographer of the Year competition.
Among the more unusual images was Dmitry Kokh's shot of a polar bear taken in the Russian high Arctic (main image). When his boat approached the small island of Kolyuchin, abandoned by humans since 1992, he was surprised to spot movement in one of the houses. Binoculars revealed nearly two dozen polar bears exploring the ghost town. Dmitry used a low-noise drone to document the surreal experience.
Polar bears investigate abandoned structures for potential food. With climate change reducing sea ice, hunting is becoming increasingly difficult, pushing these bears closer to human settlements to scavenge.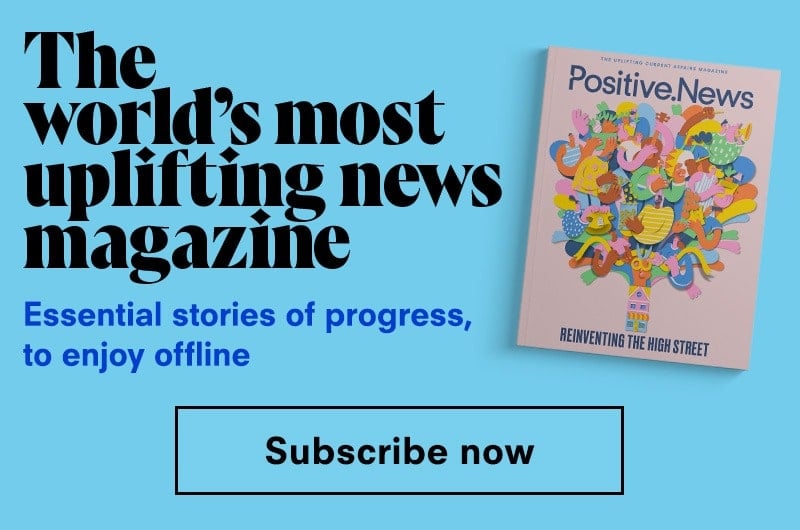 More surreal still, perhaps, is Christian Ziegler's picture of a male bonobo holding a mongoose pup (below), deep in the rainforest in the Democratic Republic of Congo. 
Christian was tracking a group of the endangered great apes and recalls setting out before light, wading chest-deep through flooded forest. "The bonobo held and stroked the little mongoose for more than an hour," he said.
However, the situation may have had a darker beginning. Although bonobos mostly eat fruit, occasionally they hunt. The mongoose pup – eventually released unharmed – may have been taken when its mother was killed.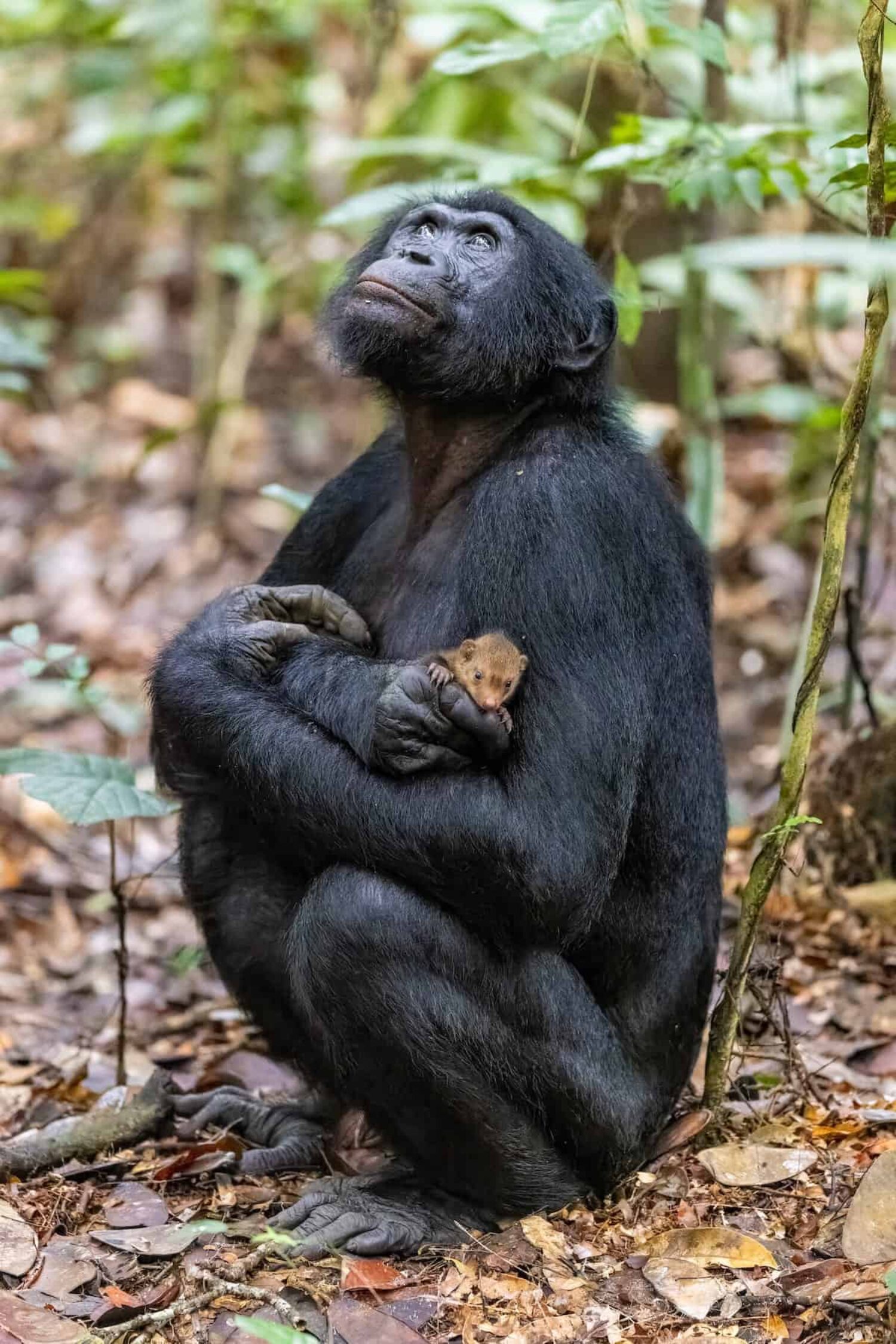 While some images are a reminder about the challenges that wildlife face, others highlight the resilience of nature and the power of conservation. Cue Richard Robinson's spectacular underwater shot of a Southern right whale (below), taken off the coast of the Auckland Islands, an archipelago in New Zealand. 
New Zealand's population of southern right whales, known as 'tohorā' in Māori, were hunted to near extinction by European whalers in the 1800s, then by Soviet whalers in the 1900s. Now protected, the population has bounced back from a small group, including just 13 breeding females, to more than 2,000 individuals.
"These inspiring images convey human impact on the natural world in a way that words cannot – from the urgency of declining biodiversity to the inspiring bounce back of a protected species," said Dr Doug Gurr, director of the Natural History Museum in London. Wildlife Photographer of the Year is developed and produced by the museum.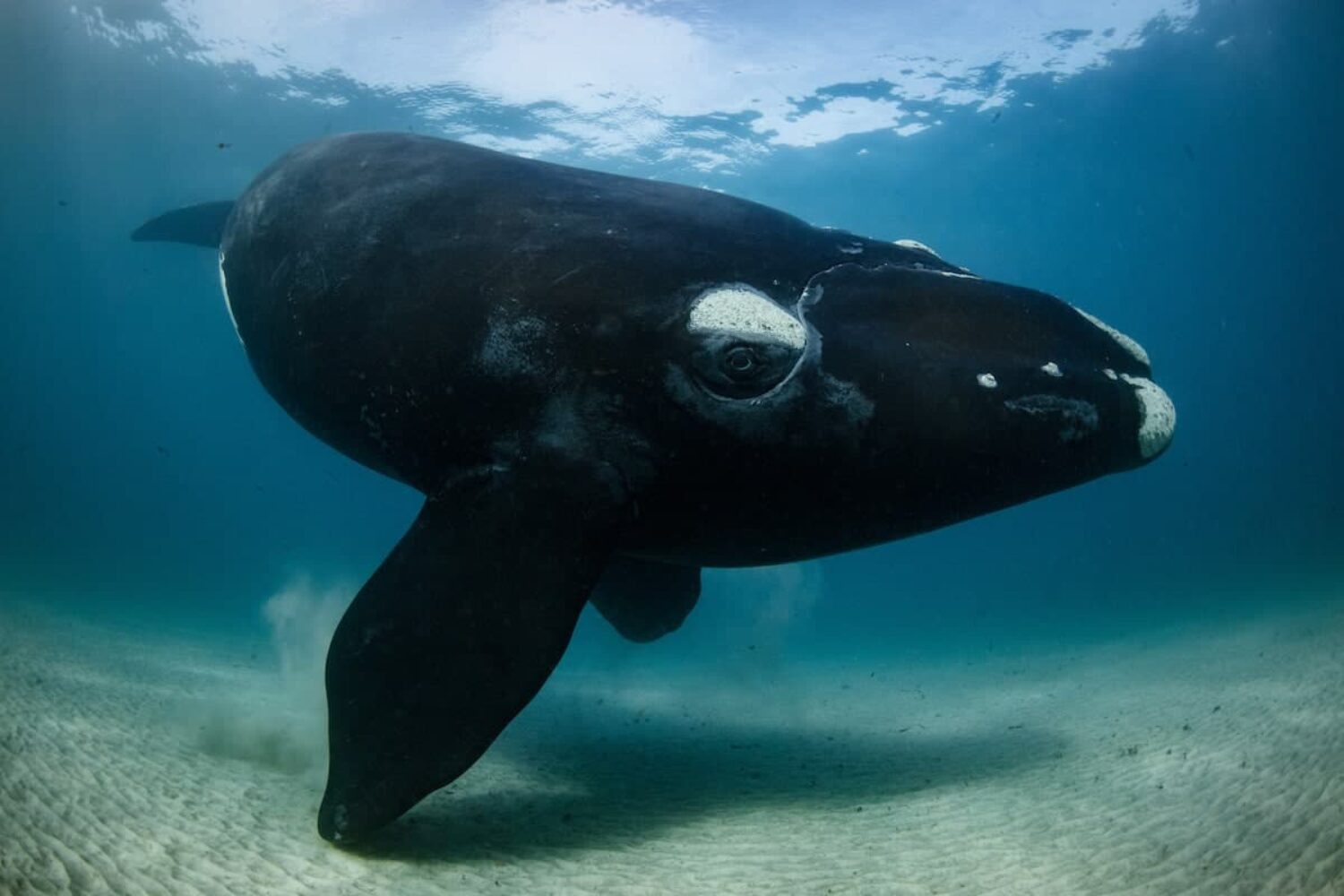 The winning images will be announced on 11 October during an awards ceremony hosted by wildlife TV presenter and conservationist Chris Packham. An exhibition comprising 100 of the best images will open three days later at the Natural History Museum. It will then go on tour in the UK and internationally. 
"What's stayed with me is not just the extraordinary mix of subjects in this year's collection – a vast panorama of the natural world – but the emotional strength of so many of the pictures," said chair of the judging panel, Roz Kidman Cox.
Gallery: a selection of highly commended images
Main image: Dmitry Kokh/Wildlife Photographer of the Year
Help us continue to break the bad news bias
Positive News is helping more people than ever to get a balanced view of the world – one that supports their wellbeing and empowers them to make a difference towards a better future. And as our audience and impact grows, we're showing the rest of the media that good news matters.
But the UK's cost of living crisis is affecting our income, with fewer people able to commit to a magazine subscription – which has traditionally been our main source of funding. Plus, paper and printing costs keep rising.
We don't want to put a paywall on our website, because we believe everyone should have the chance to benefit from good news. But we won't be able to continue funding our online reporting without your help.
If you value what we do and can afford to, please consider making a one-off or regular contribution as a Positive News supporter. We need 1,000 readers to contribute just £3 per month to get us through this challenging time.

And remember, as a not-for-profit, we work only in service to you, and all funds go towards our journalism.