As part of our United Kingdom of Solutions focus, we meet the Future Generations Commissioner for Wales, Sophie Howe. What's it like to represent people who haven't yet been born?

"I think it's probably one of the coolest job descriptions in the world; to act as guardian of the interests of future generations."
As Future Generations Commissioner for Wales, Sophie Howe's job is – put simply – to make tomorrow a better place. There's certainly no other role quite like it. Wales is currently the only country in the world to employ someone in such a position, which was created after the Welsh Assembly passed the Well-being of Future Generations Act in 2015. The trailblazing legislation requires all Welsh public bodies to ensure that the decisions they make today don't compromise the Welsh citizens of tomorrow.
From councils and national parks to the health service, all are legally obliged to consider the long-term social, cultural, environmental and economic wellbeing impact of their decisions, in a non-party political way.
"All those things might sound obvious and straightforward, but what we have is a system that has, for decades, been constructed to do exactly the opposite," explains Howe, a mother of five. "My job is to try and unpick that."
Raised in a deprived area of Cardiff that was "often in the headlines for the wrong reasons", Howe was the first in her family to go to university. She graduated in law and politics and went on to become, aged 21, the youngest elected councillor in Wales.
She has since worked in most parts of the public sector, including as deputy police and crime commissioner for south Wales. "To change the system," she says, "you have to understand how it works".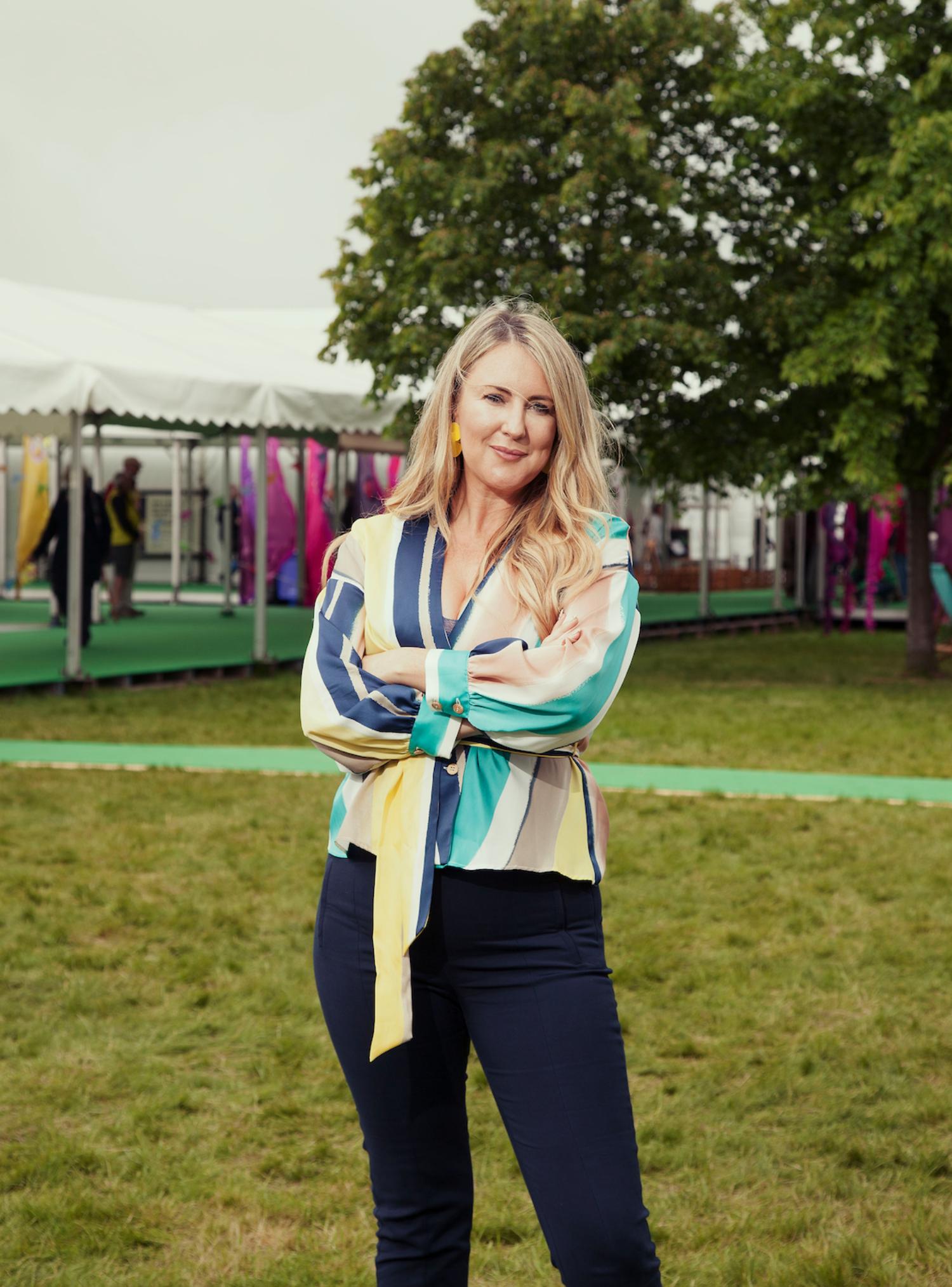 Working to counter a frustrating "silo mentality", Howe encourages the public bodies she works with to collaborate wherever possible.
And she has enjoyed some success in that regard. "We have a public health consultant leading the work on the Cardiff transportation strategy," she says. The result? The rollout of a public bike-sharing scheme called Nextbike, which is available in the city to certain patients for free on the NHS.
I think there is a recognition dawning that the way we have been doing things across the world is no longer fit for purpose
Howe is also working with Transport for Wales as the body invests £5bn in the country's railways. Among other measures, she is urging them to make space for social enterprises in stations, rather than allowing in big retail chains alone.
She assesses the public bodies she works with against the principles set out by the act. Howe can "name and shame" those that are failing, but her role lacks teeth. This became evident in March, when the legislation failed to stop the closure of Cymer Afan comprehensive school in Neath Port Talbot.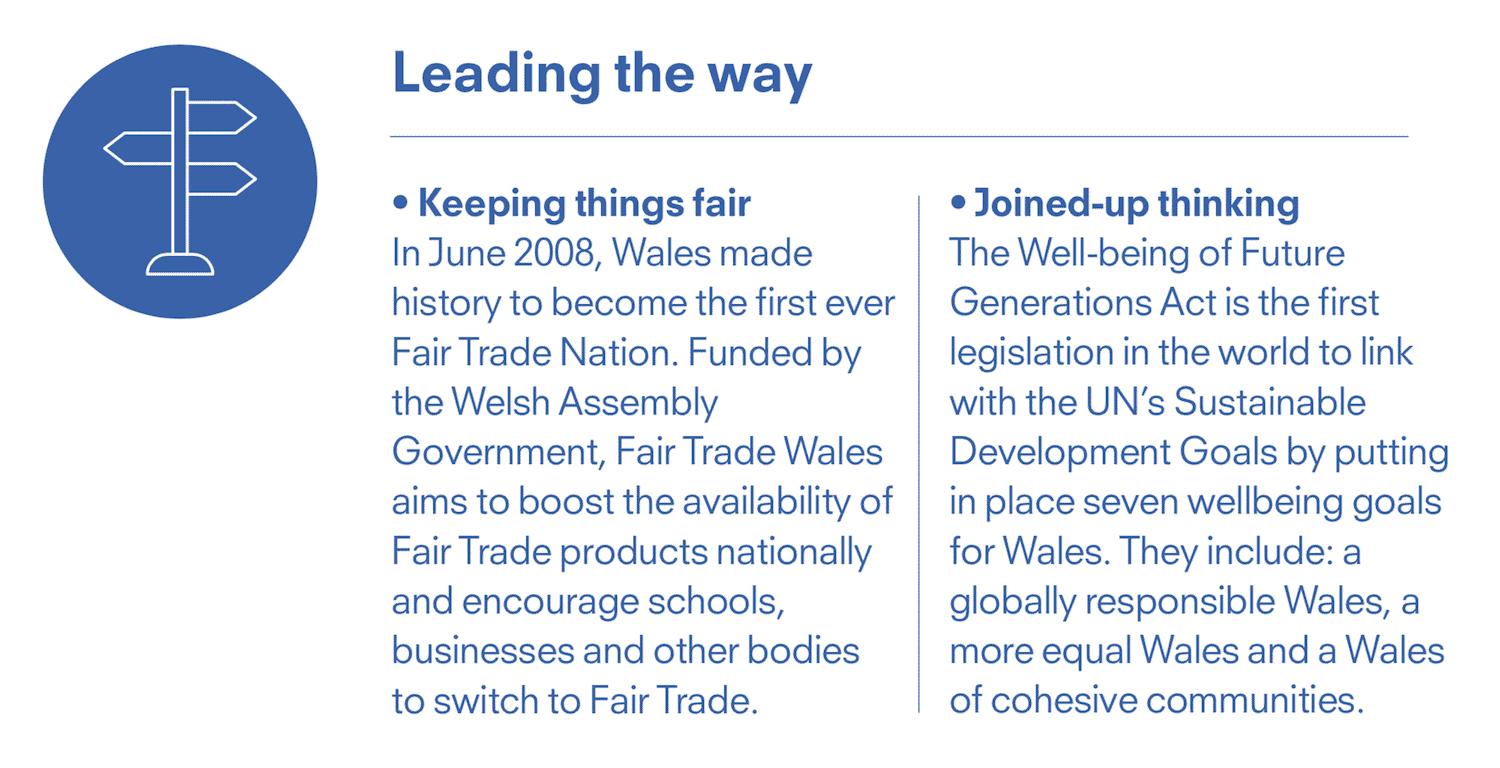 Howe had been a prominent opponent of a proposed £1.4bn relief road for the M4 near Newport. So she welcomed the decision in June to scrap the project, which she said would cut through a nature reserve and add to air pollution and climate change.
In 2018, two years since the act came into force, the Wales Audit Office – reviewing progress so far – found good examples of public bodies working differently, but said organisations must now show they are applying the act "more systematically".
The act, and Howe's post, have attracted interest from foreign governments, including officials in the Netherlands, Finland and South Korea, where she has been invited to speak.
"I think there is a recognition dawning that the way we have been doing things across the world is no longer fit for purpose – it is damaging the planet and people," she says. "I'm proud of what Wales has done."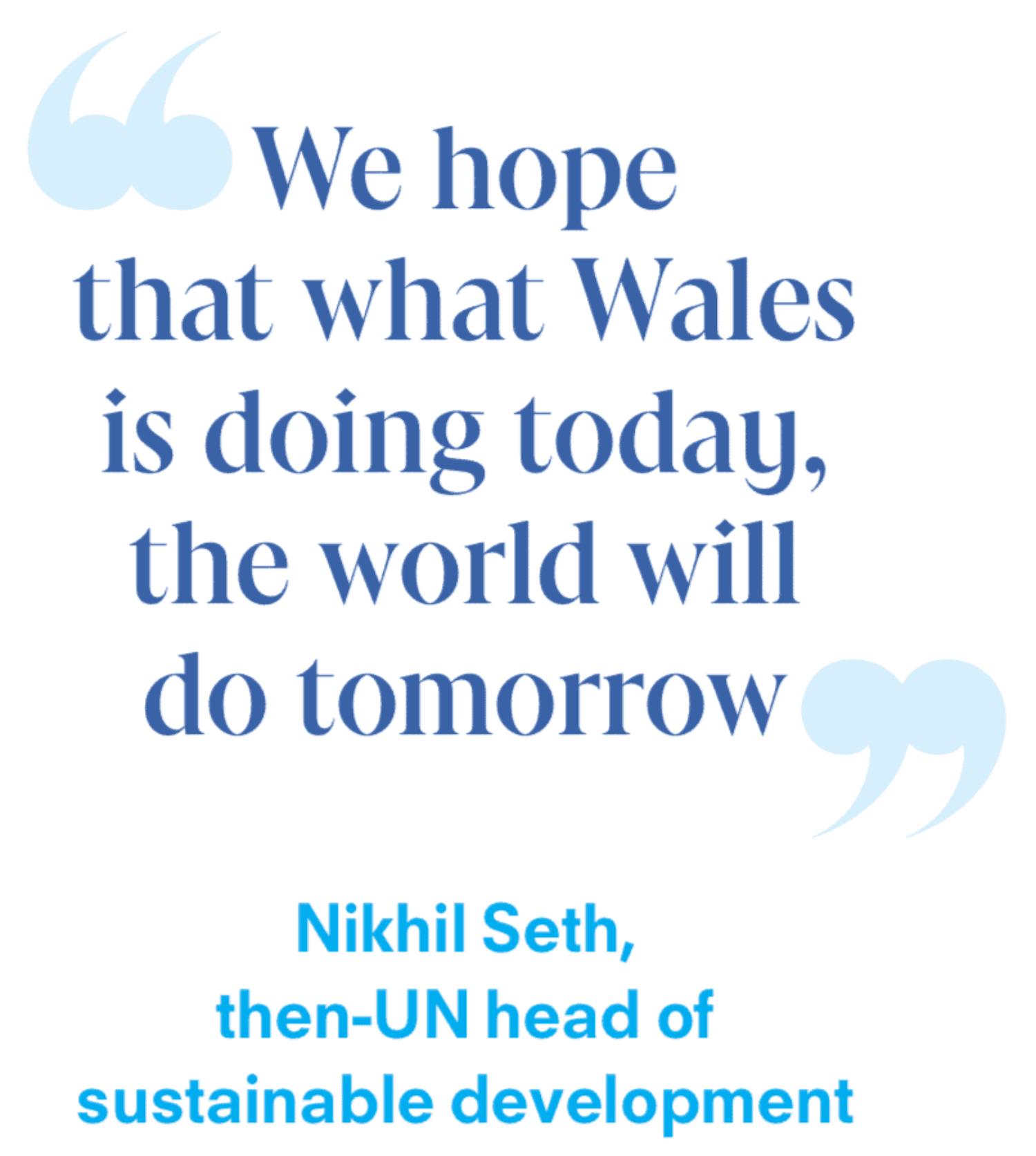 What progress and solutions do you see where you are in the UK? Share your thoughts via email to newsdesk@positive.news or by messaging us on Facebook, Twitter or Instagram by mentioning @PositiveNewsUK and #UnitedKingdomofSolutions
The new issue of Positive News magazine is out now. Subscribe here to get your copy
Fed up with negative news? Can you help us?
The negativity bias in the media is holding society back. While it's important to report problems and hold power to account, we believe there is also a need for rigorous reporting on progress, possibility and solutions. We call this 'constructive journalism', and to keep doing it we need your help.
We know you want Positive News to benefit as many people as possible, so we haven't put up a paywall. We don't answer to and rely on a wealthy proprietor because, instead, we are owned co-operatively by 1,500 of our readers who joined our crowdfund in 2015. And we're not beholden to advertisers either, because we know that you only want to hear about companies that have a positive impact.
So, instead, we depend on you. Positive News is more than a magazine, it's a community of people who see and share the good in the world. We need your support to continue publishing our inspiring journalism and to set the example for other media to follow. It's quick and easy to contribute and you can support Positive News from just £1. Every contribution makes a vital difference. Thank you for helping us to change the news for good.
Read more: the United Kingdom of Solutions