The rise of remote working has given new meaning to the phrase 'the world is your oyster'. Here are five of the most popular cities for homeworkers
The rapid switch to remote working during the pandemic took everyone by surprise. Some cleared kitchen tables, others set up makeshift desks in bedrooms or garden sheds, and the daily 'commute' shortened significantly. As it became clear many businesses wouldn't be returning full-time to the office anytime soon, many people considered whether moving home would be a viable option. 
In fact, according to 2021 research by Microsoft, 37 per cent of UK employees said they were likely to move to a new location in the next year because they're now able to work remotely. And a more recent poll found that 42 per cent of employees are using remote working as an opportunity to work abroad without having to take annual leave. 
Remote working has a lot of benefits. Employees can save money on commuting and lunch, while businesses save on office space, without, according to the State of Remote Work 2021 report, impacting productivity or teamwork. It also widens the talent pool and is more inclusive. How? Business can hire the best person for the job, regardless of where they're based in the country (and beyond). Parents or those with caring responsibilities can also more flexibly fit meaningful work around family commitments. 
With most businesses agreeing remote or hybrid working is here to stay, travel platform Holidu used global search data to determine which cities people are showing the most interest in flocking to. 
Here's the top five, plus what makes them interesting from a cultural, environmental, and community perspective.
Five of the most popular cities for remote working: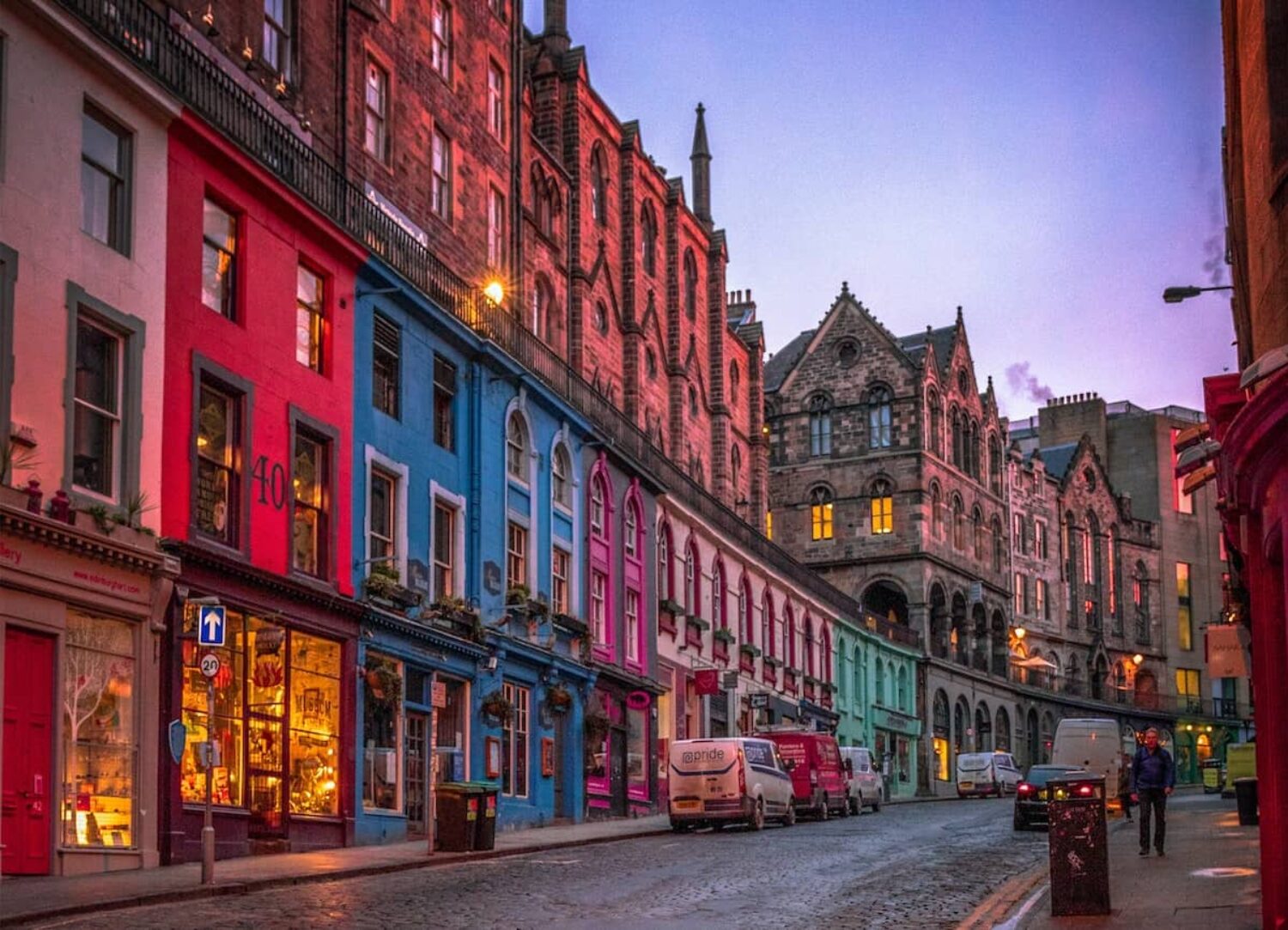 1. Edinburgh – 'A city where you can be yourself'
Home to the Scottish Parliament, the iconic Fringe Festival, and a clifftop castle that fires a cannon every day at 1pm, Edinburgh was crowned the best city in the world by Time Out in 2022. Thousands of locals were asked about their lives in the city, with community spirit, cleanliness, lack of stress and the fact that it's 'easy to express who you are', putting Edinburgh head and shoulders above the rest. Edinburgh is also in the top 10 of the friendliest LGBTQ+ cities worldwide, according to research conducted this year, with venues such as Kafe Kweer providing a safe and sober place for the community, plus opportunities to swap secondhand drag clothes. 
It's an extremely walkable city (providing you don't mind hills), with lots of green space, plenty of Gothic and Georgian architecture, and an efficient public transport system. Arthur's Seat, the Pentland Hills, and the free-to-visit Royal Botanic Gardens are popular spots for locals and tourists alike. The nightlife is varied, and many of the museums and art galleries don't charge an entrance fee. Edinburgh is also making great strides towards tackling the climate crisis, with council leaders committing £8bn to make the capital carbon neutral by 2030.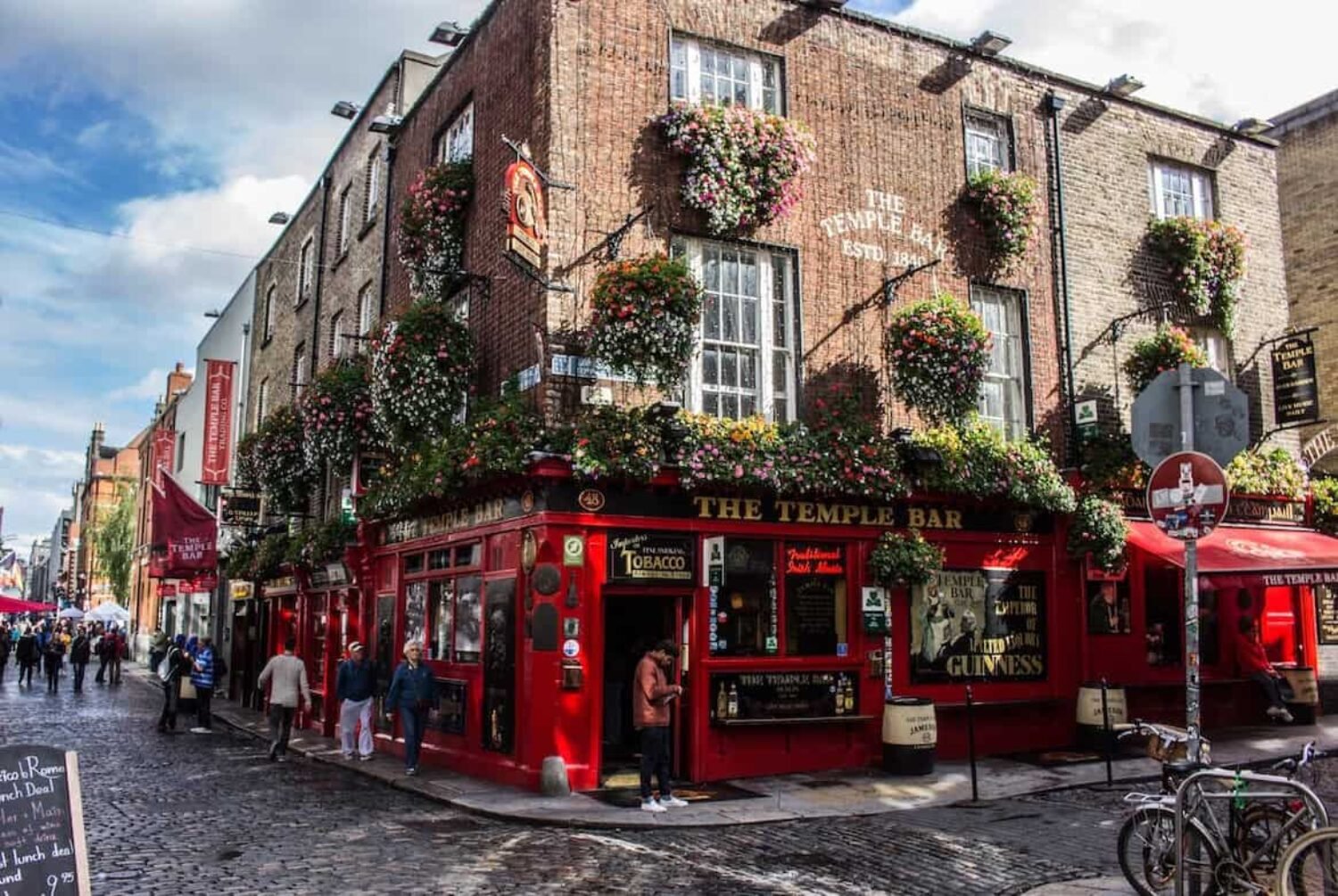 2. Dublin – A cultural heavyweight surrounded by nature
The heart of the Emerald Isle, Dublin is known for its friendly locals, world-class universities, and lively traditional pubs that tempt passersby inside with fiddle music and pints of Guinness.
The Irish capital is a young city – almost two thirds of its residents are under 45 – with many job opportunities, thanks to the recent influx of technology, science, and engineering firms, such as Google, PwC and Microsoft.
There's culture too, of course. Local institutions include the Museum of Literature Ireland, which opened in 2019 and features a vast array of James Joyce manuscripts, the Irish Film Institute in Temple Bar, and some of Europe's finest art galleries. Dublin is also home to the Forty Foot, Ireland's biggest outdoor pool, which is open all-year-round for the hardiest of swimmers. 
There are almost as many bikes on the road as cars. Capel Street, a popular retail and restaurant district named one of the coolest streets in the world, went completely traffic-free earlier this year. And you're never more than 20 minutes from the beach, mountains, a park or the botanical gardens. In fact, Phoenix Park is one of Europe's largest city parks, and there are hundreds of hiking opportunities and cliffside coastal walks a short train journey away.
Fares on Irish public transport were cut by 20 per cent this year, and halved for those aged 19-23, to encourage more eco-friendly travel. Dublin has also been named Europe's most sustainably-minded fashion capital, and has been ranked one of the cleanest cities in Europe for air quality.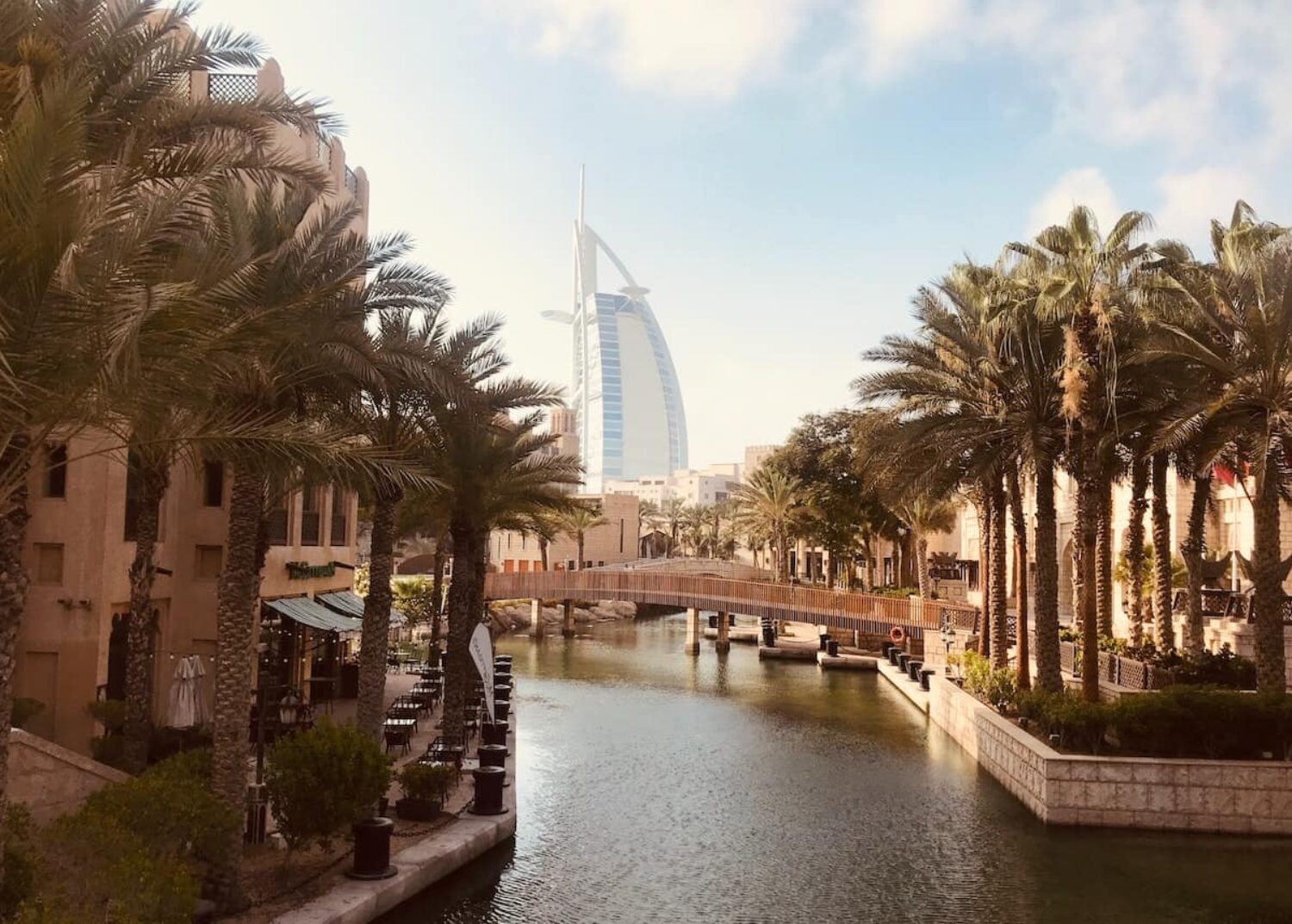 3. Dubai – A gateway between east and west
In 2010, the WWF Living Planet Report gave UAE residents the world's biggest ecological footprint, thanks to their heavy reliance on oil, air conditioning and the energy-intensive desalination of seawater. Fast forward 12 years and it's aiming to be at the forefront of environmental reform, with a plan to invest $163bn (£158bn) to turn itself into the world's most sustainable city by 2050. 
While the proof will be in the pudding as to whether it can turn its sustainability failings around, and whether other issues such as women's rights will improve, would-be home workers are nevertheless showing an interest in the Middle Eastern city for other reasons. Dubai is considered a gateway between the east and west, and is home to a diverse population made up of around 200 nationalities, and English is widely spoken. There's a low crime rate thanks to stringent laws, and the public transport system is clean and affordable.
Rather surprisingly, it's also known as a good place for bird watchers. More than 320 species of birds cross Dubai on their migration paths, including eagles, broad-billed sandpipers and greater herons. Likewise for dolphin lovers: the Indo-Pacific bottlenose dolphin, the Indo-Pacific humpback dolphin and the rare finless porpoise all frequent UAE coastal waters. Those keen to get involved can volunteer with the UAE Dolphin Project.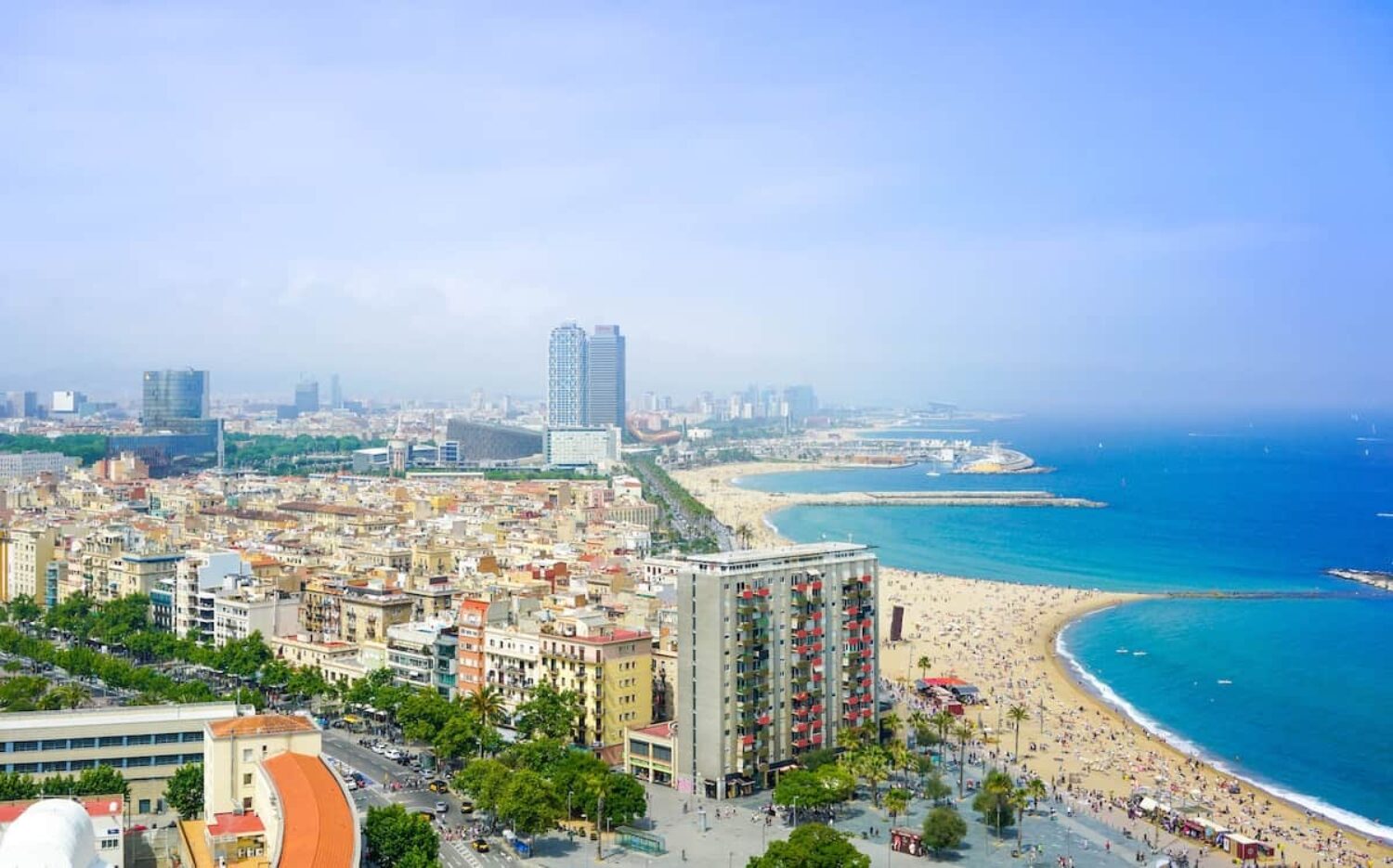 4. Barcelona – 'The happy city'
Around a third of Barcelona's residents are foreigners, drawn to the city's quality of life, climate and job opportunities. In the Spanish city, which was named the second happiest city in the world in 2022, people have an average life expectancy of 84 (the EU-wide average is 80) and residents typically work around 30 hours a week.
After dark, there's an almost limitless number of places to eat, drink and dance, and food and wine is affordable. Of course, the former home of Antoni Gaudí and Pablo Picasso has a great choice of museums and galleries, too. 
The nearby Montserrat Natural Park has its own mountain range, and there are 100 miles of coastline to explore. Most of the beaches have Blue Flag status, and Barceloneta and Nova Icaria beaches in particular are notably accessible, with floating beach wheelchairs for public use and paths that lead all the way to the water.
It's also a city known for being sports-mad, as the home of FC Barcelona, and it's one of the world's most cycle-friendly cities with more than 240,000 kilometres of bike lanes. Every Friday, crowds of children and parents cycle to school together through the Eixample district in a ritual that's become known as the bicibús. It's an idea that's also picking up traction in the UK.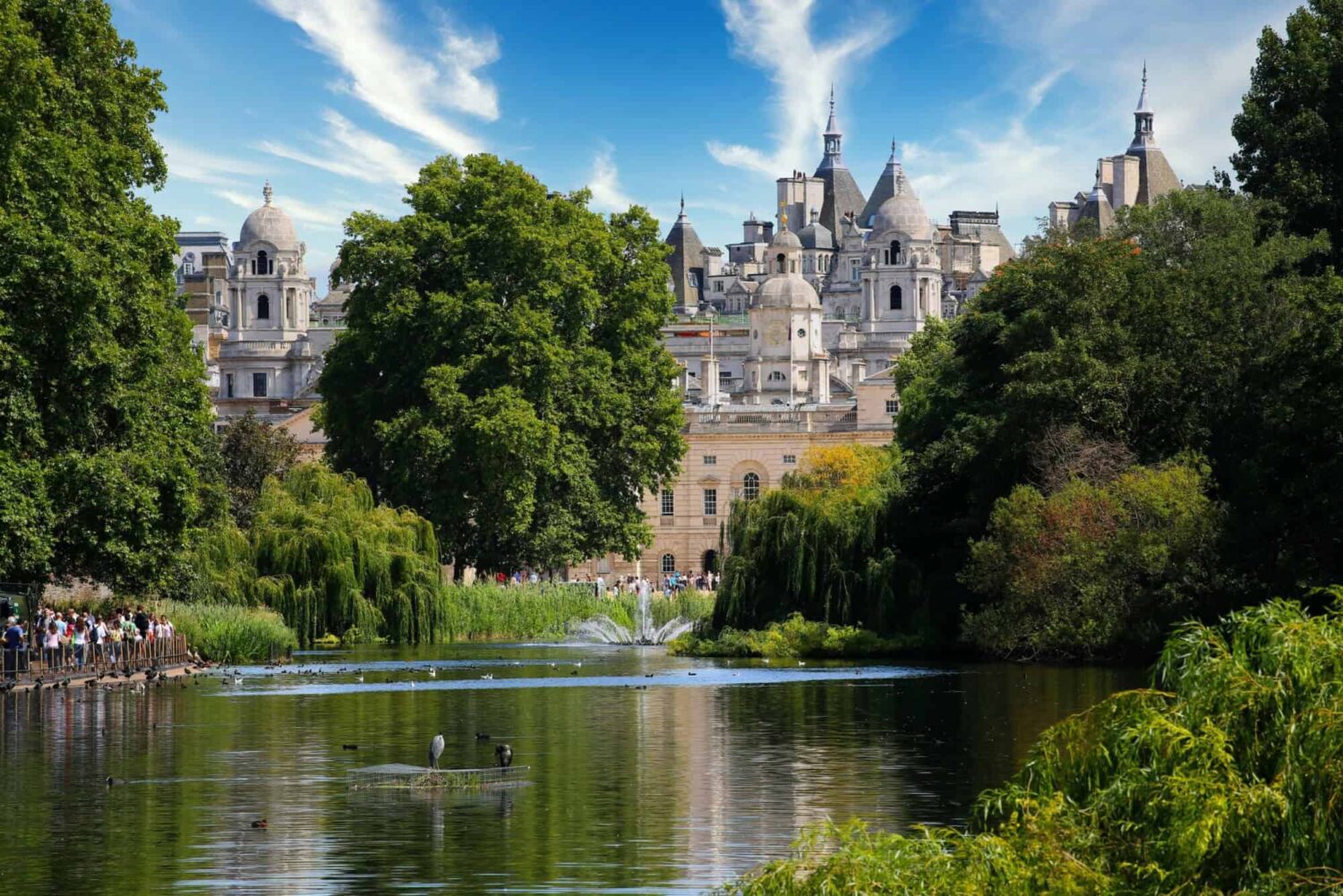 5. London – The national park city
London has 32 boroughs, each with their own distinct character. But there is one thing that holds them all together: green space. There are some 3,000 parks in total, which helped it become the world's first national park city. There's a great cultural and nightlife scene, restaurants serving dishes from almost every country on the planet, and historic pubs on nearly every corner. It's a city that's incredibly well connected, with fast broadband, and speedy train links to Europe via the Eurostar. 
London is home to one of the world's largest LGBTQ+ communities, which hosts events such as Pride in London and the BFI Flare: London LGBT Film Festival. The UK's only museum dedicated to LGBTQ+ history, Queer Britain, also recently opened. 
On the community front, where to start? Apps such as Olio and Too Good to Go connect restaurants and supermarkets with people who are happy to take unsold food, and GoodGym gets its volunteers fit by helping community organisations and isolated older people. There's also a growing repair culture, plus organisations such as Capital Growth, which support people to grow food in the city. 
Green transport-wise, things are improving. All of London's double decker buses are hybrid, there are lots of e-bikes to rent, and the mayor has plans to make 80 per cent of all journeys take place via foot, bicycle or public transport by 2041. The city also has an expanding Ultra-Low Emission Zone (known as ULEZ), and a target to reach net zero by 2050.
Main image: Barcelona. Credit: Dorian D1