Introducing the shop that's pioneering a new type of retail – one where goods are exchanged not for cash, but time. Positive News visits the Cumbrian town where the idea is taking off
It felt like any other high street gift shop. A variety of homewares – candles, rugs, lamps, chairs and plants – were arranged in display windows; potted plants sat on overturned wooden crates, and cafe-style tables and chairs lined the pavement outside. It was the type of place you might have wandered into on a sunny afternoon, had you been visiting Carlisle's historic quarter last June.
Except this wasn't just any boutique. Here, all the goods were donated by local businesses and priced as volunteer time at nearby charities, with the suggested number of hours displayed on the 'price tag'.
The Kinder Shop has taken the notion of kindness and transformed it into a concrete initiative that makes a real difference to local lives. The pop-up shop was made possible by the backing and support of the Cumberland Building Society's Kinder Cumbria campaign, which aims to promote kindness and understanding within the community. The response was overwhelming, with 1,143 hours pledged to help local charities in just one day. It's a simple idea with a lot of impact, and it's gaining momentum outside of this small cathedral city.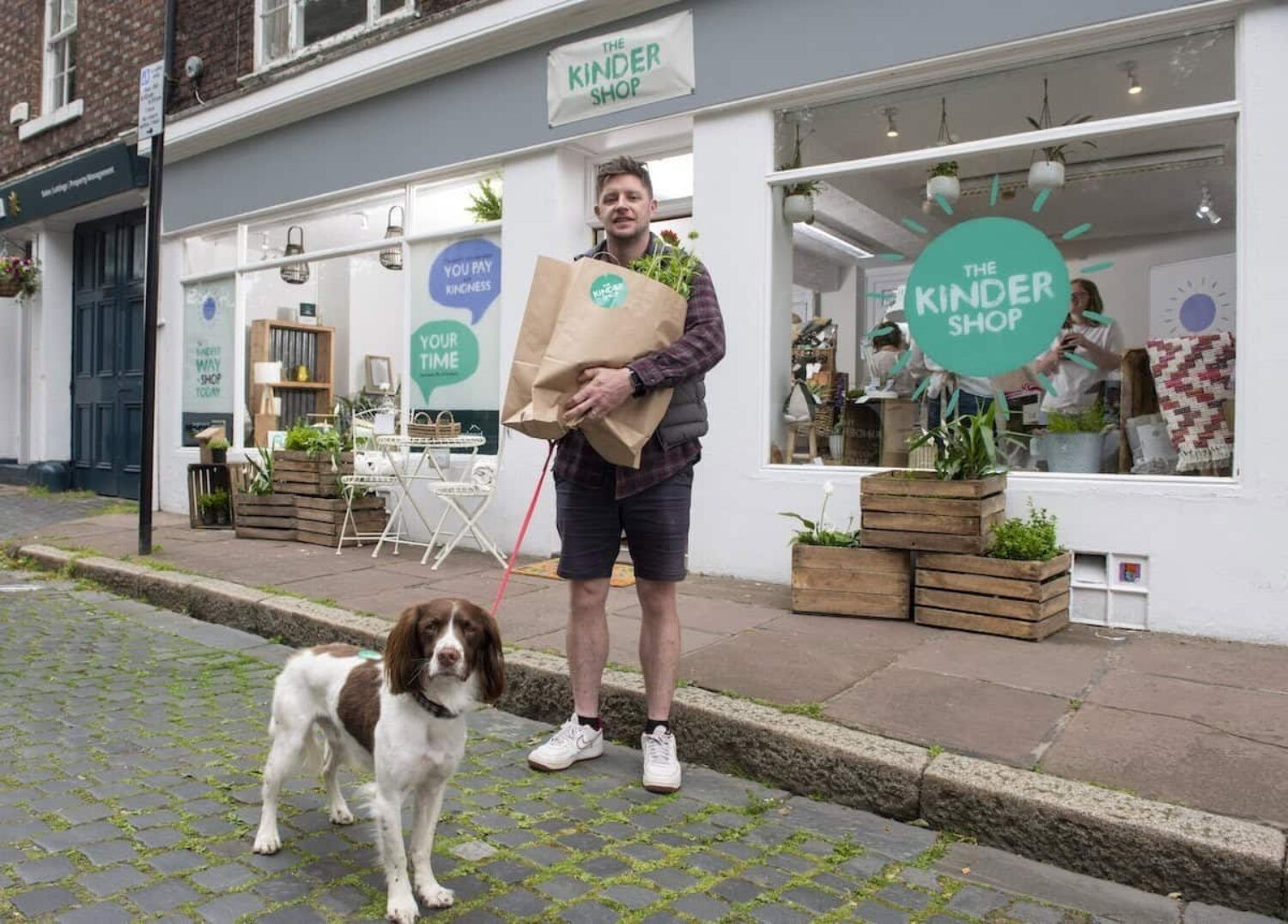 "It has been humbling to see how people have responded to this idea and given their time so generously," says Phil Ward, communications manager at the Cumberland Building Society and one of the team behind the initiative. "We wanted to show what a difference kindness can make in the community and the people of Cumbria have responded magnificently."
At the heart of the Kinder Shop are the county's charities and community groups who depend on volunteers to operate – those such as Eden Valley Hospice, Anti-Racist Cumbria, Lancaster Homeless Action Service, and the Cumbria Deaf Association, which all took part. All have been delighted to welcome their new volunteers, with Kate Apperley, volunteer coordinator at Tullie House Museum and Art Gallery, another of the charities involved, describing it as the "most innovative idea in volunteering in years".
"It is harder these days to find volunteers because everyone feels so short of time," says Caroline Howsley, general manager of the Cumbria Deaf Association. "So, to have something like the Kinder Shop really encourages people to come and look at different ways of volunteering."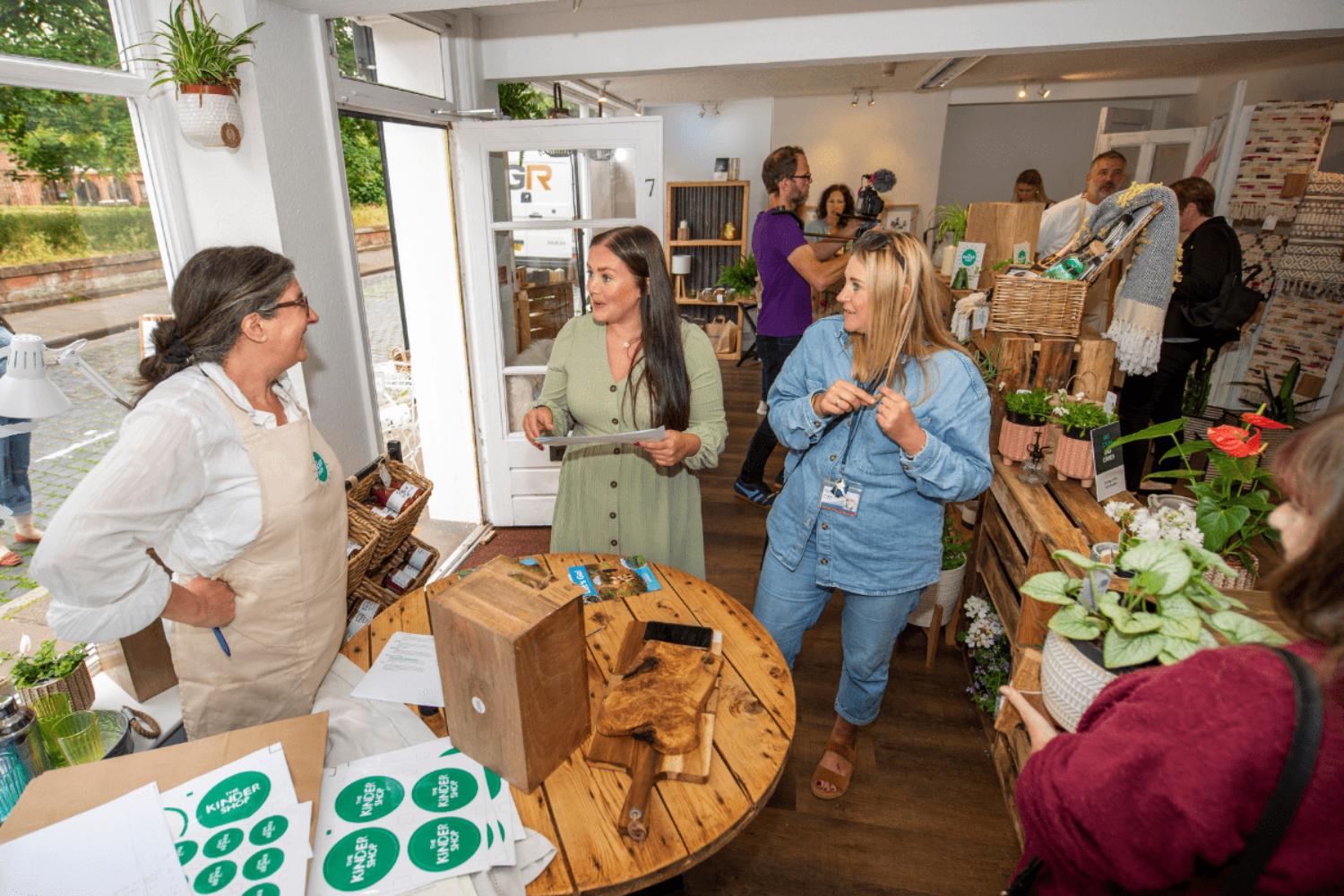 From helping in the gardens of a local hospice and manning the tills at one of their shops, to delivering meals and stewarding events, there's a volunteering role for everyone and, most importantly, it's encouraged people to volunteer for the first time, all while making a tangible difference to their community.
"It seems people have really responded to this idea because it broke down some of the barriers to volunteering. People do want to make a difference and help charities in their community, but it is not always clear how to do that or who to speak to – the Kinder Shop really connected people with those opportunities," says Ward.
The importance of volunteers to charities can't be emphasised enough. They depend on them for their existence and the success of the shop has unearthed a mountain of goodwill, just waiting to be tapped. Many of the volunteers enjoyed their time with the charities so much that they have continued to volunteer long after their pledge hours have been fulfilled.
And the idea has started a ripple effect too. Bramble House Hair Salon in neighbouring Keswick, for instance, hosted a pay-with-kindness day, where 15 minutes spent collecting rubbish around the town centre was rewarded with a free haircut.
It has been humbling to see how people have given their time so generously
"What we thought would be a one-off event looks like it could be the start of something really special," says Des Moore, CEO of the Cumberland Building Society, who has high hopes for the initiative. "We believe we can take the idea of kindness from Cumbria and spread it all around the UK."
Thanks to the ease with which the idea can be rolled out anywhere there is a shop standing empty, that is exactly what seems to be happening. Intro, the Carlisle-based PR company that organised the first shop, has already provided advice and assistance to charities and community groups further afield who are eager to replicate it.
Since June, pop-ups in the Cumbrian town of Kendal, as well as Dumfries, Scotland, have opened their doors, raising hundreds of hours for their local charities.
More dates are planned for this spring and the shop has sparked a raft of interest up and down the country. So, with any luck, next time you head out to browse your local high street, you may just be able to leave your wallet at home.
Images: Jonathan Becker for Intro