The inclusive ethos of Northern Ireland's integrated schools has been replicated in other divided lands
Hazelwood Integrated primary school in North Belfast sits on the boundary between two communities that were once at war: Catholics on one side, Protestants on the other.
"Traditionally this was a very troubled space," said Patricia Murtagh, the school's principal. "We used to come in after a summer of strife, picking up the pieces of the fighting that went on in the local community. That's unheard of now."
At the height of the Troubles, integrated schools like Hazelwood were beacons of hope in a divided land, breaking down barriers between Catholic and Protestant communities by welcoming children from both.
They began in the 1970s, in response to a segregated education system that perpetuated religious divisions. The movement was nominated for the 2019 Nobel peace prize, which went to Ethiopian prime minister Abiy Ahmed Ali.
"It felt like we finally had some recognition for the work we have been trying to do," said Murtagh. "We were very pleased."
Today there are 65 integrated schools across the country and demand appears to be increasing: a 2018 survey by the Integrated Education Fund found that almost 67 per cent of parents in Northern Ireland would support a move by their school to become integrated. "There's a long way to go," said Murtagh. "We're still only a small percentage of schools."
The priority of integrated schools is to teach the curriculum effectively while also encouraging children "to challenge stereotypes, ask questions and deal with conflict", according to Murtagh.
I think we are creating a model of what Israel can and should look like
The movement has caught on in other divided lands. In Israel, a growing number of integrated schools are bringing Jewish and Palestinian children together (Palestinians account for almost a quarter of Israel's population). Unlike in Northern Ireland, there is also a language gap to bridge.
"I think we are creating a model of what Israel can and should look like," said Lee Gordon, co-founder of Hand in Hand, which has six integrated Jewish-Arab schools in Israel.
Students learn Hebrew and Arabic at the schools, and Hand in Hand also facilitates meetings between parents. "We organise discussions, picnics, integrated sports teams, community gardens, dialogue groups," said Gordon. "Parents are often not used to meeting each other."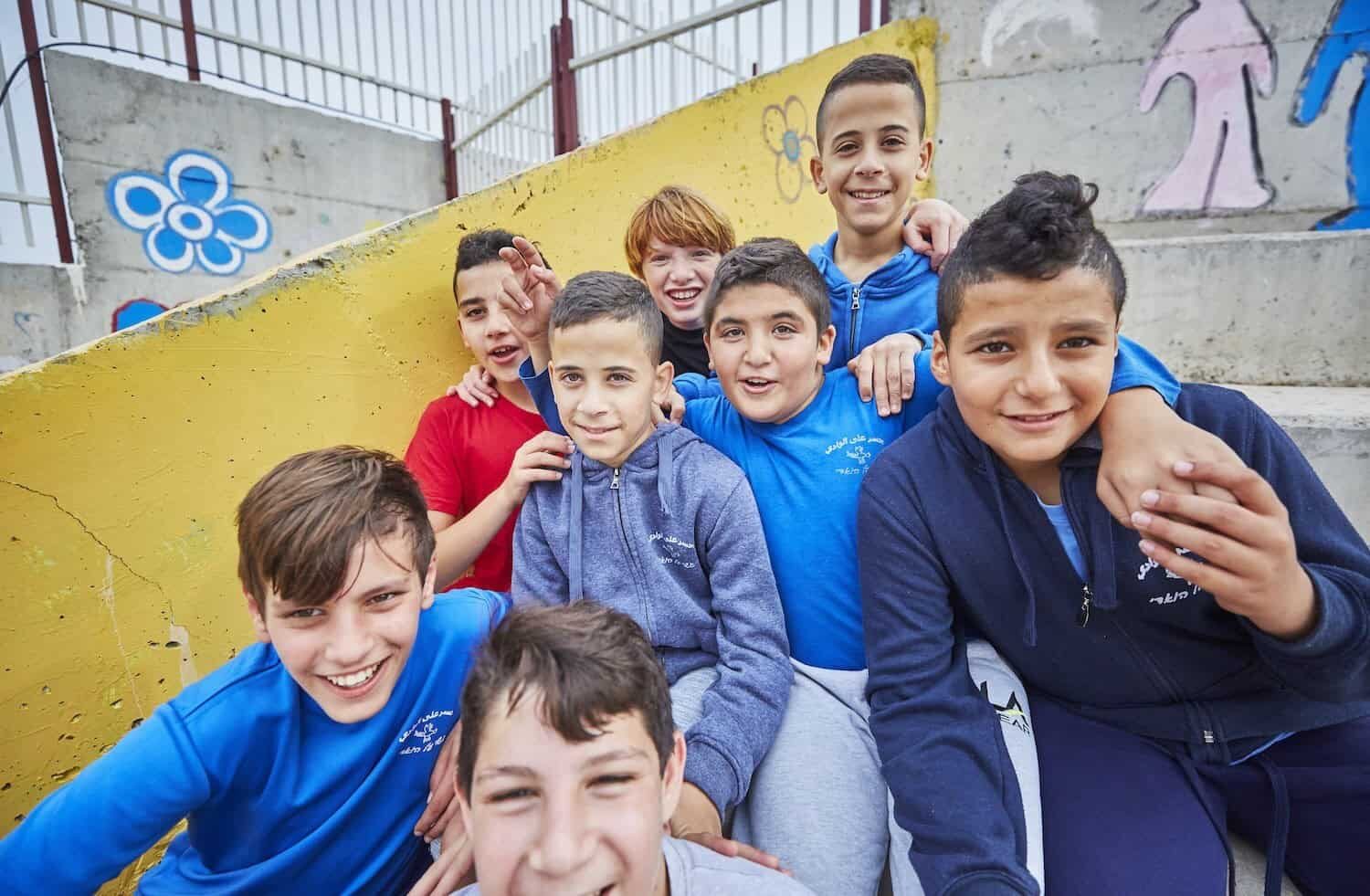 Gordon says nothing is taboo at Hand in Hand. "We allow parents and kids to express their opinions, as long as they do so in an atmosphere of respect," he explained. "Then they have to listen to others." Hand in Hand teaches around 2,000 students and plans to open more schools in Israel. "Integrated schools are part of a mosaic of peacemaking," said Gordon.
Murtagh agrees. "I believe that we have had a very positive effect on our road," she said. "It's a different place now."
Images: Hand in Hand