Prisons and homeless shelters aren't renowned for their beautiful aesthetics, but a new architectural movement is changing that, building sanctuaries to aid the post-traumatic growth of the most vulnerable in society
Imagine what you expect a homeless shelter or facility for women leaving prison to look like. Institutional, perhaps, utilitarian, no-frills, thrown together with minimal thought? And if that were the case, how would it make residents feel?
An architectural movement, known as trauma-informed design (TID), has emerged to counterbalance dehumanising design – and it's gaining pace, creating beautiful buildings for some of the people who need it most.
"We look at spaces in a way that anticipates a person's potential triggers, or what might raise their stress levels, and work with design to mitigate that," says Christine Cowart, co-founder of the Trauma-informed Design Society (TiDS).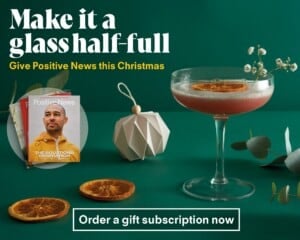 In the US, more than 60% of people have experienced at least one traumatic event before they were 18, so TID could have a wide impact. For specific groups – such as people who have been homeless, or those who have been in the justice system, both situations where there is likely to be a history of abuse and trauma – the benefits may be even greater.
Buildings, says J Davis Harte, another co-founder of TiDS and director of design for human health at the Boston Architectural College, US, could be "part of the healing journey" for such people, a space that tells them "'I'm important, and I can feel safe'".
The practice is still relatively new – early work in design for homelessness started just 10 years ago – and therefore it hasn't been studied deeply enough to see if the benefits can be evaluated beyond anecdotes. However, work is ongoing in schools and universities which have implemented TID to measure its impact on academic outcomes and behaviour.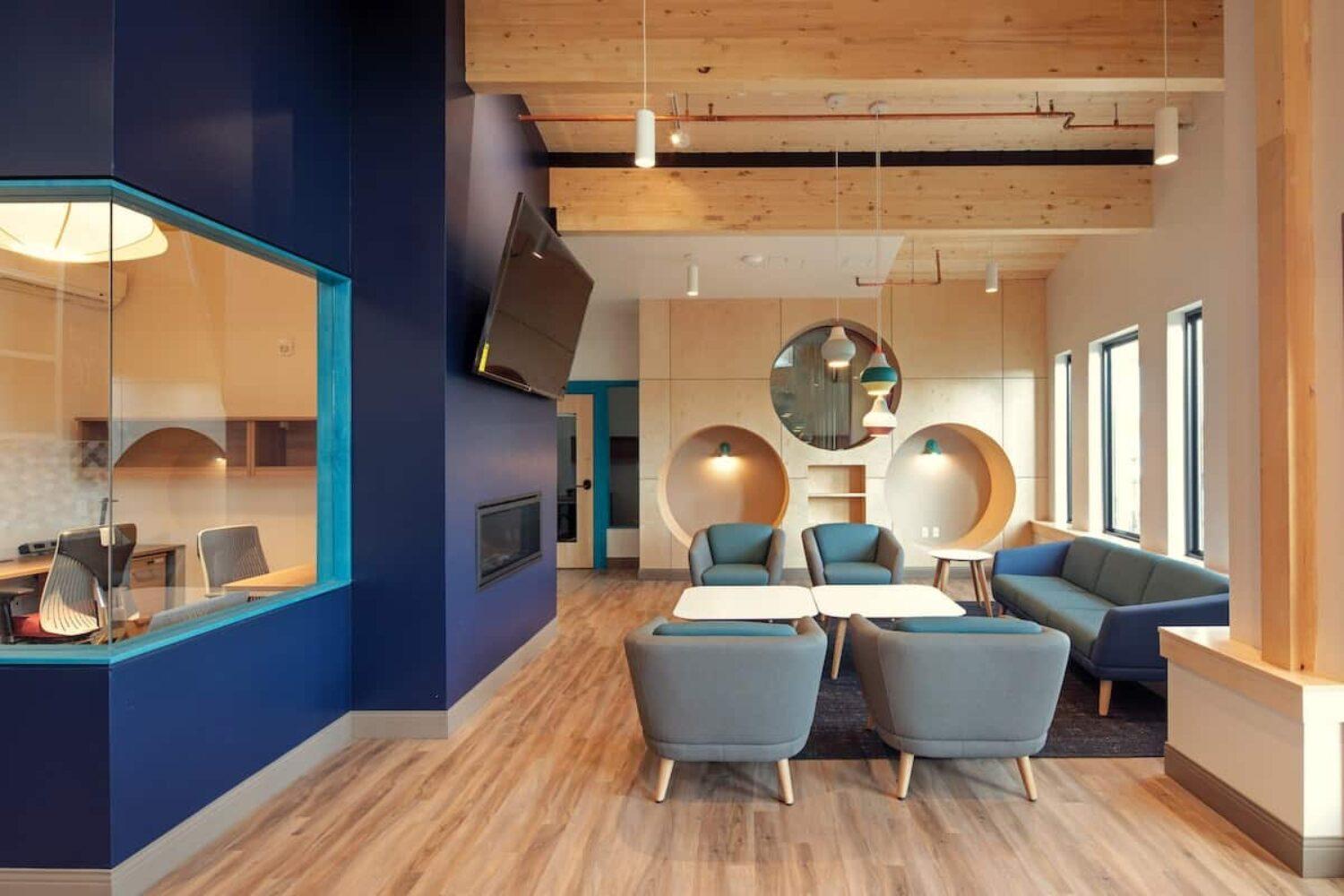 The approach isn't about fulfilling a checklist, because different groups have different needs, but there are some overarching principles. Dark stairwells and corners, which make it hard to see if people are there, acoustics that make a building noisy and stressful, and a lack of natural light are all elements of traditional buildings that go against TID guidelines.
When designing with trauma in mind, safety is key – physical and psychological. Natural elements are important, as are clear sightlines. Design elements could include making sure people don't feel confined, particularly for prison leavers, or soundproofed glass walls, so survivors of domestic abuse can talk about their experiences privately, but without losing sight of their children playing outside. Communal areas can encourage socialising and strengthen relationships with support staff.
"Positive relationship-building is essential," says Harte. "Without that, it's just another beautiful building."
Three buildings designed to heal
1. An alternative to prison for women – and their children, England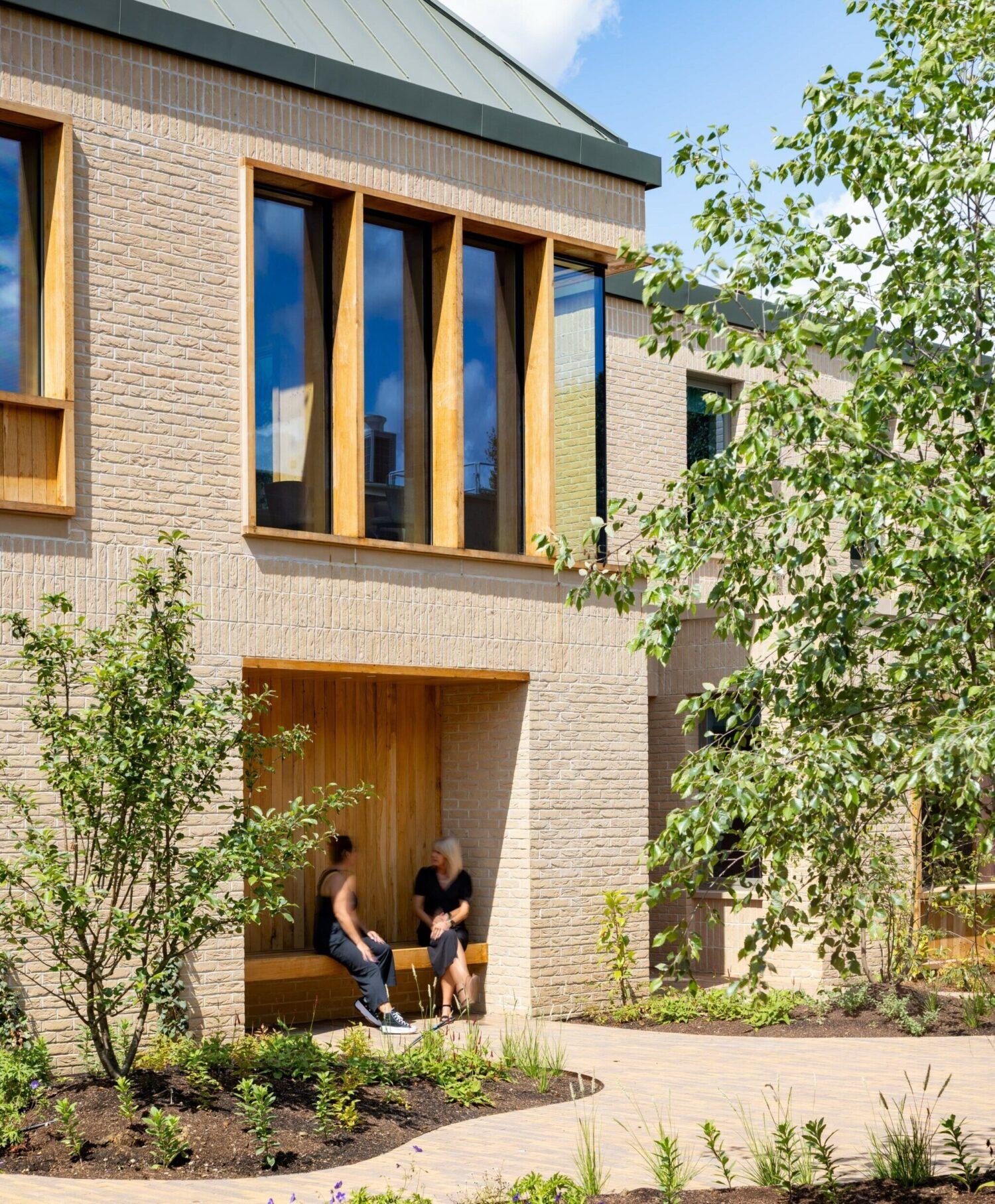 One thing Lilly Lewis definitely didn't want at Hope Street, which opened in June in Hampshire, England, was green bed linen. "When you go to prison, you're given a bag," she says. Among its basics, such as a plastic bowl and cup, is green bedding. Nothing, she says, should remind its residents of prison.
The project is for 'justice-involved' women – including those released from prison, on remand, or serving a community sentence – and their children, and includes eight flats, a creche, communal rooms and a garden. It also has a coffee shop, open to the public.
Created by the charity One Small Thing, its founder Edwina Grosvenor hopes it can be replicated across the country. She has worked in prison reform for a long time, but it's an unwieldy and dysfunctional system.
It's about light, space, airiness. The feeling of not being confined and trapped
"If I wanted to bring about change, how about I try to build a new system? We want to create this model, and reduce the number of non-violent, low-risk women going into prison because they simply don't need to be there, and they simply don't need their children removed, unless it's absolutely essential."
For the staff, too, it's a warm and welcoming place to be. The design includes muted and calming colours, plants and natural elements such as wood, and curves rather than sharp points. "It's about light, space, airiness," says Grosvenor, "not the feeling of being confined and trapped." Ultimately, she says, for the women who had likely experienced years of trauma, "I wanted it to feel like a home."
The issue of "safety" was again key – not just psychological safety, but the potential of "abusive partners turning up at site, which is a very real issue that we face," says Grosvenor.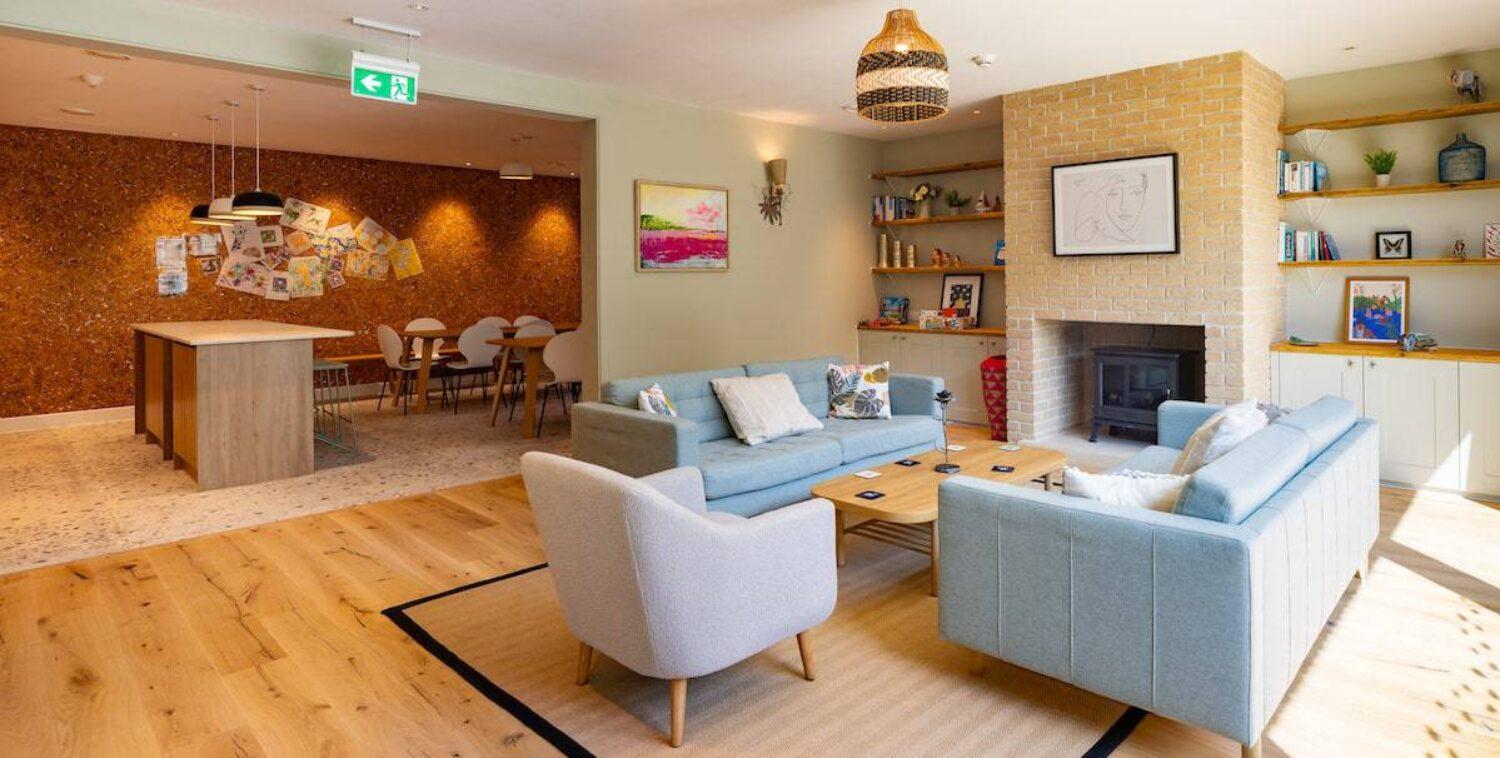 Privacy and soundproofing of some rooms was another element, as women may have difficult and confidential conversations with probation officers and counsellors.
It has been several years in the planning. Lewis, who works for women's organisations after serving an eight-year sentence, was brought in as one of several advisers.
"I realised they were producing something I'd envisioned while in custody," she says. "If we want to heal women, we're not going to heal them in a metal box, and lock them up for hours on end. Most women that I met in custody had never lived in a safe, warm environment and had been in survival mode for most of their lives."
2. The shelter for homeless families, US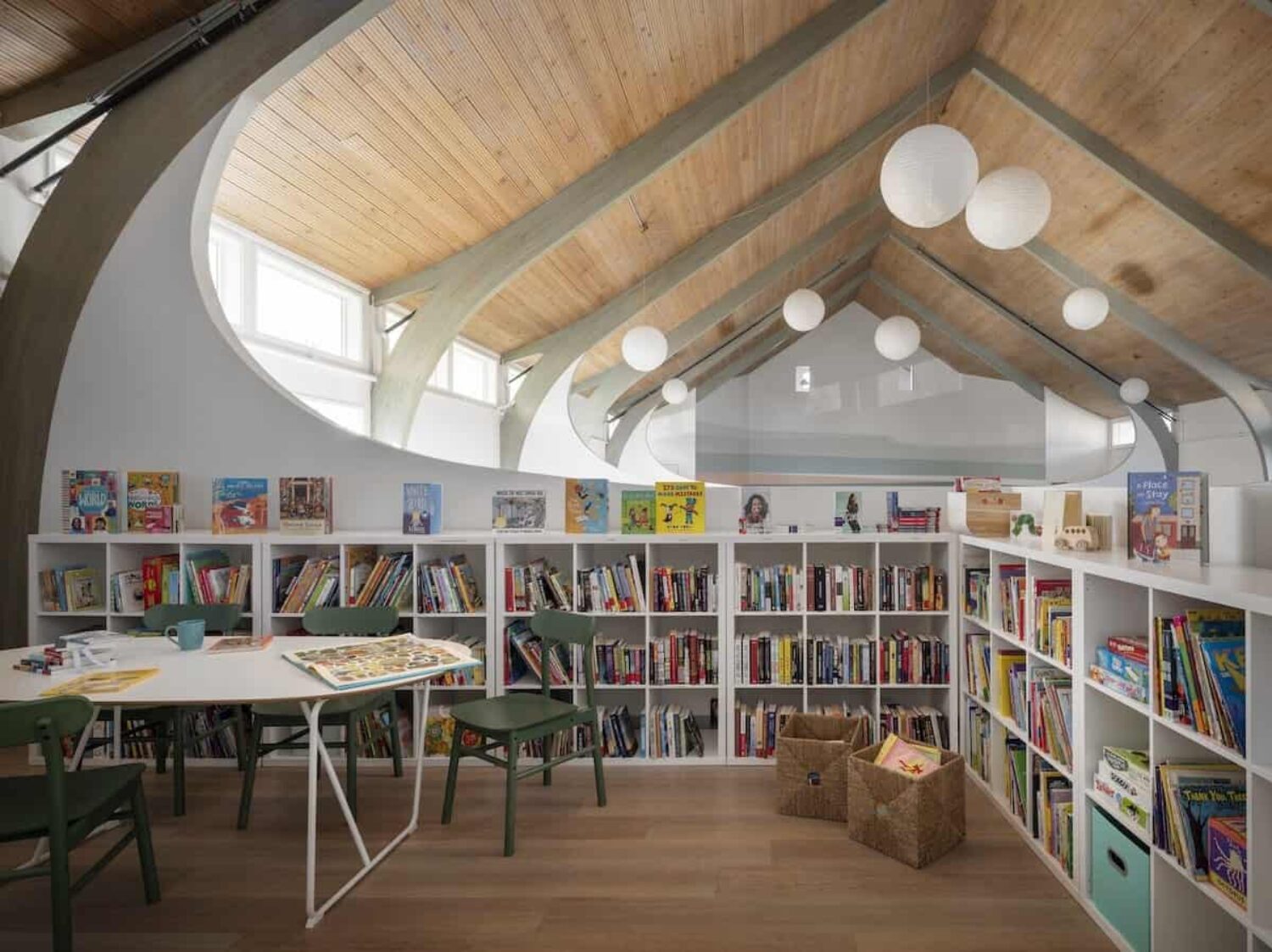 Often the families who were once residents of Family Village Shelter in Portland, Oregon, US, come back to visit. Brandi Tuck, the executive director of the housing charity Path Home, which runs it, sees children, she says, who "can't wait to come back. They want to play, see their friends, see the staff and I think for them, [the shelter has been] a very positive experience."
In 2018, the charity bought a former church to create a shelter for homeless families – before that, it had used makeshift spaces, where families had to clear out each day. The space was turned into a refuge for up to 17 homeless families.
"We have lots of light, natural materials, there are plants all over the indoors and outdoors. It's about flexible spaces that can be used in different ways, and that's intended to give power to the people who stay here. They're allowed to move furniture, they're allowed to use the space in whatever way they want."
They come here and find this peaceful refuge where they feel dignity and worth
For Jessica Helgerson, who designed the interior, the practice of trauma informed design was new to her, but it wasn't a huge leap. "Either because of instinct or good luck, we had followed many of the principles – a calm colour palette, lots of curves and natural forms, the use of natural wood."
In the soaring main space, curved half-walls create cosy areas, but people can still see what's going on in the rest of the room. Tuck believes that the quality of the space helps people "get out of survival mode and back into their critical-thinking brain".
Families spend an average of 87 days at the shelter –which she says is a shorter period than in traditional facilities – and 96% move into permanent housing when they leave.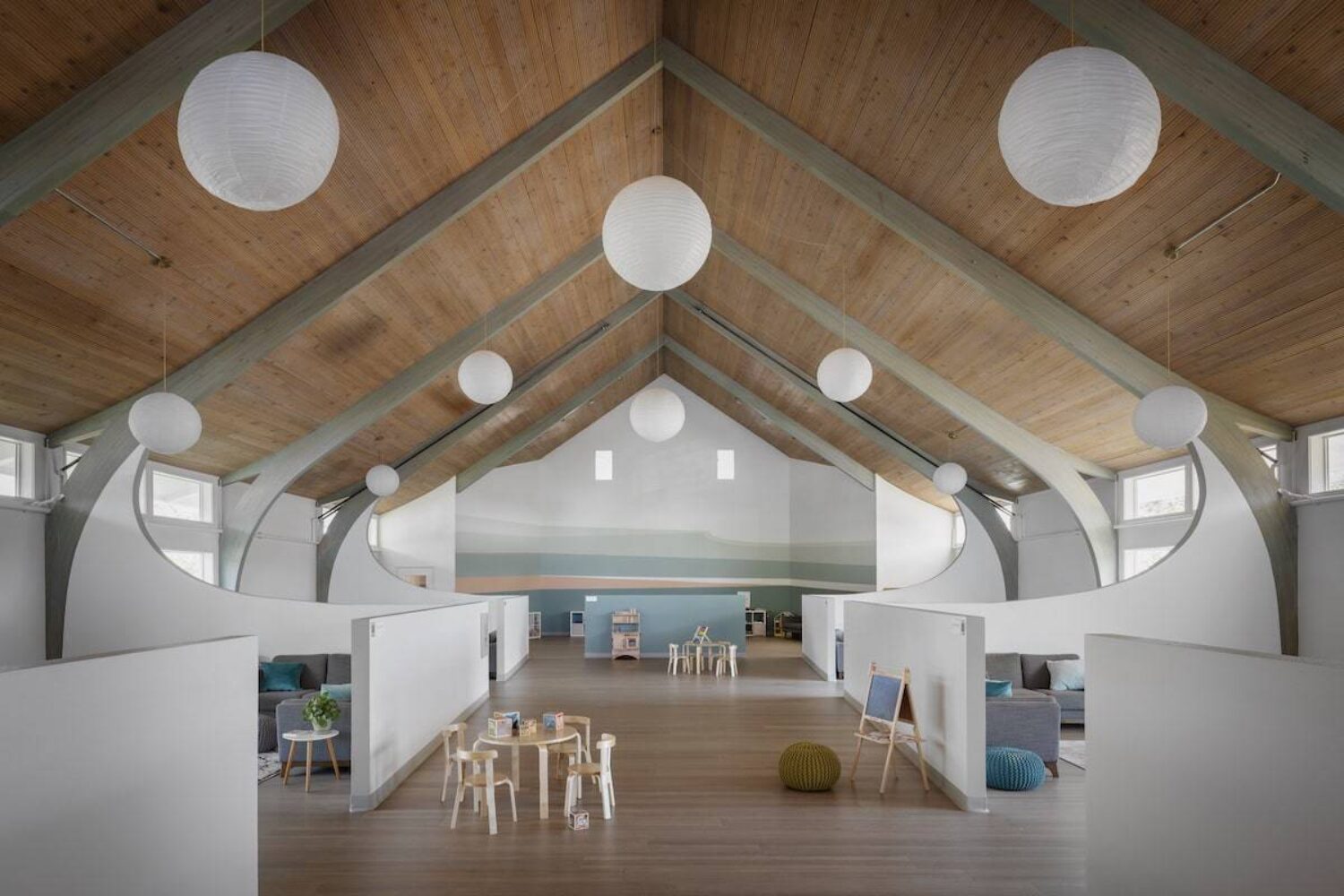 For many of the families, the majority of whom are in work, and are disproportionately people of colour, it is their first experience of homelessness – a devastating combination of expensive housing and childcare, and low-paid work – and it carries huge stigma.
"A lot of people, when they first get the call that they can come, think: 'Am I really going to go to a homeless shelter?' They have this idea of what a homeless shelter is, and then they come here and they find this peaceful refuge where they feel dignity and worth."
3. The apartment block for homeless teens, US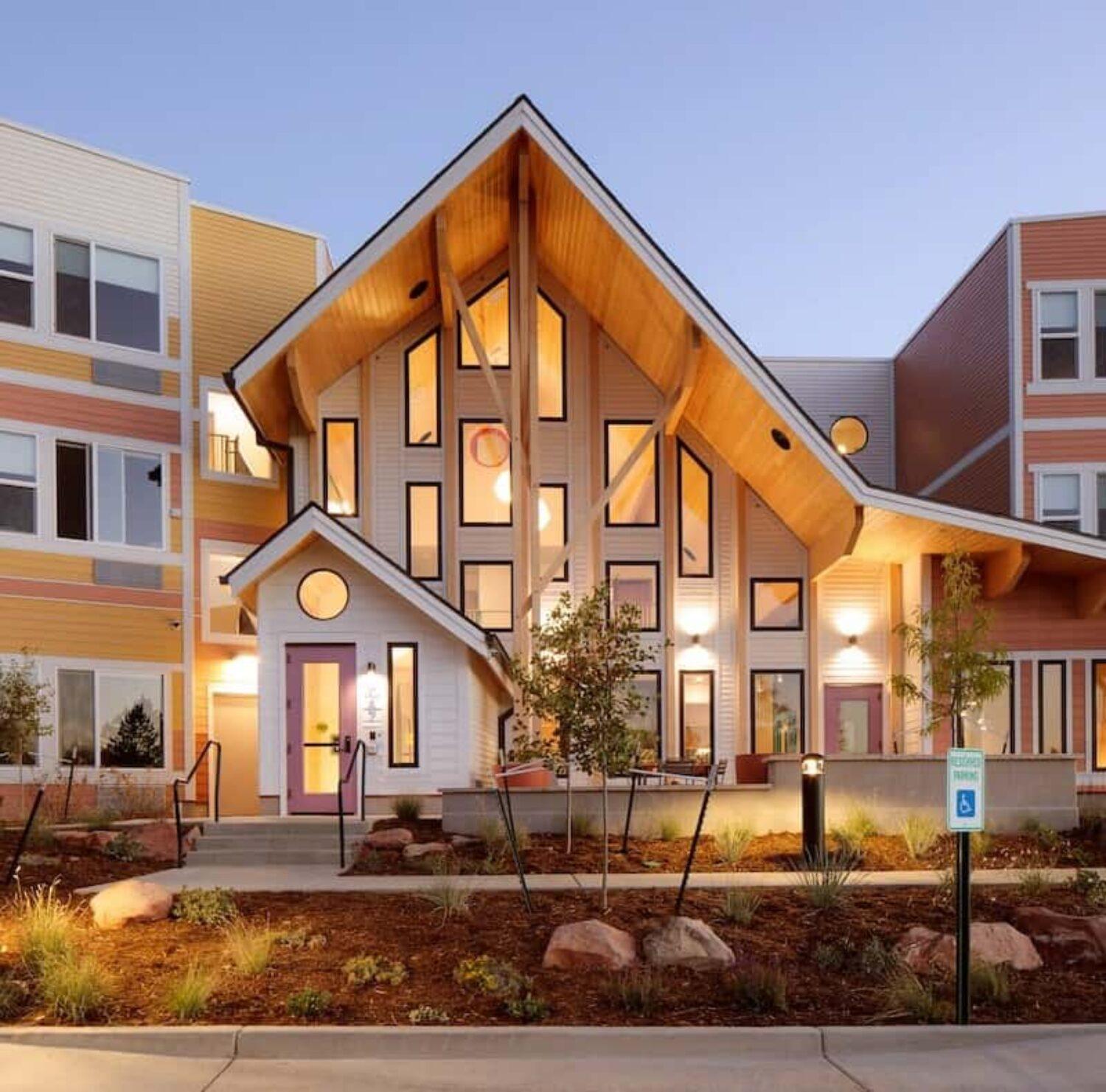 The key thing, says Chad Holtzinger, founder of Shopworks, the architecture firm behind Laurel House, a refuge for young people who had been homeless, is safety. Originally the charity behind it, Karis Inc, wanted to install zip lines – fun elements that would have been potentially physically unsafe, but not in the same way as the triggering potential of a dark stairwell. Sadly, insurance costs nixed the idea, but it illustrates the difference between physical and psychological safety.
The building, which opened in 2020 in Colorado, US, is staffed around the clock and has 34 apartments, currently housing 46 residents between the ages of 18 and 24. The light-filled communal areas have 'nesting layers', or as Holtzinger, who has long been a proponent of TID, explains, "big social spaces with moderate spaces on the side and small ones off the side of that, so you can sidle into an activity or event, but don't have to be a part of it. You can watch and get comfortable with everybody."
Visual sight lines are important, "so staff can be constantly aware of where kids and other staff members are", and there is more than one route through the building to promote a sense of agency.
I see a sense of pride in residents, especially when they bring visitors
In design meetings with young people who had experienced homelessness, one thing that came up was the idea of "authority". "It's a tightly controlled building but there is no front desk," explains Kyle Mead, lead architect on the project. "The staff are milling about, like they're in a coffeeshop. A youth who's experienced trauma may be skittish about authority – when they walk in, they're not confronted by a big formal counter."
Leeann Milovich, the programme manager, can see the change in young people when they come into Laurel House, and especially when they move into their own apartment. "That first time that you tell somebody 'this is your home', that's when I notice the emotion," she says.
The communal areas are key to wellbeing and support. Residents have kitchens in their apartments, but many use the communal kitchen. Last week, she says, one brought their rice cooker down so Milovich could help work out how to use it.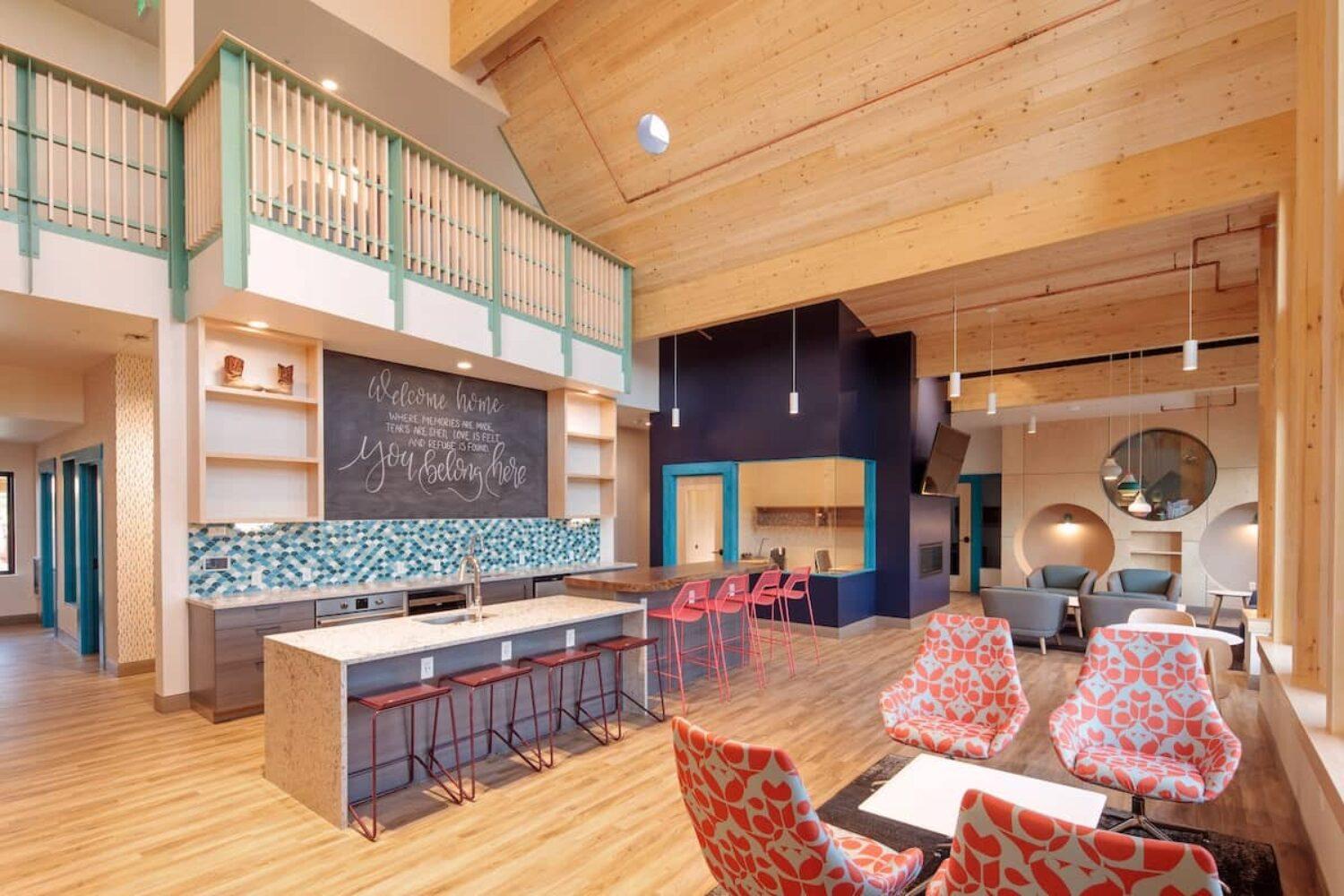 Trauma is complex and nobody is claiming it can be easily solved with some beautiful architecture or thoughtful design. For some of the residents of Laurel House, it can take them a while, says Milovich, "to get used to being housed".
She adds: "I see a harder transition for people that have been [sleeping rough] for long periods of time. There aren't a lot of rules, but there are some, so even that is a different experience for a lot of our young people."
But she believes having a beautiful space created for them increases self-worth. "I see a sense of pride, especially when people bring visitors, like, 'wow, this is where you live?' Yes, this is my home."
Main image: Matthew Staver
You're the solution that Positive News needs
Our small, dedicated team is passionate about building a better alternative to the negative news media. And there's never been a greater urgency to our mission.

But to invest in producing all the solutions journalism that the world is longing for, we need funding. And because we work in your interests – not those of a wealthy media mogul or corporate owner – we're asking readers like you to get behind our team, by making a regular contribution as a Positive News supporter.
Give once from just £1, or join 1,400+ others who contribute an average of £3 or more per month.

Join our community today, and together, we'll change the news for good.