Mark Rylance is acclaimed as the best stage actor of his generation – and he's as committed to social justice as he is to Shakespeare. But, as he opens up about trauma, addiction and grief – processed through a transformative decade of therapy – what interests him most in life, he says, is "more acceptance of the darkness"
It's a hot Friday afternoon in the West End but inside the Apollo Theatre, it's cool and dark. Tonight's show begins in three hours and members of the cast are lying on purple yoga mats, making feral-sounding warm-up noises.
At the back of the stalls, Mark Rylance sits among the deep red seats, visually a hybrid of himself and Johnny 'Rooster' Byron, the debauched and provocative protagonist of the multiple award-winning play Jerusalem. On his arms, Rylance wears Rooster's glaring tattoos, but the bowler hat is his own. Beneath it are curious eyes, long smile lines and a gorsey moustache.
Rylance's performance helped to make Jerusalem the hottest ticket of the summer. In the years since 1995, when he began a 10-year tenure as the first artistic director of Shakespeare's Globe in London, Rylance's career has included more than 40 Shakespeare stage productions and seen him awarded Tonys, Oliviers, Baftas and Emmys – as well as an Oscar for his part in the Steven Spielberg film Bridge of Spies and a knighthood in 2017.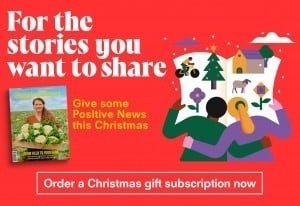 Beyond the stage, Rylance, who is now 62, has a longstanding interest in grassroots efforts to change the world for the better. He's subscribed to Positive News since it first began, and with roles such as patron of peace-building charity Peace Direct, his passion for social progress has only intensified. Three years ago, he resigned from the Royal Shakespeare Company because of its sponsorship by BP – a move which prompted the theatre company to cancel its partnership with the oil company four months later.
"The fact that you can't do everything doesn't mean you can't do something," he says. "I'm taking little steps – learning about tea, for example, and the real horrors of plantation life. You find there are some companies that are taking special care to grow tea in a different way. As a consumer, you don't have to take part in the cruelty anymore."
But as we talk, it's his internal world that is occupying Rylance the most. He's cheerful and composed but it becomes clear that things weren't, and still aren't, always so calm beneath the surface. He's been in Jungian therapy for over a decade, he says.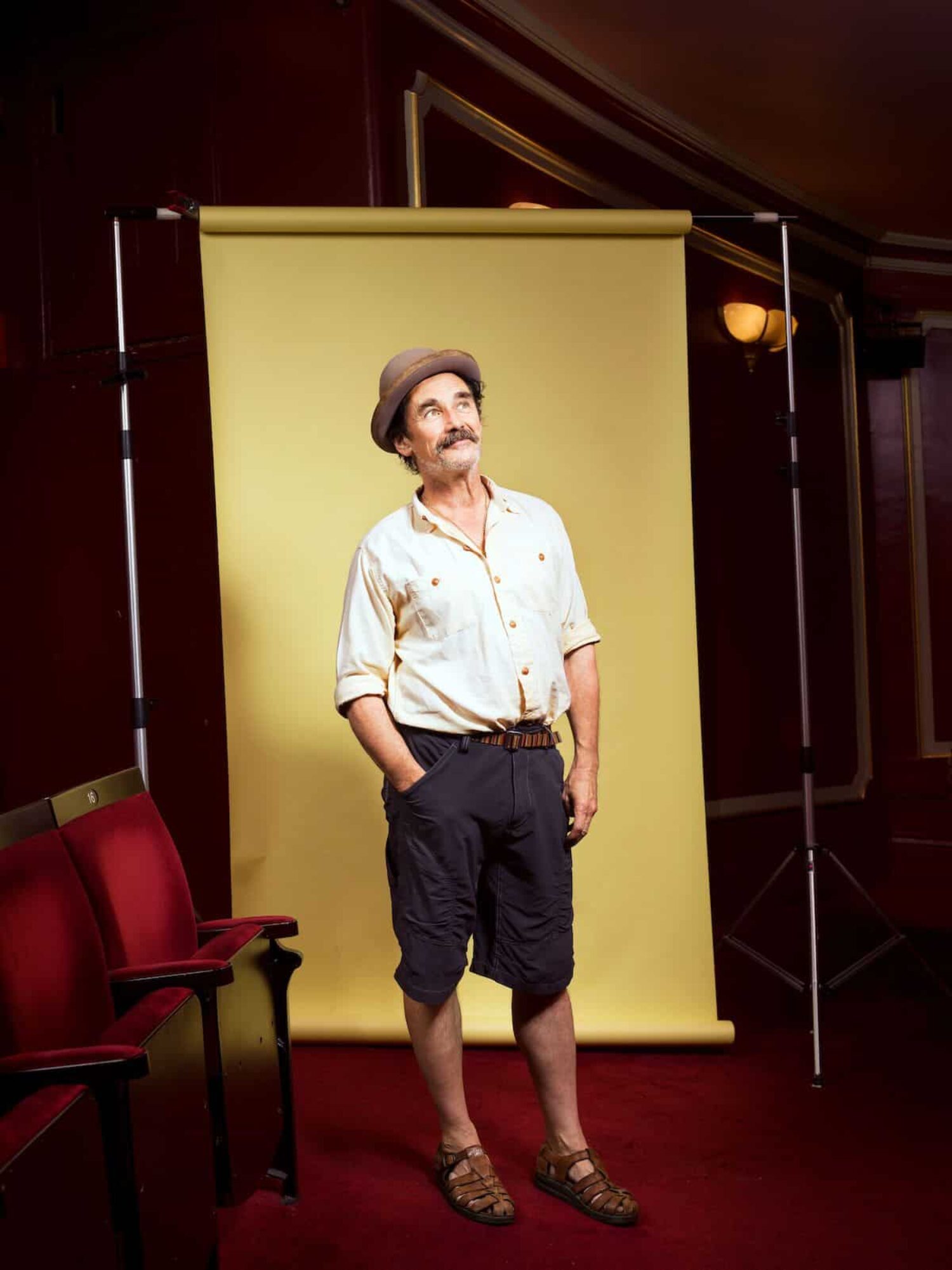 "I went into therapy because I wanted to change my life. I wanted to know why I was doing the things I was. I wanted not to be so destructive with my life. I am, and was, a very sensitive person."
What interests Rylance most as he gets older, in his work and life, he says, is "more acceptance of darkness". Among his own shadows is a persistent self-criticism: "I'm as susceptible to criticism as anyone. I find it hard – I tend to give much more weight to critical voices than loving ones."
When audiences reacted tepidly, he used to take it badly."Now I tell myself, 'No, no, calm down, you fucker. Let them be who they want to be, there's something in the room. Let's see where this is going. Let's find out where the risks are and dare to be with them.'"
I tend to give much more weight to critical voices than loving ones
Rylance drew controversy from his peers when he publicly questioned the true authorship of Shakespeare's work.
"I have been shocked and sometimes hurt by the attacks [on me]," he says. "I didn't realise how sacred in a conservative kind of way this question was for those people, how threatening it was to their own identity. I guess I've never known who I am, so I don't have much of an identity to be threatened. I think that's one of the reasons I'm an actor."
The son of teachers, Rylance was born Mark Waters, in Kent, and the family moved to the US when he was two. He remembers himself in suburban Milwaukee as an intense, passionate, sometimes awkward boy who couldn't speak until he was six. He moved back to London in his late teens to study acting at the Royal Academy of Dramatic Art, changing his name to Rylance (Waters was taken by another actor).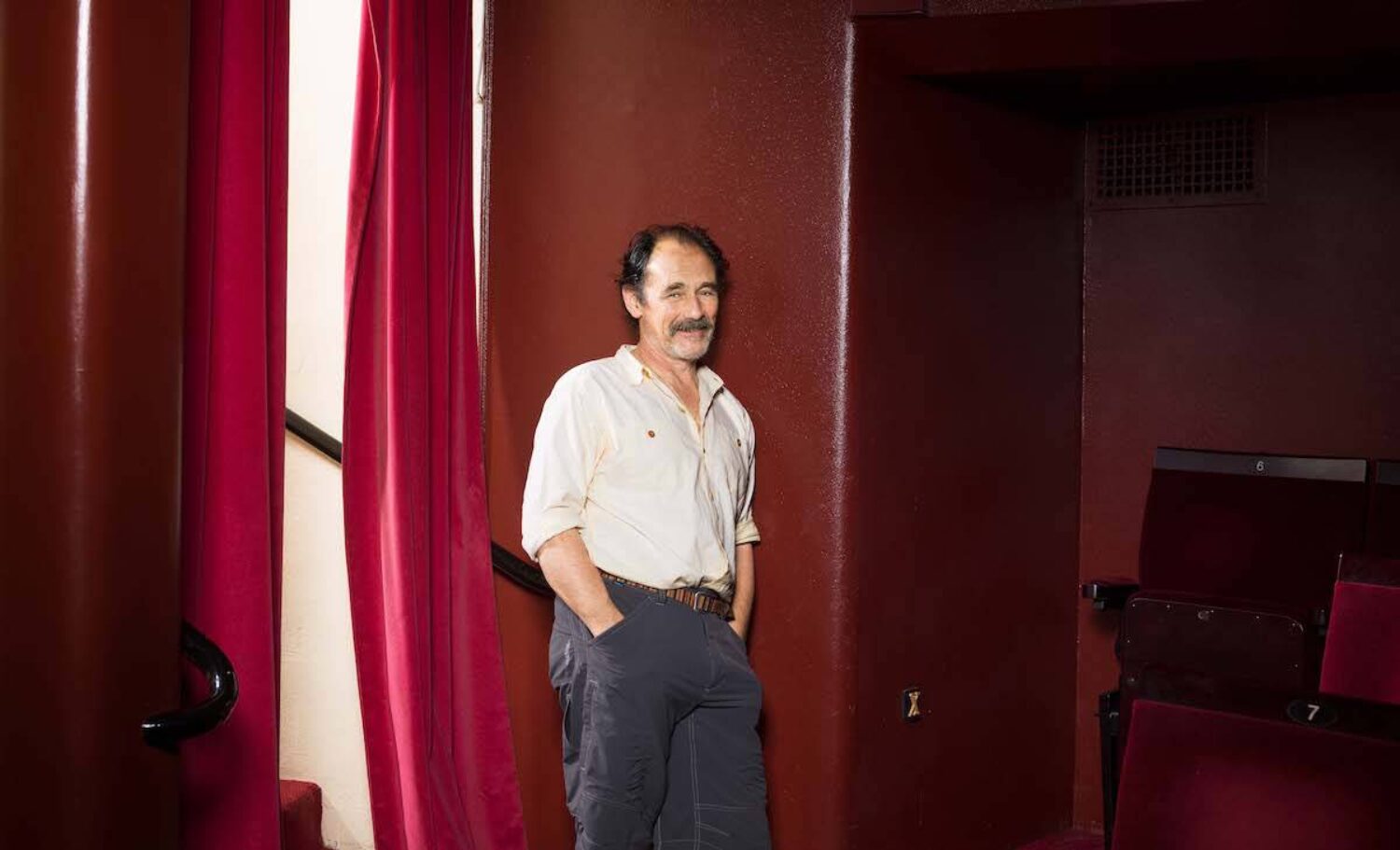 "I thought I'd be accepted as an Englishman, but, of course, I wasn't English at all. So I had a big shock when I came back," he says, smiling at the memory of his younger self, a foreigner in his own country.
Extra-curricular theatre work has always been important to him. He brought Hamlet to Broadmoor psychiatric hospital, there were Christmas Eve Shakespeare workshops in Brixton prison. One of those prisoners, Darren Raymond, set up Intermission Youth Theatre after his release, tackling gang culture and postcode rivalry through Shakespeare. Rylance became a trustee. There is an echo of his own experiences when he says: "That's what I mean about going down the dark side of the mountain. That once he got free of his own difficulties, [Raymond] turned around and went back up."
The roles he's taken on as an actor show a fascination with wild men and underdogs – people maligned by their peers – as well as a desire to champion the contributions these outliers have made to society. In inhabiting such characters, Rylance would like to think he can bring an audience as close to an experience as is possible, "without the physical, psychological or spiritual trauma that you might experience if you lived it".
I was a victim of abuse, and now I am a survivor of abuse
The word 'trauma' comes up several times in our conversation. He mentions a person or people: "dominating and abusing" him and how they, he or she, "didn't want me to be more conscious" about this fact.
Is he saying he suffered abuse? "Yes," he replies. "I was a victim of abuse, yes, and now I am a survivor of abuse."
He continues: "In schools, childhood, work, you may experience many levels of abuse. Part of the abuse can convince you not to look at it. But don't be frightened of it, be respectful. You're going into a tiger cage."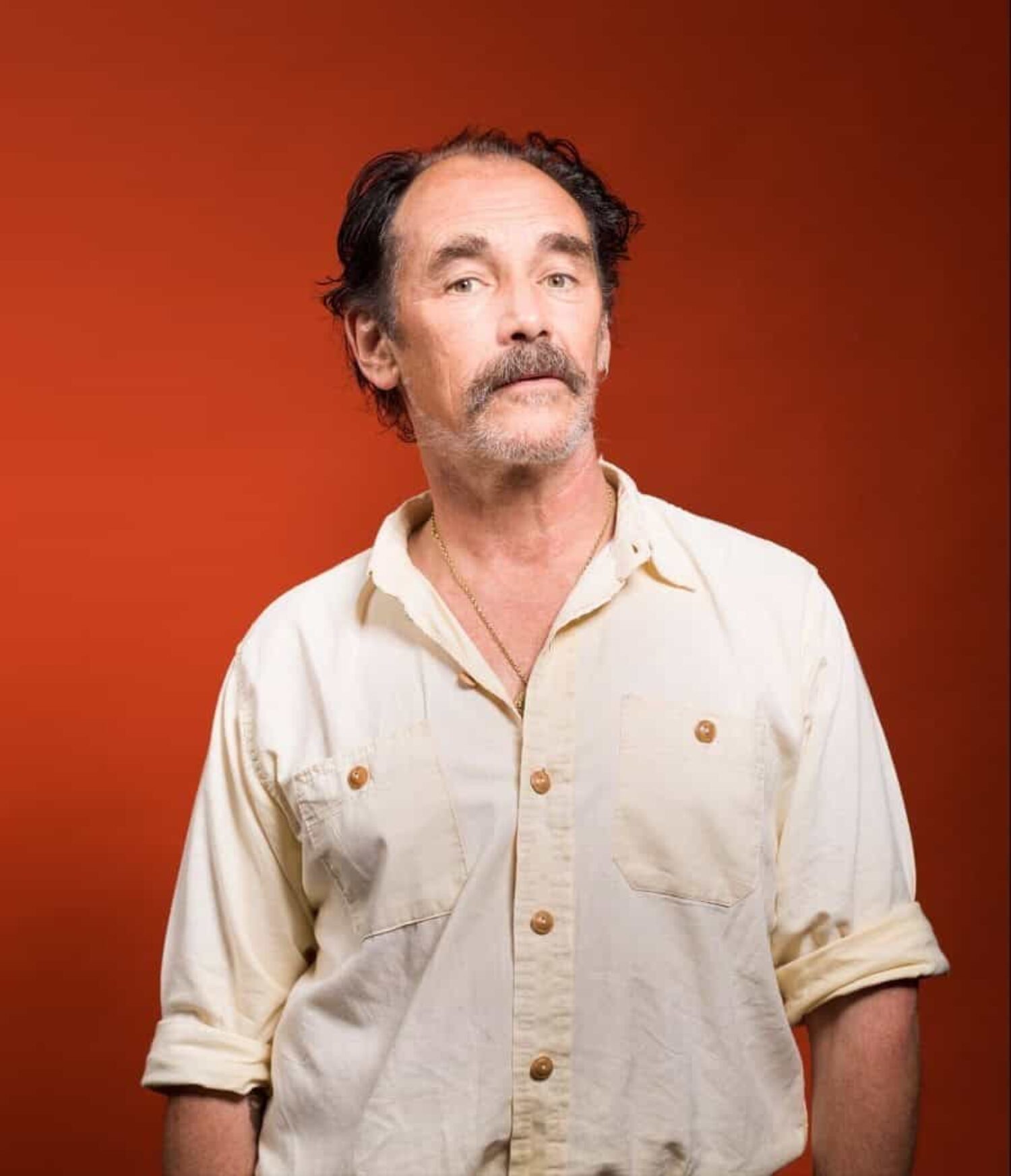 Rylance, it seems, turns negative experiences into a creative force. "To be where I am now, I've worked a lot. And I've been trained by failure," he says. He regrets, for instance, having bought into the myth that professional success requires an isolated devotion. "Among those sacrifices were friends and family," he says. Yet, he ponders aloud, maybe this single-mindedness – "I suppose I'm a workaholic" – has saved him.
"I'd say I have addictions, I think we all do … Someone said to me that addictions enable you to sustain the present. My addictions, I think, are partly to do with that idea. A drug to make you happy, a drink to make the social situation more relaxed … If I didn't have the theatre and film, I might have trouble with sensual addictions."
Rylance is recently bereaved. A month before his interview with Positive News, his brother, Jonathan, who lived in California, was riding a bicycle when he was killed by a car. It's the second sudden death in his family. A decade ago, Nataasha, his stepdaughter by his wife and collaborator, the composer and playwright Clare van Kampen, died age 28.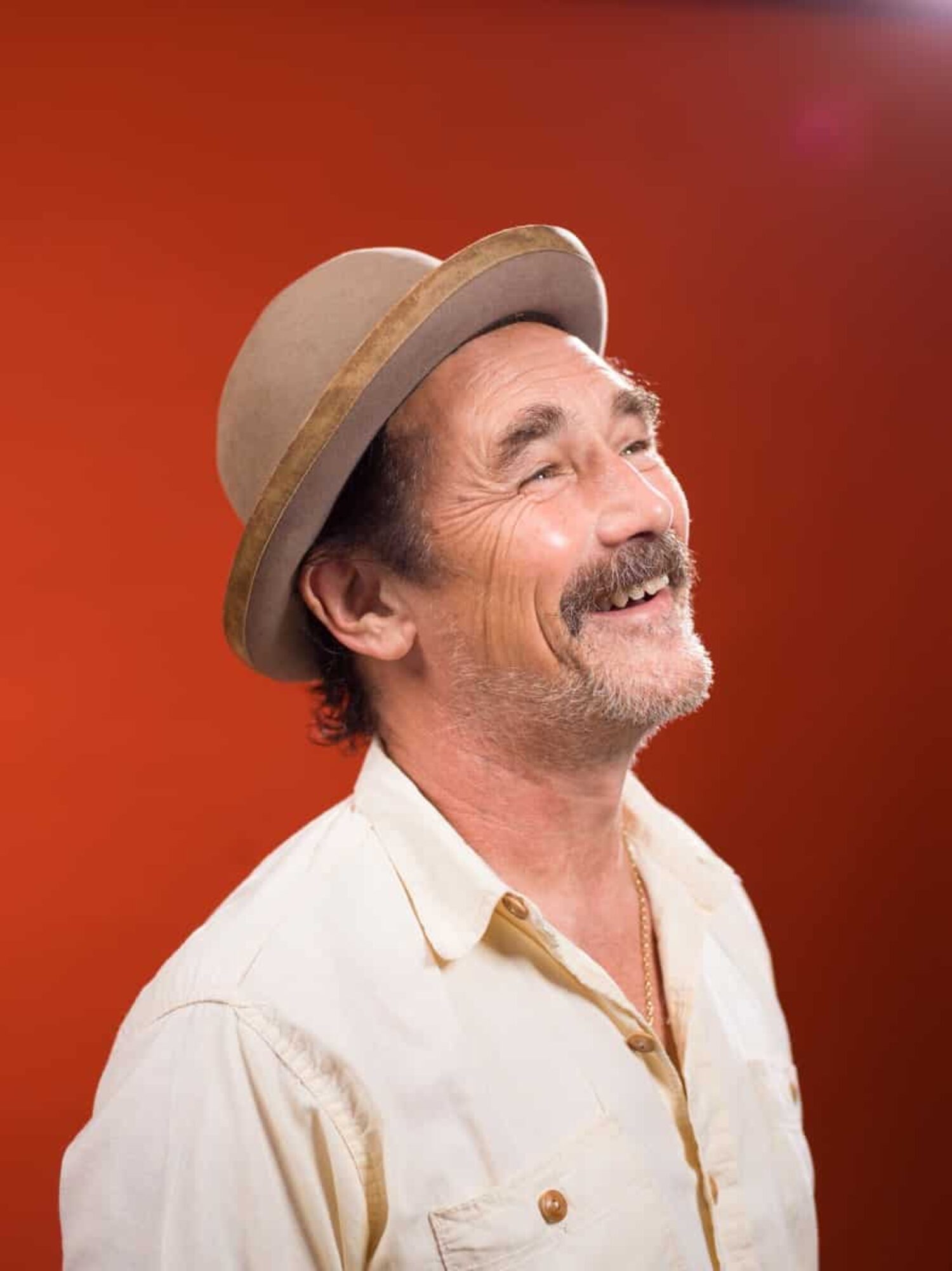 He describes grief as "a hollowing out … this empty space where there was a whole lot of fun and expectations". At the same time, he views the continued "spiritual presence" of loved ones in his life, as "a very, very positive one." 
"I have really synchronistic, extraordinary experiences of my daughter's presence around me," he says. "They stay with you. So they're not necessarily abandoned. You have to think: where's the positive? What is the positive step forward?"
Beyond cancel culture 
Rylance is well known for his social conscience. As patron of the Stop the War coalition and someone who spoke out publicly in support of Jeremy Corbyn ahead of the 2019 general election, it might be easy to assume he'd take a hardline view when it comes to issues of justice and equality. But during our conversation, he reveals himself to be a critic of 'cancel culture' – whereby any alleged transgression, he implies, can result in a backlash that instantly ends careers. He's been reflecting on what a better alternative might be.
This relatively new political climate has done much good in an entertainment business transformed by the #MeToo movement, Rylance says, but it also leaves him uneasy.
"I'm now looking at how to make a contractual requirement in places where I work, because I don't feel safe." The contract he envisages, would mean that, "If anyone in the workplace, man or woman, is accused of saying something, they're judged by their peers. There should be a committee in the West End … made up of union members and peers, who hear both cases.
"If the law has been broken, then it goes to the police. But we're not talking about the breaking of laws, we're talking about a change in how we interact at work."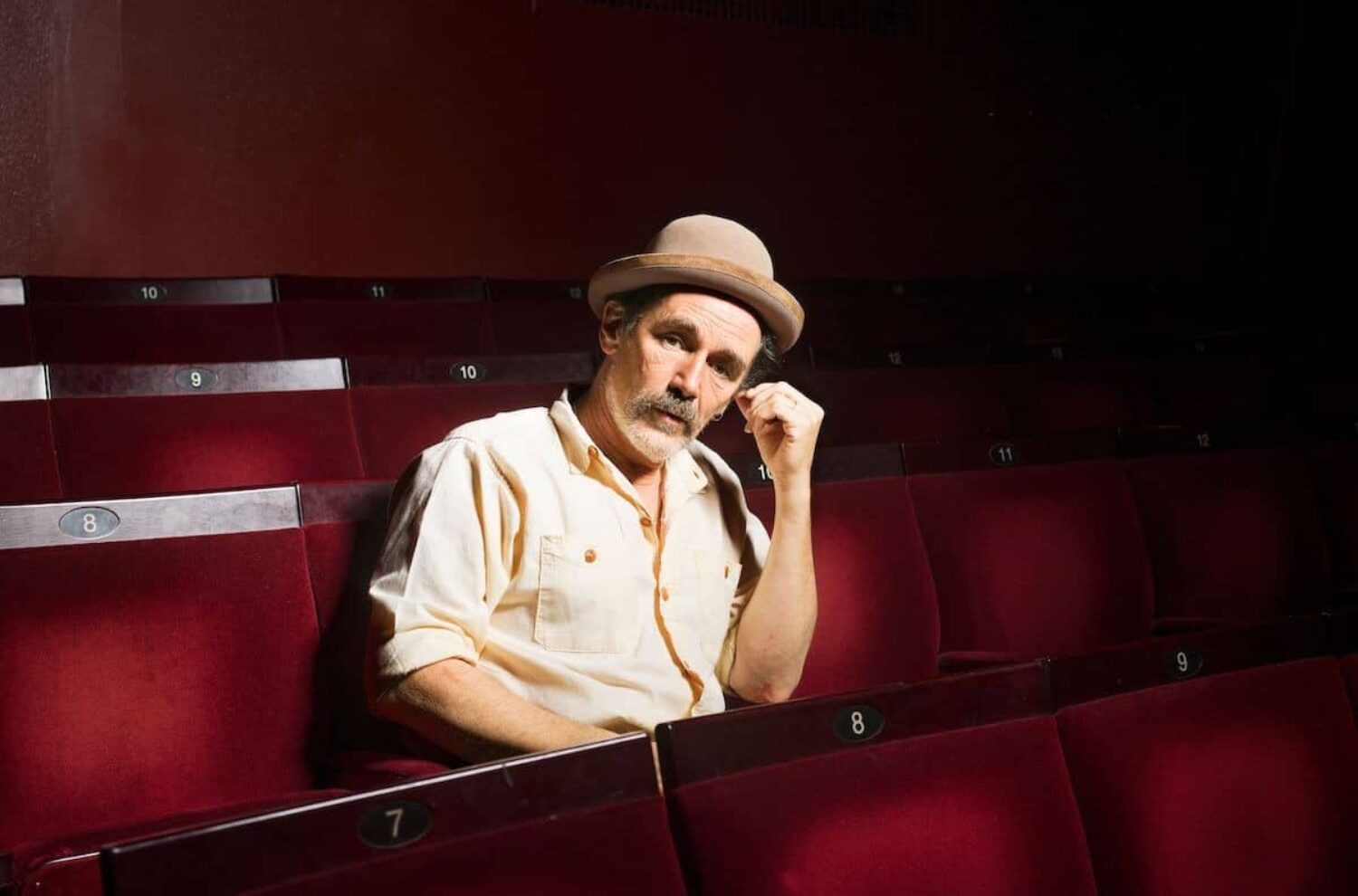 Excluding people who have many gifts but who may lack the "gift of being able to move quickly enough with the consciousness of the time", is problematic, he believes.
"The cancellation culture is too merciless and puritan for me. There should be the option of mediation, the chance for the accused to apologise and to redeem themselves. We cannot, in our human consciousness, decide that someone is past redemption." Rylance adds: "Eventually, love and forgiveness is the only way through."
He is clear that men in particular "need to have a willingness to change, give up power", and to be conscious that "what we're dealing with is a historic imbalance [of power between the genders], and historic injustice and trauma."
You have to think: where's the positive? What is the positive step forward?"
Aware that sexually aggressive behaviour may sometimes arise from the trauma some men have experienced themselves, he sees a way forward with this in a version of the Truth and Reconciliation Commission, the restorative justice body set up by Nelson Mandela to help heal South Africa after the end of Apartheid.
In the meantime, he and his wife are moving temporarily to the US, where she is staging an opera. The couple will also finish the play they are working on together about the manufacturing of steel in Pittsburgh, and the labour movement that challenged industrialists after the Civil War.
Outside of work, Rylance is considering going on a wilderness retreat, spending four days without food, experiencing the unknown. He finds the unknown alternately frightening and seductive. It can be positive or negative, he suggests, but always has the potential of "being a very fertile space."
His therapeutic journey seems to run in parallel with a deepening of his work. "I didn't just want to be an effective actor … I'm trying to bring into the room something unconscious," he says. He likens actors to professional football players, both drawing energy from their audiences. 
The power of the collective is something that inspires Rylance off the stage, too. He offers the example of citizens' assemblies: "At the moment the power rests with the central few… With citizens assemblies, the consideration of what to do about defence, the environment, the budget, about abortion – as they did in Ireland – about climate change… you will get much better ideas.
"It's very important for the moment that we, as individuals and as a community, make our own connection to something larger, to the planet, perhaps even to the solar system.
It's very important that we make our own connection to something larger
"I suppose what I've become is a leader in my profession and that came from something solitary," he says. "The danger I can see with this is that as leaders and politicians, we can fool ourselves into thinking we're stronger or separate from nature. We're not considering animals or plants as part of ourselves." In a nod to the summer heatwave, Rylance adds: "This is all coming to a fiery crashing end, isn't it?"
His solution is to take "little positive steps. They can lift one's spirit and make a difference. Just taking care to move yourself away from cruelty towards other living things, towards things that are beneficial to life. It's something we're all capable of. We're put off by the enormity of it, but with little steps we will get there. They're important, you know. They break down the idea of separateness."
10 prompts for Mark Rylance
Beach or mountain? Mountain
Mozart or Motown? Beethoven
Comedy or tragedy? Oh, comedy. I think comedy is
underappreciated
Safety or risk? Risk
Work or play? Play
Book or screen? The screen tends to win out, not TV but film
Favourite decade? I am quite fascinated by the 1890s
Most underrated virtue? Compassion
What have you inherited from your parents? My work ethic from my father and a love of the senses and the theatre from my mother
Your greatest love? My wife
Main image: Pål Hansen