As a successful advertising executive, Dan Parker helped companies like Coca-Cola and McDonald's shift fizzy drinks and fast food. But when diagnosed with type 2 diabetes, he quit ad land. Parker now uses his insight to tackle obesity
"Nobody knows more about what people choose to put in their mouths than those who work with Coca-Cola, McDonald's. Their knowledge of manipulating emotions? It's genius."
Dan Parker should know. He promoted the products of both, plus plenty more global food and drinks brands, during his 25-year career in advertising and marketing. "I'd spent my life with these people, and I was pretty good at it myself," he says.
But everything changed in 2014, when he discovered he had type 2 diabetes. It was a "slap around the face. But not really a surprise," says Parker. "I was four stone heavier than I am now, had a sedentary lifestyle, I worked with computers all day and I had a terrible diet."
He owned a marketing agency and stuck it out for a while post-diagnosis, devising promotions for the likes of Cadbury, Walkers, Tesco and Asda. But the gap between Parker's work and his growing knowledge of nutrition began to grate. "Briefs would come across my desk at the same time as I was reading books on coping with diabetes. I'd think, 'Do I really want to do another McDonald's campaign?'"
---
The news might all seem bad, but good things are happening too.
---
He readily admits that he was part of the problem, wrapped up in the "cosy, middle-class, wealthy, Soho bubble", ignorant to the harm that junk food marketing was doing. "A lot of that was down to arrogance, no question."
But it began to dawn how he could be part of the solution. By 2016, he had closed his advertising agency and founded Living Loud: a charitable coalition of experts from health, nutrition, digital, PR and advertising. "I realised that if I could take the skill I've seen trying to persuade people to drink more Coca-Cola to get people to make healthy choices, then I might be able to change the world."
Living Loud makes and advises on campaigns that promote healthier living, trying to tackle the root causes of non-communicable diseases like heart disease, strokes and diabetes. Already, Parker's team has worked with the Children's Food Campaign and the Advertising Standards Authority to define new regulations to ban junk food advertising online and has teamed up with groups such as Action on Sugar, the Obesity Health Alliance, Cancer Research UK and Jamie Oliver Foundation, helping them understand the thinking of global junk food giants and hone their own messaging.
I'd think, 'Do I really want to do another McDonald's campaign?'
Most recently, Parker has joined forces with The Food Foundation, Hugh Fearnley-Whittingstall, Jamie Oliver, and leaders from agriculture, industry and advertising on a campaign to glorify vegetables. The government's 5 A Day campaign failed, suggests Parker, because it demonised veg. He hopes to launch a fund to use marketing and advertising to positively encourage more of us to eat more of the good stuff.
His biggest bugbears in food and drink advertising? The intense concentration of junk food advertising during early evening 'family viewing' TV is one. Slathering the packets of high-sugar cereals in pictures of Disney characters is another – "how is that justifiable?" And another really sticks in Parker's throat come festive season. "As soon as children have any sense of the world, they love Father Christmas. He's the giver of gifts, the bringer of joy, the happiest man in the universe. And what does he do every Christmas? He sits on a lorry handing out Coca-Cola. One can contains more sugar than most adults should consume in a day, let alone children. How is it OK to use such an influential figure to get kids to like Coke?"
Crucially, Parker thinks he can help bridge the gap between the academics and institutions who know about obesity but who stick rigidly to figures and technicalities, and the hundreds of thousands of people who are struggling with ill health but lack a clear, positive vision of how to change.
The NHS gives patients fear and knowledge, he posits – "'If you don't sort yourself, you're going to have a heart attack in 10 years' time so here's a leaflet'" – but often fails to provide the tools for people to change. This can lead to despair.
"Despair is one of the most lucrative emotions. People who feel despair buy whole packets of biscuits, eat tubs of ice cream and they have a second burger. I think that combination of fear and knowledge without the inspiration is probably making the obesity crisis worse."
These are emotive words, but Parker's motivation is deeply personal. "I've got a debt, right? I don't know how many more burgers have been sold as a result of my work, but it's a lot. I also saw my dad go through a terrible end of life. He was obese, he had type 2 diabetes and for 20 years I saw him always in pain."
Parker's rapid-fire speech slows: "My dad never met my son," and he pauses to wipe away tears. "I couldn't save my dad but if I save anyone else, then it's one small step towards making up for my mistakes."
Parker is certain that the persuasion industry – creative advertising – can be a force for good. "I'm convinced that the next great breakthrough in medicine won't happen in a laboratory but on a moodboard," he says.
I'm convinced that the next great breakthrough in medicine won't happen in a laboratory but on a moodboard
As advertisers have long known, behaviour change usually happens on the emotional level rather than the practical. "We really need to understand the trigger points in people's lives, when they are most likely to be receptive to change."
Environments where people don't feel blamed or judged, but are positively motivated to change are also key. "Let's empower people, give them hope and put them in control, so we prepare them to succeed," he says. "Unless we flick a switch in people's heads about making positive choices to care for themselves, we'll continue on a path to nothing."
And it isn't useful to demonise those who work at companies like Coca-Cola either. "The idea that there is some kind of evil collaboration of overlords in their darkened temple, cackling insanely: there isn't," says Parker.
Not the woman whose job it is to maximise the satisfying crunch of a crisp, or the man bent on calculating the optimally pleasurable amount of salt they are sprinkled with? Is he guilty of manipulation? "He's just a guy," says Parker, "trying to do his job, maybe get a bonus or a pay rise. But times that by a million and that's the obesity crisis. I want people in my field too to be more aware of the consequences of what they do."
Let's empower people, give them hope and put them in control, so we prepare them to succeed
People power is capable of big things, Parker reminds. "Corporations with large sums of money have a disproportionate amount of influence in the corridors of power. But there is one thing more influential and that's popularity, especially in the sort of knife-edge politics we're in at the moment."
As one example, he points to the ban on selling energy drinks to children under 16 that most UK supermarkets introduced earlier this year. It followed campaigners raising concerns about the drinks' levels of sugar and caffeine and their impact on health and behaviour.
Today is the time to act, Parker thinks, because big food is now fighting a defensive game. "It's very reminiscent of tobacco in the 1950s: managing decline. Companies are still making loads of money, of course. But they're defending their wicket. People need to get engaged and realise that they own the world."
Featured image: ice cream – Ian Dooley, cauliflower – Filip Mroz
---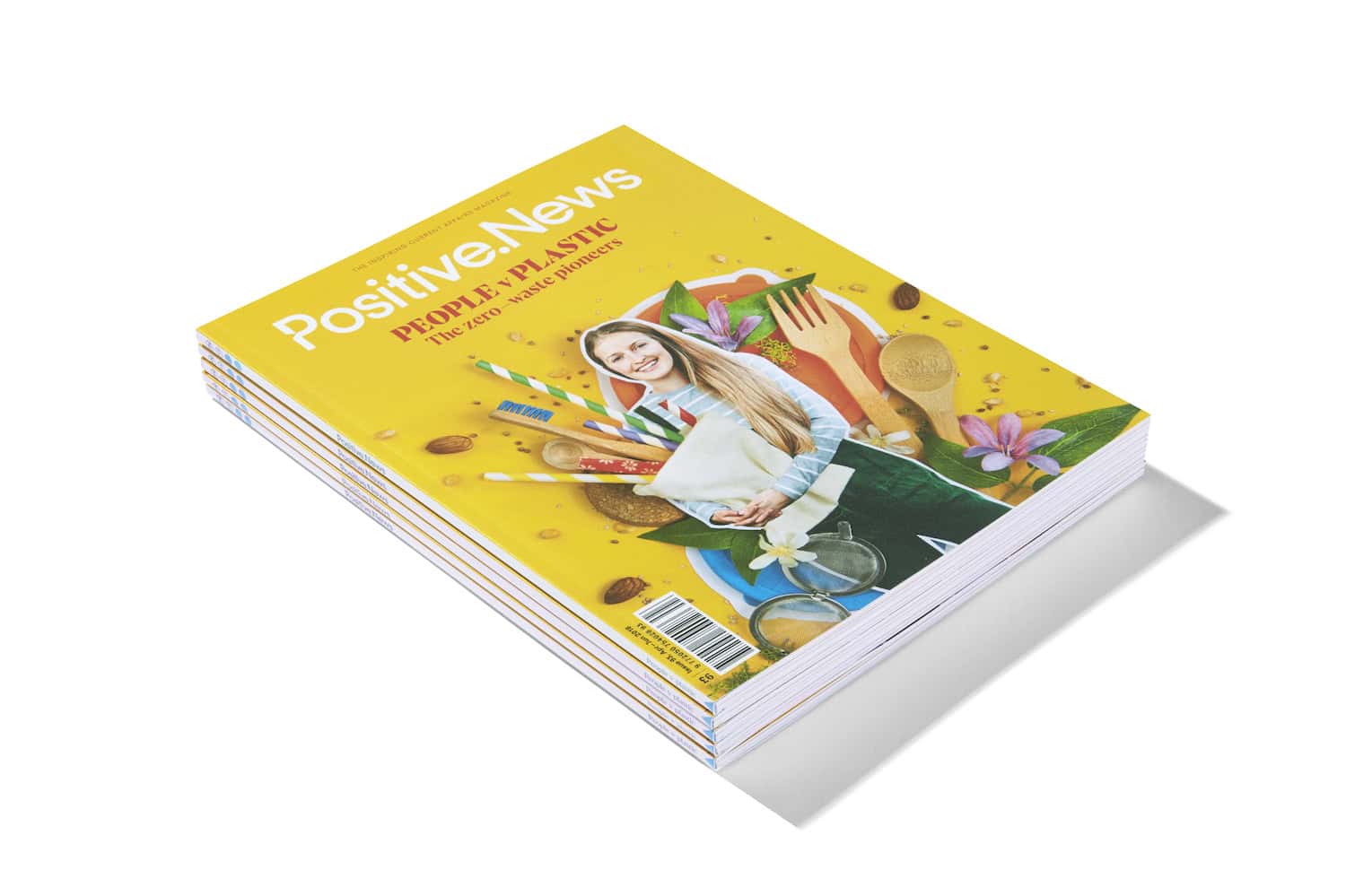 This article is featured in issue 93 of Positive News magazine.
Subscribe now to get the magazine delivered to your door each quarter.