From refugee bee-keepers to the social enterprise turning defunct loyalty cards into emergency bee feeders, here's a roundup of what went right for bees this year, on World Bee Day
Notre Dame's bees are 'thriving' in lockdown
Three colonies of bees that survived the devastating fire of the Notre Dame cathedral in Paris are "thriving", their keeper has confirmed.
The population, which is thought to number 30,000-45,000 bees across three hives, have been living in the rafters of the cathedral since 2013. They miraculously survived the fire in April 2019.
Beekeeper, Sibyle Moulin, had struggled to visit the hives in the latter part of 2019 because access to the damaged building was restricted. But she has since been able to check on the bees and has confirmed that they are doing well and preparing to produce honey this summer.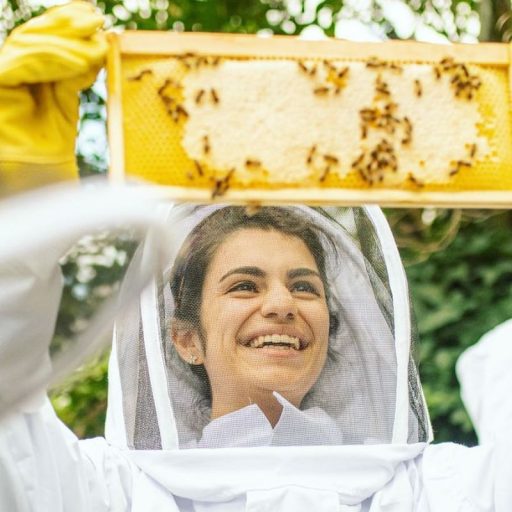 Meet the refugees creating a buzz in the UK during the pandemic
Once thought to be extinct in the UK, the black bee is reappearing thanks in part to refugee-run beekeeping projects.
Ali Alzein's community-led beehive project, Bees & Refugees was founded to provide free beekeeper training and equipment to refugees living in the UK with the aim of establishing 20 native black bee colonies in west London.
Alzein maintains the hives and extracts the honey himself, but when the lockdown is lifted, he will encourage refugees to take ownership of the hives, many of which are located on private land donated to the initiative by Londoners.
Free online gardening tool launched to help people support pollinators
A free app and website have been released by the Bumblebee Conservation Trust to try to get more people growing flowers for bumblebees and other pollinating insects.
With global crashes in insect numbers causing concern, a free online gardening resource to get more people growing flowers for bumblebees and other pollinating insects has been launched. The Bee kind app and online tool, which helps people across the UK choose the best plants for pollinators in their gardens, window boxes or community spaces, was announced this week at the RHS Chatsworth Flower Show in the Peak District by the Bumblebee Conservation Trust.
The revamped tool encourages people to install native 'bee super plants' such as apple trees, bugle, foxglove, lavender, and red clover.
Millions of wildflowers to be planted to help boost UK's bee population
A project armed young people with wildflower seedballs to help revive bees and encourage interest in environmental issues.
The Backyard Nature campaign aimed to encourage people across the UK to plant wildflowers to encourage bees, by giving away millions seedballs in a drive to support and grow bee populations across the country. Hundreds of thousands of seedballs were given out to families via branches of Iceland supermarket and The Food Warehouse, as part of the campaign.
The project is the brainchild of a Liverpool-based group of young activists, the Eco Emeralds, who wanted to help stop the decline of bees in the UK. It was launched by Semble, a platform for community projects.
'Bee saviour' sugar cards give energy boost to weary pollinators
A social enterprise is turning defunct loyalty cards into emergency bee feeders. Bees can find themselves running out of energy in urban areas, where they become exhausted searching for nectar in the concrete jungle.
A Norwich-based social enterprise called Bee Saviour Behaviour aims to throw the weary pollinators a lifeline, by turning old store cards into revival kits.
Unwanted cards are embossed to incorporate three small wells, each of which contains a sugar solution that can be fed to ailing bees. The pouches are covered with a peelable, foil-backed paper sticker. Bee Saviour cards fit into wallets and can be sent back to Bee Saviour Behaviour to be refilled.