This constantly expanding collection of images features stunning rainbows of produce, from tomatoes to pears, arranged painstakingly according to species
It was while visiting street markets in Berlin that German photographer and artist Uli Westphal began what has become a 13-year focus on food. "I was intrigued by the diversity of shapes and colours of some of the produce," he says. "Five-headed aubergines, curling cucumbers, Siamese tomatoes and peppers that resembled molecule models."
These vegetables had a beautiful, sculptural quality, but they also immediately triggered a question in Westphal: why are these kinds of fruits and vegetables never seen in supermarkets? He has since made it his mission to document the biodiversity that gets excluded from many of the world's commercial food markets.
Westphal discovered that it isn't only the naturally occurring irregularities in the shape of fruit and vegetables that get filtered out. In fact, it starts much earlier, with the selection of seeds.
"Only a tiny fraction of high-yielding, 'good-looking' varieties are being grown and distributed today, even though there are literally thousands of varieties of any domesticated fruit or vegetable."
As an example, he offers the US corn belt, an area roughly the size of California, that almost exclusively grows a single type of corn called Yellow Dent. Nearly all of the seed is genetically modified and subject to intellectual property laws, controlled by the few remaining big corporations that rule today's seed market.
Traditional varieties convey a sense of place and identity. They are a living cultural and culinary heritage
Most of the harvest is turned into ethanol and animal feed, to produce cheap meat in concentrated feeding operations. Just a fraction of the harvest goes directly to feeding people, and that is usually in the form of sweeteners, particularly high-fructose corn syrup. "Even if this type of farming has incredible yields, it is not efficient in feeding people," says Westphal. "We already produce enough food to feed everyone; the actual problem lies in the way we use, waste and distribute the food we grow."
He has since tracked down some of the dazzling varieties of crops that have been forgotten outside of seed banks and circles of dogged collectors. Westphal seeks out farmers who specialise in growing diverse crops, and seed banks that house extensive collections of cultivars, many of which are no longer being grown. "I'm also always looking for unfamiliar varieties and seeds when I visit markets. Some of the produce I grew myself. At one point, I had a greenhouse with more than 60 types of cucumbers."
Then, he painstakingly photographs the examples of tomatoes, corn and other crops at their moment of peak ripeness, later seamlessly combining the shots to create mesmerising collages against stark white backgrounds. Some of the collections in his Cultivar series took several years to gather.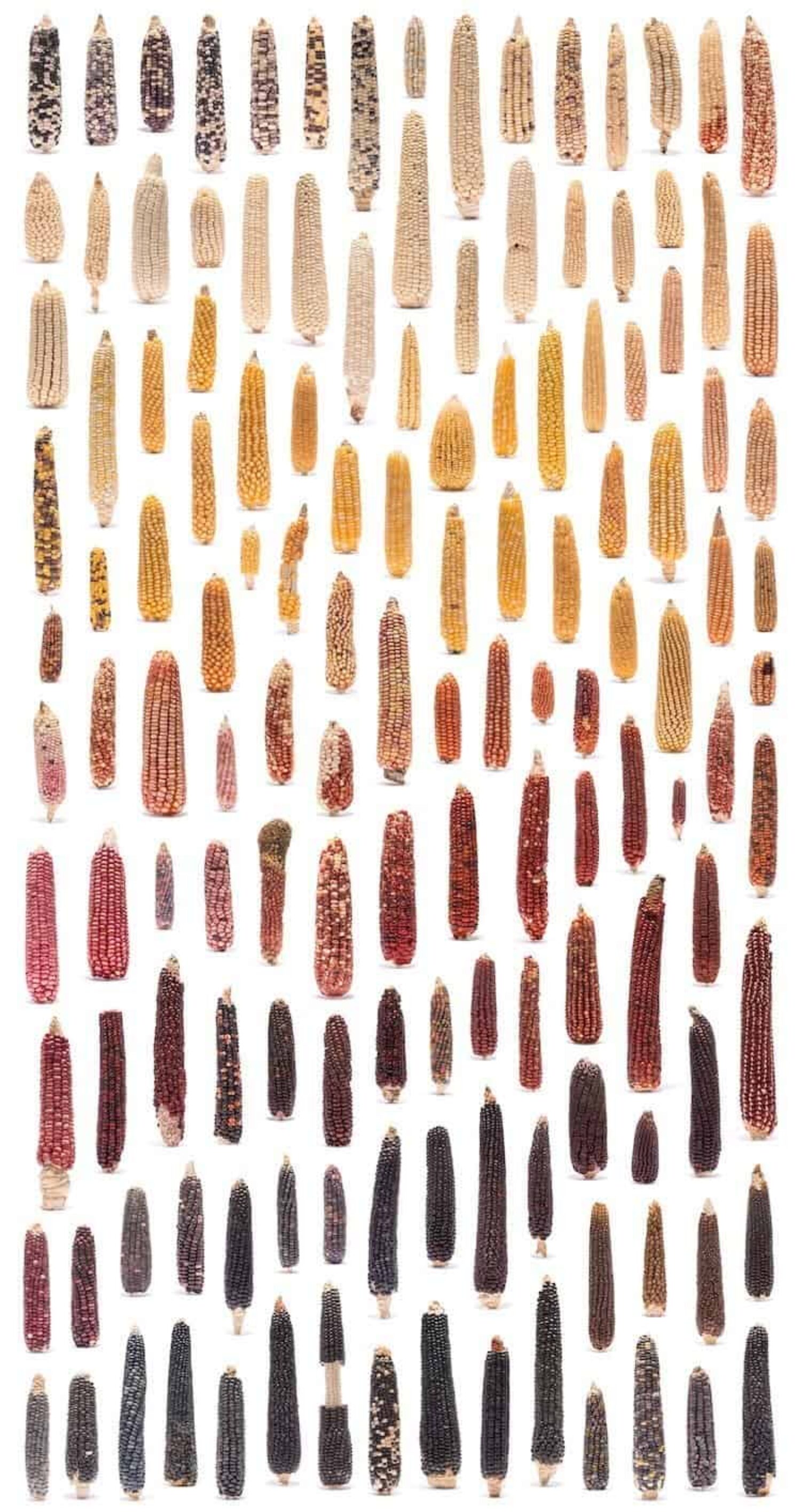 "When I'm allowed to, I cook and eat what I photograph afterwards," he adds with a smile.
What has he learned? "That crop cultivars have evolved in all parts of the world and found ways to adapt to many types of soil and climate conditions, differing elevations, pests, floods and droughts," says Westphal. "Crop diversity is the basis for all past, present and future breeding. Even new proprietary varieties rely on this genetic diversity as a basis. Ironically, the biggest threat to this diversity is being replaced by just a few of these new proprietary varieties."
He describes plant cultivars as "intersections between culture and nature". "They are biological organisms that we have shaped and cared for for millennia. In places where specific traditional varieties are still grown, they convey a sense of place and identity. They are a living cultural and culinary heritage.
"I hope to convey the beauty of crop diversity through the images, to create appreciation for their history and culture and to encourage us to be more adventurous in what we eat."
Photography by Uli Westphal / www.uliwestphal.de