A grassroots movement is bringing people together via a shared love of food, from refugees to socially isolated older people. Sonia Zhuravlyova meets those who are breaking bread, and building bonds
Nothing binds us together like food. Even the word 'companion' comes from Latin and means 'with bread' – someone friendly with whom to share a meal. We live in an age of seemingly countless restaurants and when an explosion of food delivery companies means more and more of us are opting for solo suppers, often enjoyed in front of screens. Our near-24/7 schedules and the rise of technology threaten to push companionable eating clear off the menu.
But, as they say, necessity is the mother of invention. A new wave of clubs, projects and charities are using the unique power food has to bring people together, from newly arrived refugees to older or bereaved people, and from people looking for love, to global travellers.
---
Good journalism can be about good things too.
---
Chef and political activist Kerstin Rodgers is credited with launching the supper club movement in Britain and says the idea was born after a trip to Cuba, where creating restaurants in people's living rooms is common. Without enough money to open a "real" restaurant, she went for the DIY version. Rodgers' Underground Restaurant, launched in her home in Kilburn, north London, in 2009, was a hit and has spawned countless variations on the theme, from Jewish suppers and African feasts to New Year's Eve fondue nights.
"It's really hard to make connections in a big city, especially if you're single," she says. "At a supper club, you're obliged to make conversation. It's about putting away your phone and making a social effort, relating to people face to face."
Because there's a difference between sharing food and sharing a meal. Anyone can order their own dish in a restaurant but at a supper club, people eat the same thing, often helping themselves to a portion and then passing it along, which encourages sociability, empathy and trust. "Eating together is a way of bonding. I do a lot of family-style dishing: you're passing things to each other so you have to learn to share," says Rodgers. And watching people go from zero to potential friends – or even lovers – across her dining-room table is magical. "Creating all these connections feels to me like a kind of witchcraft."
While some supper clubs – and apps such as the now-defunct AirDine, which allowed users to attend dinner parties at strangers' homes around the world – may cater in particular for young professionals feeling alienated by big-city living, the act of sharing food goes far deeper. "It can be very powerful," says Julia Turshen, chef and author of recipe book Feed the Resistance. "If you have a bunch of people sitting around a table in a conference room it can feel tense and unnatural – but if you put food on that table and it becomes a meal, it goes from being a meeting to a more relaxed set-up."
At a supper club, you're obliged to make conversation. It's about putting away your phone and making a social effort, relating to people face to face
What's more, food can change perceptions. "Consider whether the recipe you're cooking was written by someone who's had a different
 life experience to you. Read about what that food means to them and understand their story," recommends Turshen, who mentions the case of Derek Black in the US. Black's father was a grand wizard of the Ku Klux Klan. An invitation from a college classmate to a Shabbat dinner led him to reconsider the views he had adopted without question.
Turshen's book – which features recipes alongside resources and essays from activists – has a political edge but its message is universal and pleasingly simple: dishes can foster community while providing sustenance for the mind and soul. So find a way to feed your community, she urges. The first step? Invite someone for dinner who's different from you; talking about the food you're sharing can build bridges. "You can't talk about food without talking about everything that matters," notes Turshen. "The environment, migrants' rights, gender, race and sexuality. All these things come up when we talk about food."
Finding a place at the table
Even the smallest of efforts can make a big difference. Consider the Casserole Club, which allows an extra portion of your home-cooked supper to be dropped off to an older neighbour who could benefit from a warm, nutritious meal and a friendly chat. What if we were all able to shop at places like the e5 Roasthouse in Poplar, London, where the employees are refugee women who have been trained up by the nearby e5 Bakehouse in the art of baking bread?
It's a model that works well: training in the hospitality sector, combined with English lessons, because it helps in a practical sense but also offers refugees agency and allows them to give back to the community, mitigating feelings of helplessness. Migrateful does just that. Founded by Jess Thompson, the project involves asylum seekers, refugees and migrants teaching their traditional cuisines to paying customers.
"Having regular contact with 
the British public is great for confidence building," says Thompson. "Feeling valued as a teacher can be so important. Many of the people who come to Migrateful are asylum seekers; they are often waiting for the state to help them. This is a chance for them to use their skills and give something back."
Elahe Reza, 48, came to Britain from Iran a decade ago. Although she is a psychologist 
by training, her English isn't good enough to allow her to qualify here. Cooking sessions at Migrateful 
give her a real boost, she explains, because she was previously too shy
 to speak to strangers. It's also a form of expression. "Now I feel a lot more confident, even though I still make mistakes," says Reza. "I don't have the words to tell you everything that is in my heart – about the cooking, the new friends, my new skills – everything."
To support its participants, Migrateful also offers travel card credit and supermarket vouchers, as well as helping refugees get their qualifications converted to acceptable equivalents.
The environment, migrants' rights, gender, race and sexuality. All these things come up when we talk about food
Stories On Our Plate (SOOP) was founded in 2016 to use food and storytelling to overcome differences, challenging negative attitudes towards cooks with refugee and migrant backgrounds. Central to SOOP's work are monthly 'food stories' supper clubs.
One recent event featured the food of Jenny Phung, who drew upon her Cantonese and Vietnamese heritage to cook up seasonal dishes based on humble street cafes of China. Another featured the flavours and stories of Palestine, with chef Nisrin Abuorf. Dishes included hurra' usba'o, a sweet and savoury dish of lentils cooked in pomegranate molasses, with garlic and mini dumplings, garnished with coriander and crispy pitta. And then came pistachio namourah, a sweet and sticky semolina cake draped with orange blossom syrup and covered with chopped pistachios.
A similar enterprise is Mazi Mas (meaning 'with us' in Greek), an award-winning social enterprise that provides training and employment to help refugee women build careers in the food industry. Running pop-up restaurants and kitchen residencies, the women of Mazi Mas put their existing culinary skills to use in professional settings, leading to the practical experience necessary to start their own food businesses or be employed in others.
It's not just refugees who benefit from this type of exchange. While working in a homeless hostel in north London, Meg Doherty realised that communal cooking brought a type of energy and enthusiasm far beyond anything she'd previously seen there.
"I started thinking about the stories we tell with food – and how we could challenge the stigma of homelessness through this. I think people do want to help with homelessness, especially during winter, but often don't know how to do it."
This is where Doherty's catering company and pop-up supper club, Fat Macy's, has been making a real difference. Launched in 2016, it
 aims to teach people multiple sides 
of catering and earn enough to move out of the hostels. "We wanted it to be about people having ownership of the food and the cooking, taking positive steps to get out of the hostels, rather than it being something that happens to them," she explains.
An unforeseen benefit is the kind of conversation that take place at Fat Macy's events. Guests meet the people cooking and serving the food and the setting allows for a warmer personal interaction, one that leads frequently to genuine offers of help, from work experience to jobs.
The social benefit of cooking
 for – and eating with – people is 
felt firmly at Cook to Give, based in Dudley, Northumberland. Run by charity Forward Assist which supports military veterans in adjusting to civilian life, its mission is to teach unemployed veterans to cook – and get qualifications along the way. Those who take part prepare weekly meals for older veterans: their youngest chef is 22 and one of the regular veterans is 100. In a community afflicted
 by PTSD and in which many miss 
the camaraderie of life in the forces, interacting in this way across the generations is a chance to share their experiences and anecdotes and grow confidence. Last year, volunteers prepared more than 3,000 free meals – from herby spaghetti bolognese to pineapple upside down cake.
At a time when difference threatens to pull communities apart, cooking and eating are among the things we're guaranteed to hold in common. So, could it have a unique power to bridge divides and feed our spirits? The proof, you could say, is in the pudding.
Read more: A place at the table: two inspiring UK food projects
Read more: Brewing good: three beer-for-good projects
Featured image: Marianne Chua
---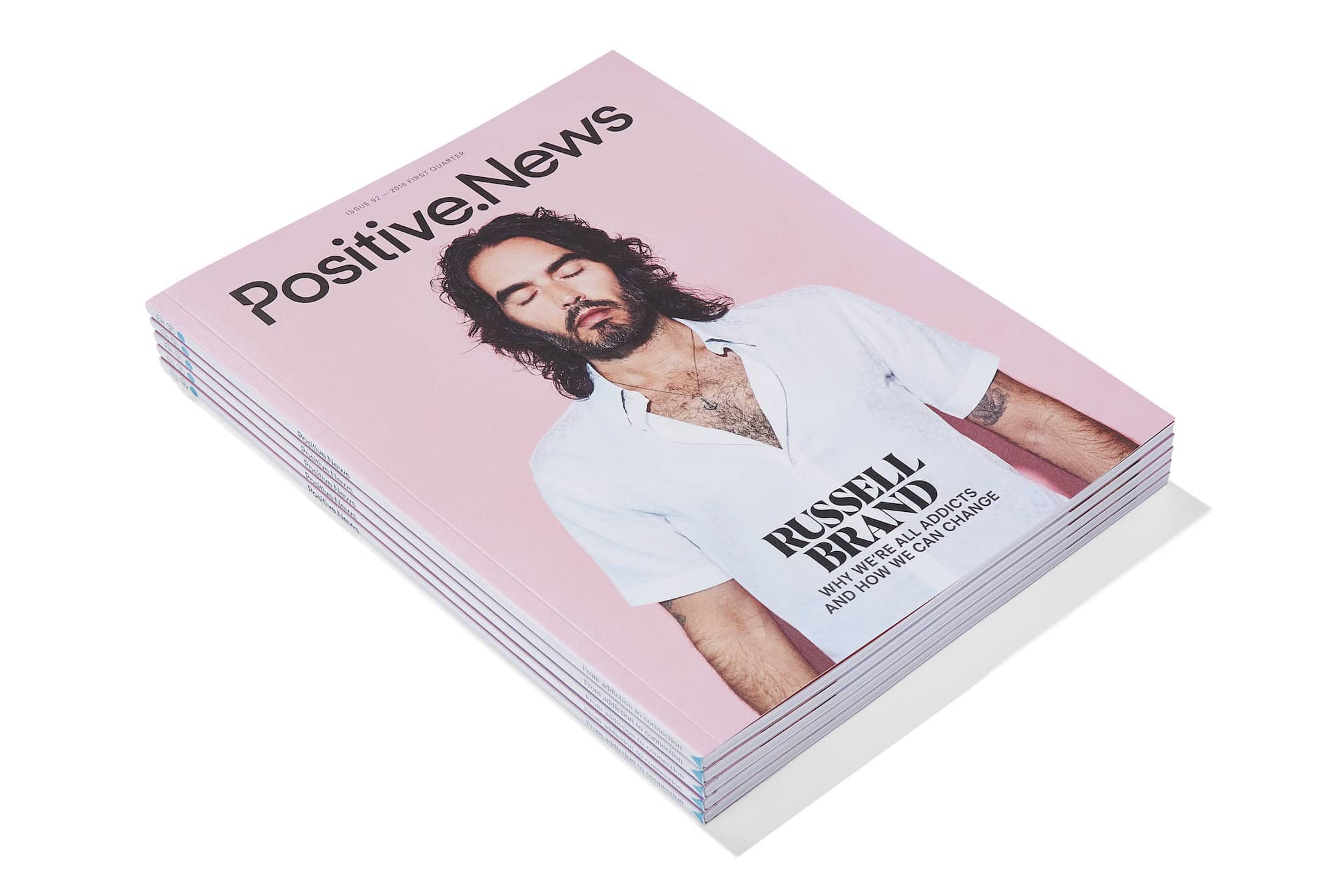 This article is featured in issue 92 of Positive News magazine. Subscribe now to get the magazine delivered to your door each quarter.