An empty unit at a Manchester shopping centre has been turned into a thriving hub, where people are inspired to achieve sartorial satisfaction beyond fast fashion
As people wander past the unit in a shopping centre that has seen better days, they can't help but peer in. Through the window, they see a room scattered with brightly coloured fabric and yarn. There are sewing machines on tables and people milling around carrying fabric or working on computers. Curiosity gets the better of some, who pop their heads around the door to ask: 'What is this place?' 
It's exactly the effect that those at Stitched Up hoped to have, when they opened the sustainable clothing hub in October 2020. Located in Stretford Mall in Greater Manchester, it's designed to help people discover more planet-friendly clothing habits, and make friends too. 
"We are very much subscribed to Orsola de Castro's view that the most sustainable garment you have is the one already in your wardrobe," says Stitched Up co-founder Bryony Moore. "Everything that we do is about trying to find ways to help you keep your own clothes in use for longer."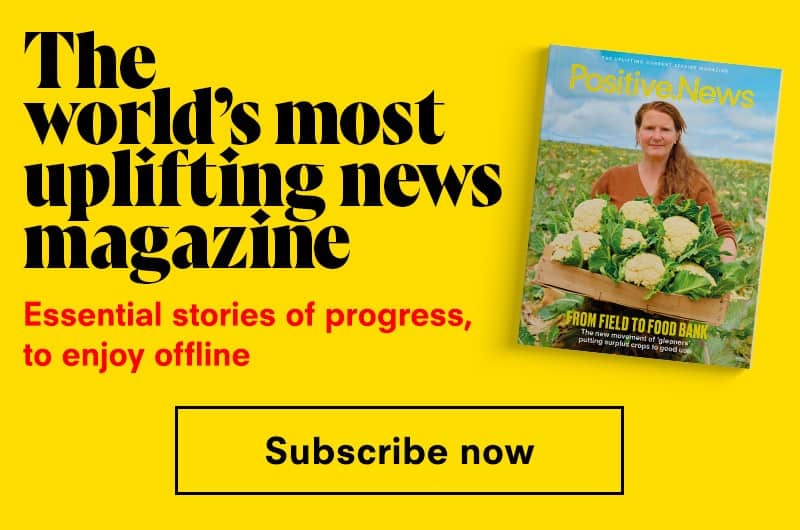 It's both a shop, where people can buy affordable secondhand material, and a workshop and events space, where they can learn about sewing, mending and upcycling. The team hosts a monthly clothes swap and a regular repair cafe. The climate crisis is a priority, but they see mental health and social isolation as another side of the same coin. To that end, the team runs projects designed to boost people's wellbeing, such as the fortnightly Social Fabric group in which people upcycle items from reclaimed textiles to raise money for local good causes. 
"One of the reasons we exist is to show that sustainable clothing is accessible and affordable," says Moore. "Even if people aren't interested in learning to sew, they could come to a clothes swap, for example." 
Several participants have got so  much out of the project, they've gone on to volunteer. Clair Evans is among them."Everyone is so friendly and welcoming and so passionate about what they do. It makes me feel better knowing I'm doing my bit for the environment by buying secondhand," she says.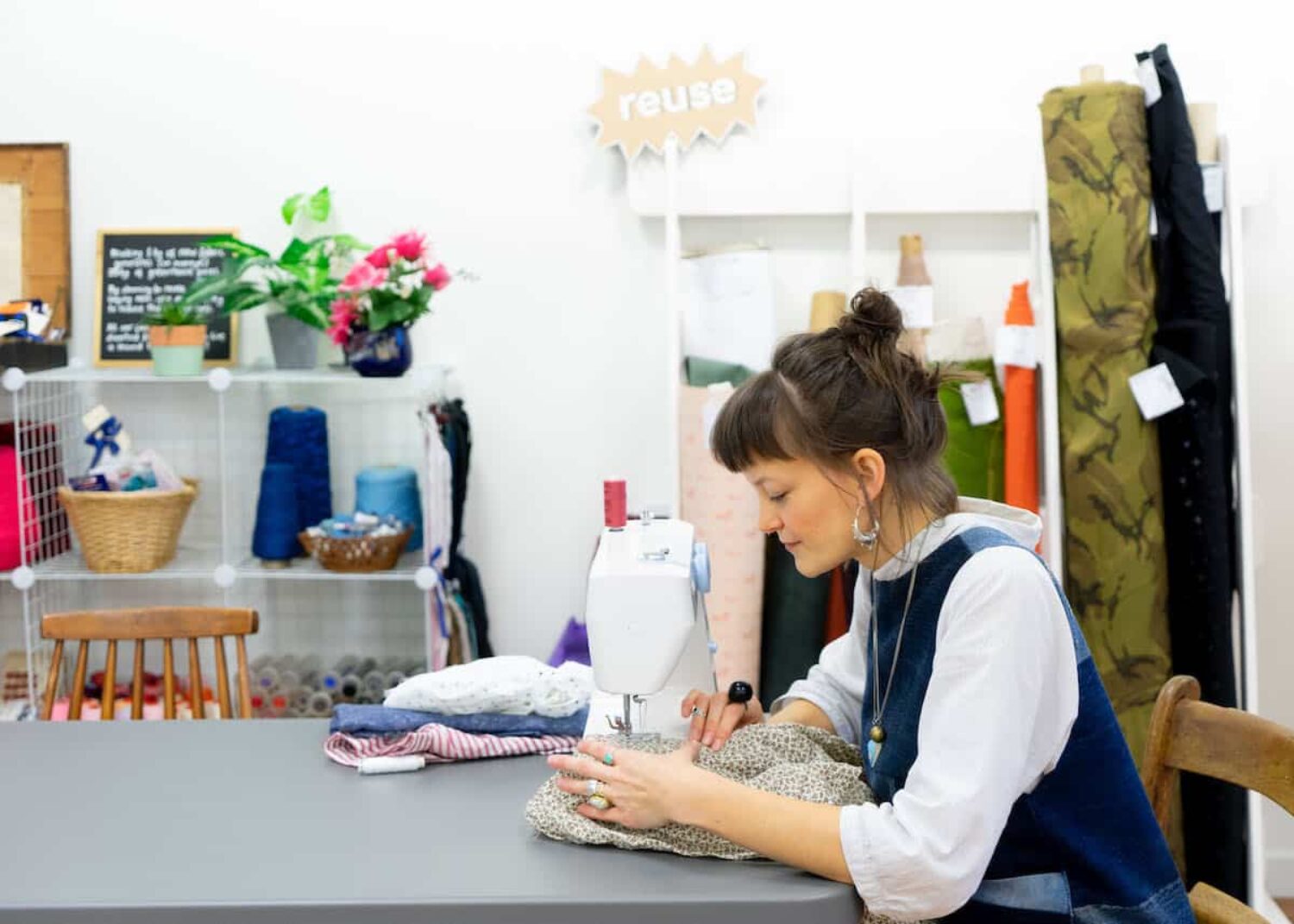 Once a busy shopping centre, only 20 per cent of Stretford Mall is currently occupied. When the landlord agreed for Stitched Up to run what was originally intended as a short-term pop-up, it was because he was looking for something to "liven the place up". Some 18 months on, the hub is still there, and the shopping centre also now has a play cafe and a housing office. Earlier this year it was announced that Stretford Library will relocate to the mall too. 
"The landlords are being quite forward-thinking, consciously trying to bring in social spaces like ours," says Moore – places where "we can hang out with one another". She believes sustainable clothing hubs could be an asset to all any towns and cities that are scattered with empty shops, and hopes to inspire similar schemes with the Stitched Up model. 
The social enterprise gets 60 per cent of its income through sales and 40 per cent from grant money from bodies such as Manchester Wellbeing Fund, which is run by the Greater Manchester Mental Health NHS Foundation Trust. 
If shopping centres were filled with community projects like ours it could be transformational
A proposal to demolish Stretford Mall and build luxury flats in its place looms, but nothing is yet set in stone, and it could be a while before a final decision is made. Genuinely affordable housing is to be welcomed, Moore says, but gentrification that leaves a dearth of places for people to gather is unhelpful. 
"We're just really happy to be able to add a little something extra to the local offer and bring a bit of life back to an empty shop," she says. "If shopping centres were filled with community projects like ours tackling things like mental health issues and climate change, it could be transformational." 
Main image: Stitched Up team members Caitlin Aitken, Sarah Revington and Bryony Moore at the hub. Credit: Photo+Flourish
This article is the latest in our 'reinventing the high street' series. Over the coming weeks Positive News will be shining a light on the people, places and projects that are breathing new life into the UK's town and city centres as many retail giants abandon them. 
Help us continue to break the bad news bias
Positive News is helping more people than ever to get a balanced view of the world – one that supports their wellbeing and empowers them to make a difference towards a better future. And as our audience and impact grows, we're showing the rest of the media that good news matters.
But the UK's cost of living crisis is hitting us hard, with fewer people able to commit to a magazine subscription – which has traditionally been our main source of funding. Plus, paper and printing costs keep rising.
We don't want to put a paywall on our website, because we believe everyone should have the chance to benefit from good news. But we won't be able to continue funding our online reporting without your help.
If you value what we do and can afford to, please consider making a small, regular contribution as a Positive News supporter. We need 1,000 readers to contribute just £3 per month to get us through this challenging time.

And remember, as a not-for-profit, we work only in service to you, and all funds go towards our journalism.