From picking apart pop songs to acting out the experience of a girl walking the streets, a creative education programme in India is challenging ingrained gender stereotypes. Could starting young break old attitudes?
"I became so frustrated with the normalisation of gender injustice," says Gulika Reddy, a 27-year-old human rights lawyer. Pacing the floors of courtrooms, Reddy had witnessed in sharp focus some of India's most abhorrent instances of gender unfairness: courts asking victims of domestic abuse to 'adjust' to their circumstances; rape survivors urged to marry their rapists.
"Growing up in India I have faced biases as a woman," Reddy says. "I studied law because I thought it was a powerful tool for change. But I found law cannot address problematic norms unless attitudes change too."
With this in mind, she set about organising programmes for police officers, lawyers and judges in which she urged them to reconsider sexist preconceptions. But these well-educated professionals seemed incapable of shifting deeply entrenched beliefs. "It is very difficult to change the attitudes beyond a certain age because gender-socialisation starts early," Reddy explains. "I realised that intervention needs to be embedded into the education system, starting right from grade one."
So Schools of Equality was born. The non-profit organisation encourages children to kickstart change by shifting their attitudes toward gender-based violence and injustice. Beginning in 2014 in the city of Chennai with 165 students, it has now reached more than 2,700 young people in 11 educational institutions across three states in the south of India: Tamil Nadu, Andhra Pradesh and Karnataka. Art, theatre, film and group discussion are used to teach children about gender parity, human rights and equality, all accompanied by a healthy dose of fun and a sense of play. The students are aged between six and 17 and attend schools in the existing, conservative academic system.
---
#1: Media shapes our world
We believe excessive negativity in the press is destructive for society, so we're working to create a more constructive and compassionate media. To do this, we need your support

---
"We create a safe space for the students to reflect and introspect," explains Reddy. She is both founder and part of the core six-strong team. Some 15 'creative facilitators' are also involved. Over three years, hour-long weekly sessions take place alongside the mainstream curriculum of the schools in which they work. The team is in this for the long haul. "Transforming attitudes does not happen overnight," notes Reddy.
Such change is badly needed in a society where gender inequality and injustice permeates virtually every aspect of life. One of the earliest ancient texts of the religious Hindu law, Manusmriti, lays bare why attitudes are so firmly ingrained. [Almost 80 per cent of people in India are Hindu.] A section translates roughly as: "Women should be in the custody of their father when they are children, under the custody of their husband when married and under the custody of her son in old age or as widows. In no circumstances is she allowed to assert herself independently."
We urge students to look critically at pop culture so they understand it is just one point of view, and not necessarily the 'only' perspective
Though stripped of legal significance today, the socio-cultural beliefs enshrined in the text with such unapologetic frankness, persist. Legal and social norms, whether relating to inheritance, social status or financial security, are weighted heavily against women. There are approximately 944 women for every 1,000 men in the country, partly due to an enduring belief in male supremacy. The female literacy rate is 65.4 per cent as opposed to 82.1 per cent for men. As for gender-related violence, 79 per cent of women in India have experienced harassment or violence in public according to a recent survey by the charity ActionAid UK. This paints a picture only of what takes place in public. The government has so far refused to criminalise marital rape.
Indian women do ten times more unpaid work than men, according to research by consultancy firm McKinsey, yet men earn 25.4 per cent more than women who are paid to work.
Breaking biases
Despite these stark statistics, it is important to note that India is a highly polarised country. Some of the top positions of power in politics, business, banking, social activism, media and law are now occupied by women. India had a female prime minister four decades ago. The two medals won by India in the recent Rio Olympics were brought home by women.
Some artists and film-makers have also woken up to the gender equality problem. Recent films have been released in diametric opposition to most Hindi movies when it comes to their treatment of female characters. The 2016 courtroom drama Pink, featuring Indian megastar Amitabh Bachchan, challenged Bollywood tropes of patriarchal menace dressed up as romantic 'moves', from wolf-whistling to stalking. The film is being shown to police in Rajasthan to encourage them to act more sensitively toward women.
Meanwhile campaigns such as Walk Alone, which tackles sexual assault and harassment in Bangalore, and Asking For It, a project challenging the way some women are made to feel guilty after sexual harassment, are subversively probing India's social norms. Government schemes against female infanticide and the sexual abuse of children are also showing signs of success.
Learning to act
But these examples offer only a superficial comfort. Most Indian girls learn what is expected from them at a very young age, and biases and stereotypes lurk even in their school books. An audit of textbooks carried out by the National Council of Educational Research and Training in 2014, found that women were depicted doing household chores or only in professions such as teaching and nursing, while men were shown in a variety of occupations. Textbooks from the state board of Haryana in northern India "highlight men in all leadership and decision-making activities," the research pointed out.
So what's on the syllabus at Schools of Equality? The team teaches children about bias, diversity, and how stereotypes prevail in culture and society, not least in the media. And this is just the first term.
They go on to critically analyse books and films to explore the stereotypes and archetypes of femininity and masculinity they present. "We urge students to look critically at pop culture so they understand it is just one film-maker or artist's point of view, and not necessarily the 'only' perspective," explains Reddy.
Once they understand the fundamental ideas around diversity, students are tasked with planning creative activities around them. One group recently devised a school constitution, peppered with perceptive insights about their own duties and rights, while another group created comics telling stories of sexism. Another set of students, left to their own devices, designed a maze that looped around familiar corners of their city, capturing women's experience of being harassed on the street. In an attempt to improve understanding, a girl was asked to narrate a common scenario from her daily life at home. Afterwards, a boy was asked to play the part of his female classmate.
---
#5: Get a reality check
Positive psychology has found that our realities are shaped by the way our brains view the world. The news tends to focus on humanity at its worst but Positive News helps you see the bigger picture. Be informed. Be inspired. 
---
Students have opened up. For some of them, the transformation has been so positive that it's difficult even to recognise them
The children certainly seem enthusiastic, becoming more respectful and sensitive to others' needs. Vinodhini, 12, took part in a programme with her brother. "Some of the chores were his and some were mine," she says. "Now we divide all the chores and take turns. We both do the dishes, sweep the house, wash our clothes and make dinner. My mother was against it at first, but after I explained that boys and girls are equal, she accepted it."
While nurturing emotional sensitivity, Schools of Equality also trains students to take action. Reddy devised theatre skits in which children are encouraged to challenge bullying. "I didn't want them to just be aware of the injustice without being able to do something about it", she says.
Sessions have already proved their relevance outside of the school. Manisha, 12, who attends a public school in Chennai, has been a student of Schools of Equality for over a year. One day, while riding a bus, she saw a man attempting to grab a woman's waist. Having learned about street harassment in class, she instinctively moved his hand away and offered the woman her seat. The commotion prompted the bus conductor to come over, and the man was eventually asked to get off the bus. "The woman said: 'thank you very much, dear'", says Manisha with a smile. "I was very happy to hear that."
Children having a voice
"What we think children are capable of, how we think they should dress, how we expect them to behave, in an education system and in society in general, have long-term impacts," says Sanaya Bharucha, senior manager of training and support, at Teach For India, a non-profit that helps create leaders to address educational inequity in India. Teachers who encourage girls to take up humanities subjects but boys to opt for science could be damaging. And those who sternly reprimand boys when they cry during sports, for example, may be heaping troublesome social norms on impressionable young minds. "Boys tell us they wish they could express themselves better," says Reddy.
Children are not India's future, they are our present
"The goal of education is to make children ready for life, to make them live meaningful, impactful lives," Bharucha says. However India's education department was converted to 'human resource development' in 1985, essentially altering the very purpose of education.
"Schools have become institutions to churn out disciplined, obedient people to work in the workforce," adds Bharucha, "as opposed to raising kids to think and make choices for themselves and differentiate between right and wrong."
Bharucha, who has been involved in discussions with the Education Commission at the UN, says the time to act is now. "Kids have a voice and value and they don't need to be adults to have an impact. We as educators have to leverage that. Children are not India's future, they are our present."
---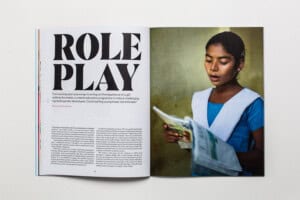 This feature is from issue 88 of Positive News magazine
Be informed, be inspired. Become a Positive News subscriber member to receive our magazine delivered to your door, plus access to exclusive member benefits.