Jamel Campbell is a nursery worker in south-east London. There are both challenges and benefits of working in an industry traditionally dominated by women, he has found
London's Metropolitan police and the UK Supreme Court both appointed a woman in their leading role for the first time in 2017. Meanwhile in the US midwest, many men who once worked in manufacturing are finding new careers in healthcare. While gender stereotypes for many roles persist, the unwritten rules are breaking down. What if all jobs went to the person best suited to them?
Tall, bearded and with a gold tooth visible when he smiles, Jamel Campbell isn't your stereotypical early years teacher. But, with 15 years' experience under his belt, he has already changed more nappies and fed more toddlers lunch than most people will in a lifetime. "The children notice my deep voice and my muscles – that I'm a man," says Campbell, "but they also notice that I'm caring, that I'm nurturing and that I'm here."
Campbell works in south-east London in a nursery run by the London Early Years Foundation (LEYF) social enterprise. This is no babysitting operation or creche: learning and development come first, and Campbell is clearly passionate about giving his one and two-year-old charges the best possible start. He describes a recent trip to a local market, which was designed to broaden the children's vocabulary.
"We tasted some of the more exotic fruits like avocado, coconut and dragonfruit, which they loved. I could see them thinking: 'Wow, this fruit comes from dragons!'" he laughs. "I see their confidence and self-belief building every day, and it's so rewarding."
Despite his obvious instinct for the job, Campbell is an anomaly: just 5 per cent of UK early years staff are men. LEYF hopes to change that, recently launching a plan to attract more men to the sector. Otherwise, suggests Campbell, children and society alike will lose out. "Not every home has a male parent figure, for a start," he reminds. "And we can all learn something different from the people we meet: whether that's based on sex, race or culture. To have a truly cosmopolitan society, we need a cosmopolitan workforce and that includes having both sexes involved in this sort of work."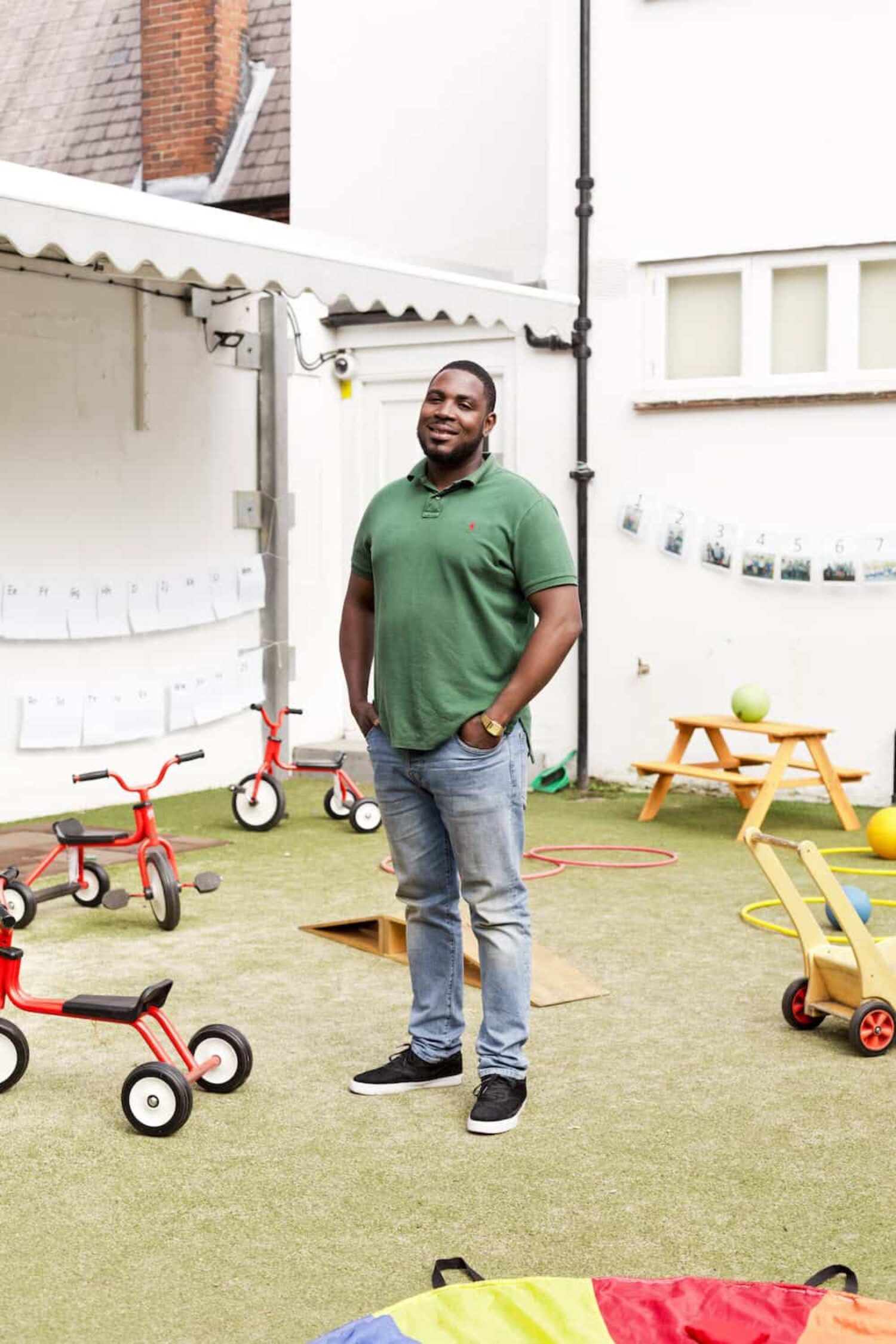 So what are the barriers? A survey of early years staff carried out by LEYF found that 61 per cent thought the low proportion of men in the sector was because men are not encouraged to join.
The research also highlighted 'stereotyped anxieties': perceptions of poor pay and 'poor status'; fear of accusations of abuse and paedophilia; discomfort at working in a female-dominated environment; and an unrealistic expectation that one man can address the shortfall of positive male roles in so many children's lives.
Campbell's own experience with parents has been overwhelmingly positive. "There's often an initial wariness, which I think is more because I'm going to be looking after their children, their pride and joy," he reports. "Once I show that I'm kind and encouraging, parents warm to me."
Once I show that I'm kind and encouraging, parents warm to me
And he doesn't find the female-dominated environment off-putting. "These women aren't just colleagues, they're my sisters. I've actually learned a lot from them about interacting with women."
In any case, it's worth overcoming stereotypes, he says, because this job is fundamentally really important. "I'm helping prepare children for their future. I want men to know that if you're fun, nurturing and inspiring, then this could be a job option for you."
Campbell, who is 31, hopes to have children of his own "when the time is right". In the meantime, there is no shortage of friends and family members who seek his expertise. "Male friends with children ask me for advice, but female friends do too. It's nice to know I have the skills to help. I've been asked about potty training quite a few times!"
Read more: Traditionally gendered job swaps