Innovative projects in the UK and the Netherlands give a home and voice to those who know the condition the best
Every three seconds, someone in the world finds out they have dementia. In the UK alone, about 850,000 people are currently living with dementia – and 46.8 million globally, according to Alzheimer's Disease International.
As the number of people living with the condition worldwide is expected to double every two decades, many countries are busy, not only focusing on medical research (although it remains generally underfunded), but also looking for innovative ways to work with people affected.
In the UK, for example, new government-funded research is to investigate ways to create dementia-friendly neighbourhoods to make everyday life easier for people with the condition. Other projects will examine lifestyle changes that can reduce the risk of dementia, how to live well with the condition and how visual aids can improve wellbeing for patients and carers.
Another, gives a voice directly to people living with dementia.
"Suddenly because you're diagnosed with this thing called dementia, in some shape of form you become an alien," said Paul Hitchmough from Liverpool, recounting how an old work colleague recently avoided him at the supermarket. "I really do think it needs to be opened up, this thing. Just to let people know that you are still the same."
Hitchmough's words are part of the Dementia Diaries, a national project funded by Comic Relief, which brings together people's diverse experiences of living with dementia as a series of audio diaries.
The Dementia Diaries were launched in January 2015 by On Our Radar, a social enterprise that uses technology to give a voice to marginalised communities. So far, the On Our Radar team has trained 31 people living with dementia to use simple 3D printed mobile phone handsets to record their thoughts and experiences. The team then edits and transcribes the diary entries and places them online where they can be listened to and shared.
The diarists, who are all part of the Dementia Engagement and Empowerment Project, document their daily experiences of living with different forms of dementia, discussing their frustrations and joys, what they have lost, what they can still do and what they want people to know.
The entries are often organised by themes, such as 'daily challenges', 'living well with dementia', 'family and friends' and 'public perceptions'. Viewers can read transcripts of each entry and see a photo of the diarist, and the diarist's hesitations, emotions and changes in tones are all audible.
"Our shared aim is that by opening up our lives to the public we will improve understanding of the diverse experiences of living with dementia and how communities and services can best offer support," the diarists said in a joint statement.
"A lot of those with dementia are written off as people who don't learn new skills or take part in new projects," says Paul Myles, On Our Radar editorial manager. "This technology makes it as simple as possible for them to become digital storytellers."
And they seem to be proving successful storytellers. The series has trended nationally on Twitter (its hashtag is #dementiadiaries) and reached younger audiences in places such as social news and entertainment website Buzzfeed, as well as more traditional media like Sky News and BBC World Service.
Diarists' perspectives have also been used to improve services, such as BT call centres, which can reportedly prove daunting for people with dementia. And they have advised journalists on how to report on dementia. Among their top tips are: not to treat people living with dementia as victims, not to patronise people with dementia, and share positive stories in connection with those with dementia.
---
Dementia Diaries extracts
"Why do you call me victim? No one attacked me. Many people live with this condition. We'd rather not have it, but we just get on with it. Please remember, this is real life for us. None of us know what is ahead. Seize the day and be kind to each other."
Anne MacDonald, Glasgow
---
"Suddenly because you're diagnosed with this thing called dementia, in some shape or form you become an alien. We are still the same people."
Paul Hitchmough, Liverpool
---
"A quality visit provides comfort to the person with dementia. What makes a successful visit?
Just having them know that they are not alone, and enjoying the moment of reality."
Tommy Dunne, Liverpool
---
Welcome to the 'dementia village'
The Hogeweyk is designed for elderly people living with dementia in the town of Weesp, near Amsterdam. It is a closed-off psychogeriatric centre, but looks like an actual village. There is a supermarket (without money), a theatre, a restaurant and a café.
Residents can walk around freely within the village walls and they can join a range of activities from reading and cooking groups to painting, bingo, singing and hiking clubs. Their dementia does not reduce, but the friendly, safe atmosphere and the encouragement of 'normal life' helps residents in more ways than one.
The 160 residents live in 'lifestyle groups' of a maximum of seven people who share similar interests and backgrounds. The decor, design and direct environment of the dwellings are adapted to suit each separate lifestyle. When it comes to their own daily lives, residents experience so many recognisable stimuli that they are challenged to continue participating in that lifestyle.
The village is the first of its kind in the Netherlands, where traditional care homes see up to ten patients share a room.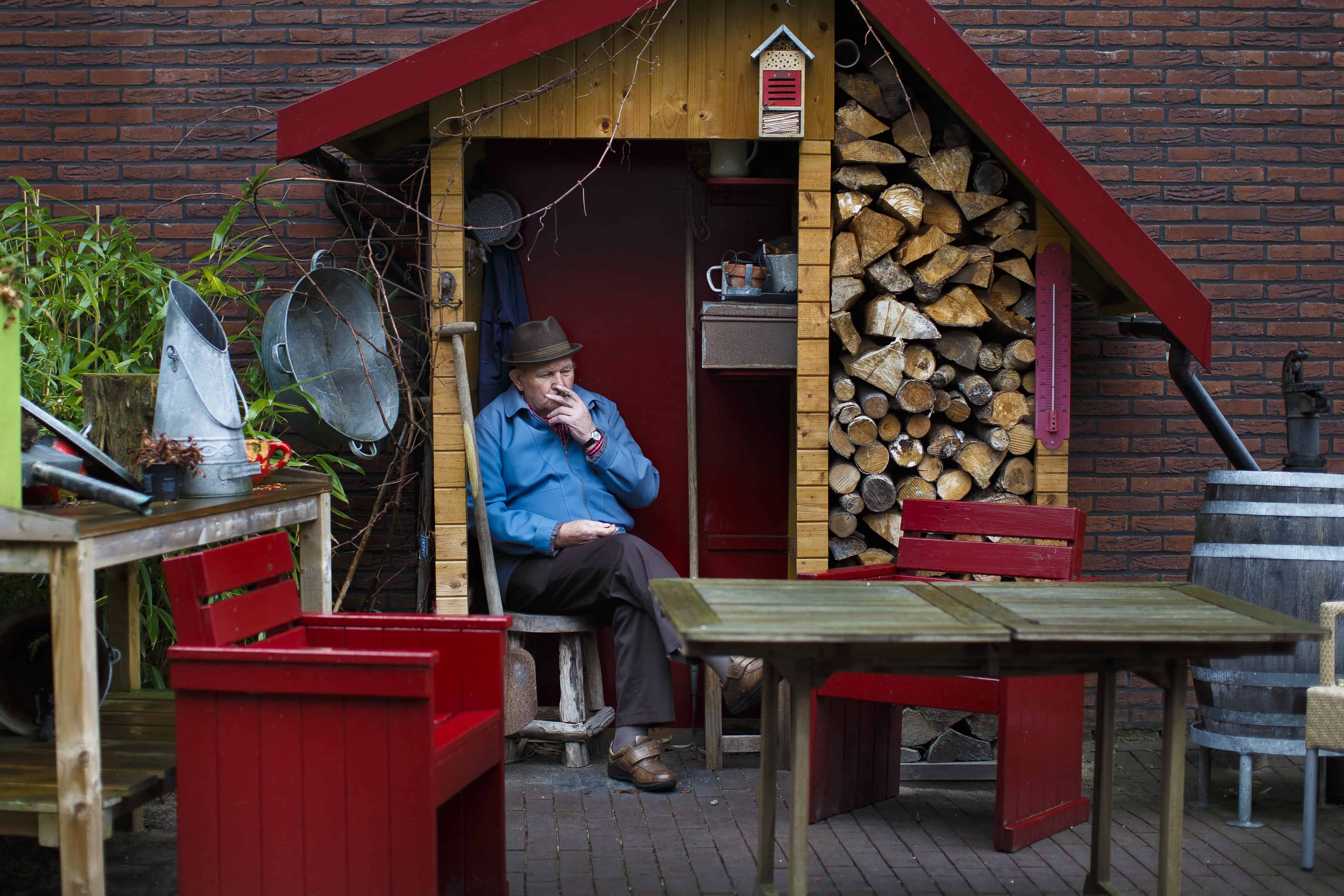 Resident Mr van Ee smokes a cigar in his garden at the Hogeweyk dementia village, the Netherlands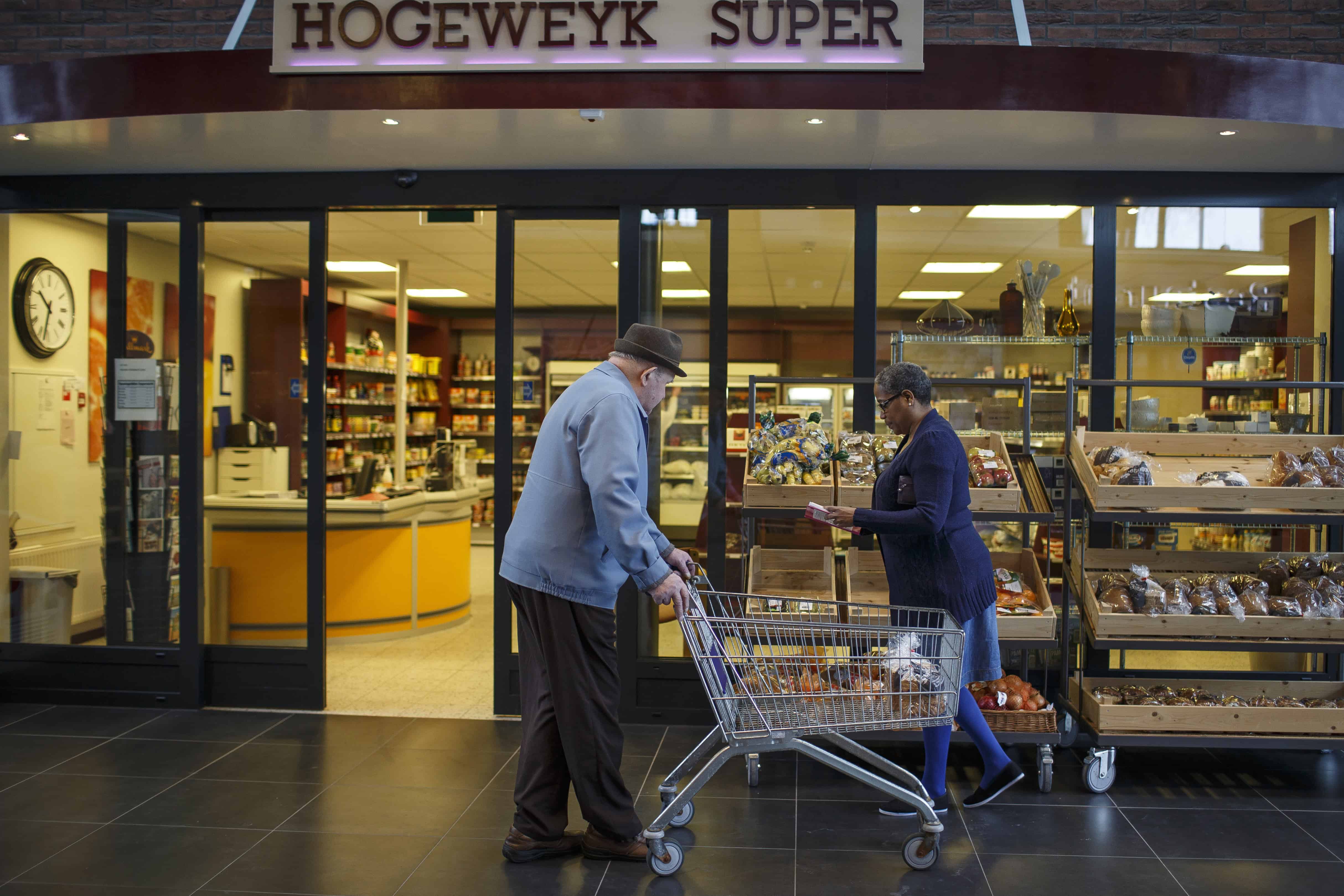 Mr van Ee shops for groceries at the Hogeweyk village supermarket

A man visits his wife at the 'dementia village'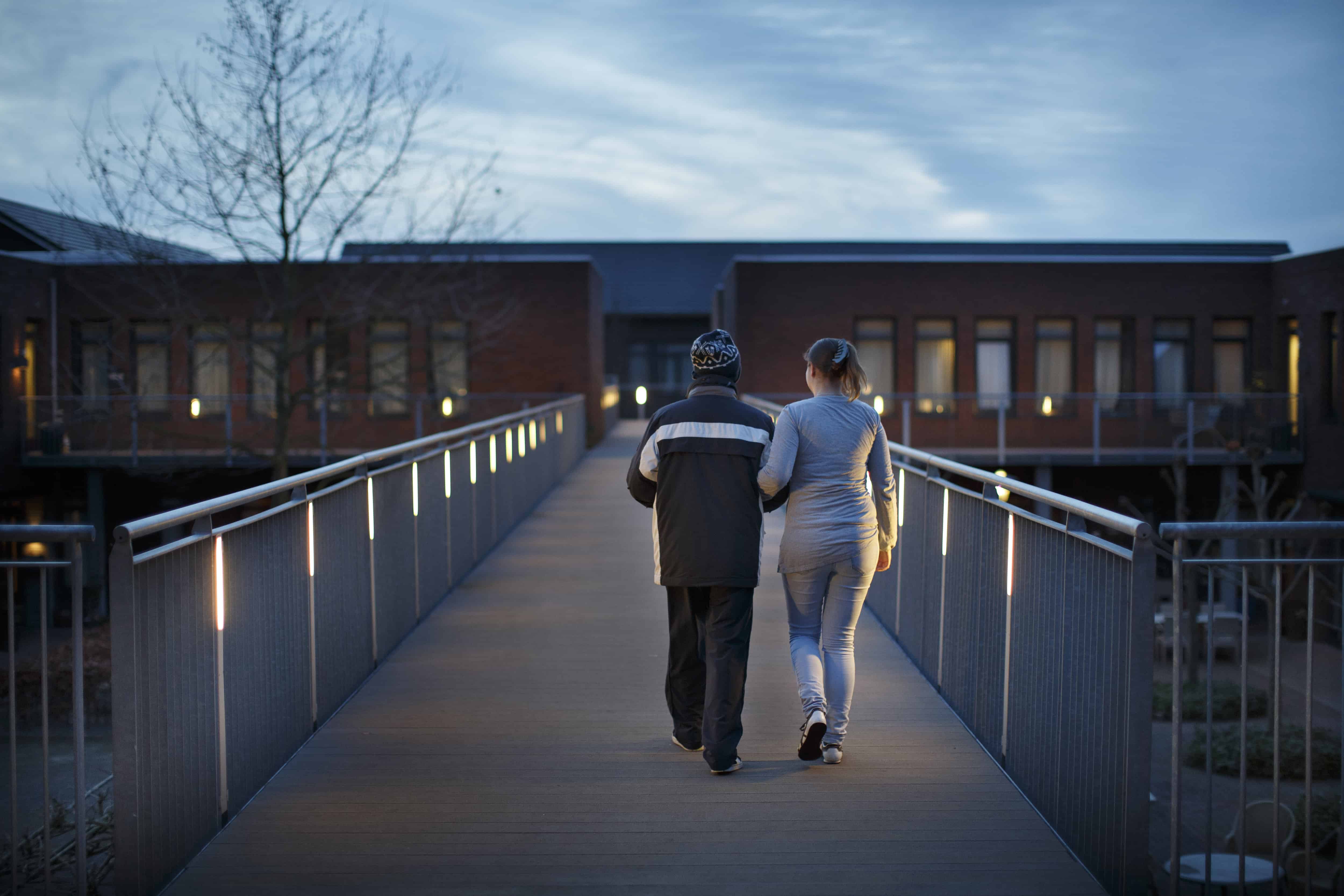 A lost resident is guided home by a care worker to make sure he gets back in time for dinner
Photography by Ilvy Njiokiktjien