Sylvia Mac has spent most of her life trying to hide the painful scars that cover her body. At the age of 48, she decided enough was enough
It was one day that changed everything. Sylvia Mac was three years old and playing with her siblings at home in Stepney, east London, when she was badly burned by a pot of boiling water. She narrowly survived the accident, cheating death three times while in hospital, but was left severely disfigured on her back, stomach and legs.
The scars ran far deeper than her skin. Sylvia developed post-traumatic stress disorder, depression and chronic low self-esteem. She was bullied when she was young, and considered ending her life. When she hit her 40s, her mental health deteriorated and she found herself spending much of her time "locked away, hiding and crying".
"I went through life feeling very low and I didn't really achieve in school or in the workplace. In job interviews, I wouldn't really be fully 'there' and would often just walk away. I turned to alcohol at times and had suicidal thoughts."
The youngest of five sisters, Sylvia would attack those closest to her. "I had three children and a partner, but no matter how much anyone loved and reassured me, I continued to struggle. I was really destroying my own life."
Two years ago, another day changed everything. While on holiday with her mother, a man began filming Sylvia in her swimwear. "I could see that mum was extremely upset and I didn't want to spoil her holiday. So I went down to the water's edge where everybody could see my scars, put my hands on my hips and started to pose, shouting 'look at me, mum!' I thought, if anyone's going to video me or take pictures, at least they'll be good ones."
Back home, Sylvia made a film, in which she spoke in detail about her scars and their impact on her mental health. "It was the first time I'd really spoken about it, so it felt quite raw."
But feeling more empowered herself wasn't enough. She knew there were thousands of people who still felt imprisoned by their disfigurements. "I know now that when you can't talk about something, it destroys you."
She established Love Disfigure, a Facebook group and blog to campaign for people with disfigurements, and also runs swimming sessions in London for people with skin conditions, health conditions, scars, marks and burns. Earlier this year, Sylvia organised a photoshoot involving a diverse crowd of models with scars and disfigurements. The aim? To urge the fashion industry to be more inclusive of such conditions.
While she welcomes TV and film projects that open up conversations about scarring – the 2017 film Wonder, for example, featured Julia Roberts as the mother of a boy with a rare congenital disease that affects the way his face is formed – Sylvia says real progress will be made only when people with scars are on TV "acting or presenting, just being themselves. When it's not all about their story, their scars".
Without doubt, today Sylvia is a woman with purpose. "This is what I'm supposed to be doing. I didn't survive and go through all of this for nothing. I can help inspire others with my story."
I didn't survive and go through all of this for nothing. I can help inspire others with my story
Social media plays a part in creating unrealistic expectations around our appearances, Sylvia acknowledges, but it has proved to be a positive force for her too. "I've made so many great connections with people through Facebook and Twitter."
And she shrugs off the "occasional experience" she's had with trolling. "One person wrote something like 'ugh, put it away', but – to excuse the pun – I'm quite tough-skinned now."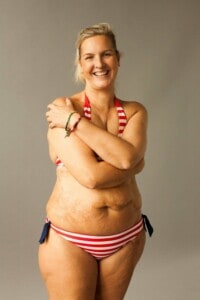 Featured image: A Love Disfigure photoshoot. Everyone pictured has either a skin condition, health condition or scars. All photographs by Sophie Mayanne
Read more