From guerrilla stickers taking aim at food poverty, to safety signage that's more glam than grim, designers have been busily – and colourfully – responding to the pandemic
Dialling up the colour in dark times, these graphic designers and artists have been cheering up public spaces, supermarkets and even offices during the coronavirus crisis.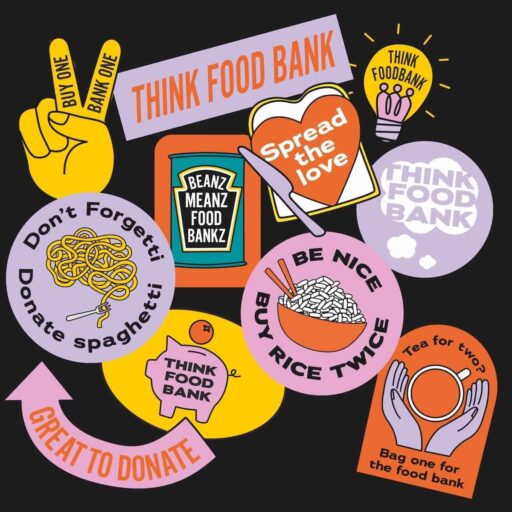 Think Food Bank
Under increasing strain during the pandemic, food banks and those they support need all the help they can get. Designers Maisie Benson and Holly Kielty had a hunch that the challenge isn't a lack of people wanting to donate, but a lack of in-store reminders to do so. "We decided to act fast and take the matter into our own hands," said Benson. 
Think Food Bank is the result. The pair – who got chatting via Instagram and are yet to meet in person – created simple stickers showing the key items that food banks need, to urge shoppers who have the means to pop extra into their trolleys before checkout. After posting the designs on social media, they were inundated with requests, and have already sent out 800 stickers for the price of postage only. 
They want people to go guerrilla. "We envisage the stickers being stuck on shelves, trolleys, baskets – anywhere in supermarkets that might just remind someone to pick up some extra items," said Kielty. 
Illustrations are accompanied by cheerful prompts, from a bowl of rice that urges 'be nice, buy rice twice', to 'don't forgetti, donate spaghetti'. The pair are now speaking to supermarkets to get the stickers permanently in stores.
Image: Think Food Bank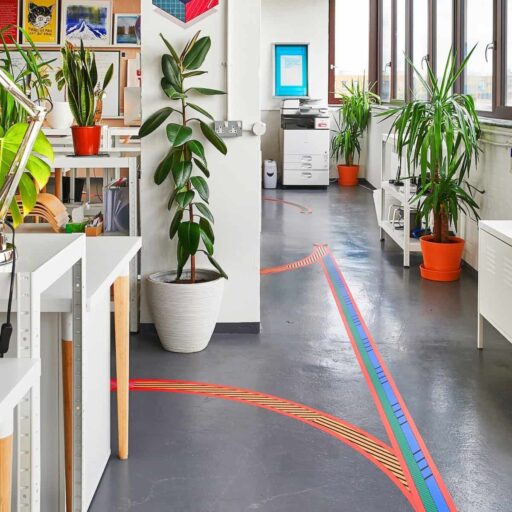 Good Measures
'Keep 2m apart.' 'Wear a mask.' 'Wash your hands.' Public spaces and workplaces alike are now full of instructive messaging. Necessary maybe, but do they have to be cold and institutional?
Good Measures is a playful alternative to alarmist, officious hazard tape. Formed during lockdown by two creative businesses – vinyl print house Puck Studio and interior design firm InterestingProjects – the modular collection of stickers covers everything from one-way systems to sanitising stations. 
"We saw a lot of the same few hazard signs, hazard tapes, grim warnings and dry commands appearing in shops, venues and public spaces," said Joana Filipe, co-founder of InterestingProjects. "Carefully created and loved spaces were transformed into stark danger zones overnight and the crucial messages lost in the mess of signs." 
Seeing that the signage risked becoming hi-vis white noise, the team threw themselves into an alternative. They blended the four colours of traditional safety signage with other shades, patterns and optical illusions. The result? Less frightening, less hectoring, and a way to help brands keep some of their character while doing the right thing. Move aside peeling gaffer tape. There's a slicker sticker in town. 
Image: Theo Christelis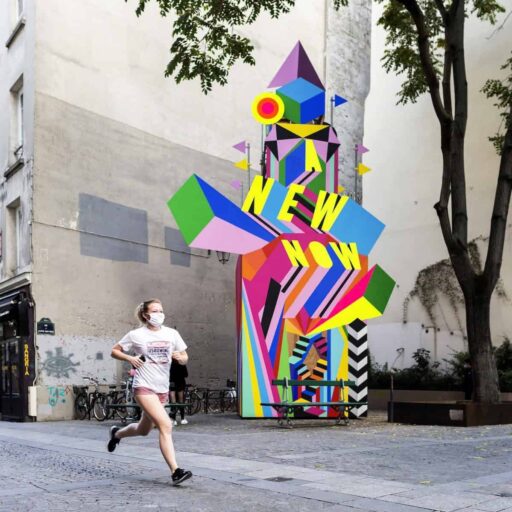 Morag Myerscough
With no-holds-barred joyous optimism, a sculpture by UK artist Morag Myerscough (main picture, above) stood tall in Paris between October and December. A New Now is over eight metres high and aims to set an intention – to rebuild 'a new now' post-Covid. 
"I don't believe in the phrase 'a new normal', I have always disliked the word 'normal'," explains Myerscough, who painted the geometric shapes in her London studio over three weeks.
"For a while we were all on pause. We have had time that we have never had collectively before to spend reflecting, understanding and rethinking about what is important to us. We need to find and embrace ways of moving forward here and now. We are in the midst of seismic changes and we must aim to make a better, sustainable world." 
Image: Art Milan Mauzaud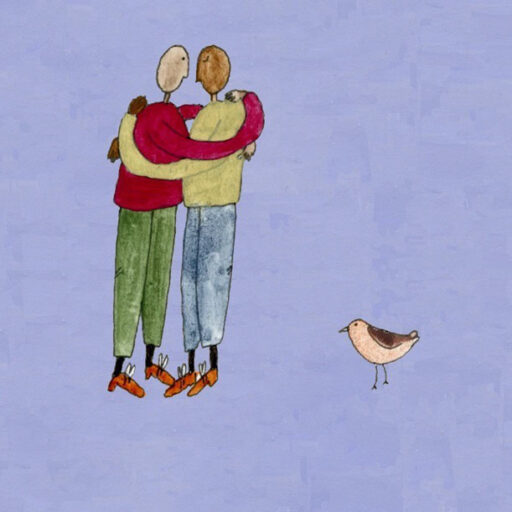 We Will Be Close Again
Of all the interactions, experiences and serendipities of life that we're longing to return to, which are you most looking forward to? US author Ella Frances Sanders has created a collection of illustrations on this theme, from 'hugs as hellos' to looking out of shared train windows.
In January 2021, Sanders started posting the sketches on Instagram and in her newsletter. In response, people left her comments and emails full of the sadness, hope and confusion they were feeling, after a year of living in a pandemic-altered world.
Image: Ella Frances Sanders
Main image: Gareth Gardner