They survived the Blitz and attempts to chop them down. One was a popular Tudor picnic spot. Meet the contenders for Tree of the Year
A bomb-proof oak, a Tudor picnic spot and a survivor from Manchester's industrial past are all in the running to be crowned UK Tree of the Year in the Woodland Trust's annual award. 
This year, urban trees take the limelight. "Ancient trees in towns and cities are vital for the health of nature, people and planet," said the charity's lead campaigner Naomi Tilley. "They give thousands of urban wildlife species essential life support, boost the UK's biodiversity and bring countless health and wellbeing benefits to communities."
A panel of experts has shortlisted 12 contenders, with a public vote choosing the 13th. As well as recognising the value of our woodlands, the award aims to highlight conservation efforts.
"Most ancient trees aren't protected by law, and those in urban areas are particularly vulnerable," Tilley added. "Trees like those in the shortlist are remarkable and deserve celebration – and protection."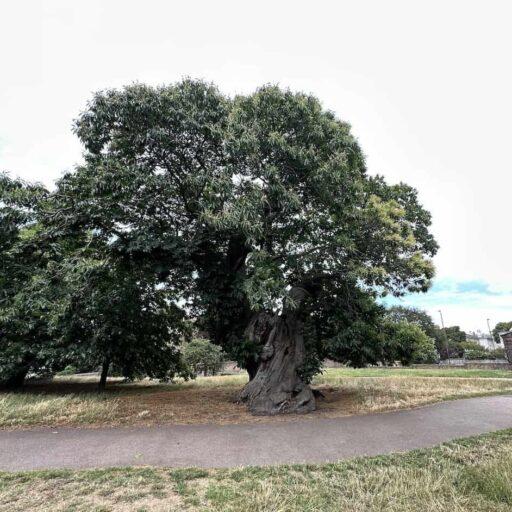 1. Greenwich Park sweet chestnut, London
Now almost 400 years old, this gem was planted in the reign of King Charles II – on his orders. It was all part of his bold vision to rebuild the Palace of Greenwich. Although his grand designs never got off the ground, many of the hundreds of trees he had planted in French-style formal avenues are still standing to this day, their twisted, decomposing trunks providing centuries-old havens for wildlife.
Image: Ruby Harrison/Woodland Trust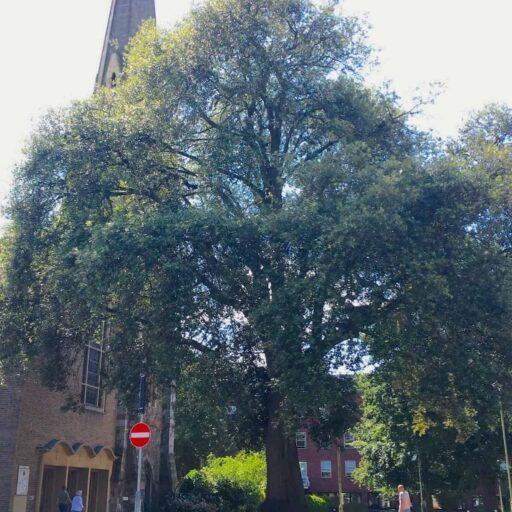 2. Holm oak blitz tree, Exeter, Devon
It took 20 German bombers little more than an hour to raze much of Exeter to rubble in a night time raid in May 1942. Yet when the smoke cleared, somehow this city centre oak stood tall beside the ruins of Southernhay United Reformed Church mere feet away. Today, as then, this evergreen – also known as a holly oak – is seen by locals as a symbol of hope and strength. 
Image: Simon Pryor/Woodland Trust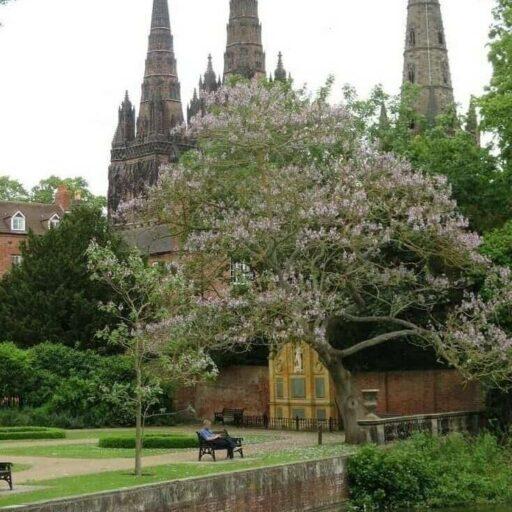 3. Cathedral foxglove tree, Lichfield, Staffordshire
Foxglove trees were introduced from China in the 1830s, and this particular specimen is the largest in the country. At around 100 years old, it keeps vigil over Lichfield's Remembrance Garden, opened in 1920. 
Image: Woodland Trust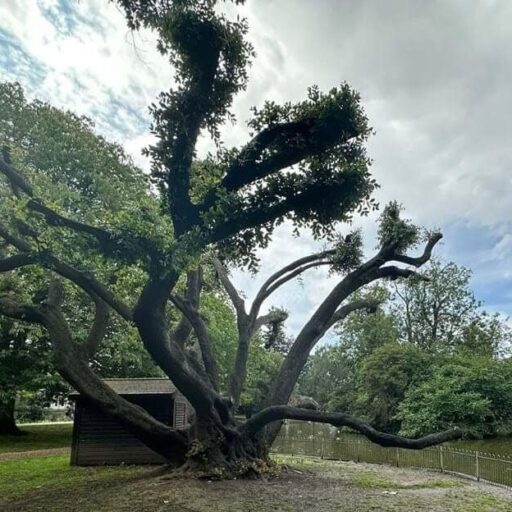 4. Lakeside holm oak, Leamington Spa, Warwickshire
Holm oaks' tolerance of shade and air pollution makes them ideal for urban areas. This veteran was likely planted around 1840 and would have seen the town's Jephson Gardens through their heyday as a pleasure spot for well-heeled Victorians. After a period of postwar decline, a restoration project in the early 2000s means the gardens thrive to this day. 
Image: Alina Bojescu/Woodland Trust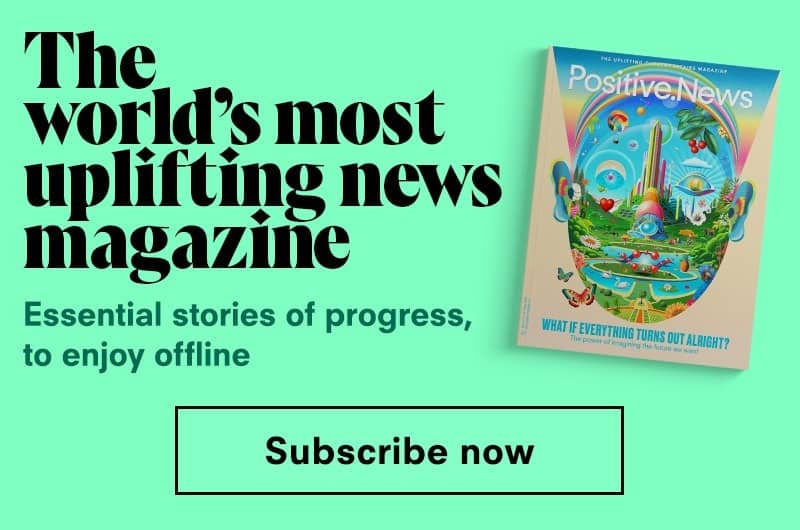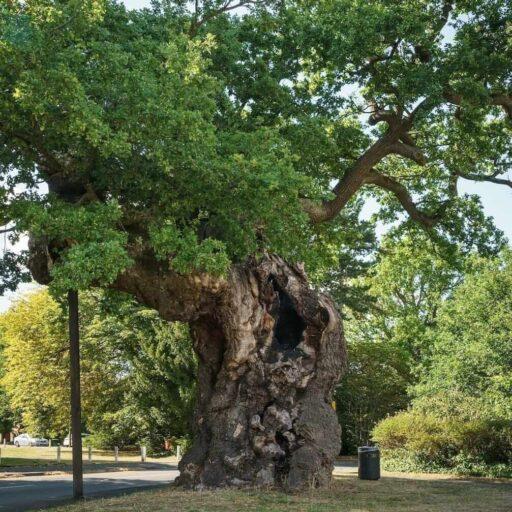 5. Crouch oak, Addlestone, Surrey
This oak's greatest claim to fame is that its branches sheltered Queen Elizabeth I as she nibbled on a right royal picnic. Two centuries earlier in the 1370s, priest, scholar and all-round big thinker John Wycliffe delivered sermons under the tree, and Victorian baptist Charles Spurgeon had the same idea in 1872. Despite the 800-year-old landmark's hollow trunk being hit by arsonists in 2007, it's still standing today, with Surrey county council implementing a raft of support to ensure its survival. 
Image: Tessa Chan/Woodland Trust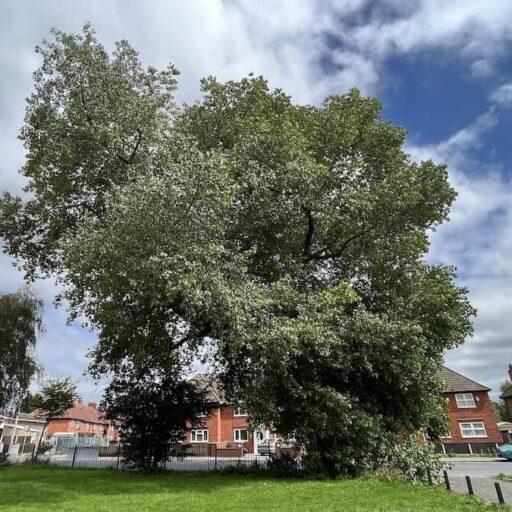 6. Gorton Park poplar, Manchester
While the smog and soot of a coal-powered industrial revolution killed off many of Manchester's trees, black poplars somehow thrived and became a familiar sight in the north west in the 20th century. Sadly the species has proved less tolerant to disease, and this Gorton Park specimen is one of just a few thousand that has survived.  
Image: Alex Shuttleworth/Woodland Trust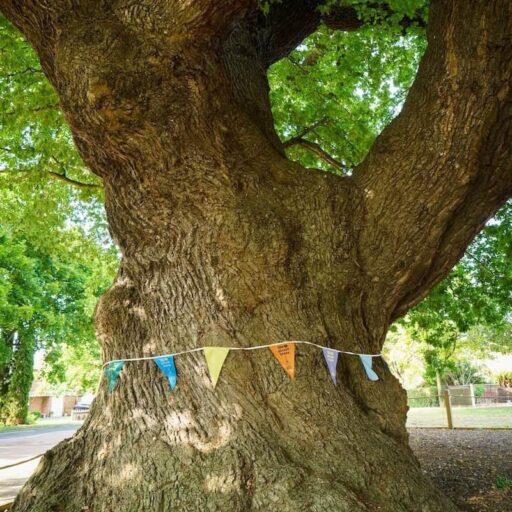 7. Grantham oak, Grantham, Lincolnshire
With a whopping seven-metre girth, this oak cuts an incongruous shape looming over nearby houses, and it's likely a relic of the area's agricultural past – estimates put it at 500 years old. The Woodland Trust has been working with the local council to preserve its hardy genetic traits, grafting cuttings onto rootstock of another ancient, local oak. 
Image: Tessa Chan/Woodland Trust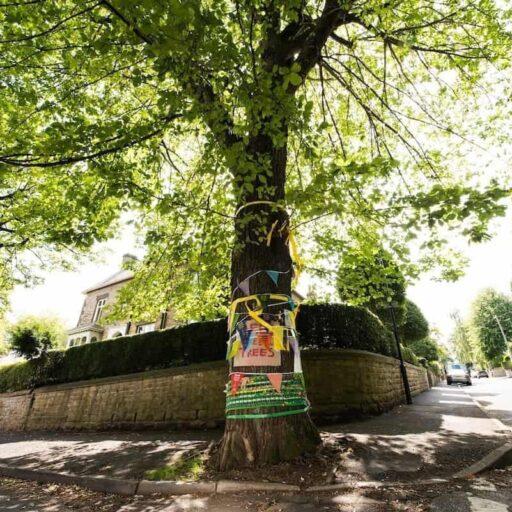 8. Chelsea Road elm, Sheffield, South Yorkshire
True story – a butterfly saved this tree from the chop. It's one of fewer than 1,000 elms still standing after disease wiped out some 60m of them. It's been earmarked for felling several times – but campaigners spotted a threatened white-letter hairstreak butterfly laying eggs on the tree, which bought it a stay of execution. 
Image: Philip Formby/Woodland Trust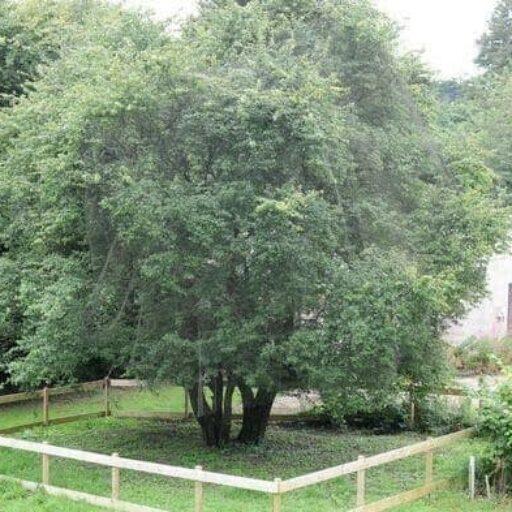 9. Plymouth pear, Plymouth, Devon
One of the UK's rarest trees and the only tree species protected under the Wildlife and Countryside Act of 1981. Once upon a time it would have been widespread in British woodlands, but now it's found only in the wild hedgerows of Plymouth and Truro. A protective barrier safeguards this specimen for future generations. 
Image: Woodland Trust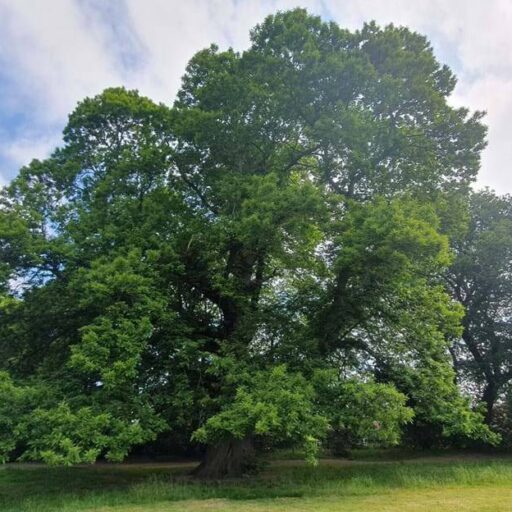 10. Sweet chestnut, Wrexham
Over half a millennium it has survived dozens of deadly storms and a post-war plundering of Wrexham parkland for firewood. Now a feature of community events, the stately tree is well-loved by locals for its history, value and beauty.
Image: Hannah Farnell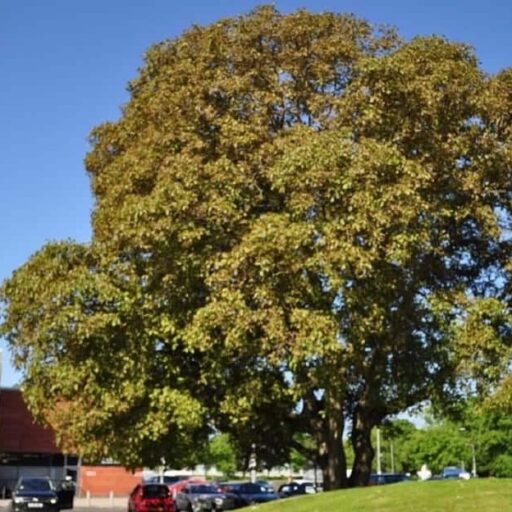 11. Highland Gateway walnut, Perth
The only Scottish contender on the list, this walnut stands guard over a retail park on the A9 in an area known as the Highland Gateway. An oasis of green amid the concrete, its multiple stems make it an eye-catching landmark for travellers heading north to the Highlands from Perth.
Image: George Anderson/Woodland Trust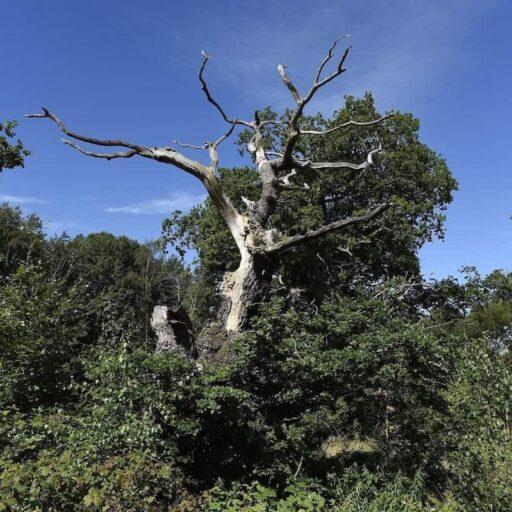 12. Belvoir Oak, Belfast
At more than 500 years old, it's thought to be the oldest surviving tree in Belvoir Park Forest, and may be the oldest in all of Northern Ireland. Belfast would have been a small settlement when this gnarly survivor took root. Today the oak is recognised as part of the country's living heritage. With a hollow trunk, it's likely in its twilight years, but it still gives life to others. In recent years it's provided habitat for a rare bracket fungus, the oak polypore. 
Image: Michael Cooper/Woodland Trust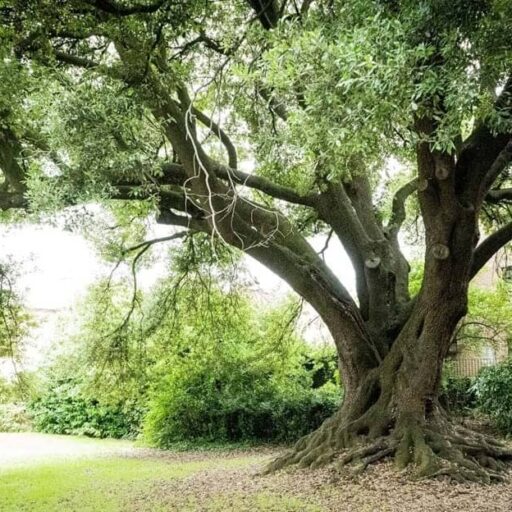 13. Public wildcard nomination - Library holm oak, Westbury, Wiltshire
With a far-reaching canopy, and nestled in the hub of the town, this oak provides a focal point for community events, or a spot of relaxation with a borrowed book from the local library nearby. Its huge size suggests it pre-dates the 18th century library building, formerly Westbury House, once home to prominent mill owner and MP, Abraham Laverton.
Vote for your favourite here. The winner, announced on 19 October, will represent the UK in the European Tree of the Year competition.
Image: William Hudson
Main image: Julian Hight/Woodland Trust
Help us break the bad news bias
Positive News is helping more people than ever to get a balanced and uplifting view of the world. While doom and gloom dominates other news outlets, our solutions journalism exists to support your wellbeing and empower you to make a difference towards a better future. And as Positive News' audience and impact grows, we're showing the rest of the media that good news matters.

But our reporting has a cost and, as an independent, not-for-profit media organisation, we rely on the financial backing of our readers. If you value what we do and can afford to, please consider making a one-off or regular contribution as a Positive News supporter. Give once from just £1, or join 1,000+ others who contribute an average of £3 or more per month. You'll be directly funding the production and sharing of our stories – helping our solutions journalism to benefit many more people.

Join our community today, and together, we'll change the news for good.