In Italy, people are reclaiming the once-magnificent Apuan Alps. They are trying to put a stop to destructive marble mining, re-populate abandoned villages and to build an alternative economy
From close up, the soaring opencast quarries in Tuscany's Apuan Alps look like colossal ice fortresses on another planet. The backdrop for a car chase in the James Bond film Quantum of Solace, this landscape is home to the world's largest and whitest marble field, formed over 200m years. It is also the site of a long battle, pitting the marble industry against local people, who are trying to preserve their mountains for future generations. For the first time and against all odds, the locals appear to be winning.
Quarries here, especially around the town of Carrara, have been excavated since Roman times. Their pure marble has inspired artists from Michelangelo to Henry Moore, and many illustrious buildings across the world are made from this precious stone. For centuries, Carrara white marble brought fame and wealth to the region. It was part of its DNA, as local people put it.
Over the past four decades, however, globalisation and technological progress have turned these mountains into mere mines. Irreplaceable marble is extracted at frenetic pace as local marble barons and foreign companies – including a group owned by the Bin Laden family – seek to compete on price with producers in China, Russia and India. The marble is no longer processed in Carrara, but shipped overseas, where labour is cheaper, and sold at discount prices to Saudi Arabia and China, who have developed an appetite for the stone.
The marble sector is worth around €300m (£270m) annually, but Carrara is one of Italy's poorest cities. The region's water and air are polluted by marble dust and mining waste, its mountains are gutted, causing hydrogeological instability and devastating floods, and its ecosystems endangered.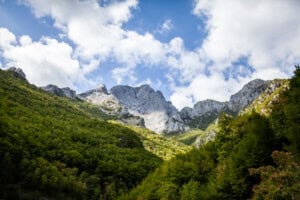 The marble industry's disastrous environmental impact on the Apuan Alps has been known for some time. Yet, a combination of Italian politics, globalisation, mafia leverage and the perceived lack of an economic alternative led to inertia and resignation.
Against all odds, the locals appear to be winning the battle against the marble industry
But now, local people, as well as some refugees, are reclaiming the mountains, trying to gradually close down quarries and replace them with an alternative and sustainable economy. Their Save the Apuan Alps (Salviamo le Alpi Apuane), movement has helped to nurture a growing network of farms, local producers, tourism and art, encouraging young people to return to the mountains. They are trying to reconnect to a lost culture and adapt ancient ways to preserve their heritage and build a better future for local communities, rather than for a few industrialists and foreign interests.
They have also organised rallies, conferences, petitions and flash mobs, attracting national and international attention to the destruction of the Apuan Alps. A few months ago, as a result of their campaigning work, two quarries in a part of the mountains designated a Unesco geopark were closed down. It was the very first time that quarries were closed for environmental reasons in the region, creating an important precedent.
Their model for an alternative economy, while safeguarding the local landscape, is attracting interest from academics and environmental organisations nationally and globally. But so far, they are concentrating their efforts in an area of the Apuan Alps that has few quarries. The next step will be to try to rein in excavation in Carrara, where the marble industry is dominant and is fighting all attempts to slow down or regulate mining there.
A community united in love for its mountain: read local people's stories here
Featured image: Reckless marble excavation in the Apuan Alps has defaced entire mountains, dramatically altering the landscape 
Read more: saving the Apuan Alps