A manufacturers' co-operative wants to revive British clothes making via a network of factories in the north of England and Scotland
Teddy Boys and tiny waists were in fashion in the early 1950s – and 1.6 million British people were too: literally employed making textiles and clothing. Today, that figure is fewer than 50,000 as the fast fashion boom has seen most work shift to cheaper, less regulated businesses overseas.
The British factories that remain have been left grappling with extremely short lead times and big fluctuations in seasonal demand. For several months of the year, even the best operations are nowhere near capacity, leading to seasonal hiring and firing or even closures.
"Our incentive isn't to create nice clothes, there are plenty of those already, our aim is to create meaningful, sustainable jobs," says fashion entrepreneur and Great British Sewing Bee judge Patrick Grant. With the help of 1,020 Kickstarter backers who pledged £88,619, he launched manufacturers' collective Community Clothing in 2016. It is a bid to restore pride in British-made clothes and sustain skilled jobs at the same time.
The company offers factories contracts for well-made 'evergreen' staples such as raincoats, jeans and socks that they can produce during their forced downtime. Currently, 19 factories are involved. Cookson and Clegg in Blackburn makes jackets and trench coats; knitwear comes from Hawick in Scotland, while a ribbon of towns across north England, including Rochdale, Bradford, Pudsey and Todmorden, produce fabrics. Where possible, local suppliers of buttons and labels are used too.
Because the garments are not tied to the bewildering churn of seasonal fashion, factories can make them whenever they have capacity, safe in the knowledge that they are unlikely to go out of style. "Our products have been designed, prototyped and tested, and all of our fabrics are well known to us. We know they fit, we know they last," says Grant.
By July 2018, Community Clothing had created 12,849 hours of skilled work. Its bricks and mortar shop in Blackburn and its eBay business have led to lines in Selfridges, a London pop-up, a recent run in Topshop and Community Clothing's own e-commerce shop. The focus is on selling clothes directly to the consumer, cutting out the usual wholesale and retail mark-ups.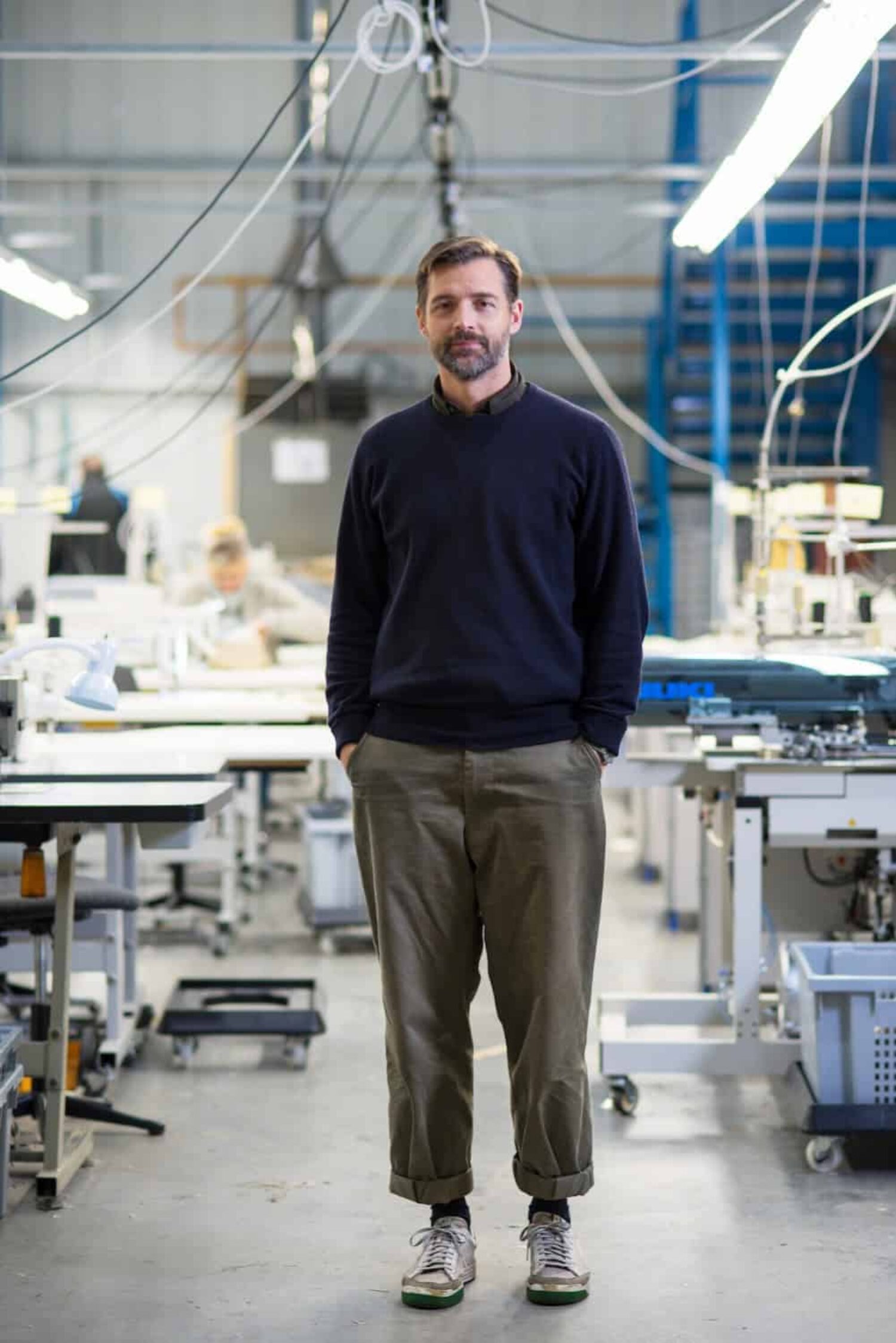 To ensure workers the living wage, the business runs lean. "We can sell at a competitive price if we cut out all that stuff that other brands do: seasonal design, marketing, free stuff for celebrities."
Counterintuitively, Grant believes there is an opportunity in automation, and in the fact that overseas labour costs are rising: UK factories could compete on price once again, he believes, as long as they are able to operate at scale.
"If we want to have a big social and economic impact, we need to think how we can bring textiles and clothing manufacturing back at scale."
As things stand, he believes the business could create 5,000 jobs. But if 20 per cent of clothing worn in Britain was made here, instead of the 2 per cent as it is now, "we could probably create 100,000 jobs. And not only does that bring economic benefits, it starts to restore community cohesion, it starts to give towns like Blackburn and Burnley a feeling that they're moving in the right direction."
Not only does that bring economic benefits, it starts to give towns like Blackburn and Burnley a feeling that they're moving in the right direction
Conscientious fashion is on the rise, with one survey showing that 66 per cent of millennials are willing to spend more on sustainable brands. There are smaller businesses that prioritise sustainable, environmentally-friendly work – the likes of Cardigan-based jeans brand Hiut Denim, and London brand Birdsong (whose Twitter bio proclaims "No sweatshops and no Photoshop"). At the other end of the scale, big names such as H&M and Asos have launched their own ethical lines, albeit to some scepticism.
Brexit looms large for Grant when it comes to Community Clothing's future. "We ought to be more immune than other companies because so much of what we do is supplied here," he notes, "but when we start having to do 16 pages of paperwork to import a zip from Italy, it's going to have a knock-on effect."
Neil Swift is a fourth generation chairman and director of J Alex Swift, one of the factories working with Community Clothing. He isn't too worried: "Straight after that vote, people felt good about Britain. The orders were extremely good afterwards and they've been good ever since. Brexit is nothing compared to what British textiles has faced over the last 25 years."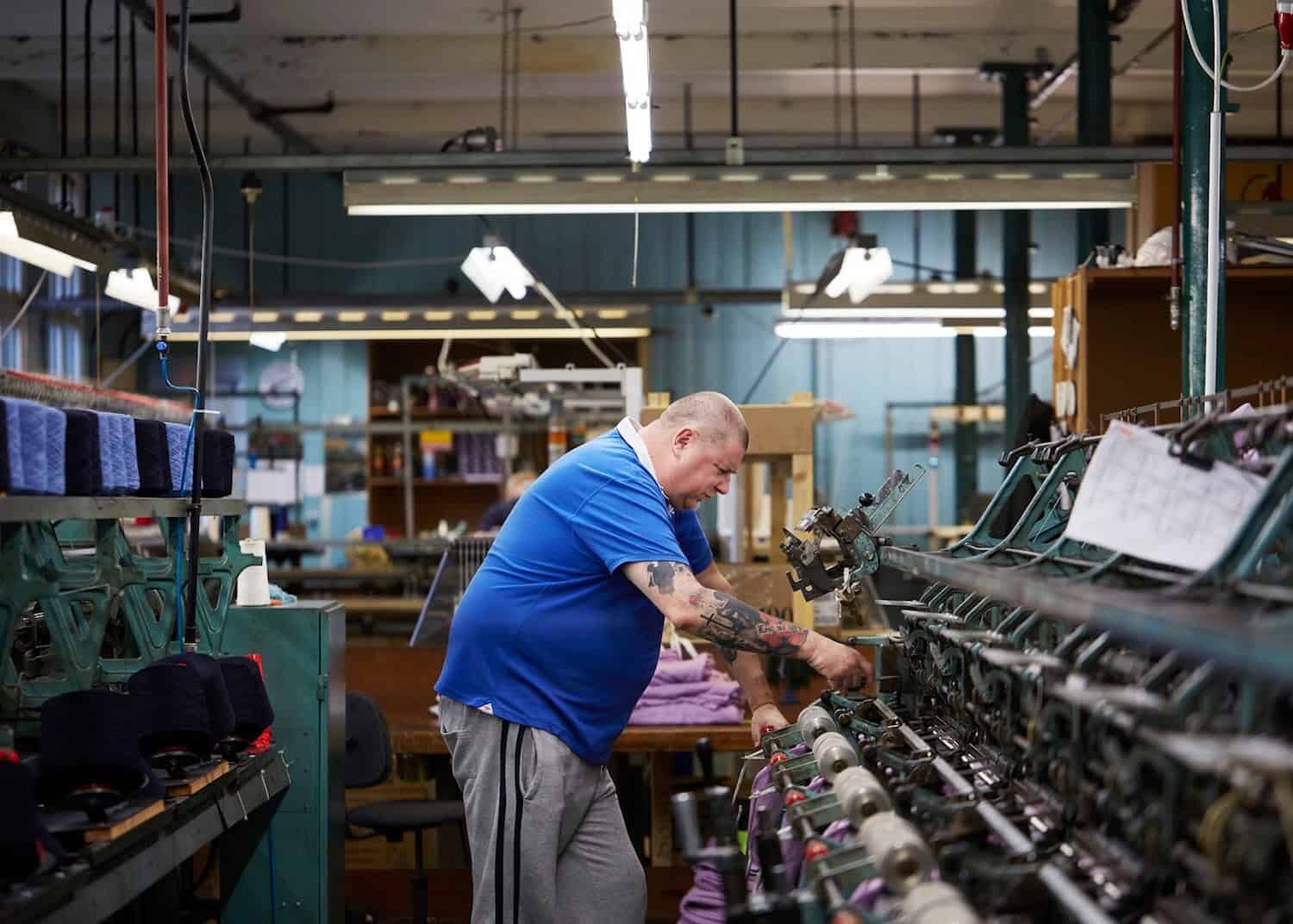 Brexit or no Brexit, Grant is bullish about the future. He sees opportunities in fabric homewares and believes Community Clothing's model could be rolled out in countries such as Japan. His ultimate goal is for the business to be less 'social enterprise' and more simply 'enterprise'. "I hope that we can transform the efficiencies of the factories we're working with and get to a point where they can sell to large-scale clothing brands in a totally normal way."
While efficiencies are to be celebrated, it's important to Grant that the project's impact on people isn't lost in the mix. As he repeats with regularity, this is about "making clothes, creating jobs and restoring pride".
In photos: a community in stitches