Anxiety about breastfeeding in public can make mums feel vulnerable and exposed. A new photo series aims to show public breastfeeding in a positive light
Annabel Annan-Jonathan knew she was right to agree to be photographed for the project when someone she knows vaguely came up to say she loved the image of Annabel breastfeeding her son, before sharing her own experiences with breastfeeding in public.
The musician and mother-of-two (pictured above in pink) was one of 20 mums who agreed to take part in the #FeedMe awareness campaign: a photography project of mothers breastfeeding in public in London.
The images, which were shot by Robert Appleton and Agatha A. Nitecka of RÅN Studio, were displayed on digital billboards across London, and show women feeding their babies in locations including Tate Modern, Portobello Market and on public transport. Proceeds from sales of the images – which can be viewed online at avenirart.com – will go to the Association of Breastfeeding Mothers (ABM), a charity for mother-to-mother breastfeeding counselling.
Figures from the Royal College of Midwives show that just 44 per cent of British mothers still breastfeed six to eight weeks after giving birth, in contrast with other European countries such as Norway, where the rate for the same timeframe is 71 per cent. While some women cannot breastfeed and others choose not to, social stigma is believed to be a key factor in explaining the UK's lower rates. While it is illegal to ask a breastfeeding woman to leave a public place, there have been high-profile instances of women being asked to cover up.
"I had a couple of bad experiences," Annan-Jonathan says. "Every mother knows when someone is feeling uncomfortable with them breastfeeding. It definitely puts mothers off doing it. As we speak, there are mums hiding in toilets breastfeeding, and I did that at first. It's not fair. You don't want to nurse your child next to a sanitary bin, just to appease others.
We wanted to show beautiful interactions between the mothers involved
"I took part because I really wanted to normalise breastfeeding and get people talking. When the other mum approached me and launched into her own breastfeeding story, I thought, 'job done'."
Nitecka, one of the photographers, wanted to reframe how women and men in the UK engage with public breastfeeding: "We wanted to show beautiful interactions between the mothers involved, their children and the city of London," she says.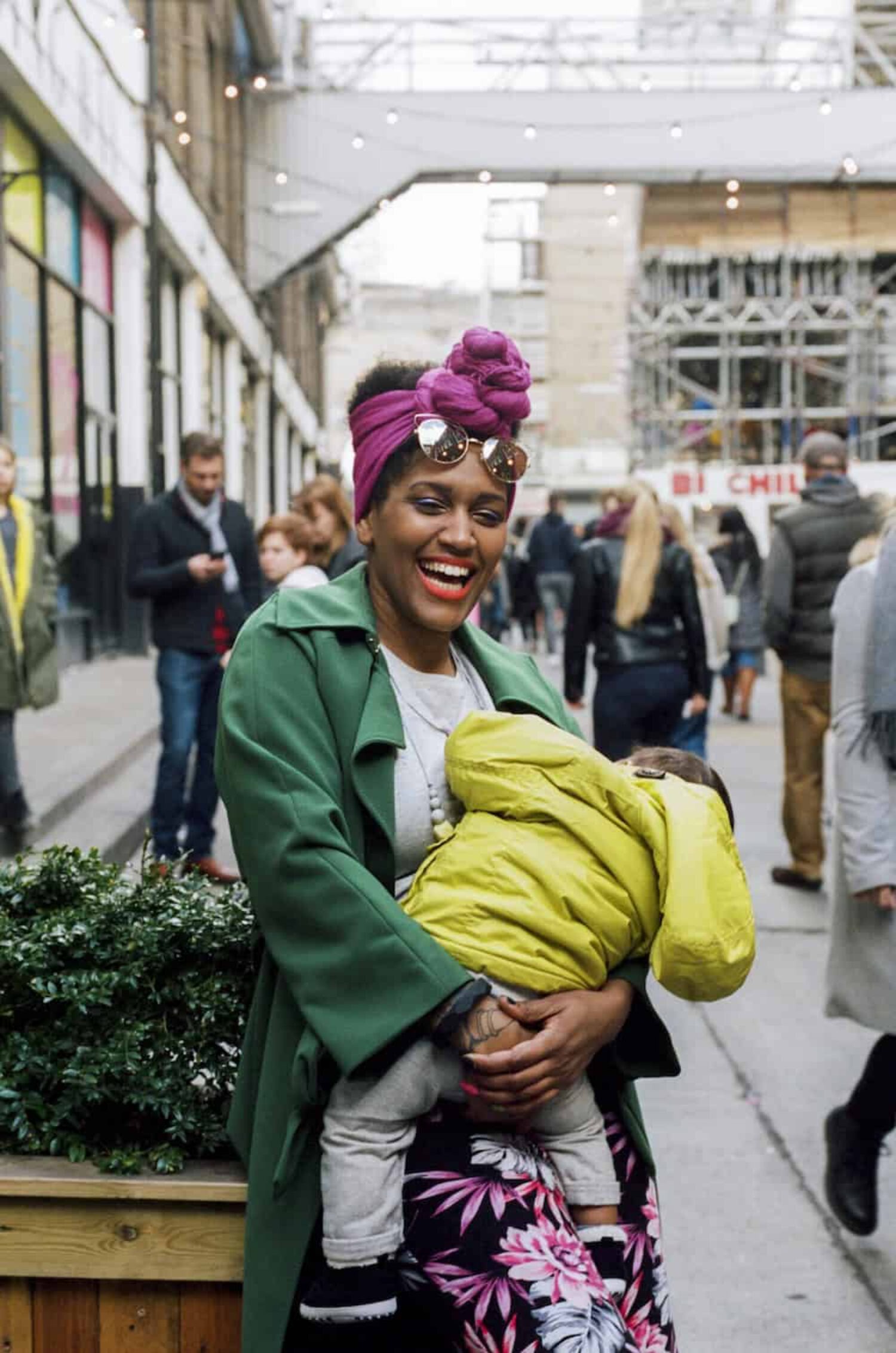 The project was inspired by the experience of Vanessa Power, head curator and director of Avenir Art, which has displayed the shots around London. "I have a toddler who I recently stopped breastfeeding, but while I was doing so, I felt so uncomfortable with people's negative reaction when I did it in public. The name #FeedMe implies that it is all about the child, and there is nothing inappropriate with breastfeeding a hungry baby in public places. The reaction has been incredible."
Emma Pickett, chair of the ABM, adds: "Every single time we see a mother breastfeeding, whether in real life or just an image, it helps to normalise what should be entirely normal. It helps the next woman we see in the cafe or on the train. It helps the little girl who may not breastfeed for another 20 years. It's no exaggeration to say this project will have an impact that could change lives."
Featured image: Annabel Annan-Jonathan at Battersea Arts Centre 
In photos: breastfeeding mums