The Dalai Lama is quoted as saying: "The purpose of all the major religious traditions is not to construct big temples on the outside, but to create temples of goodness and compassion inside, in our hearts." A community of Buddhists in London has been working nevertheless, on achieving both
The Samye Dzong Buddhist temple had been housed in temporary premises since it formed in 1998, but two years ago it took over a Victorian library building from Southwark Council that needed renovating. The aim was to turn the Grade II listed building into a Buddhist centre complete with yoga rooms, a shrine room, office, kitchen and up to 20 rooms for residents.
At the time, London-based builder Colin Panrucker, who meditated at Samye Dzong, was feeling unsatisfied with his working environment and the projects he was undertaking. Wanting to shift the direction of his life, he was thrilled to discover that the temple needed a building project manager.
Colin volunteered his expertise for the role and now, as the work reaches completion, he is much happier. "It was a changing point in my life," says the builder. "It was a very easy place to be and it was something I totally believed in. I'm not interested in earning money to spend on beer."
Lama Zangmo, a Tibetan Buddhist nun and teacher who runs the centre, said that with a big mortgage to pay every month the organisation had enough funds to buy materials, but they couldn't hire contractors to do the building work. And so, a heart-warming journey unfolded before her, with a wonderful cross section of volunteers joining the project from all parts of the local community.
The time frame was tight – the official opening of the centre was scheduled barely 12 months after the builders entered the site – and there was plenty of work to be done: stripping floors, repairing ceilings, knocking out walls and building new ones, plastering, sanding, painting and decorating, plumbing and wiring.
Finding the team
A core team of 12 people from the temple community started on the project. But, Zangmo knew that additional hands were needed, so she found more people through the Gumtree website and also via the government's Work Programme for jobseekers.
Colin worried that, as the jobseekers hadn't chosen to volunteer on their own accord, they might not be motivated. But they came in their dozens and their help was invaluable. "Most of them really got into it; people weren't there to muck about," Colin says. "A lot of them came back after their time was up."
All volunteers were given a hot meal daily and some were given accommodation at the temple.
Alan Hughes, previously an academic in marine biology, became one of the residential volunteers. "I wanted to change my life and find something with more meaning," he says. "I knew for a long time that I wasn't really satisfied in my job."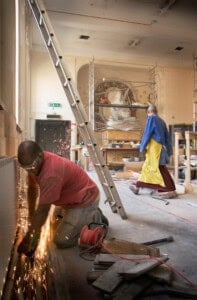 Alan helped with basic building tasks but also, he says, "I found out a lot about myself, which was more valuable than the skills I acquired along the way. The building work pushed me out of my comfort zone." After the opening he was put in charge of the day to day running of the Buddhist centre's office. He says he is moving towards feeling more fulfilled. "Volunteering was absolutely the right thing to do for me."
Four trainee electricians from Lewisham College were drafted in to assist experienced electrician Rowan Langley. Training people was "great fun," he says. "It reminded me of all the things I have learned over the years."
The project has proved a worthwhile experience for all. Three of the electrician's apprentices have gone on to find good, regular paid work in the industry, and the fourth is doing a degree in electrical and electronic engineering.
Life changes
As the project neared completion this summer, an average of 60 people were freely volunteering their time each day – and into the night – to transform the centre. Many of them, it seems, were on their own life-changing journeys.
Amanda Root, volunteered to do administrative work. She brought skill and patience to all she did and managed to get funding from the local council for various aspects of the project. She also dealt with planning applications and worked on reducing the environmental impact of the building.
With this particular project a lot of ingenuity was required because we had to keep parts of the building inhabitable while others were being completely reconfigured. This is not a trivial job either. It's a listed building and it's public. You can't mess it up. I gained a huge amount of knowledge and experience using very specialised tools. It's nice to look back on it, seeing it used by the public, and be proud.
Rowan Langley, Electrician
Amanda had been at a difficult point in her life. "I was in a period of intense change and loss," she says, describing her divorce, her grown up children leaving home and her parents entering old age. She, too, gave up work in academia to volunteer at Samye Dzong, feeling that the centre was somewhere where her skills could be usefully deployed.
"It has been empowering. It's given me the opportunity to allow myself to do something I feel passionately should be done. There was a real tangible result from my work, which will benefit many people in different ways, and of that I feel proud."
Today there are about 20 residents and volunteers living in the centre. Some remaining building work continues, but many great teachers have already been able to come and give lessons in the shrine room and the yoga rooms are booked for a long list of activities.
The whole experience has given Colin Panrucker a very strong sense of the basic goodness of humanity, he says. "Seeing up to 60 volunteers turn up every day and working very hard for nothing has made me think that people are alright, really," he says, warmly. "I am proud."