A top London hotel and a charity have launched a school where homeless people are taught hospitality skills to get them ready for work. Lucy Purdy checks in
Just a few hundred metres apart in London's bustling Belgravia, two buildings have been sheltering people for decades. At The Goring hotel it's been well-to-do guests – frequently royalty – and at The Passage centre, vulnerable and homeless men and women, up to 200 every day.
Last year, the two joined forces to launch Hotel School. The main course? A hands-on, 10-week series of classes and one-to-one sessions, in which homeless and vulnerable people are taught hospitality skills. As well as introducing them to work in service, kitchen, housekeeping and reception, Hotel School serves up work experience placements with some of London's best hotels and restaurants. There are also introductions to potential employers, and mentoring to help students stick at jobs once they secure them.
"People working in hospitality are real team players," says Hotel School co-founder Jeremy Goring. "It's a business in which anyone can be a success: there are so many different roles. But hospitality has a chronic shortfall of staff. The Passage deals with helping people who don't have work, don't have homes and who need to get their lives back on track. So putting those two worlds together was just obvious."
Experienced college teachers deliver the course, and a who's who of industry leaders, Michelin starred chefs, baristas, cocktail mixologists and more volunteer to lead masterclasses. 'Headmistress' Véronique Bonnefoy cut her teeth as head of training for Gordon Ramsay and so it's no surprise that she is straight talking: "I'm quite hard on the students. My approach isn't softly, softly, because the reality of work is not like that."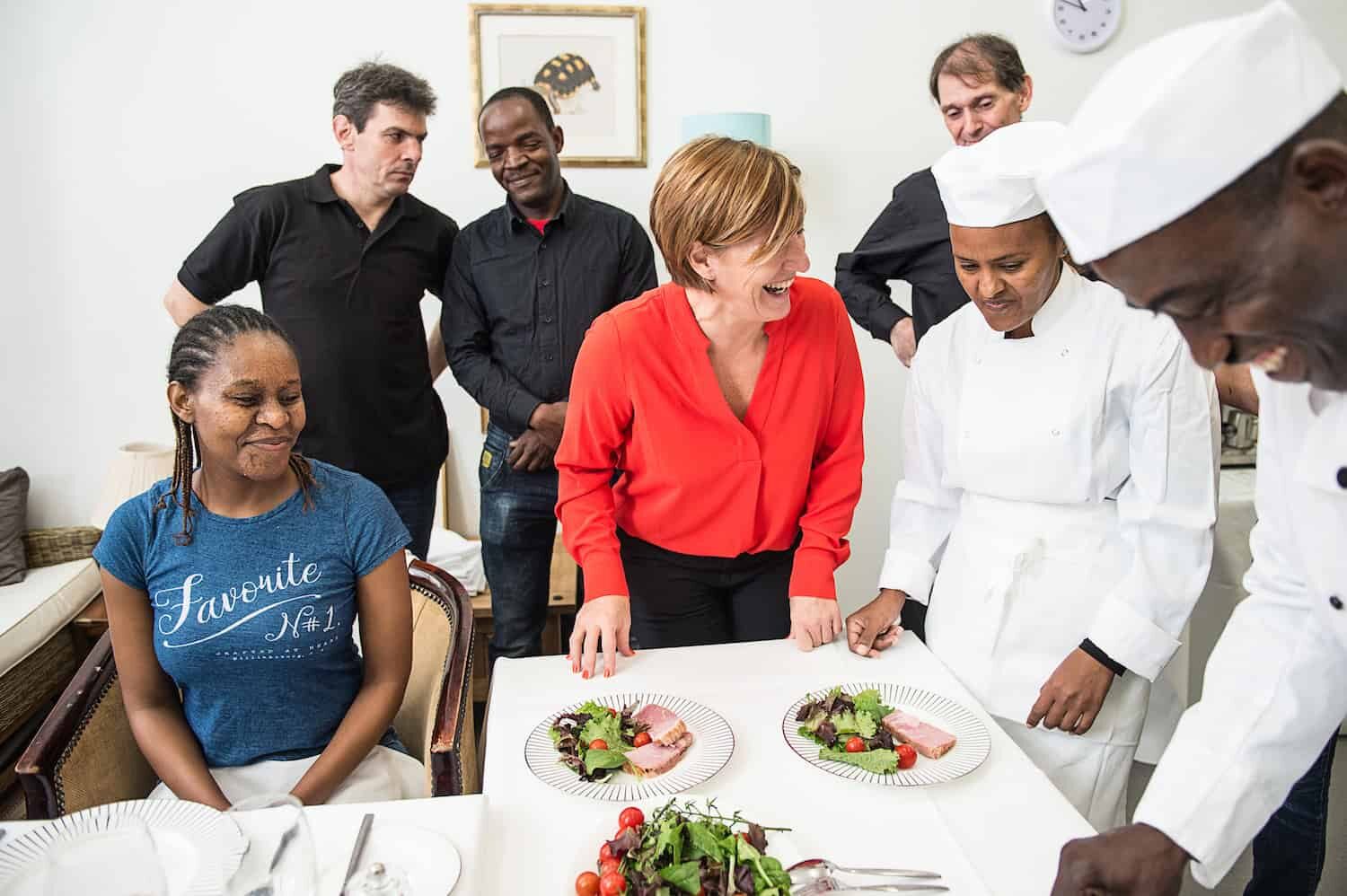 Students include refugees, people who have battled drug and alcohol addictions, people with mental health problems and sometimes people who have experienced all of these challenges and more. Physical fitness is frequently a problem: many find that standing up for eight to 10 hours for a shift in a hotel is really tough.
"Can you imagine becoming street homeless?" asks Mick Clarke, Passage CEO and Hotel School co-founder. "It's often difficult to conceive. But everyone, at different times, has experienced a kind of inner homelessness as a result of bereavement, loneliness or depression. What catches us from that turning into real homelessness? Friends, family, colleagues."
Knowing just how important support is to people who are taking tentative steps towards rehabilitation, Clarke and Goring made mentoring key to Hotel School. Graduates get both an in-work mentor, and somebody outside work with whom they can discuss challenges.
Results so far look promising. In an average cohort of 12 students, 11 complete the programme, and eight or nine find sustained full-time employment. People who haven't worked in 30 years have found jobs, and therefore housing, through the school.
People who haven't worked in 30 years have found jobs, and therefore housing, through the school
Ioan Bradatan, a 46-year-old man from Romania, spent four years sleeping rough in London, struggling with drug and alcohol addiction before going to rehab. He trained with Hotel School last year. "Drinking affected my health and finding confidence was sometimes really difficult, especially when I've been sick," he says. "I never knew how members of the public would react to me, but I'm used to people now. I'd like to get work as a chef. I feel proud of myself. Having people like Jeremy support us and keep in touch with us, it really helps. I even met Prince William. For him to meet someone who was homeless? That's something!"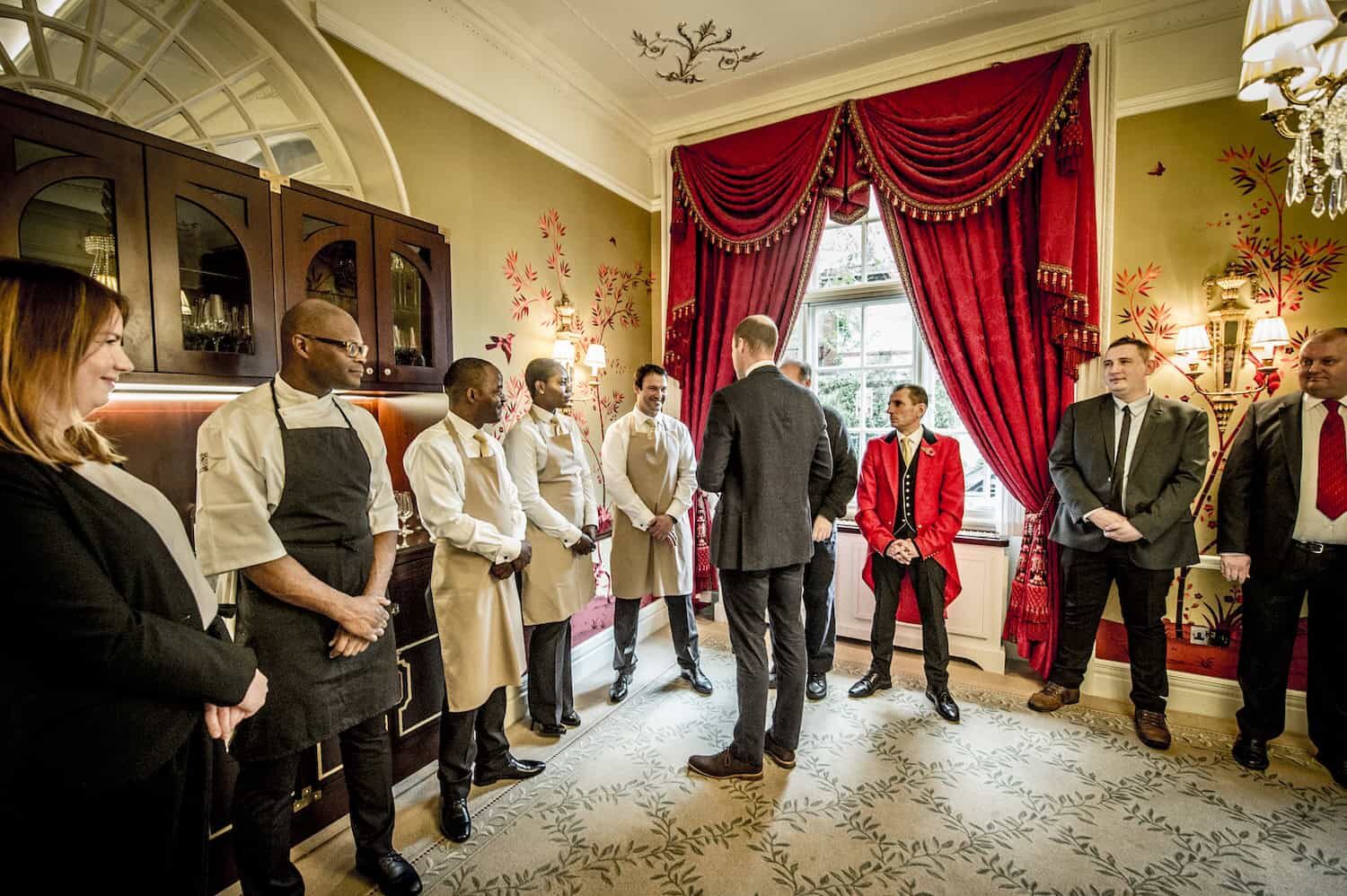 The school is temporarily housed at The Passage but, with courses oversubscribed by 300 per cent, the school is seeking a new home. The industry's appetite to support the project is hearty too, says Goring. "The first guy I phoned was John Williams, executive chef at The Ritz, to ask if he'd like to come and teach. His immediate response was: 'Yes, when do you want me?'"
Images: Hotel School