The first 100 days of Donald Trump's US presidency have been controversial to say the least. But his administration's most anti-progressive policies have been met with a wall of creative responses, in the US and elsewhere
---
1. Abortion 'gag'
Action:
Trump's "global gag" on abortions blocks US funds to any organisation involved in abortion advice and care overseas. It means that even projects working on, for example, Aids or malaria are forced to strip all mention of abortion from their programmes in order for their funding to continue. The ruling could affect as much as $600m (£494m) of aid and millions of girls and women around the world, say campaigners.
Response:
Despite being hastily arranged, representatives from 50 governments attended the She Decides conference in Brussels on 2 March. Among those helping devise ways of plugging the gap? Kenya, Vietnam, Nepal and Japan. Organisers hope to raise $600m (£494m) from international pledges. "This is not a conference against the American administration; this is a conference for something," said Sweden's deputy prime minister, Isabella Lövin.
Lövin, who is also minister for international development cooperation and climate, made headlines when she appeared to parody Trump and the all-male lineup in the Oval Office that signed the global gag order. She tweeted a picture of herself and female colleagues, as she signed Sweden's climate law.
---
Care about how the media influences our world?
We believe that excessive negativity in the press is destructive for society, so we're working to create a more constructive and compassionate media. But to do that, we need your support. Help us change the news for good.
---
2. Gender equality
Action:
Trump's sexist rhetoric in last year's presidential election race brought women's rights sharply to the fore. One commentator said the US leader "wears his disdain for women like a badge of honour".
Response:
From London to Washington, women's marches took place across the world to protest Donald Trump's inauguration and advocate for women's rights. Political scientists estimate that between 3.3 million and 4.6 million marchers took part across the US alone, describing it as the largest – and most peaceful – day of protest in the country's history.
Civic groups promoting women's rights have also seen a surge in support, with US reproductive healthcare provider Planned Parenthood netting 300,000 donations in the month and a half following Trump's election – 40 times more than usual. They included 82,000 donations made by pro-choice advocates in the name of US vice-president Mike Pence, a longtime opponent of women's reproductive rights.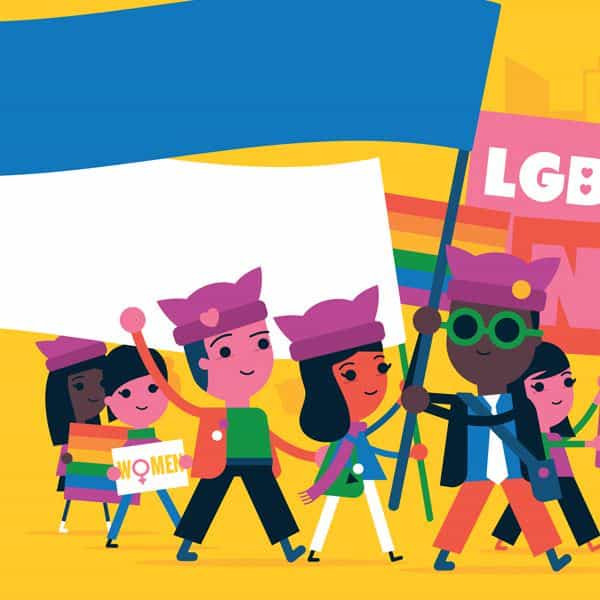 ---
3. Travel ban
Action:
On 27 January President Trump signed an executive order halting all refugee admissions and temporarily barring people from seven predominantly Muslim countries. It was described as the most significant hardening of immigration policy in generations, and condemned by many as being racist and anti-Islamic. It was revised on 6 March, narrowing the countries to six – Syria, Sudan, Yemen, Iran, Somalia and Libya – and allowing for case-by-case exceptions.
Response:
Thousands of lawyers worked pro-bono at airports to help travellers caught up in the chaos, and some courts across the US blocked the implementation of the ban. The US tech community united in the face of the travel ban too: more than 2,000 employees staged walkouts at eight Google campuses across the US, holding up signs including "Resist" and "No ban no wall" and tweeting them under the hashtag #GooglersUnite.
Artists also got in on the act: the Museum of Modern Art in New York replaced works by Picasso and Matisse with those by artists from countries affected by the ban, and a museum at Wellesley College, in Massachusetts, placed "shrouds" over artworks created or donated by immigrants.
---
4. Immigration
Action:
Trump pledged to deport millions of undocumented immigrants, using an expanded Border Patrol — and perhaps also military troops — at an estimated cost of $5 trillion (£3.8 trillion) over 10 years. Trump also wants to strip federal funding from so-called sanctuary cities that refuse to hand undocumented residents over to federal authorities. His administration has launched a new government office to publicise crimes committed by immigrants. Immigrant advocates say the move does not align with actual crime data and appears designed to demonise immigrants.
Response:
Thousands took part in 'day without immigrants' protests in the US on 16 February. Some businesses closed for the day, children were kept away from schools and families with migrant roots purposefully spent no money during the day. Judges subsequently blocked a Trump order targeting sanctuary cities and, in a major U-turn, Trump announced that he had no plans to deport undocumented "dreamers," who were brought to the US as children.
---
Good journalism matters
As the first media organisation to take good news seriously, we are committed to rigorous standards. Plus we are a media co-op owned by readers and reinvest all profits into our journalism. Support inspiring, trustworthy journalism by subscribing to Positive News magazine.
---
5. The border wall
Action:
Trump seized the Republican presidential nomination by promising to build a physical wall along the Mexican border. "I will build a great great wall on our southern border and I'll have Mexico pay for that wall," he pledged.
Response:
Mexican officials rebuffed Trump's plan, and countered it by proposing an entry fee for American visitors. In the US, polls found most border-state residents oppose the wall, and that just 16 per cent of people believed Mexicans would pay for it. Many of the US's largest construction companies declined to bid on contracts to build the wall, and California lawmakers moved to blacklist companies that may get involved in its construction.
---
6. LGBTQ rights
Action:
Despite claiming to support the rights of the LGBTQ community, Trump swiftly canceled an Obama rule that allowed transgender schoolchildren to use bathrooms that they felt best matched their gender identity. Next up, a leaked draft of President Trump's 'Religious Freedom' order revealed plans to create sweeping exemptions from anti-discrimination laws for people and organisations who claim religious objections to same-sex marriage, premarital sex, abortion, and transgender identity.
Response:
People held a 'kiss-in' outside Trump Tower in New York City. As night fell, it turned into a dance party. "You need some joy in resistance, and I feel that getting out in the street and being with community refills your tank," teacher and writer Liz Dalton told NBC News. LGBTQ supporters also got a boost when North Carolina lawmakers repealed a controversial 'bathroom bill' barring transgender people from using bathrooms matching their gender identity. The change came after a wave of grassroots activism, and a corporate boycott threatened to cost the state $3.6 billion (£2.8 billion).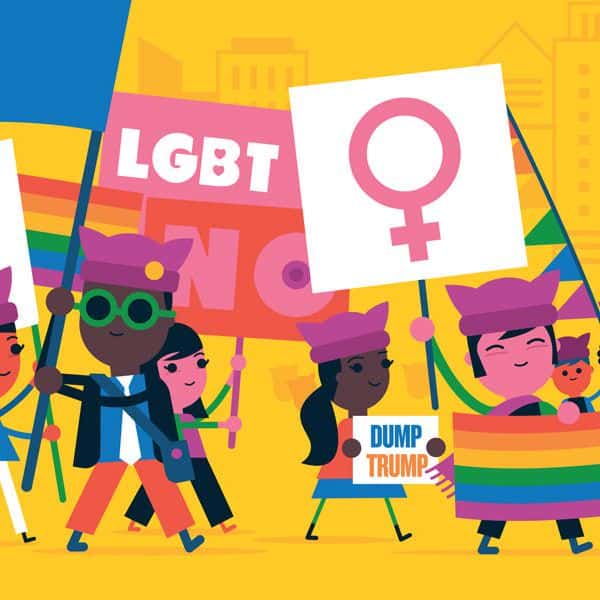 ---
7. Healthcare
Action:
President Trump pushed for a repeal of Obama's flagship healthcare reforms, offering a replacement that would have left 52 million Americans without health insurance. Meanwhile, it was estimated that the repeal of the act would have meant $144 billion (£112 billion) in tax cuts to millionaires.
Response:
Thousands of voters, including many in Republican states, attended boisterous town hall meetings to urge their representatives to oppose Trump's healthcare plan. US digital organising group MoveOn mobilised 100,000 people in February for its 'resistance recess' – a campaign to lobby Republican lawmakers during the congressional break.
Lacking support from both Democrats and Republicans, Republican leaders were ultimately forced to cancel a vote on the repeal bill. "Obamacare is the law of the land," conceded house speaker Paul Ryan in the wake of the defeat.
---
8. The far right
Action:
Some believe that Trump's heated rhetoric, and his hiring of Breitbart chairman Steve Bannon as his chief strategist, empowered the far right. Many anti-racism campaigners blame Trump as being partly responsible for a wave of hate crimes in recent months, including bomb threats targeting Jewish community centres.
Response:
Using a slogan created by a third-grade school pupil, a Chicago neighbourhood group launched the 'Hate Has No Home Here' campaign. Their striking multilingual posters went viral, and are now displayed in homes and businesses across the country. "As adults, we've become immune to the idea that there is bigotry, there is hatred, there is ugliness in the word. Children don't get that," Carmen Rodríguez, one of the campaign's founders, told the Chicago Tribune.
---
9. Climate change
Action:
Trump's team rushed to dismantle Obama's environmental protections, including key rules covering clean air and water, fuel efficiency, and power plant emissions. Trump also distanced himself from the Paris climate deal, approved the Keystone XL pipeline, barred federal scientists from communicating with the public, and moved to slash funding for federal scientific bodies.
Response:
Twitter accounts run by the National Park Service went 'rogue' and started posting messages about global warming. Numerous unofficial accounts sprang up to promote climate science. Corporations including General Electric and ExxonMobil pushed Trump to acknowledge the reality of climate change, and major players including China and the EU said they would keep championing global climate efforts. On Earth Day, the March for Science saw tens of thousands of people join protests in support of evidence-based policymaking. "It's important to show this administration that we care about facts," roboticist Chris Taylor told the Washington Post.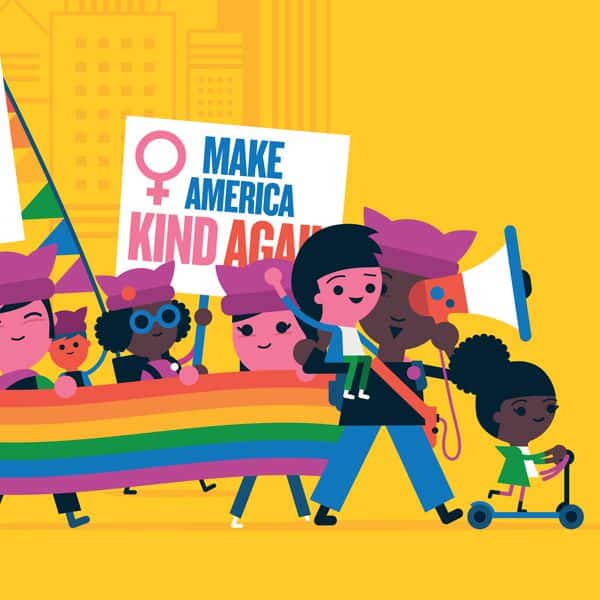 ---
10. Conflicts of interest
Action:
Trump is the first modern president to refuse to release his tax returns, has hired family members in senior roles, and has failed to sever his ties with his business empire. He has used weekends to tour Trump-branded resorts, and used the State Department to promote Mar-a-Lago, the Trump-owned club in Florida where initiation costs $200,000 (£155,183).
Response:
Congressional Republicans have arguably given Trump a free pass on his conflicts of interest, but protestors held Tax Day demonstrations demanding the president's tax returns. Journalists are using freedom of information laws to track his business ties. In a closely watched case, two restaurant-owners in Washington DC are suing Trump under a clause in the constitution, arguing that his continued ownership of the Trump Hotel in the city — where foreign dignitaries now routinely stay — puts competitors at an unfair disadvantage. "This is about purchasing access, and that's not fair," said one of the restaurateurs' lawyers.
Illustration: Spencer Wilson
---
Subscribe to the magazine that's bursting the bad news bubble, and help us shine a light on progress and possibility