Increasingly accepted as a valuable art form, comics are going where other media fear to tread in capturing our rich and diverse world
No longer just white men in tights battling supervillains, comics have moved on. From an American Muslim girl with shapeshifting powers, to a character based on a real-life single mother in embattled Syria, today's comics are more diverse than ever. Dive into their vibrant pages and you'll encounter issues such as mental health, human trafficking and climate change.
Saying 'boom!' and 'pow!' to stuffier, less nimble forms of expression, comic artists and writers are delving undaunted into social taboos and playing with diverse and positive ways to present marginalised characters. And perhaps most exciting of all is that, in so doing, they are both driving and reflecting new social archetypes.
Comics are delving undaunted into social taboos, playing with diverse ways to present marginalised characters
An explosion of experimentation is taking place. "It's a very genuine, instinctive development and not a box-ticking, trend-following move," says Julie Tait, director of the Lakes International Comic Art Festival, held in Cumbria each year since 2013.
"Comic creators, I find, have extraordinary integrity. They are also some of the most prolific and focused creators I have ever met. From re-interpretations of classic superhero characters to extraordinary new stories about people on the margins of society, the power of visuals combined with text is dynamite and it reaches people of all ages."
Wearing a red, blue and gold outfit inspired by the shalwar kameez – a traditional outfit in the Indian subcontinent – the latest Ms Marvel character is Pakistani American teenager Kamala Khan, the daughter of immigrants. Making history when she became the first Muslim character in the Marvel universe to get her own series, Khan grapples with familial expectations, religious duties and her sense of identity. She is likeable, yet troubled – sometimes encountering misogyny and racism. The 16-year-old is a convincingly-drawn character in her own right. No token diversity here.
DC Comics has an HIV-positive superheroine in bow-wielding vigilante Mia Dearden, while Midnighter and Apollo is DC Comic's new solo series about its first gay superhero power couple. Shortly before a spotlight was shone on indigenous water protectors at Standing Rock, Marvel unveiled Red Wolf: its first Native American superhero. Korean-American teenage genius Amadeus Cho recently took over as the new human alter-ego of The Hulk – he of muscular, green fame – while 15-year-old African American engineering expert Riri Williams was announced as the new lead in the Iron Man series.
This is a time where Transformers robots are in same-sex partnerships, Wonder Woman is declared an, (albeit controversial,) UN gender ambassador, Marvel's Spider-Woman appears on a cover while heavily pregnant, and the character of Thor is now a woman – a breast cancer survivor to be precise.
---
#1: Media shapes our world
We believe excessive negativity in the press is destructive for society, so we're working to create a more constructive and compassionate media. To do this, we need your support

---
Political punch
"It's certainly exciting times and it's great to see the variety of heroes out there," says the UK's new comics laureate, the Walking Dead artist Charlie Adlard.
"When comparing the process of making comics to films, for example, relatively speaking it isn't a major risk. You're not spending millions of dollars each time so you don't 'need' to have a white, male protagonist because that's what is guaranteed to sell worldwide. Comics are produced by basically one or two people, so artists and writers can get their ideas across much better – their singular vision, as it were."
There is a rich tradition of political experimentation in comics, notes Tait, who believes comics are by their nature, often politically motivated. "Be it satire, empathetic character exploration or the battle between good and evil, whatever we mean by that," she says.
"Most comic creators work in a fairly isolated way, from dawn to dusk in a studio, producing quality and quantity of artwork rarely seen elsewhere. Yet they're connected globally most of the time and therefore international issues and ideas are at the forefront of their minds. I think they really feel injustice and want to counter it, often through their work."
Despite the genre's underground reputation, comics can be sharply relevant. In 2015, images of Kamala Khan began appearing over anti-Islamic advertisements on buses in San Francisco. Street artists had covered the ads with images of Khan alongside messages such as 'Calling all bigotry busters' and 'Islamophobia hurts us all'.
First published in 1982, the series V for Vendetta charts a masked vigilante's attempt to bring down a fascist British government – and its complicit media. Demonstrators in the Anonymous and Occupy movements wore masks based on the book's central character. V for Vendetta's writer Alan Moore has expressed pride over their adoption of the symbol.
"Moore thinks it's pretty cool that his character offered inspiration and identity to protesters," says Dominic Davies, a research fellow at the University of Oxford who researches and writes about comics.
And what about comics journalism? Visual narrative storytelling has been around for thousands of years, but the use of comics by publishers and other organisations to cover real-life events is reportedly at an all-time peak. Quotes are written in word balloons and sources and case studies become characters.
Comics have the ability to take the reader inside the emotions of people's experiences and in a very ethical and sensitive way
US comics artist Nick Sousanis, who wrote his university dissertation entirely in comic book format, penned a nine-page comic for prestigious scientific journal, Nature. The Fragile Framework traced the last 25 years of climate negotiations and was published just as the UN climate conference in Paris was set to begin. It wasn't the first time that climate concerns have made it into comic form. Iron Man is an advocate of clean energy, while the Captain Planet series has long advocated environmentalism. A new film about the green-haired eco champion whose only weakness is pollution will be produced by Leonardo DiCaprio – who is also known to have a soft spot for environmental activism.
"Comics have always used pictures to talk about world events, but there is definitely a shift towards this more recently," notes Davies. "We live in an age where we use pictures to get information across very quickly; every Facebook feed is a little bit like reading a comic. The way we process information now is very often short bursts of texts with images. I think that goes some way to explain the popularity of comics today."
Super human stories
Marvel's Madaya Mom series tells the true story of a mother-of-five, trapped with her family inside the Syrian town of Madaya for more than a year. It captures the eerie silence on the streets, punctuated by cries from starving children left alone, alongside people carrying out acts of heroism amid the devastation. Marvel staff communicated with the woman via phone and text messages, and in so doing offered a rare insight into people's struggle against the media blackout ordered by the Assad regime.
A photojournalist by trade, Benjamin Dix was working as a communications manager in northern Sri Lanka during the civil war when he read Maus by Art Spiegelman and Palestine by Joe Sacco; graphic novels dealing with the Holocaust and conflict around the Gaza Strip respectively. On his return to the UK, he set up non-profit company PositiveNegatives and since 2012, has been producing comics about contemporary social and human rights issues including conflict, migration and asylum. The work often fuses personal testimonies with art – as well as advocacy and education materials. Subjects tackled in their 30 works so far include a Nigerian woman who was trafficked to the UK, drug addicts in West Africa and the abuse of domestic workers in Saudi Arabia.
"Comics have the ability to take the reader inside the emotions of people's experiences and in a very ethical and sensitive way," says Dix. "It's much easier to empathise with a central character of a comic than to understand the experiences of 20,000 refugees in a news article for example.
"The ability to jump between time and space in a comic is unique to the medium, and can give context and explore the depth of the story being told. The ability to anonymise a character for security reasons is a fantastic and powerful tool that I use in almost every comic we produce. Issues such as trafficking, sexual violence, asylum and torture are such sensitive topics, so to be able to tell a first-person account without compromising the person's security is a great strength of this medium."
One of Dix's most recent projects was to follow the story of a refugee from Syria to Europe, across the Mediterranean Sea and via multiple European refugee camps, "a fascinating and harrowing journey". In comic form, he says, the audience can really 'see' what it was like, allowing access to places photos and film are unable to go: inside detention centres or a visual representation of post-traumatic flashbacks.
It's much easier to empathise with a central character of a comic than to understand the experiences of 20,000 refugees in a news article
"A friend once told me that reading a book is a 'sit back' experience, whereas reading a comic is a 'sit forward' experience. One has to work with the comic to allow the brain to register the visual and narrative as a whole. The reader's imagination has to engage between the panels so it's a much more active viewing experience than watching a film or reading a book."
In our post-Brexit vote society, Dix says, an easy outlet for fear is to blame people who we don't understand and cannot easily identify with. "Our comics, based on real-life testimony, can help bridge this gap and help reduce intolerance and exclusion."
Covering subjects such as human trafficking, racism, memory, identity, conflict and sexual violence can help build empathy and understanding with vulnerable groups such as refugees, says Dix. The drafts currently lining his desk describe persecution faced by the intersex community as well as exploitation of European Roma people.
"Building empathy is now more important than ever. It's easier to be scared of people than to understand them. The easiest way to build compassion and empathy with these sorts of groups is to show them as human beings, with their own fears, pasts, hopes and perspectives in life. Simply show them as they are. Tell their story."
Main image: PositiveNegatives, Lindsay Pollock, Norwegian People's Aid
---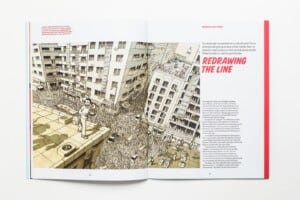 This feature is from issue 88 of Positive News magazine
Be informed, be inspired. Become a Positive News subscriber member to receive our magazine delivered to your door, plus access to exclusive member benefits.