Since 1948 the NHS has provided publicly-funded healthcare based on equality. But with continuing funding cuts and privatisation threatening the service we ask a group of experts how it can have a secure long-term future that best serves the public
The NHS was founded on the principles that healthcare meets the needs of everyone, is free at the point of delivery and is based on need, not ability to pay. Sixty-six years on and it's been rated the best healthcare system in a survey of eleven of the world's wealthiest nations.
The Commonwealth Fund report, released in June, put the NHS top for providing effective, safe and patient-centred care and for its efficient use of resources. Patients were also least likely to report cost-related access concerns.
The NHS not only performs well, but is highly valued by the public. Former chancellor Nigel Lawson famously described it as "the closest thing the English have to a religion," and an Ipsos MORI survey earlier this year suggested that 80% of British people think it should be protected from government spending cuts.
But over the past two decades or so, the founding principles of the service have become increasingly under threat from the growing influence of private business, often criticised for putting financial viability before patient need, and reduced funding.
Most recently the Health and Social Care Act of 2012 opened up NHS services to further privatisation and resulted in a top-down reorganisation estimated to have cost between £1.6bn and £3bn in administration and redundancy packages. Since the act was implemented, NHS spending on non-public providers has exceeded £10bn for the first time.
Services across the country have been contracted out to private providers who are able to 'cherry-pick' the operations they perform. In Warrington for example, NHS treatment for varicose veins was restricted and instead patients were offered paid-for services.
Like what you're reading? Positive News depends on your support to publish quality inspiring content. Please donate to help us continue pioneering a more constructive news media.
Private businesses often operate behind the NHS logo, which some argue allows blame to be shifted to the NHS if companies perform badly. For example Virgin Care, which now run more than 250 UK health services, used under-trained staff at Croydon University Hospital, where it runs the urgent care centre according to a Care Quality Commission report published in January.
Meanwhile spending cuts have seen nurse's pay rise by an average of just 1.6% since 2012, while NHS executive pay has risen 6.1% over the same period, according to a Royal College of Nursing report. Cuts are also being blamed by some for slipping standards. Approximately 18,000 operations are being cancelled every quarter, compared with 13,000 in July 2010, according to shadow health secretary Andy Burnham, and waiting lists have now hit a six-year high. But with the Nuffield Trust forecasting an NHS funding gap of £30bn within the next decade, something needs to change.
Health thinktanks, NHS staff and members of the three main political parties are all beginning to acknowledge that further cuts can't meet health budget pressures and a poll of 100 MPs by Dods Monitoring found that 48% believe a free NHS may not survive unless the challenges it faces are tackled now.
So what needs to be done? We asked organisations and experts in healthcare what they want to see change in order to create an equitable and affordable health service that will last long-term.
Dr Louise Irvine, National Health Action Party
'Build on what we have and tackle underlying inequalities'
The National Health Action party is not only fighting to defend the NHS but also for a positive future for the NHS. The two are inextricably linked.
There have been great improvements in many NHS areas over the past 10-15 years, for example cardiovascular disease through collaborative disease networks and co-operation. But this is now under threat from the government's privatisation agenda. Competition threatens to destroy needs-based planning and effective collaboration, replacing it with a more costly, less efficient and fragmented system.
We must invest in preventive healthcare to enable people to live longer, healthier lives and legislate to tackle the harms of tobacco, alcohol and junk food. We should not put community and primary care in opposition to hospital care, as the coalition is doing, but develop both so they work together. We must care for our elderly population and end the artificial divide between health and social care, ensuring both are free at the point of use. As a rich country we can afford this; we spend less on health than 14 other developed nations.
Health is also about much more than the NHS. The biggest health challenge in the UK is to reduce the inequalities that underpin the wide health disparities between richest and poorest. At present we are moving in the opposite direction. More equal societies are healthier, so tackling poverty should be a goal of any party committed to promoting a healthier society.
The NHS is great but could be even better. We should not waste time and resources breaking it up and replacing it with a worse system. Instead we should build on what has worked so well up until now, make evidence-based changes and involve staff, patients and the public in shaping the service around our needs.
More information: www.nhap.org
Sarah Fink, Policy Exchange
'Harness the potential of digital technology'
There are big opportunities for digital technology to improve people's experience of care in the NHS, especially for those dealing with long-term, chronic conditions.
Patients with arthritis could communicate through video with hospital staff in the comfort of their own homes, individuals could use an exercise app to help to reduce risk of heart disease and social networks could connect people diagnosed with the same conditions to find a community of support.
These opportunities are not solely of benefit to patients. With the NHS facing ever greater financial pressures, they are good for the healthcare system too. Currently, 70% of NHS spending goes towards treating long-term conditions. However, Department of Health research suggests that the use of technology when managing such conditions reduced death rates by 45%, visits to A&E departments by 15% and emergency hospital admissions by 20%.
Realising this vision is not without its challenges. Evidence shows that those who could benefit most from online health services are also the most likely to be digitally excluded. People with long-term conditions and disabilities are three times more likely to have never used the internet than those without them.
The good news is that the NHS is making headway in improving digital literacy through the Widening Digital Participation programme and has partnered with the Tinder Foundation to train socially and digitally excluded individuals to be able to access health information online.
In addition, NHS England and the Department of Health are investing in online services to ensure content is engaging and user-friendly. For instance, the NHS Choices website includes a symptom-checker, a tool to find your nearest hospital and a library of mobile health apps.
More information: www.policyexchange.org.uk
Sean O'Sullivan, Royal College of Midwives
'Show health workers that they are valued'
Demoralised staff cannot deliver the quality of care that patients deserve. Staff should be paid fairly for the valuable work they do, but currently they feel taken for granted and that their knowledge, expertise and willingness to go the extra mile is not valued. Recently the government ignored the Pay Review Body's recommendation for a 1% pay increase and there is now an overwhelming strength of feeling amongst members of our union – the Royal College of Midwives – that enough is enough.
Our members go to work expecting to be busy, accepting responsibility for the safety and wellbeing of women and babies and treating everyone they care for or work alongside with dignity and respect. Midwives and maternity support workers play a critical role in delivering safe and high quality maternity care; all they ask in return is to be valued.
More information: www.rcm.org.uk
Mary Zacaroli, NHS Forest
'Promote active, outdoor lifestyles'
Despite the NHS coming top of a recent Commonwealth Fund survey for overall healthcare, the UK came second to last in promoting healthy lifestyles.
In a sustainable healthcare system, one of the best ways to aid patient recovery, or to keep people well in the first place, is to get them out and active in the great outdoors. The benefits of connecting with nature, even if just through a window, are shown time and again in studies.
At the Centre for Sustainable Healthcare we set up the NHS Forest project to improve the health and wellbeing of staff, patients and communities by promoting increased access to green spaces on or near NHS land.
At Airedale Hospital in West Yorkshire a garden was designed as an integral part of a dementia ward, at the University Hospitals Birmingham Trust various outdoor projects are under way to promote health and wellbeing, and at North Cotswolds Hospital a rehabilitation garden was designed with input from staff to improve the independence and self-belief of patients.
Our vision would be for national policy to incorporate outdoor therapeutic environments into overall hospital or ward design and for green prescriptions to be routinely prescribed by GPs to address chronic health problems. This would create good value for money and better long-term health for everyone.
More information: www.nhsforest.org
Sue Richards, Keep Our NHS Public
'A people-driven system'
Try to close key services in a much loved south London hospital and what do you get? Twenty-five thousand people coming out to march through the streets of Lewisham to protest. Such protests are dismissed by policy-makers as nimbyism, but they are much more than that. They are an expression of core British values.
If we used the power of the people to deliver the NHS they want rather than fighting to impose the view from Whitehall, or even worse the view from McKinsey Consultants, we could have a flow of change which is true to NHS principles. "Nothing about us, without us," is a slogan from the disability rights movement, but if we actually used the phrase to design decision-making processes, what would the NHS look like?:
Better informed: issues are complex but they need to be explained so that people can consider them carefully.
More democratic: people should be able to make collective choices, through locally elected health bodies.
A new compact between professionals and people, to ensure that the paradigm of 'doctor knows best' finally disappears.
Cherishing NHS institutions, and developing new services when the public sees a need for them.
In their own family budgets people are used to making a little go a long way. The same qualities of canny carefulness could be used to shape the future of the NHS.
More information:www.keepournhspublic.com
Social media debate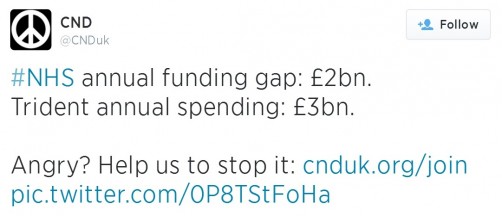 Patient perspectives
Valerie Mainstone, 73
NHS patient, Hove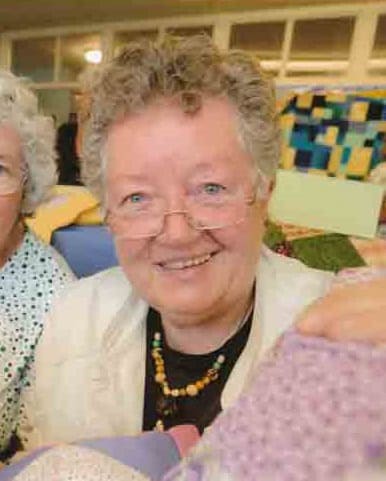 I was born before the NHS came into being. Previously, working class families like mine couldn't call the doctor unless they had sixpence ready to hand and consequently adults and children died at home without any professional help. My paternal grandparents lost two children of the four they had and my maternal grandparents lost one of three. By contrast, my sisters and I, our children, and our grandchildren, are all alive thanks to the NHS.
I've had NHS surgery every year for the past seven years, including two operations for cancer, without which I wouldn't be here and two for knee replacements, without which I wouldn't be mobile. The NHS continues to keep me alive, with prescribed medications and appropriate check-ups, which enables me to continue playing an active part in the community as well as enjoying my family life.
Angela Goodall, 50
Nurse practitioner, Shoreham-by-Sea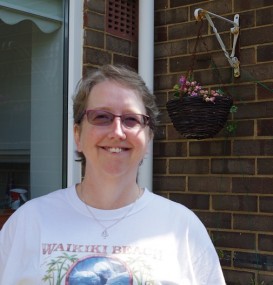 I have been nursing for 33 years. I don't read tabloid newspapers, but I'm subject to the rest of the media's insistence that NHS care 'isn't what it used to be.' But in one hospital at least, where I was recently an in-patient, I experienced excellent care.
From keeping us well fed and watered, to infinite and kindly patience with an elderly confused patient, to a humorous and frank discussion about my proposed procedure – all were done to the standards equal to, and even surpassing, those of 'my day'. Cleaning was of the highest standard, which of course helps reduce risk of infections, and was carried out by NHS-employed, rather than contracted, cleaners.
So it's not only the Commonwealth Fund that's saying that our NHS is the best, this nurse says so too.