The teen survivors of the Parkland shooting have injected American gun politics with fresh energy. Ben Whitford explores how they have channelled their pain and grief into the fight for change
More than 200,000 people packed the streets of Washington DC in March 2018 and watched 18-year-old Emma González stand in silence, tears streaming down her face, for almost six and a half minutes. It was the same length of time it had taken a gunman, five weeks earlier, to rampage through her school in Parkland, Florida, and murder 14 of her classmates as well as three members of staff.
The shooting at the Marjory Stoneman Douglas High School followed a script that has become horrifyingly familiar in the US: another troubled young man, another military-style weapon, another brace of lives ended or transfigured by senseless violence. But unlike past massacres – in Las Vegas, in Aurora, in Orlando, in Sandy Hook – the Parkland attack hasn't simply faded from the national consciousness, to be replaced by some new scandal or calamity.
Instead, the teenagers who survived the shooting have used their grief and outrage to galvanise a new social movement. In towns and cities across the US, more than a million people took part in the Parkland students' March for Our Lives rallies calling for action to end gun violence, with countless more joining school walkouts and other protests.
"We are going to be the kids you read about in textbooks," said González on the stage in Washington DC. "Not because we're going to be another statistic about mass shooting in America, but because we are going to be the last mass shooting."
"It was as if lightning struck at Parkland," says Diego Pfeiffer, an 18-year-old Parkland senior, who spent three hours hiding in a cupboard during the shooting, and who is now secretary of the students' March for Our Lives organisation. "It brought death and sadness and grief and loss, but at the same time we picked ourselves up, we gained momentum, and we made something out of it – and now, hopefully, we're going to change the world."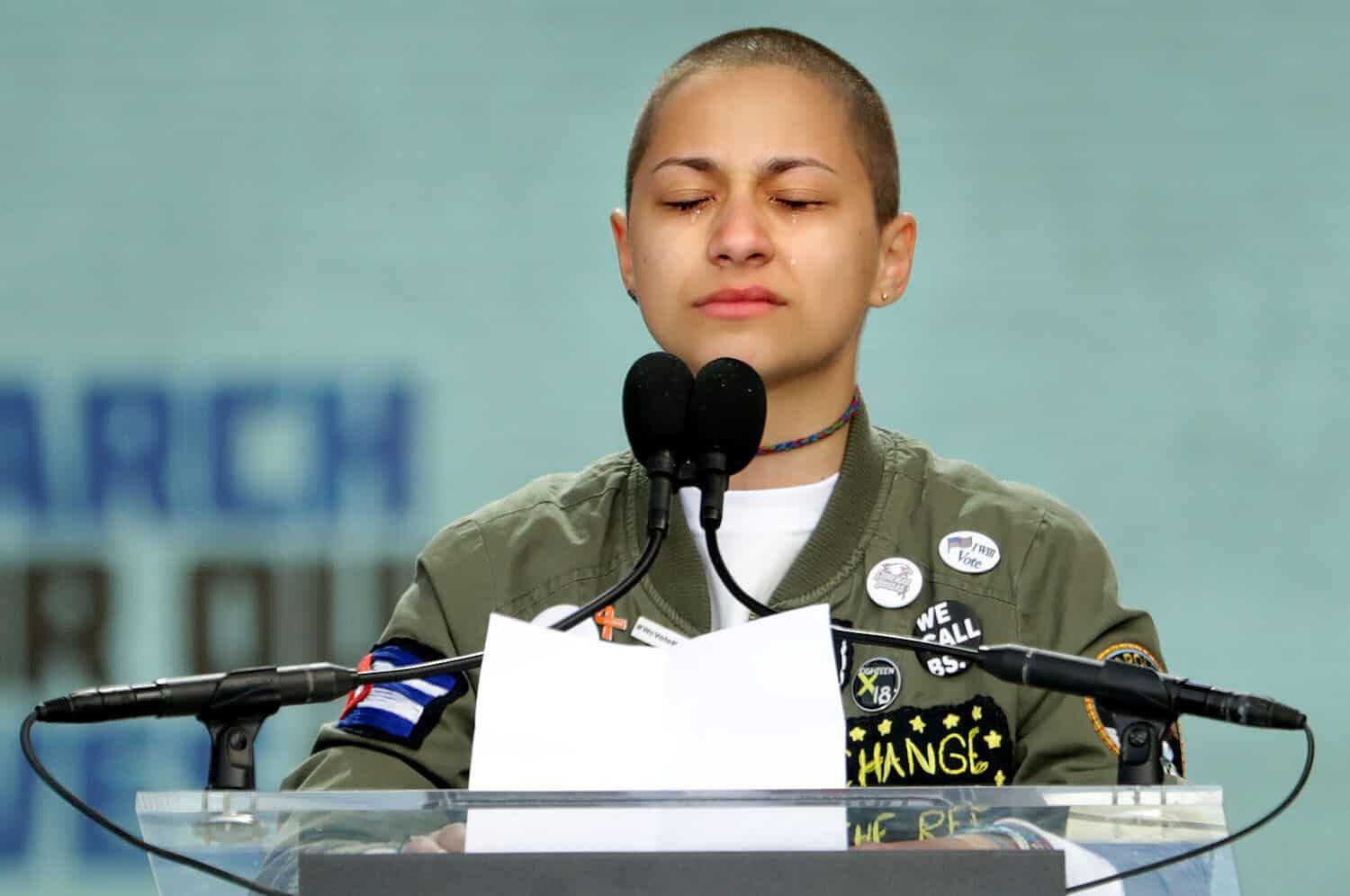 Pfeiffer, González and other Parkland students have also given countless media interviews, built huge social media followings, lobbied lawmakers in Florida's capital Tallahassee and in Washington, and have held their own in televised confrontations with President Trump, Florida senator Marco Rubio and other national leaders.
Their efforts are yielding results. Florida's Republican-controlled legislature raised the minimum age for gun purchases from 18 to 21 and introduced a waiting period for buying rifles and other long guns. Across the US, 18 gun laws have been in enacted since the Parkland shooting, according to the Giffords Law Center to Prevent Gun Violence – a remarkable number in a nation that for decades has seemed paralysed in the face of gun violence.
Still, more action is needed, Pfeiffer says, including universal background checks for gun owners, federal funding for research into gun crime, and a complete ban on assault weapons like the one used at Parkland. "They gave us scraps, so we've got to push for more," he says. "It's always going to be a journey, but this is the first step."
A paralysed nation
The US has the highest rate of gun ownership in the world – 88 weapons per 100 people and more than 14 times the rate in England and Wales. On an average day, 96 people are shot dead in the US (including 34 murders and 59 suicides) and another 222 are shot and survive, according to the Brady Campaign to Prevent Gun Violence.
But despite tragedies such as the 2017 Las Vegas attack, which left 59 dead and 851 injured, or the 2012 Sandy Hook shooting in which 20 elementary school children died, there has been little action. In the wake of the Las Vegas massacre, lawmakers failed even to pass legislation banning bump stocks, the device used by the shooter to convert his rifles into deadly, continuously-firing machine guns.
That's partly due to constitutional protections: the second amendment grants citizens the right to bear arms as part of "a well-regulated militia," but has been interpreted as guaranteeing individual citizens the right to carry military-style weapons.
It's also due to the efforts of well-funded pro-gun groups, most notably the National Rifle Association (NRA), which pours millions of dollars into election campaigns in order to ensure political inaction. The NRA, which operates as a lobby group for gun manufacturers, also actively stokes gun-owners' fears that liberal politicians will seek to confiscate their weapons, and casts gun ownership as a patriotic duty and a bulwark against authoritarianism.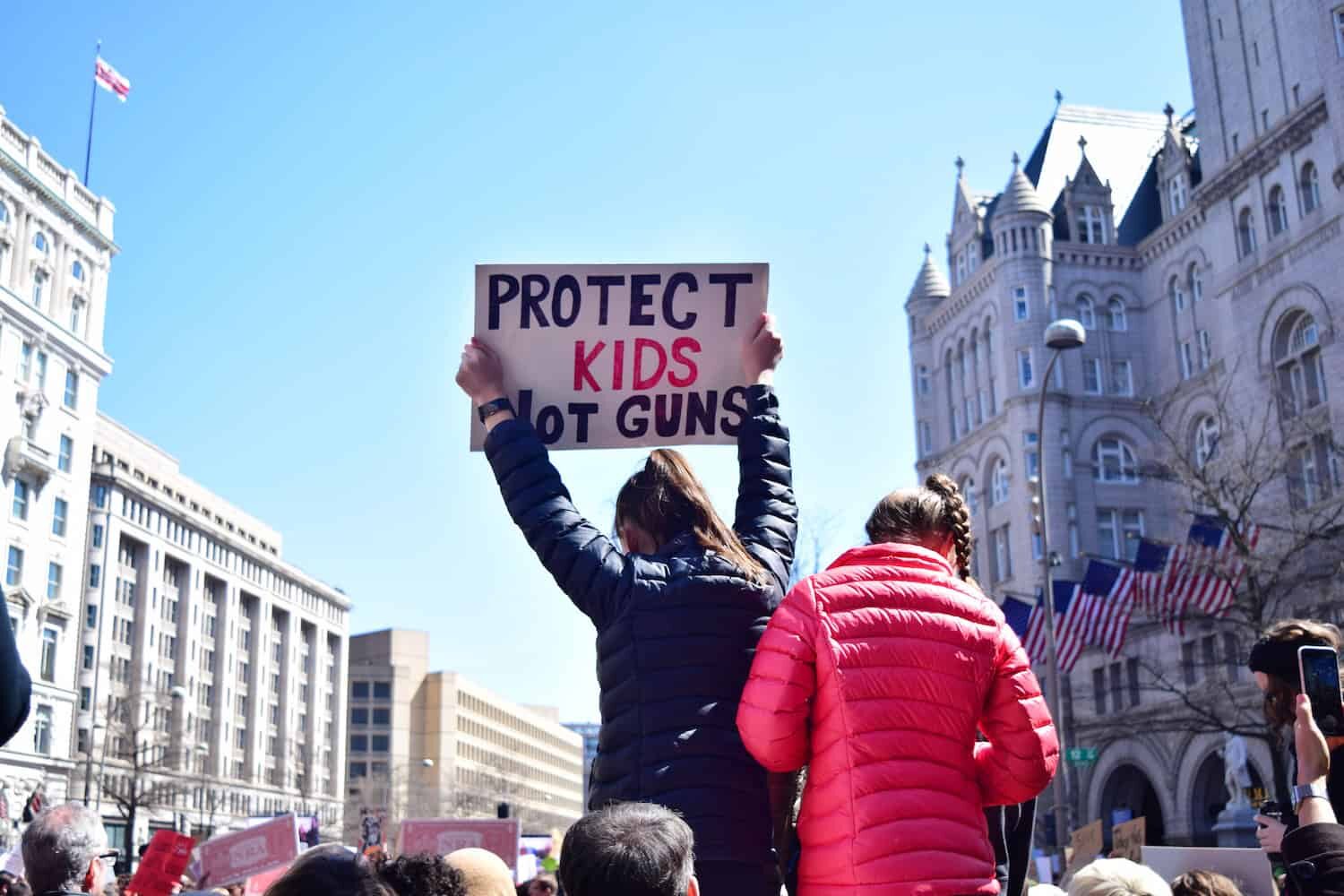 It's proved to be a hugely effective marketing strategy: after most major shootings, gun sales soar as people rush to buy weapons they fear could soon be banned.
Still, the Parkland students have shown themselves to be deft at countering the NRA's efforts, and at calling out politicians who accept money from the organisation. While the students have come under vicious personal attacks – from the NRA, from Fox News hosts, and from conspiracy theorists who accuse them of being in the pay of liberal billionaires – they have responded with grace and good humour, often using social media messages to defuse attacks.
It brought death and sadness and grief and loss, but we picked ourselves up, we gained momentum, and we made something out of it
In one widely reported exchange, conservative pundit Dinesh D'Souza mockingly tweeted that the teens' failure to secure a full assault-weapons ban in Florida was the "worst news since their parents told them to get summer jobs". The 16-year-old Parkland survivor Sarah Chadwick tweeted back: "Actually for me the worst news I got was that 17 people died in my school."
"One of my best friends was shot twice. And many more were injured," she continued. "But sure keep making us look like we don't know anything when in reality what we're doing is much much much bigger than you can imagine."
The chastened pundit promptly backed down – a rare occurrence – admitting he had been "insensitive to students" and saying he was "truly sorry". It was a sign of how effectively the Parkland students have blunted right wing attacks – but also of the way they've had to grow thick skins as they pushed for reform. "When you enact real change, there are going to be forces that try to prevent it," Pfeiffer says. "You learn not to let it get into your head."
Some measure of hope
It's extraordinary to see teenagers handling themselves with such poise while dealing with personal tragedy, notes Brandon Wolf, who survived a shooting at an Orlando nightclub in 2016, in which 50 people died. After Orlando, he says, few adult survivors were willing to speak out. "It's really hard for people to understand how difficult it is to talk about trauma immediately after it happens. For a lot of folks who are impacted by gun violence, it's not possible for them to [put themselves in the position of being] re-traumatised over and over, to talk about things that are nightmarish."
That makes the achievements of the Parkland students all the more inspiring, Wolf believes. "It's taking 17 and 18-year-old kids stepping to the frontline to say the status quo isn't good enough," he says. "If Americans can't get inspired and motivated by 17-year-olds doing what 50-year-old lawmakers can't, then they aren't paying attention."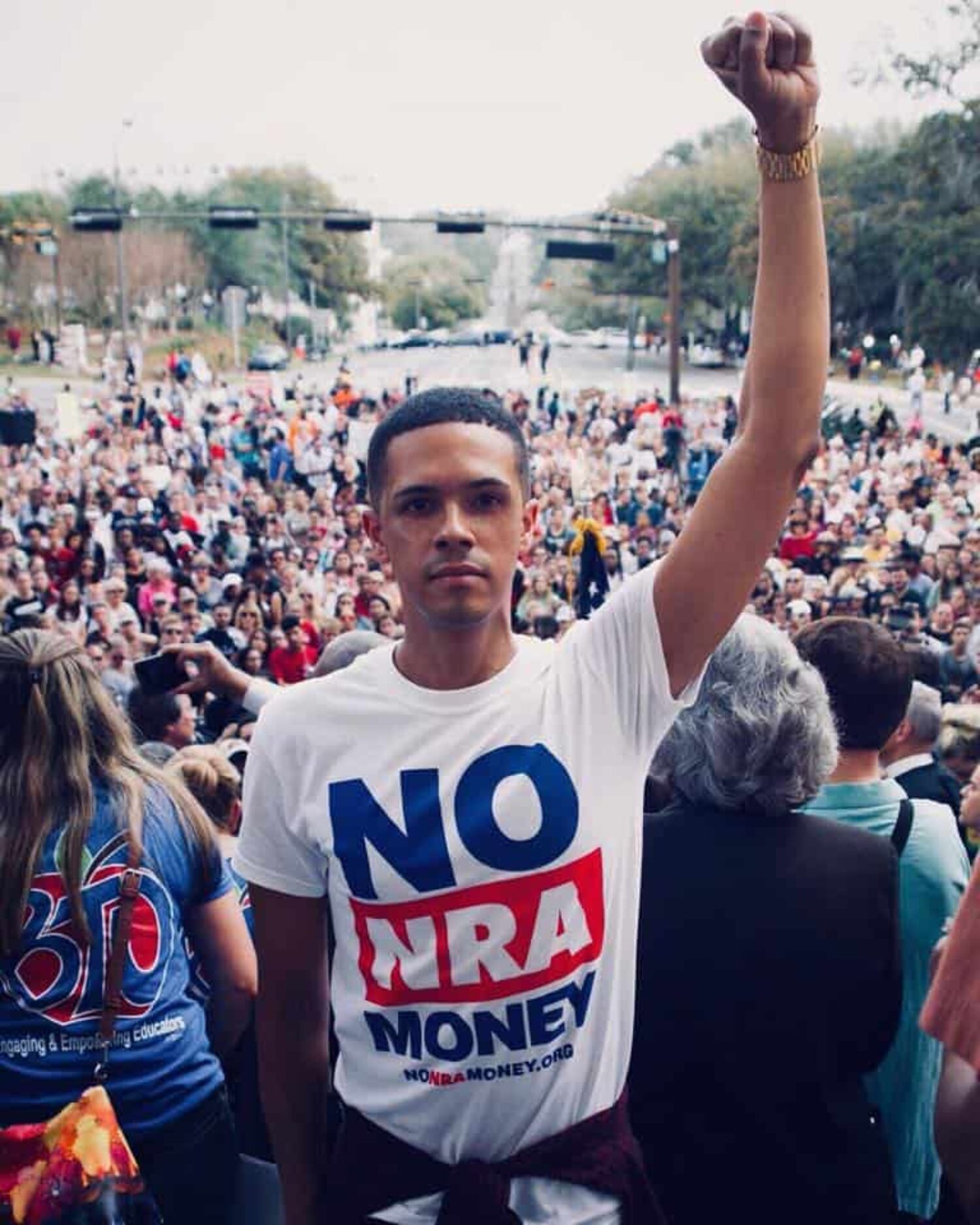 Much of the Parkland students' success, in fact, has come from their ability to inspire other young people around the country to take to the streets. "The students at our school, and other schools around the nation, very quickly picked up the message," says John Trevillion, a British-born teacher at the Chicago Waldorf School, whose wife Cynthia was killed in a random drive-by shooting while walking through their neighbourhood in October 2017.
In April, students from Trevillion's school and two neighbouring schools left their classrooms and held a protest on the same pavement where Cynthia died. Similar walkouts in solidarity were held in hundreds of other US schools – many with the support of teachers, but others staged by students in defiance of school administrators and local politicians.
That's a sign of the energy and determination that the Parkland students have inspired in other young people, and in adults too, Trevillion says. "I'm not apathetic, the way I was before Parkland," he explains. "There must be millions of people in this country who've taken a measure of hope from what happened."
If Americans can't get inspired and motivated by 17-year-olds doing what 50-year-old lawmakers can't, then they aren't paying attention
The Parkland teens make a point of building a movement that focuses not just on mass shootings, but also how gun violence affects people across the country, especially those from Hispanic and African American communities. The students have met young gun reform advocates from other US cities, and have modelled their own protest strategies on the nonviolent methods of the civil rights movement.
"We need to shift the spotlight on to others who should have it – the kids who experience gun violence every day in Chicago or Liberty City [a neighbourhood in Miami]," Pfeiffer says. "We've got to give the mic to everyone who's been affected by gun violence."
The goal now is to turn that intersectional energy and optimism into concrete political action. Many of the teens who have been taking to the streets will be voting for the first time in this November's congressional elections, Pfeiffer says, and will remember the lawmakers who have chosen to prioritise NRA donations ahead of students' safety. "We have the people on our side, but not the politicians," Pfeiffer says. "That needs to change, and our first chance to do it is in the midterm elections."
The beginning of the end?
Regardless of what happens in November, the Parkland students have already achieved a great deal, and have given disillusioned activists fresh confidence in their own power to effect change, according to Melissa Strassner, a mother-of-four from Colorado who in 1999, at the age of 14, saw one of her friends gunned down during the Columbine High School massacre.
Strassner was shocked by the legislative inaction after Columbine and became a gun-reform campaigner for many years. But when the Sandy Hook tragedy failed to spark change, she stopped attending rallies or writing letters to her lawmakers. "The one that really broke me was Sandy Hook," she recalls. "I kept thinking – if we could stomach what happened at Sandy Hook, what hope is there on this issue?"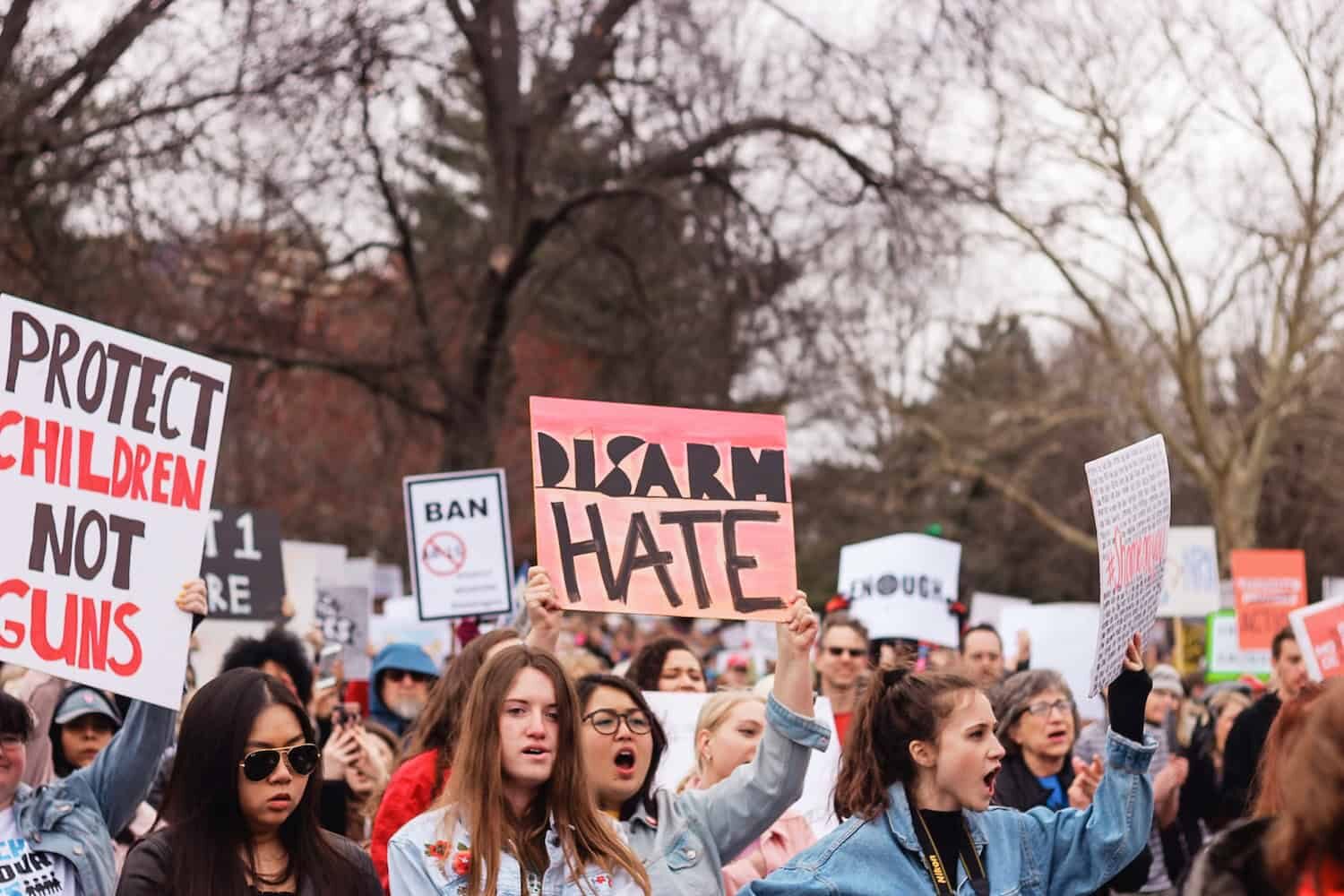 Seeing the Parkland students, though, has given Strassner fresh hope. In March, she resumed campaigning, and attended a March for Our Lives rally in Colorado. Strassner knows that it will take years to change America's troubled relationship with firearms. Still, she says, the Parkland students' successes have convinced her that at long last, change is possible.
"I almost don't have the words to express how grateful and glad I am to see this moment. It's something I've been waiting 20 years for," she tells Positive News. "I truly believe that when we look back on this era of mass shootings, we'll say it began with Columbine, but that Parkland was at least the beginning of the end."