More than 100 comics artists and illustrators from around the world have launched Draw The Line, a visual guide to 'positive political action that anyone can take'
In reaction to social, environmental and political changes in the US, Europe and across the world, the new Draw The Line project includes more than 100 comics. Each illustrates a different way in which people can help to change their community, politics and the world.
Draw The Line is the brainchild of comics artist and activist Myfanwy Tristram who assembled a cast of international talents, including award-winning artists Dave McKean (of Sandman and Coraline fame), Steven Appleby (Normal Life, Loomus) and Karrie Fransman (The House that Groaned).
"Like many people, I found the political upheavals of 2016 pretty scary, and I was looking for positive ways to push back" Tristram told Positive News.
When things are looking bleak, it can be hard for people to picture a better world. That's where comics artists can come to the rescue
"When things are looking bleak, it can be hard for people to picture a better world. That's where comics artists can come to the rescue, showing people how they can make that change happen."
Taking inspiration and advice from social, political and environmental movements such as Black Lives Matter, the Women's March and Standing Rock, Draw The Line features positive political acts, ranging from the traditional to the cutting-edge and the gentle to the radical. "But they all share a desire to change the world for the better", says Tristram.
---
#1: Media shapes our world
We believe excessive negativity in the press is destructive for society, so we're working to create a more constructive and compassionate media. To do this, we need your support

---
In one image, two women are pictured in a high street shop, not browsing the rails but furtively sewing labels into clothes. The labels read 'made for you in a sweatshop far away' and 'made in degrading conditions'.
In another comic, a literal gorilla brightens up his beleaguered street with acts of guerilla gardening. A tabloid front cover proclaims: 'Six out of ten migrants are secretly squirrels' highlighting the need to question 'fake news' and check sources.
Drawings and words together give ideas greater power than either alone
Comics artist Karrie Fransman said: "Draw The Line is an uplifting demonstration of what 100 talented comic artists and activists can accomplish with blood, sweat, ink and a belief in justice and equality. We hope these actions will inspire thousands more."
Cartoonist Steven Appleby added: "Drawings and words together give ideas greater power than either alone."
---
Sketching a way ahead
The Positive News pick of Draw The Line comics for positive political action, and their captions
Grow Wild by Birta Thrastardottir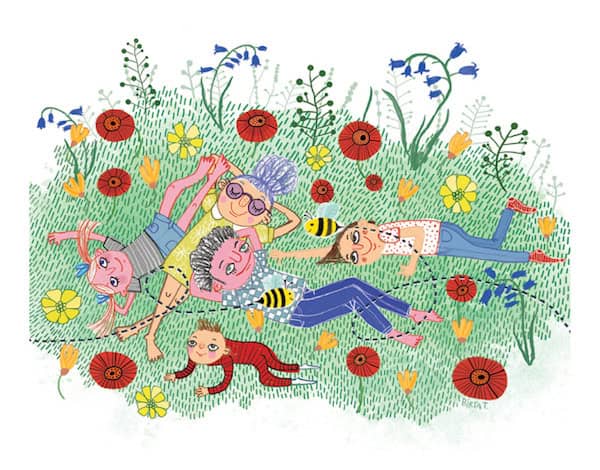 "We depend on bees for many of our fruits and vegetables, but since 1945 the UK has lost 97 per cent of its wildflower-rich meadows – which many species of bees depend on.
"Why not grow your own mini wildflower meadow or create a bee-friendly habitat for your community, school or workplace? If you have a space big enough, Friends of the Earth will provide kits and support to get you going and keep our world buzzing."
Go Cross-country by Myfanwy Tristram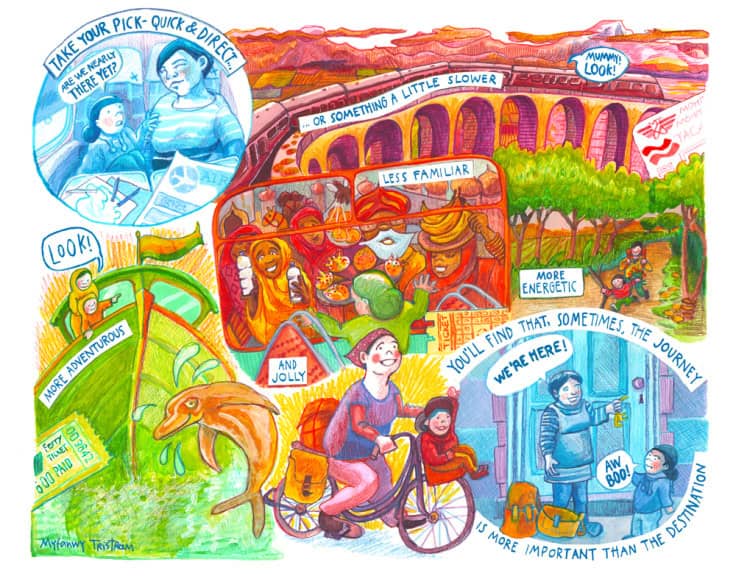 "Taking fewer flights can be a reward in itself, if you take time to enjoy the journey as well as the destination. Work in some extra time to go by train, boat, bus, bicycle or a combination of all the above — and let your employees do the same."
Carry Water by Katriona Chapman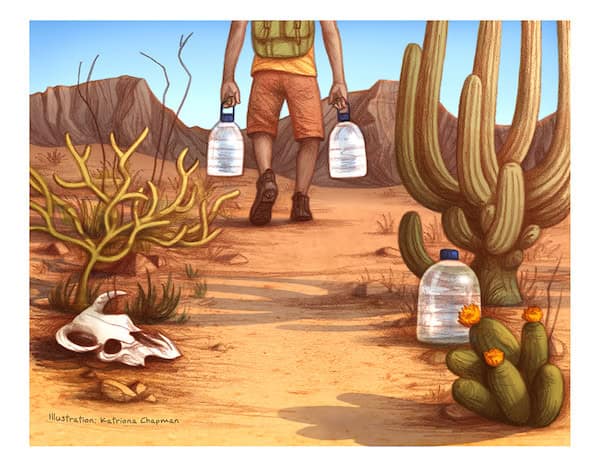 "Along the US/Mexico border, the Border Angels charity leaves jugs of water along desert migrant paths, to prevent dehydration — an all-too-common cause of death for migrants."
Leave a Deposit by Kate Charlesworth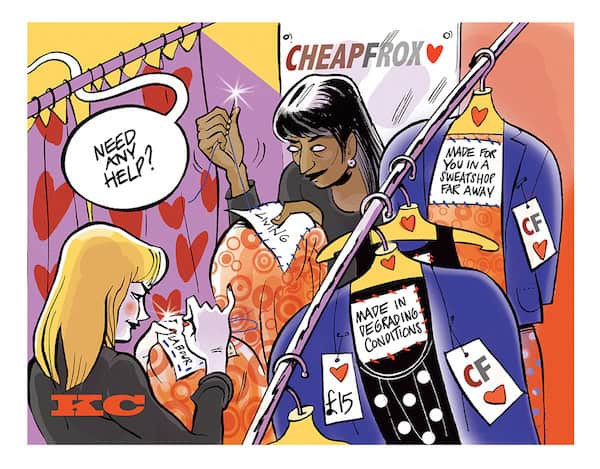 "Shop dropping is the opposite of shoplifting: instead of taking from a store, you leave something. Slip a note into a jacket pocket, pin a badge on to a lapel or leave a drawing between the pages of a book: a political message for a future shopper to find."
Smile, Don't Stare by Mirka Oinonen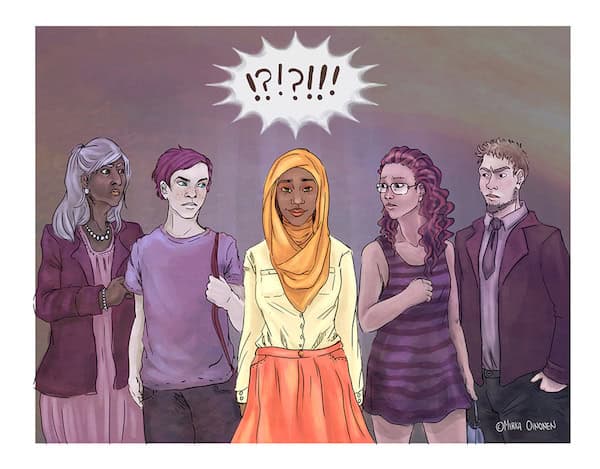 "If you see someone who looks a little different for whatever reason, don't stare. Just like anyone else, they have feelings too. The difference between them and you? This might be the first time you've been in this situation; for them, it's a constant reality."
Build a Wall of Kindness by Jaime Huxtable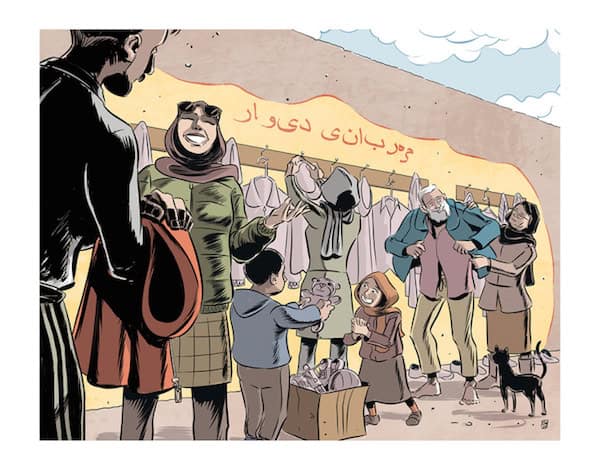 "While Donald Trump was first talking about his divisive wall, the concept of a 'wall of kindness' was blossoming in Iran. Stretches of wall are painted and furnished with pegs. Then, people hang clothes, food and goods that they no longer need for the homeless or poor to take. The concept is spreading: several towns in the UK currently feature their very own walls of kindness (in the case of Brighton, it's a seafront shelter of kindness)."
See People as People by Woodrow Phoenix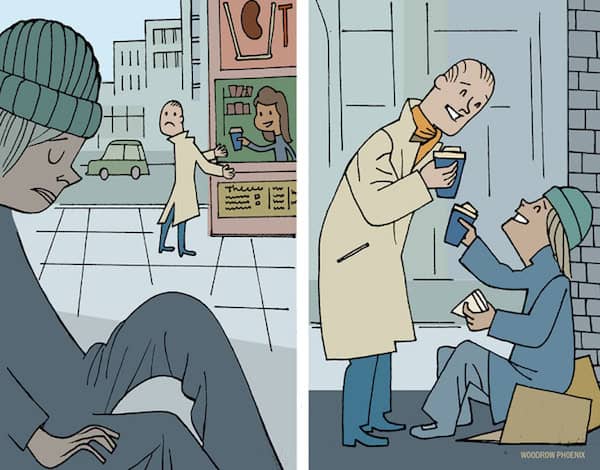 "Those at the charity Streets of London says that we must challenge the perception that homeless people are any different from the rest of us. Homelessness begins when something bad happens and you don't have family or friends around to help. It could happen to any of us.
"The same logic can be applied across many sectors of society: they may be temporarily disadvantaged but they are people."
Stop the Rot by Riyadh Rateme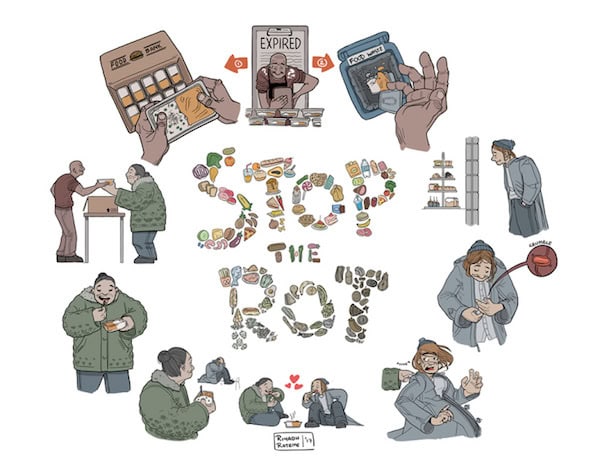 "Ask your local restaurants to donate their leftover food to the homeless. Better still, see if there is a setup like the Real Junk Food Project which will collect waste food and turn it into meals for those who need it."
Go Slow by Rica March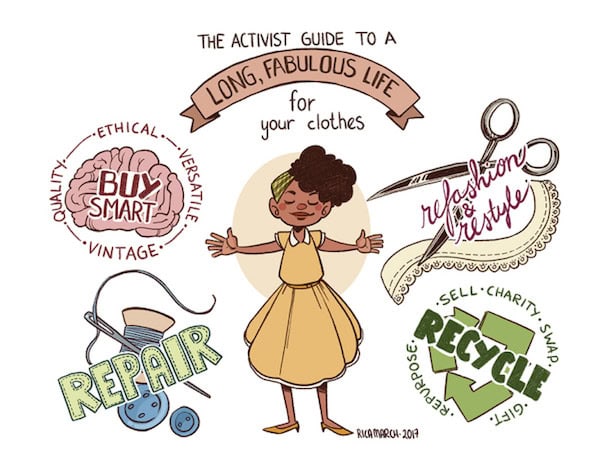 "Fast fashion — the phenomenon of cheap high street shops churning out clothes that are only designed to last a season, cost almost nothing and then end up in landfill — is bad for the environment.
"Ask yourself how much the factory workers must be getting paid to be able to offer garments at such low prices. Then research the more ethical options and take your custom there. Buy fewer items that are high quality and will last longer."
Put Out a Welcome Mat by Karrie Fransman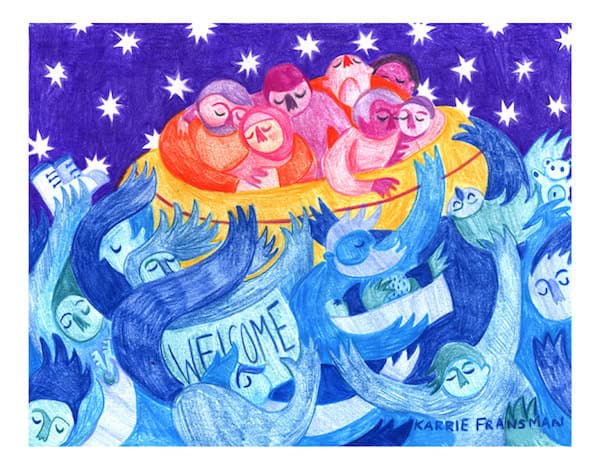 "Let refugees know that they are welcome. Befriend them, give them a friendly smile, put a poster up in your window (or that of your workplace) and/or donate clothes and toys. You may even consider fostering or sharing your home with those who need a roof over their heads."
Call Out by Apila Pepita Miettinen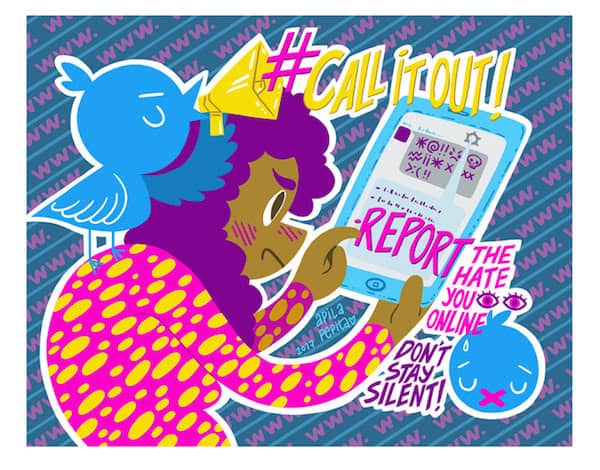 "Sites like Human Rights Watch's Call It Out, Everyday Sexism, Bye Felipe and For Exposure use the simple but effective strategy of collecting real-life instances of bad behaviour (in these cases, hate crimes, sexism and non-payment of artists) and publicising them to the world via a website and Twitter account.
"By sharing the incidents you witness, you're contributing to a public database that holds the nation to account."
Plant Radical Roots by Zara Slattery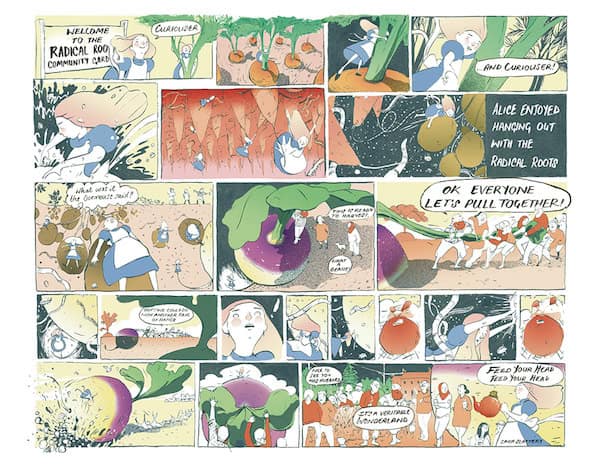 "Start a community gardening project where everyone reaps what you sow together. You're growing cheap, healthy food, and at the same time, creating friendships, getting fresh air and exercise, improving mental health and reducing the amount of fruit and veg that needs to travel halfway round the world."
Eschew the New by Myfanwy Tristram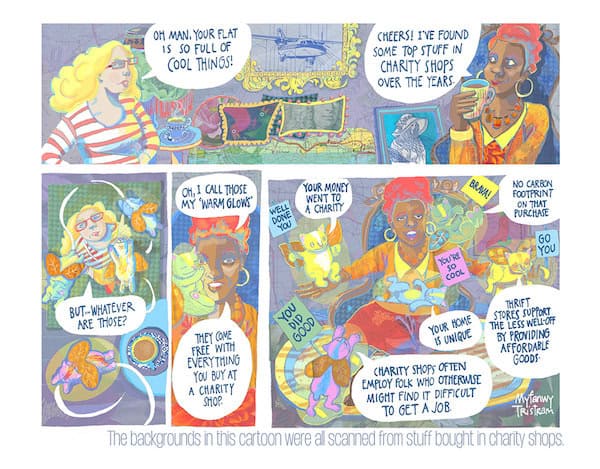 "Buy secondhand. You'll be benefiting a charity if it's from a thrift store, or helping out the seller if you buy direct. Either way, you'll be circumventing big business and shrinking your carbon footprint."
Follow the Money by Guin Thompson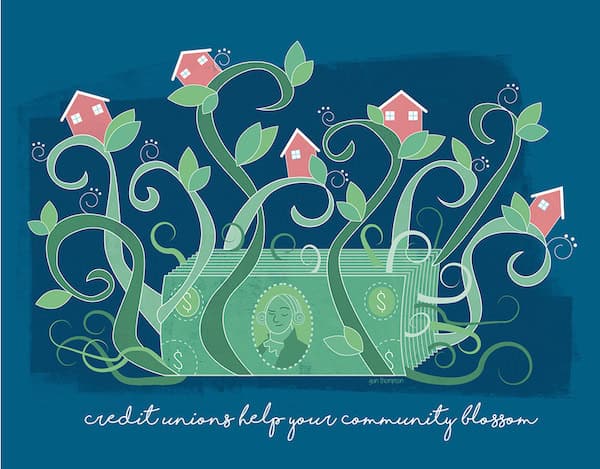 "You work hard for your money, so the last thing you want is some dodgy corporation using it to fund something you're opposed to.
"Banks can use your money to invest for their own profits, so find out if your bank is putting it into, say, the arms trade, fossil fuels or businesses that use slave labour. Then close that account and tell other people what you've done. And remember to tell your bank: 'It's not me, it's you'."
Be Someone's Voice by Kate Moon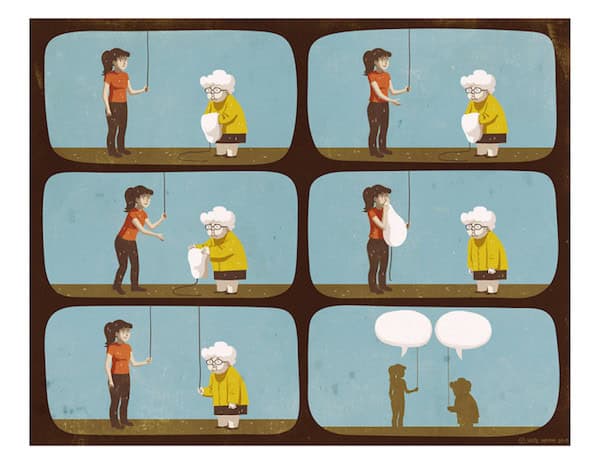 "There are those whose voice is easily drowned out: those with learning difficulties, the frail, the elderly, those who find language difficult. For them, it can be impossible to get their wishes and needs expressed to doctors, the judiciary, landlords and others who have some power over elements of their lives.
"Volunteer via local charities to advocate for people whose voice is not heard."
Support a Family by Karen Rubins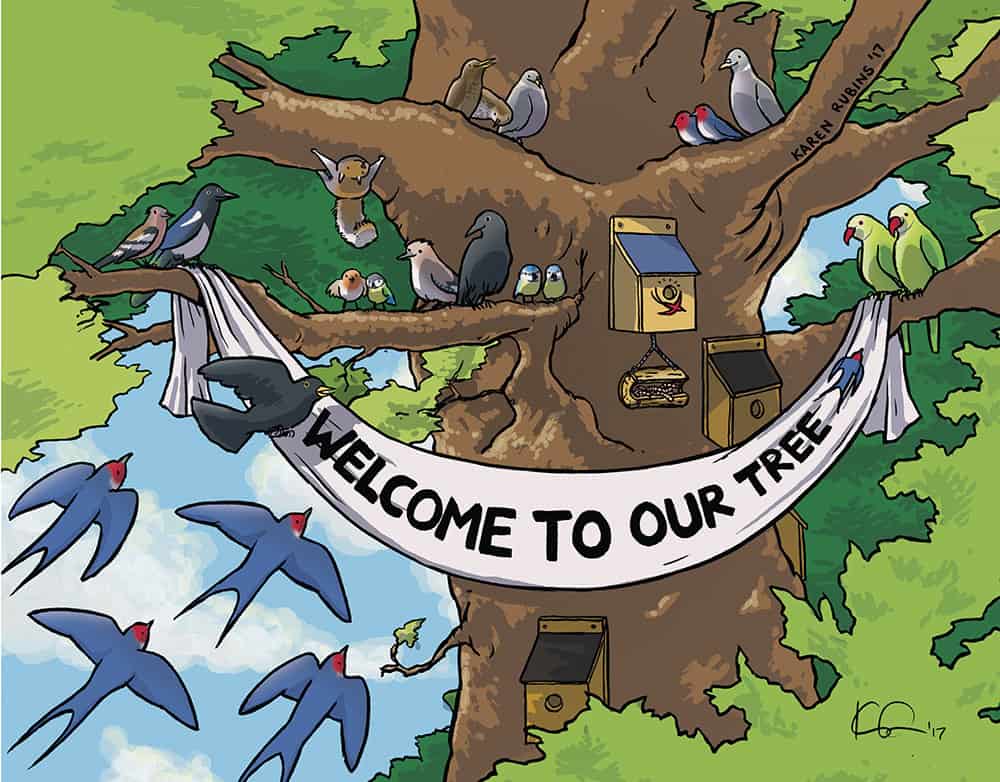 "Could you help a family new to your country? In the UK, groups can become community sponsors. They will be allocated a family fleeing conflict, and it will be their responsibility to support the resettled family from the moment of arrival in the UK.
"Other countries have similar schemes – check your local council or national government website for details."
Draw The Line: Comics for Positive Political Action can be viewed in full at www.drawthelinecomics.com
---
#2: It's serious optimism 
We showcase quality, independent reporting that focuses on progress and possibility. No waterskiing squirrels, just good journalism with a solutions-focused approach.
---