The team behind a new app hope to help Londoners enjoy nature in the city. Is using technology to encourage nature connection contradictory? Or can we 'tap in' to the natural world – and improve health and wellbeing at the same time?
A free community-based app has been launched by a group of Londoners who aim to put users "in closer contact with outdoor adventures on their doorstep". Go Jauntly includes more than 7,000 minutes of walks in and around the capital, including routes through ancient cemeteries and some of London's best-known public parks.
The NHS advises that regular walking can reduce the risk of type 2 diabetes, asthma, heart disease and stroke. Walking can also help improve work-life balance, particularly for time-pressured Londoners. Go Jauntly maps out well and less-known walks in the city, as well as routes in Kent and Suffolk. Through images and narrative, it guides people along both set and customisable routes.
"Our team is made up of nature-loving city dwellers who spend too much of our time deskbound and want to be a bit more active," said Hana Sutch, CEO and co-founder of Go Jauntly. She had grown frustrated by the lack of easy-to-find walks in familiar places – from Richmond to Regent's Park.
We're creating technology for good that has a positive impact on society from health, wellness and environmental perspectives
Many believe that time in nature is a chance to leave the digital world behind. However, mobile technology is a powerful tool: one study by the Kaiser Family Foundation showed that children average more than seven hours a day on electronic devices. So should we use this resource to get everyone – from children to adults – outside, moving and learning about the natural world?
"We're hoping that with Go Jauntly, we're creating technology for good that has a positive impact on society from health, wellness and environmental perspectives," said Sutch. "We wanted to start something that would get people out of the house and being more active."
May is National Walking Month in the UK, an initiative run by Living Streets, a UK charity that promotes 'everyday walking'. A NHS campaign is encouraging people to walk 10,000 steps each day – counting towards a recommended 150 minutes of exercise per week.
"I reconnected to nature through taking simple walks and noticing nature," said Dr Miles Richardson from the University of Derby, who is researching how Sheffield's natural environment can improve the health and wellbeing of the city's residents. Dr Richardson has helped test Go Jauntly and advise the team.
Walking, nature and being connected to it is good for us, from vitality and creativity to happiness
"The rhythm of walking helps clear the mind, as does taking a moment to notice nature. There's always something to see, even in the city. Walking, nature and being connected to it is good for us, from vitality and creativity to happiness."
The Go Jauntly team plans new features, including adding Transport for London data on pollution and more walks from further afield. They also plan to organise some 'real-life local jaunts'.
---
5 free apps for enjoying nature
1. Gruffalo Spotters
The Gruffalo Spotters app, developed by Forestry Commission England, offers interactive forest trails that track down characters based on the best-selling children's book The Gruffalo, by Julia Donaldson. Using augmented reality technology, children that take photos of each marker will see characters come to life. The app also includes facts about forest animals, and activities aimed to get children further exploring the mapped 26 forests.
2. Poems in the Air
Created by the Northumberland National Park, the Poems in the Air app uses specially commissioned works by West Yorkshire-born poet Simon Armitage. The poems were inspired by 'hidden gems in England's most tranquil national park', after Armitage was given a tour by park rangers.
App users can follow in his footsteps using maps and directions while listening to Armitage's nature-inspired musings.
3. 50 Things
Rethinking the concept of a bucket list, this app developed by the National Trust suggests '50 things to do before you're 11 and three quarters'. From wild swimming and building dens, to creating shelters for animals, children will receive a certificate for their nature-based achievements.
4. Star Chart
Look up! Point your device at the sky and this app will use GPS to create a real-time, 3D simulation of the section of the galaxy you're seeing – even in broad daylight. UK hotspots for star-spotting include Kiedler Forest in Northumberland, the darkest place in England, and rural areas of Powys in mid Wales, which boasts some of the lowest levels of light pollution in Britain.
From charting where your star sign is, to seeing how the night sky appears around the world, Star Chart also tells you how far away constellations are.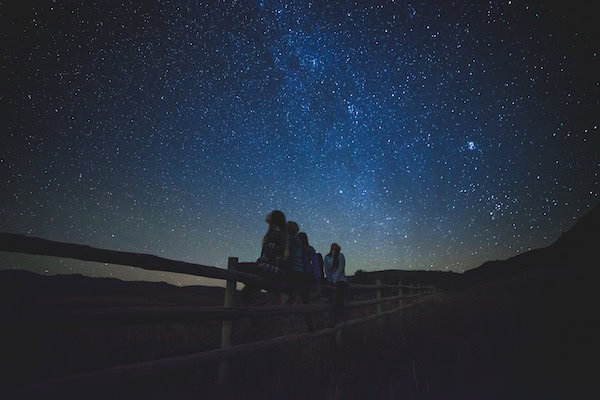 5. ForestXplorer
Get the forest in your pocket with the ForestXplorer app, also developed by Forestry Commission England. From site directions to information about events, and downloadable PDF maps, the app helps users plan trips to woodlands. It also includes a tree identifier tool to teach would-be 'tree detectives' their alder from their ash.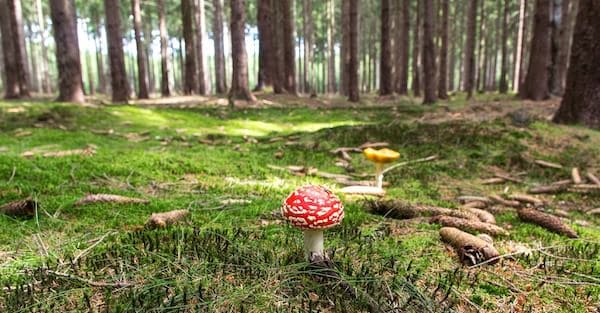 ---
Why support Positive News?
By becoming a Positive News supporter member from just £1 per month, you'll not only be backing our inspiring and independent journalism, you'll also join a community of like-minded people changing the news for good.
---