Amy Smith rounds up some of the country's most intriguing exhibitions to visit this autumn
Real love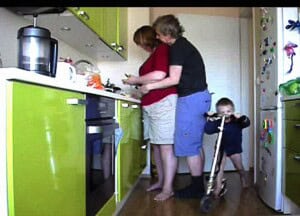 Love is a playful, short silent film that highlights the conflict between romantic ideals and the reality of actual relationships. We watch as Estonian artist Marko Mäetamm pesters his wife with declarations of undying love and loyalty as she attempts to slice a pile of apples in their kitchen. While she tries to swat away his relentless cuddling and nuzzling, protestations of eternal love are displayed on cards that read: "My bluebird!, My Butterfly!, "I am so happy!". Typically for Mäetamm, this piece nestles between autobiography and fiction and he disconcerts the viewer with his naïve 'sincerity' in what is ultimately a charming family portrait.
Love is on show at the Ikon Gallery on Fletchers Walk, Birmingham from Monday-Saturday until 9 September
www.ikon-gallery.org
Border control

Have you ever wanted to travel around the world's borders? There's still a chance to have a go on Yara El-Sherbini's interactive piece The Current Situation, part of her solo show at the New Arts Exchange, Nottingham. Viewers are invited to trace countries contours in a giant 'buzz wire' game. The ever-pertinent political tangling over division of land becomes an impossible game as you attempt to manoeuvre borders on a giant metal atlas.
The Current Situation runs until 7 September at the New Arts Exchange, Nottingham
www.nae.org.uk
Subversive Signs
Wind vane spinning signs usually publicise tyres, ice cream or the lottery but artist Ellie Harrison's Early Warning Signs bear an alternative message: 'Climate' on one side, 'Change' on the other. Rather than encourage consumption on the high street, Harrison uses capitalist publicity techniques to 'market' sustainability. You can currently catch one of the signs outside Liverpool's Foundation for Art & Creative Technology on Wood Street. Harrison's signs are up for adoption, and she is looking for venues to host the signs in 2015.
Like what you're reading? Positive News depends on your support to publish quality inspiring content. Please donate to help us continue pioneering a more constructive news media.
A bee movie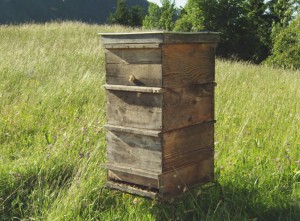 "Nature doesn't tell stories," begins Marine Hugonnier's film Apicula Enigma, translated as 'bee's riddle'. The film documents the study of a colony on Austria's Koshuta mountains and how we observe and represent nature. Unlike a classic nature documentary, Hugonnier doesn't attempt to unpack the mystery of the bee's working community, but instead delights in the space and knowledge that a camera can't access. Footage is left in its original sequence, the camera, film crew and equipment are exposed, so there are no pre-shot polar bear cubs to be found here.
Apicula Enigma is on show at Newcastle's Baltic from 15 August – 16 November
www.balticmill.com