Business owner and former gang member Daniel Barnes describes turning his life around after a lack of positive male role models led him to violence and crime
"As a young teenager growing up in south London, I found gang culture very appealing. It seemed more like a family. Since I was being raised by my mother and an older sister, the absence of any positive male role models in my life had left a huge negative impact on me. The gang became my source of belonging, and the gang elders took the place of our fathers.
The gang way became my normality, from earning money through criminal activities, to heavy partying. The thought never occurred to me to change my way of life. Even after two years in prison at 16 years old, I just accepted my lifestyle and planned on being wiser and smarter in the future. I didn't think that university or work was for people like me. The rap music we listened to for hours on end glorified drug dealing, murder and crime.
The gang elders took the place of our fathers
When I reached 20, the violence had increased to the point that being witness to a stabbing or a shooting was common. In the space of 14 months, three of my closest friends were murdered by gun crime.
As time went on, I realised that I had grown up too quickly and had witnessed things that most people hadn't at my age. My childhood and innocence had been robbed by the streets. Becoming consumed by the constant fear of my inevitable death or imprisonment, I travelled outside the UK to rethink how I lived my life. I asked myself, do I want an early grave or a prison cell? The answer was no.
We all have the power to shape our futures for the better
The next step was to find good people who could help me to identify my skills and interests, which led me to discover that I had leadership potential. I decided to become my own boss and start my own business. After months of planning and research, I opened up a removals and storage company. It was hard going in the beginning, but I was able to enjoy the simple fact that I was finding peace in my life. Fast forward three years and the company has gone from strength to strength.
We can all strive to better ourselves; we all have the power to shape our futures for the better. I am my own man now with no more reason to feel unsafe."
This article was originally published by Being ManKind 
Image: Priya Dabasia for Being ManKind
Read our feature Rewriting the Man Code: the new masculinity
---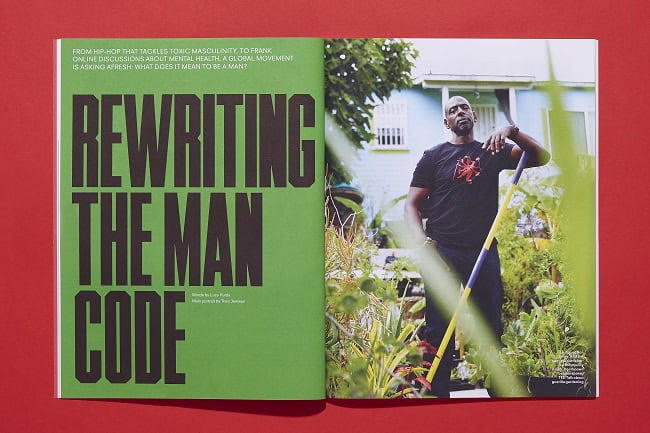 This article is featured in issue 90 of Positive News magazine. Become a subscriber member to receive Positive News magazine delivered to your door, plus you'll get access to exclusive member benefits.