Bethany Wivell investigates the environmental policies making waves in the Maldives
The Maldives is made up of 1,190 coral islands spread across 35,000 sq miles of the Indian Ocean. Of those thousand odd islands around 200 miles southwest of India, about 90 have been developed as luxury tourist resorts. Last December I visited two of them for a 'once in a lifetime' holiday – I couldn't see how I'd ever afford it again but more importantly, by the time I could, climate change may have sunk the country deep under the ocean.
The low-lying islands, home to a population of 330,000, are made entirely of coastal eco-systems. This may be a major draw for sun seekers but as a result of global warming, rising sea levels and increased water temperatures pose a serious risk to the sustainability of the islands.
Despite the country's reputation for ultimate relaxation, Maldivians aren't taking the news lying down. In 2009, the Maldives' first democratically elected leader, President Mohamed Nasheed, made a pledge for his nation to become the first carbon neutral country by 2020, declaring: "The Maldives is determined to break all habits. If things go on as usual our country will not live. We will not exist. We have to succeed."
As part of the government's 2020 vision, a National Adaptation Programme of Action has been put in place to reduce the effects of climate change and increase the sustainability of these beautiful islands, without sacrificing luxury.
The resort management company Six Senses is built entirely on this ethos, priding itself on 'intelligent luxury'. A conference held last October with Richard Branson among its guests, announced the compay's aim of generating 60% of electricity via solar power by 2020, reducing carbon emissions by 80%. The company is also sharing knowledge and ideas with the Transport Ministry, which has announced a new policy whereby across the Maldives electric cars will now be a third of the price of petrol alternatives. Six Senses resort only allows the use of electric golf buggies and bicycles on the island.
This may be a nation of small islands but their ambitions are big. Sonu Shivdasani, chief executive and founder of Six Senses, says that at the Soneva Fushi resort, they are committed to decarbonise by 2013. "We are determined to provide the roadmap for other tourism companies to follow, both here in the Maldives and worldwide," he says.
The Soneva Fushi Six Senses resort on the island of Kunfunadhoo is home to Eco Centro, the largest renewable energy plant in the Maldives. Working towards a system of 'waste to wealth', all of the island's luxury villas are made from locally sourced and sustainably managed teak, coconut palm and bamboo, turning any scrap wood into charcoal for barbeques or soil conditioner. Metal is collected and sold to recycling companies; glass is crushed and used as decoration material and any food waste is converted into soil fertiliser or gas for cooking.
All herbs, fruit and vegetables are grown on the island using organic practices, providing wholesome meals for guests without the food miles and as part of the island's eco policy, no branded water is served. Instead guests enjoy water produced on site with 50% of the sales cost being invested back into supporting water charities.
A seaplane ride away, staff at the Conrad resort on the island of Rangali are also implementing conservation policies. From everyday choices such as using biodegradable cleaning products and rainwater collection, to ensuring all of the vehicles used on the island are electric, the focus is on ensuring the future of paradise.  All hot water on the island is produced through solar panels and guests can enjoy the luxury of spending the entire time barefoot, reducing erosion whilst treating feet to a natural pedicure.
The SubAqua Dive Centre conducts regular beach clean up missions and has worked alongside the government to register Rangali as a Marine Protected Area. The island is now the primary sponsor of the Maldives Whale Shark Research Project, hosting teams of scientists for six months a year to learn more about the endangered species.
Katherine Anthony of Conrad Island explains why the environment is imperative to the country's survival: "The Maldives depends on tourism and fishing, which are the two largest contributors to the economy. Both of these industries rely on the continued existence of healthy, vibrant reefs that are as appealing to tourists as they are to the fish that live in them. It's also important to remember that a coral reef surrounding an island protects it from wave action and erosion."
Of course, however hard the islands try, they also require the commitment of their guests. Holiday makers can opt out of changing linen on daily basis, are requested to take old batteries home and are kindly asked to minimise the use of air conditioning and lights, helped along by automatic deactivators.
The Maldives may only be two metres above sea level, but it is high above the rest of us in ecological policies, ambition and beauty. Some readers may argue that you needn't travel 5,000 miles to witness solar panels in action but not all of them come with a private beach, 100,000 species of marine life and a bamboo lounger… Aside from the air miles, I feel a whole lot greener, despite the cost.
Political situation in the Maldives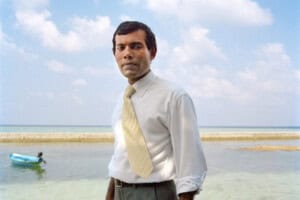 Since this article was commissioned, Mohamed Nasheed has stepped down as president of the Maldives. The former leader said he was forced to resign at gunpoint in what is being reported as a police and military coup, instigated by supporters of the former dictatorship. Clashes between police and supporters of President Nasheed have since broken out in the capital, Malé.
We recommend readers obtain advice from the Foreign & Commonwealth Office if planning to travel to the Maldives.
The Island President, a film about Mohamed Nasheed, revealing his 20-year quest for democracy – in which he survived repeated imprisonments and torture – and his international mission to tackle climate change, will be released in the UK on 30 March.