From running while being pelted by rainbow-coloured paint, to splashing through open water alongside hundreds of swimmers, a new wave of exercise events puts taking part over times or techniques
When Paul Sinton-Hewitt started parkrun in 2004, it was "selfish" he says. A club runner, he was injured and wanted a way to stay fit and see his friends while he recovered. He launched a free Saturday morning 5km event in Bushy Park, south London, and invited a small clique of athletes. But then something surprising happened. These serious runners quickly became a minority, outnumbered by their 'unsporty' family members and friends.
The newcomers loved the run and asked for more. Two years later, Sinton-Hewitt launched a second parkrun, and then a third, recruiting volunteers to help keep the events free. "I knew that if I could do two, I could do three, and if I could do three I could do 300," he says. Today, more than 1 million people have taken part in parkrun. There are nearly 600 events in the UK and another 460 around the world – and it continues to grow.
---
Discover a world of inspiration.
---
Parkrun is a phenomenon, but it is also part of a larger trend. Varied and ambitious mass participation events also include Cycling UK's Bike Week, which set out to get half a million people cycling in June, and the Great Swim series – which has encouraged more than 22,000 people to plunge into open water in the last decade. There are walks, triathlons, aquathlons (events that combine swimming and running) and The Color Run, where participants have bright powder hurled at them as they jog past kilometre markers.
Arguably the most important feature of these events is that public health experts say they are encouraging previously inactive people to exercise. In a country where, according to the British Heart Foundation, a third of the population – about 20 million people – are at risk of heart attack and early death through inactivity, mass participation sports events may have the power to improve what is currently a rather bleak outlook.
Parkrun alone claims to have got nearly 40,000 previously inactive people running, with Sinton-Hewitt describing a whole new demographic of "people who did not think they were runners – but they are parkrunners".
Public body Sport England is currently conducting research into the potential power mass participation events have in breaking down barriers to exercising.
"Mass participation sporting events are a great way for lots of people to get active because they allow individuals to set themselves their own challenge, knowing their success is celebrated by the participants and organisers," says Dave Newton, director of mass markets at Sport England.
There's a sense of fun and camaraderie, and they're held in non-threatening environments. People feel like they own the space, whether it's a park, a pool, or a mountain
He suggests that fear of judgement is one of the biggest barriers to exercising, but the supportive and welcoming atmosphere at mass participation events can help overcome this.
"There's a sense of fun and camaraderie, and they're held in non-threatening environments," Newton says. "People make the journey with a large group of people, so they feel like they own the space, whether it's a park, a pool, a lake, a bridge, a mountain or even an airport runway."
Many events explicitly state in their mission statements that they want to involve people who are not typically very active. The Great Swim series, for instance, wants to make open-water swimming – in lakes, lochs and urban docks – "safe, fun and accessible" for people who have never dipped a toe into wild swimming before. Different distances are designed to suit all fitness levels and participants do not need to know their strokes – doggy paddle is perfectly acceptable.
Iain Cousins parkruns in Margate, Kent, with his daughters, 11-year-old Erica and Ffion who is 15. He also regularly volunteers, which he says he enjoys as much as the exercise. "With the running, you feel like you're taking part; with the volunteering, you feel like you're giving something back," he says. "People are keen to get involved because they see all these smiling faces, people having fun on a run. Whereas if you see lots of pounding along, you might think 'this is too fast for me'."
So how do organisers engage those who are least receptive but might benefit most from taking part?
"You can always preach to the converted and get white, middle-class people running but there's a real challenge in reaching out to those who wouldn't usually come to parkrun," explains Chrissie Wellington, four times Ironman triathlon world champion, who is now parkrun's global head of health and wellbeing.
As well as appealing to ethnic and religious groups that research has identified are less likely to take part, Wellington has been urging people with disabilities to get involved by recruiting 'peer champions', who reach out to other people with the same condition. And she is recruiting volunteer 'guide runners' to make it easier for visually impaired people to take part.
British Cycling has launched a series of mass participation events specifically designed for women, as they are typically less active than UK men. Since 2011, its Breeze series has operated group rides organised by 'champions' – female volunteers who are trained in leading women-only events.
"It's part of being something bigger, isn't it?" says Becki Morris, who heads up the women's cycling project. "At the bigger rides, it's a day out, a 'festival of cycling'. Even at the smaller group rides, there's a social element."
They're also fun. Take The Color Run, for example, which describes itself as "the happiest 5k on the planet". The event is not timed or competitive, but more like a giant street party with exercise built in. Organisers say 6 million people have taken part worldwide.
The parkrun that Cousins takes part in in Margate is small compared to other mass participation events – yet the group is diverse. Dogs, children and an 84-year-old man completed the course on the day I visited.
It's the people, Cousins notes, that keep him coming back: "The 5k bit in the middle is just sort of a bit of exercise in among meeting with friends now."
And he's not alone in feeling this way. "I really look forward to it every time," Tracy, 52, tells me, shortly after she crosses the finish line with a huge smile on her face.
"It's a great way to start the day, to blow away the cobwebs. But the most important thing is that it's just such a wonderful community."

Main image: Radek Mica/AFP/Getty Images
---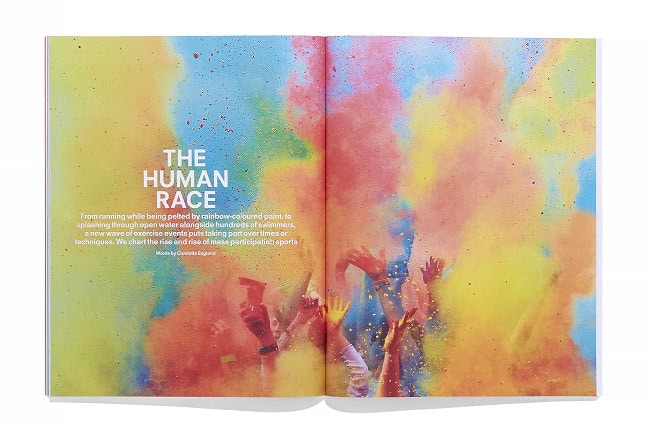 This article is featured in issue 90 of Positive News magazine. Become a subscriber member to receive Positive News magazine delivered to your door, plus you'll get access to exclusive member benefits.