With plastic pollution having exploded in public awareness, companies are having to urgently rethink how they package their products. As the gift-giving season approaches, we find out how some brands are leading the way with sustainable packaging, and we share some tips to help you reduce your impact at Christmas too
When it comes to the gift-giving season, plastic waste may seem inevitable. Shredded wrapping paper and discarded packaging are as ubiquitous at Christmas as carol singing or mince pies. In fact, charity group the Wildlife and Countryside Link estimates that 114,000 tonnes of plastic packaging is wasted in the UK during the festive season.
But now that the world is waking up to the damage caused by plastic pollution, things look set to change. The UK government has plans to introduce an 'extended producer responsibility system' by 2023, shifting the duty to dispose of waste from consumers to manufacturers. Ahead of the change, businesses are already giving more thought to the environmental impact of the packaging they use.
"More brands are transitioning to sustainable products and processes, and packaging is a huge piece of that puzzle," says Josh Bowden, co-founder of noissue, which creates sustainable, custom packaging for businesses. What's more, he says, consumers are demanding change: "A growing number of customers are getting tired of ending up with unnecessary packaging."
An estimated 114,000 tonnes of plastic packaging is wasted in the UK during the festive season
The company makes non-plastic alternatives, such as an acid-free and FSC-certified tissue, stickers, tape, and mailers, which are all home compostable and recyclable. Brands that choose "intentional packaging", such as noissue's products, send a strong eco-conscious message to their customers, Bowden says. And by combining sustainable materials with bespoke designs, they set themselves apart from the retail giants.
Circular clothing brand Tors & Co, which gets its packaging from noissue, is one example. Packaging was a major consideration for founder Victoria Leigh, when designing the lifecycle of her products. The brand's organic cotton garments, which can be returned for recycling in exchange for a discount once they wear out, are supplied in plastic-free wrappers from the factory, then shipped in rip-proof, splash-proof paper mailers, with labels made from T-shirt offcuts and printed using soy-based inks.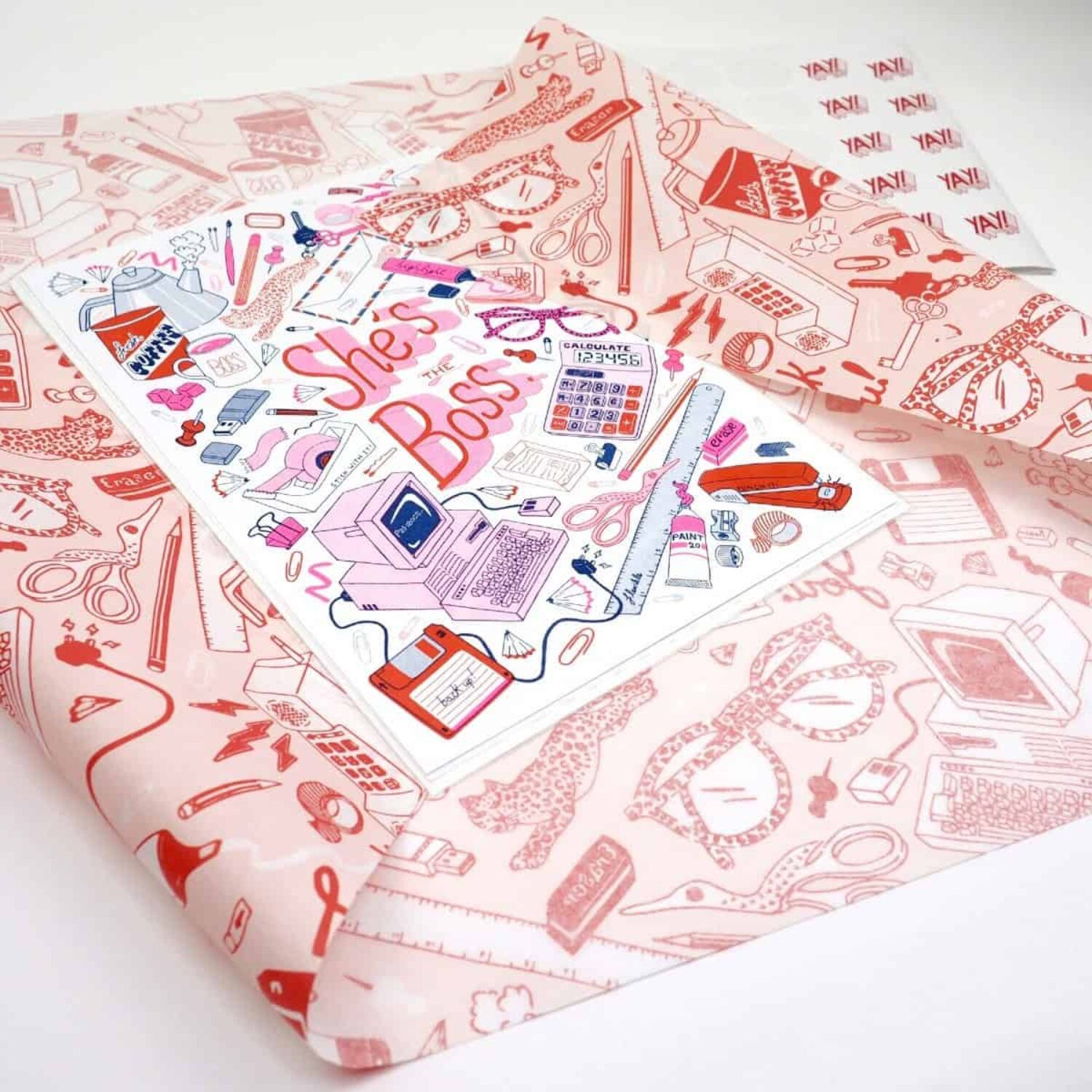 Meanwhile, certified B-corp fashion brand Frank and Oak, which uses recycled textiles in its range, and natural beauty and lifestyle company Herbivore Botanicals, both use noissue's tissue to wrap their products.
When it comes to making sure the packaging being used is as eco-friendly as it claims to be, Bowden recommends looking for the Forest Stewardship Council's (FSC) international certification. "The most important thing is to ensure that paper products are sourced from a sustainably managed forest," he says. "Look for acid-free paper so chemicals won't be left behind when it decomposes and soy-based inks that are an eco-friendly alternative to petroleum-based inks." Or, look for noissue's Eco-Packaging Alliance badge, which allows customers to more clearly identify which brands are committed to sustainability in their packaging.
Unwrap for good
Festive celebrations and gift-giving doesn't have to be wasteful; a little creativity is all it takes to cut down on rubbish this Christmas. Here are a few top tips:
Give memories
Drastically cut down on waste and unwanted gifts by giving loved ones experiences. Check out vouchers for gin-making courses, concert tickets and spa treatments, or maybe treat them to dinner at a favourite restaurant.
Quality, over quantity
We've all had gifts over the years that have remained unused until Christmas rolls around again. Consider arranging a family-wide secret Santa, so everyone gets fewer presents – but ones they really love.
Get creative
One way to cut down on festive consumerism is to buy gifts second-hand. Fashion resale sites are a treasure trove of pre-loved clothes. Alternatively, why not make personalised gifts for friends, such as felt tree decorations or homemade Christmas spiced chutney.
Think before you wrap
There are plenty of alternatives to the plastic-coated sticky tape and wrapping paper. Get creative with wallpaper offcuts or old sheet music; or decorate recycled brown craft paper with compostable glitter or natural embellishments like sprigs of holly or rosemary. Use rustic twine, velvet ribbons or paper-based Washi tape as alternatives to plastic sticking tape. Or design your own bespoke paper with a sustainable brand, such as noissue.
Give to someone else
Donate your present-buying budget to a charitable cause, or plant some trees in your loved ones' names. Large organisations allow you to buy much needed livestock or crop seeds for families in the developing world, for example, plant trees as part of a reforesting project or look for local charities supporting people living in poverty with food and gifts at Christmas.