A social enterprise which works to tackle unsustainable consumerism and end stigma around addiction is showcasing work at this week's London Design Festival
Design is often associated with our rampant consumerist society. After all, do we really need more new things? But one social enterprise featured at this year's London Design Festival aims to show that design can be environmentally sustainable and benefit society too.
Those at London-based non-profit social enterprise Restoration Station believe that creativity plays an important role in helping people recover from addiction. For the past three years they have run design and making workshops to help people overcome addiction. The social enterprise specialises in upcycling used furniture to help combat society's addiction to 'stuff'.
---
Good journalism can be about good things too.
---
For the 2017 London Design Festival, which runs until 24 September, Restoration Station is showcasing a project run in collaboration with furniture designer Yinka Ilori. The result is 10 unique upcycled chairs, each made by someone recovering from addiction.
"The idea is for them to use colour as a catalyst to tell their stories," said Ilori, who uses abandoned objects in his vibrant designs to help highlight the excess waste generated by consumer culture. "I like the making process to be as organic as possible. Any 'mistake' that they make in the process could end up being the most powerful part of their narrative."
The chairs makers are all in long-term recovery and over time have received training in woodworking and vintage furniture restoration by local craftspeople with Restoration Station funding. The aim is to develop skills and confidence, as well as improve employment prospects, say those behind the project.
The idea is for them to use colour as a catalyst to tell their stories
All of the materials for the chairs were diverted from landfill – either by being salvaged or donated. But as well as using the festival as a platform to encourage more sustainable forms of design and consumption, Restoration Station hopes it will also help change perceptions about addiction issues.
"London Design Festival holds real clout in the design world," said Sheona Alexander, director of services at Spitalfields Crypt Trust, the charity which set up Restoration Station. "If we can be part of that and showcase work done by people in recovery, it is one step towards patching some of the stigma around addictions."
The chairs will be on display at the Restoration Station shop in Shoreditch High Street throughout the festival and are up for auction online with proceeds going back into Restoration Station programmes to help recovering addicts.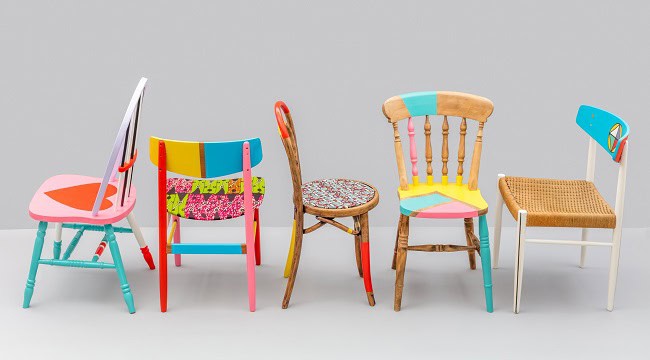 Images: Dan Weill
---
The magazine and movement that's changing the news for good.
---